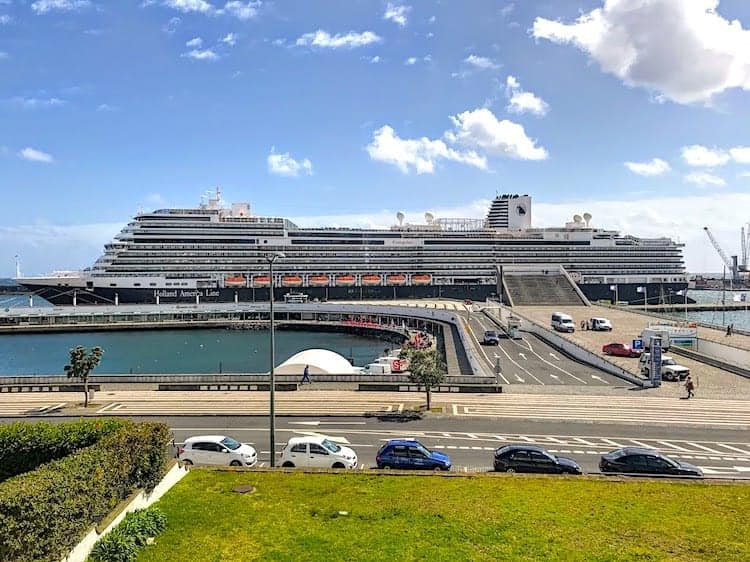 A transatlantic crossing is not your ordinary cruise. Try to imagine a cork bobbing around in an triple-sized olympic swimming pool. That's kind of how I visualize what it's like crossing the Atlantic. But I don't have a choice. Most others do.
Read next: 5 Observations on Cruising Solo on Transatlantic Crossings
I take transatlantic cruises back and forth to Europe because I don't fly. For me, it's transportation, not a vacation. For almost all of the passengers onboard this Holland America Koningsdam transatlantic crossing, they were onboard because (in descending order):
1. they wanted to experience a transatlantic crossing,
2. they liked the itinerary,
3. the price was less expensive than flying both ways and
4. they didn't want to fly but were okay with flying home from Europe. I was definitely in the minority.
This was my second time aboard a Koningsdam transatlantic from Ft. Lauderdale to Rome. I did the same trip last year. This year, there were three differences. We stopped at two ports in the Azores instead of one; Alicante-Spain was dropped and Cartegena was added and finally, I didn't have to travel wearing a 4-lb. black boot for a broken toe.
Instead of writing a way-too-long article with all 14 days included, I've broken the voyage down into separate stories. You can pick and choose based on your interests. Onboard and ashore, here's the breakdown.
Aboard 14-day Koningsdam Transatlantic Crossing
Each article links to the previous and next one, so you won't get lost. Wondering if a Koningsdam transatlantic crossing is right for you? This may just convince you to go! There's another Holland America Koningsdam transatlantic planned for 2019.
I'm the editor and creator of CruiseMaven.com, a solo traveler cruising the world on waves and wheels, collecting recipes along the way.  I hope my articles and photos entertain, advise and inspire you to travel the world without flying.  Take a breath…stop for a local meal and a glass of wine along the way.