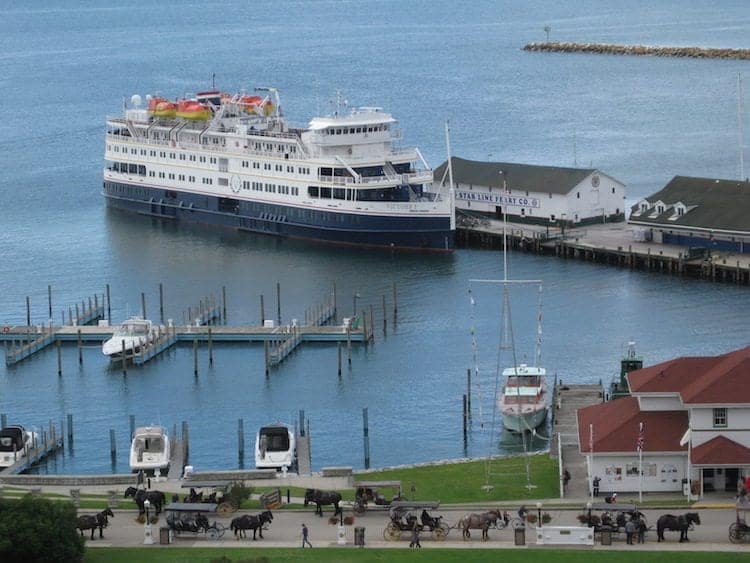 While pondering our cruise options to escape summer heat, we chose something new; a small ship coastal cruiser. Victory Cruise Lines and their Great Lakes 10-day itinerary fit the bill. We embarked the 202-passenger Victory I in Toronto and disembarked seven days later in Chicago.
The Great Lakes area melds rugged wilderness and pristine maritime scenery. Port cities boast superb cultural institutions, while port towns offer strong historic appeal. At every port the ship was met by clean comfortable buses and seasoned local tour guides familiar with the area.
Niagara Falls
After departing from Toronto, the next day was our first port of call;  the beautiful Niagara Falls region of Ontario. Tour guides and drivers warmly greeted us and we were off for wine tasting and lunch at Chateau de Charmes Winery. In pretty Niagara-on-the-Lakes, we had time to explore the shops and galleries.
In mid-afternoon motor coaches took us to the Canadian side of Niagara Falls. After photo ops from a cliff above the falls, we walked down to the base area, where we donned red plastic ponchos before boarding a Hornblower boat for a thrilling ride up close to the misty falls.
Cleveland, Ohio
The next port on day three was Cleveland. Well versed trolley drivers provided comprehensive tours covering history, industrial and medical development, education, parks and philanthropists.
A highlight was a docent talk in the historic Wade Chapel in Lake View Park Cemetery. Designed by Louis Tiffany, the chapel was donated by Jeptha Wade, founder of Western Union Telegraph. Other Victory I guests who visited Cleveland's Rock and Roll Hall of Fame in the afternoon gave it high reviews.
Windsor, Ontario
Day four of our cruise brought us to Windsor, Ontario. Some guests visited historic Fort Maldin, while others crossed the river to tour the Detroit Art Institute. The afternoon excursion to the amazing Henry Ford Museum of Innovation was a popular choice. The extensive array of exhibits included presidential vehicles, railroads, farm and industry machinery, American furniture and much more.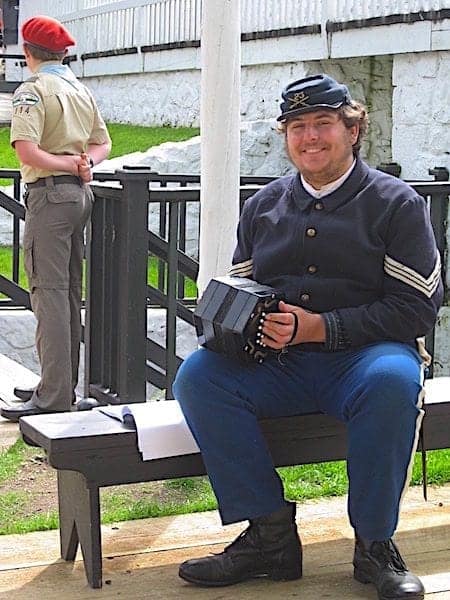 Our day at "sea"
It took all of day five to cross Lake Huron. We enjoyed the first of three themed High Teas and a fascinating bridge tour. An onboard lecturer discussed Great Lakes ship wrecks and ended with a recording of Gordon Lightfoot's haunting "Edmund Fitzgerald".
Soo Locks and Lake Superior
On a sunny June day, Victory I transited from Lake Huron into Lake Superior through the famous Soo Locks. In Sault Ste. Marie, Michigan, there was a stop at the Soo Locks viewing platform. It was thrilling to watch gigantic cargo freighters passing in the channels.
Mackinac Island finale
The grand finale of our cruise was an all-day visit to historic Mackinac Island where automobiles are prohibited in favor of horse-drawn carriages, wagons, bicycles and walking. Victory I guests enjoyed an island tour in larger carriages pulled by two- or three-horse teams.
"Guests from the Victory cruise ship can bypass the line and be seated immediately!" announced the hostess in the swanky dining room. Husband Rob and I felt privileged to dine at the world-famous Grand Hotel on Mackinac Island in Michigan.
Carriage drivers told us in summer the island employs six veterinarians for 500 horses. In contrast, one doctor serves 500 permanent island residents.
A highlight was watching a cannon and rifle shooting demonstration by historic interpreters at Fort Mackinac. Located at the island's highest point, the restored fort proved to be an ideal photo op. Because we had previously visited the island, we skipped the dozens of fudge and gift shops.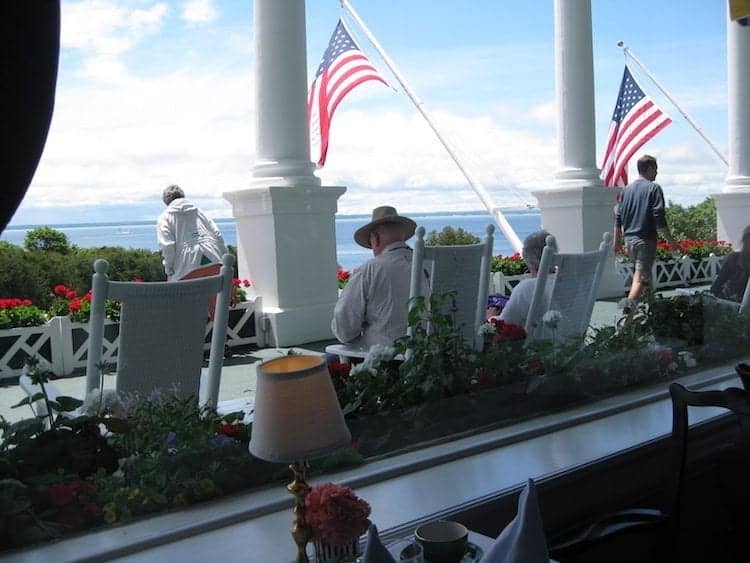 A much anticipated treat was Sunday Buffet brunch at the Grand Hotel which boasts the world's longest porch. The long and lavish buffet exceeded expectations for both quality and quantity of food and service. Built in 1890, the massive structure was completed in a record 93 days.
Numerous movies including "Somewhere in Time" starring Christopher Reeve and Jane Seymour were set in the Grand Hotel. The property itself is a tourist attraction, surrounded by massive beds of fragrant colorful spring flowers. We enjoyed climbing the stairs to the cupola, the hotel's highest vantage point, as well as the art gallery and extensive grounds with fountains, swimming pool and a golf course.
Life aboard in review
Throughout the cruise Victory I rode smoothly in the waters of all five Great Lakes.
Tasty meals with lush desserts prepared by seasoned chefs were well received. The wait staff was experienced, well-trained, and attentive to guests' special requests. Free-flowing alcohol was served with lunch, dinner and cocktail hours. The first-deck dining room was large enough to accommodate all guests in one seating, a definite plus. Open seating encouraged mingling with guests from throughout the U.S., Canada and Australia.
Breakfast was a buffet with some hot items made fresh upon request. Lunch offered soup, salad, and a choice of three hot entrees or a burger. Dinner was comprised of soup, salad and meat, fish or vegetarian entrees. Steak, chicken breast or salmon were always available.
An alternate dining venue on an outdoor deck, Cliff Rock Bar & Grille featured hot lava rock cooking at 800 degrees. Guests had the option of cooking their own entrees. Reservations required.
A definite plus, Victory I has an elevator serving decks 1 through 4. The vessel can accommodate 202 guests, most of whom are well-traveled retirees. There are no formal nights. Guests are advised to bring comfortable walking shoes, jackets, rain gear and their own toiletries. Hand/body soap and shampoo are provided.
Shore excursions, meals, tours and most alcoholic beverages are included in cruise fares, but the ship does not provide transfers. At a special lobster dinner, we bid a reluctant farewell to our new friends. We left with cherished memories of green vistas, cool lake breezes and diverse port adventures.
About Pat Woods
A frequent contributor to CruiseMaven, Pat is an avid cruiser and widely published travel writer. She encourages her readers to SKI (spend the kids' inheritance) on a cruise.
READ MORE articles by Pat Woods