Unlike the previous summer, in 2019 I ventured further into Alaska aboard a cross-gulf cruise. Instead of boarding in Seattle, embarkation for Radiance of the Seas was in Vancouver, Canada. Destination: Seward, Alaska and beyond.
Radiance of the Seas Review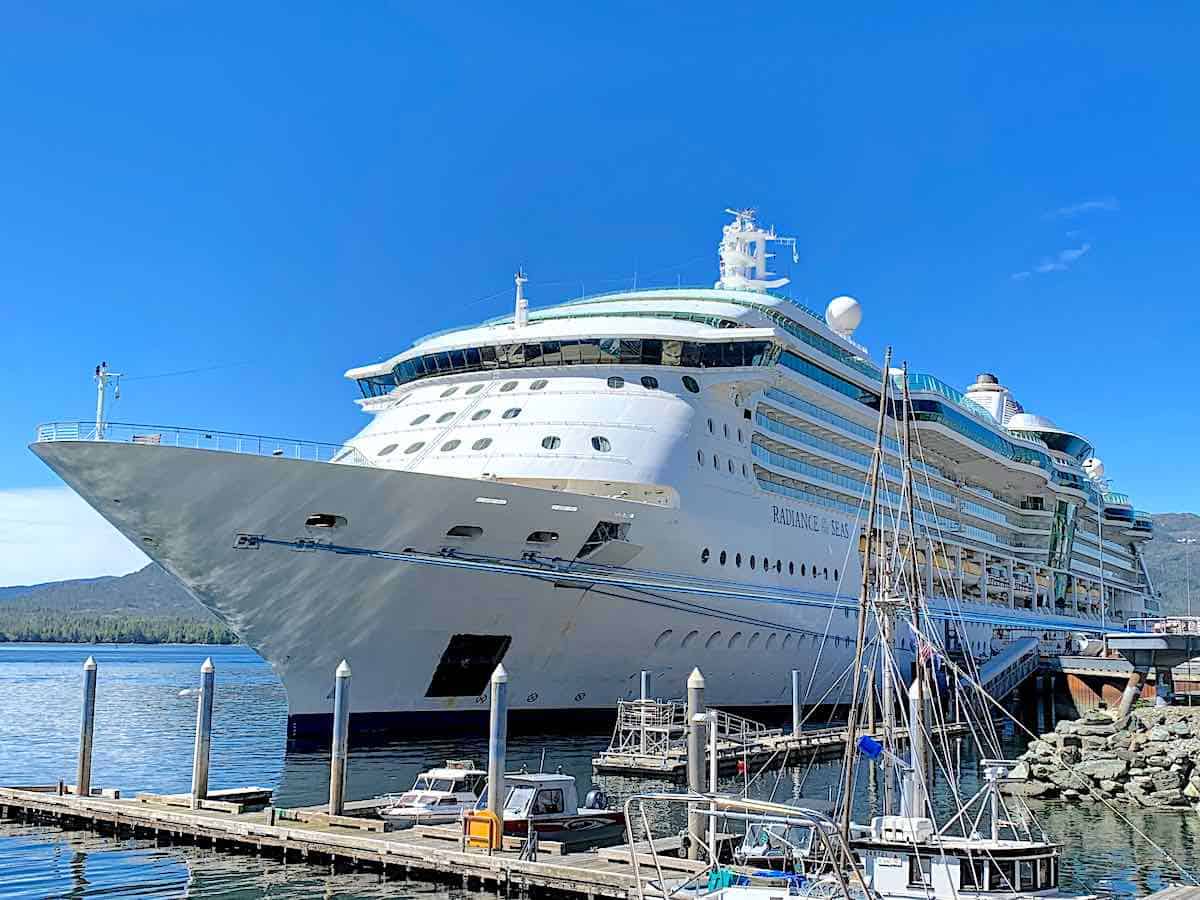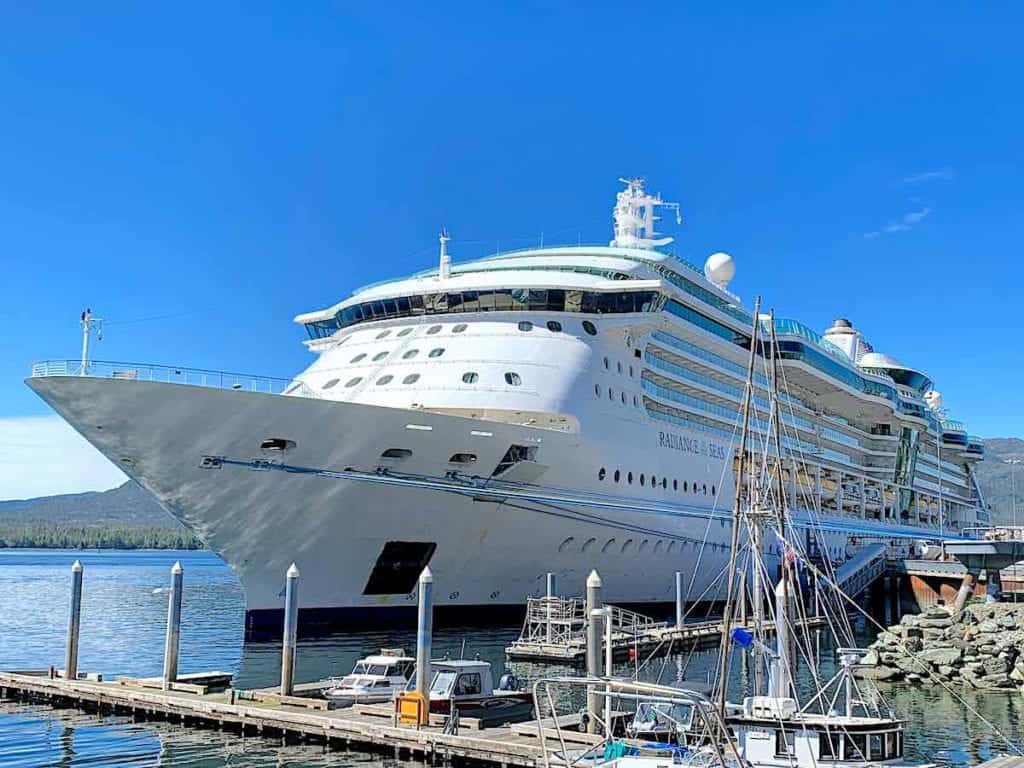 Getting to Vancouver without flying
My trip to Alaska from Florida involved four bone-jarring Amtrak trains across the most breathtaking parts of America just to reach Vancouver. I was ready to relax aboard Radiance of the Seas. This is the perfect ship for an Alaska cruise; huge expanses of glass windows let in sunshine and provide stunning vistas all around.
The seven-day northbound, cross-gulf voyage would be a new experience for me. It was also my transportation to Seward; the doorway into the heart of Alaska and two weeks to explore from Seward to the Arctic Circle and back.
Ship Facts
Year Built: 2001
Passengers: 2,501
Crew: 859
Weight: 90,090
Dining Hours: 5:30PM and 8:00PM
Self-Service Launderette: No
Outdoor Movies: Yes
First impressions: Welcome Aboard Radiance of the Seas
I knew when I booked that this ship was nearly 20 years old. Launched in 2001 and with barely 2,500 passengers, Radiance of the Seas is a smaller cruise ship by today's standards. When I set foot onto the deck and walked into the Centrum (not Atrium) as it's called on Radiance Class ships, there was an instant wave of nostalgia. Sister ship to Jewel of the Seas, Brilliance of the Seas and Serenade of the Seas, I was familiar with the layout and decor.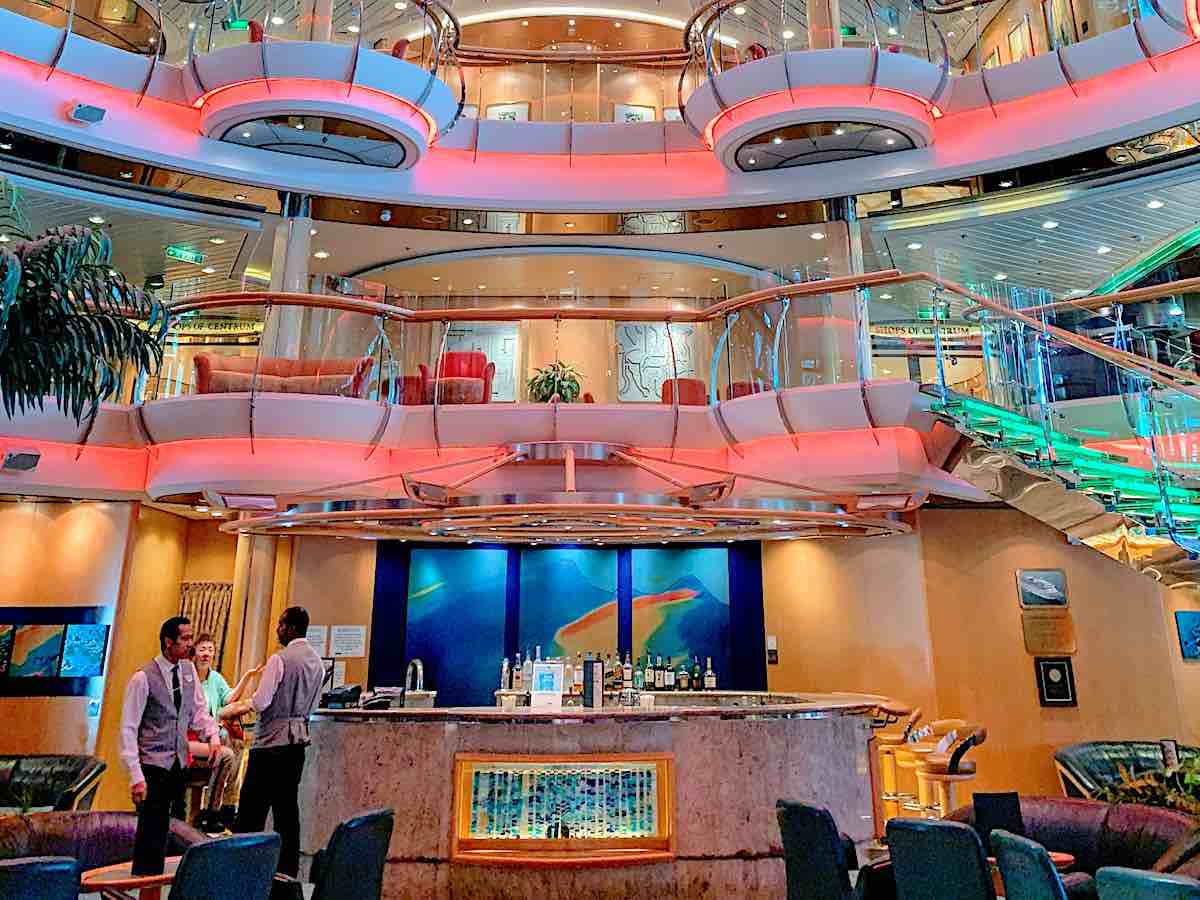 My first impression of Radiance of the Seas' Centrum was…wow. Still as pretty as ever. A terrific gathering place throughout the day and night, with live music or cruise director-led fun and games.
Radiance of the Seas is a very elegant ship. Back in 2001, this was more the standard than the deviation. Sure, Oasis of the Seas and Allure of the Seas were still years away to launch, but this ship was a game-changer when it debuted. Beautifully polished hard woods accented by shiny brass railings and fixtures. Multi-colored glass art installations grace the stairwells. Designed for cruising Alaska, the use of glass and open space is significant.
I don't know if most passengers take the time to note the attention to detail that was put into this ship.
Radiance of the Seas Review: The Fabulous Aft Balcony Stateroom
Finding my way to my stateroom was pretty easy. It was all the way at the very end of the ship so as long as I knew which way was forward and aft, all was good.
It doesn't get much better than this, unless you have a suite. Even then, it's not aft. Aft staterooms are amazing.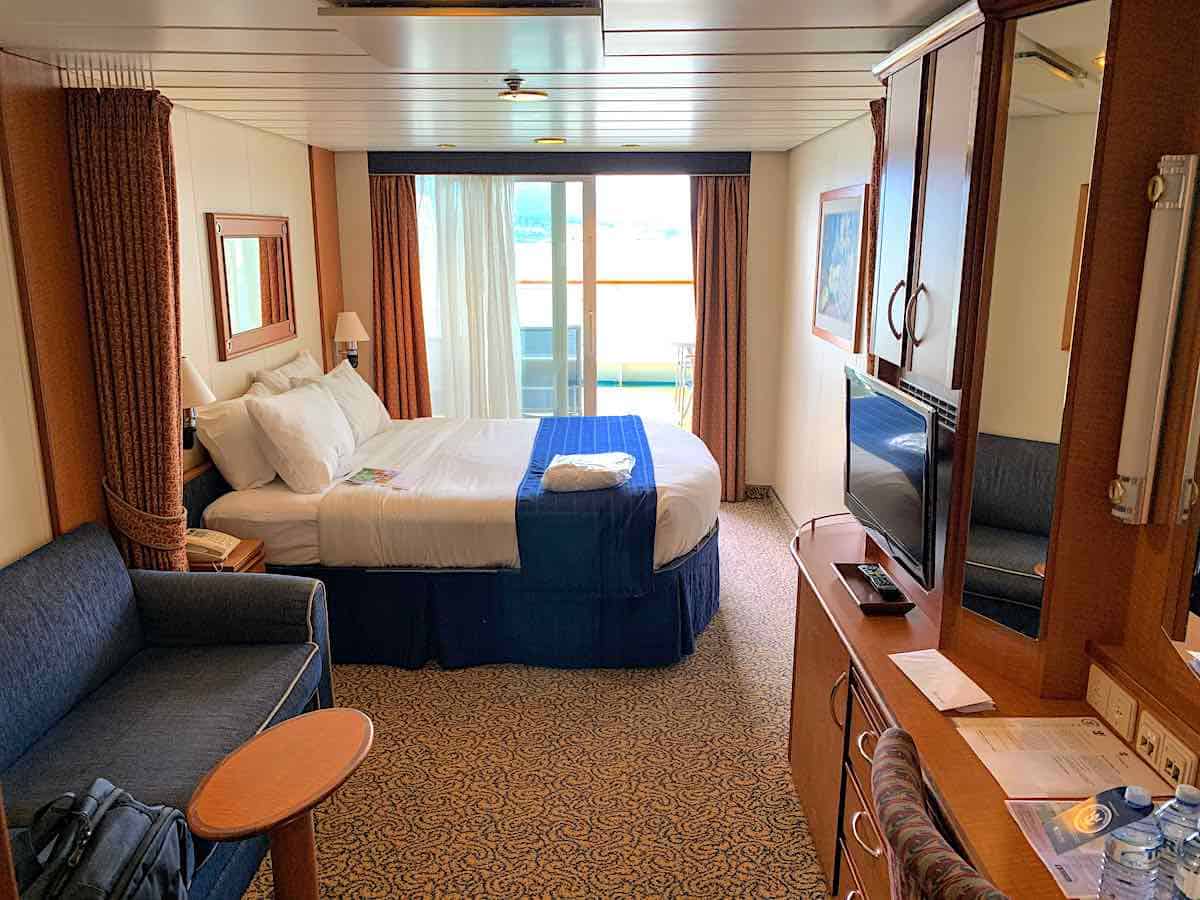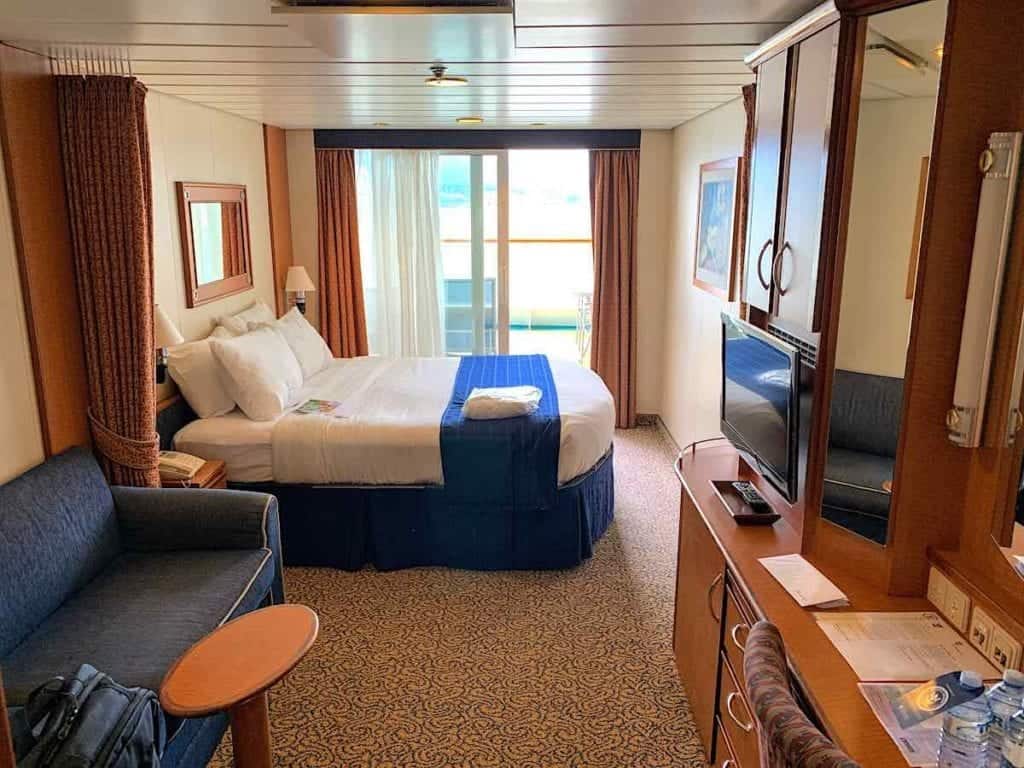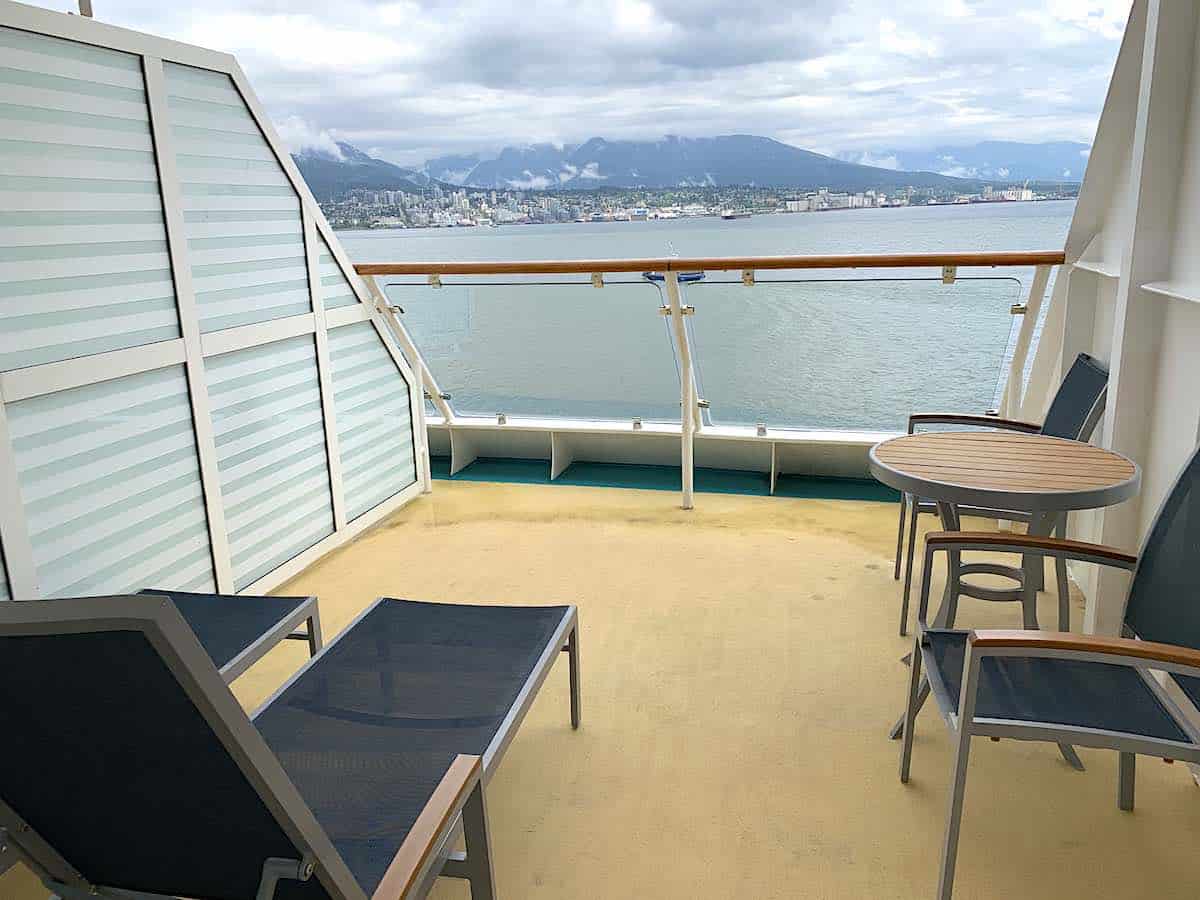 A quick glance outside and I had my bearings on which way to walk. I squeezed past all the people asking directions and blocking the Centrum entrance, and over to the main elevator bank. Up to Deck 10 and I just kept on walking.
I booked this cruise nearly seven months ago as an inside guarantee. When I received my stateroom confirmation I was shocked. Whomever was in charge of stateroom assignments put me into an aft-facing balcony stateroom.
Maybe my being a Diamond Plus member in Royal Caribbean's Loyalty Club helped or maybe someone was having a good day. What ever the reason, I was so excited to finally experience what so many cruisers rave about with this type of stateroom.
Lunch in Windjammer Buffet
On my early morning train to Vancouver from Everett, WA, I had coffee and a slice of banana bread so I really didn't need lunch. But I wanted to see how well Windjammer did on embarkation day. Only one flight up and I was there.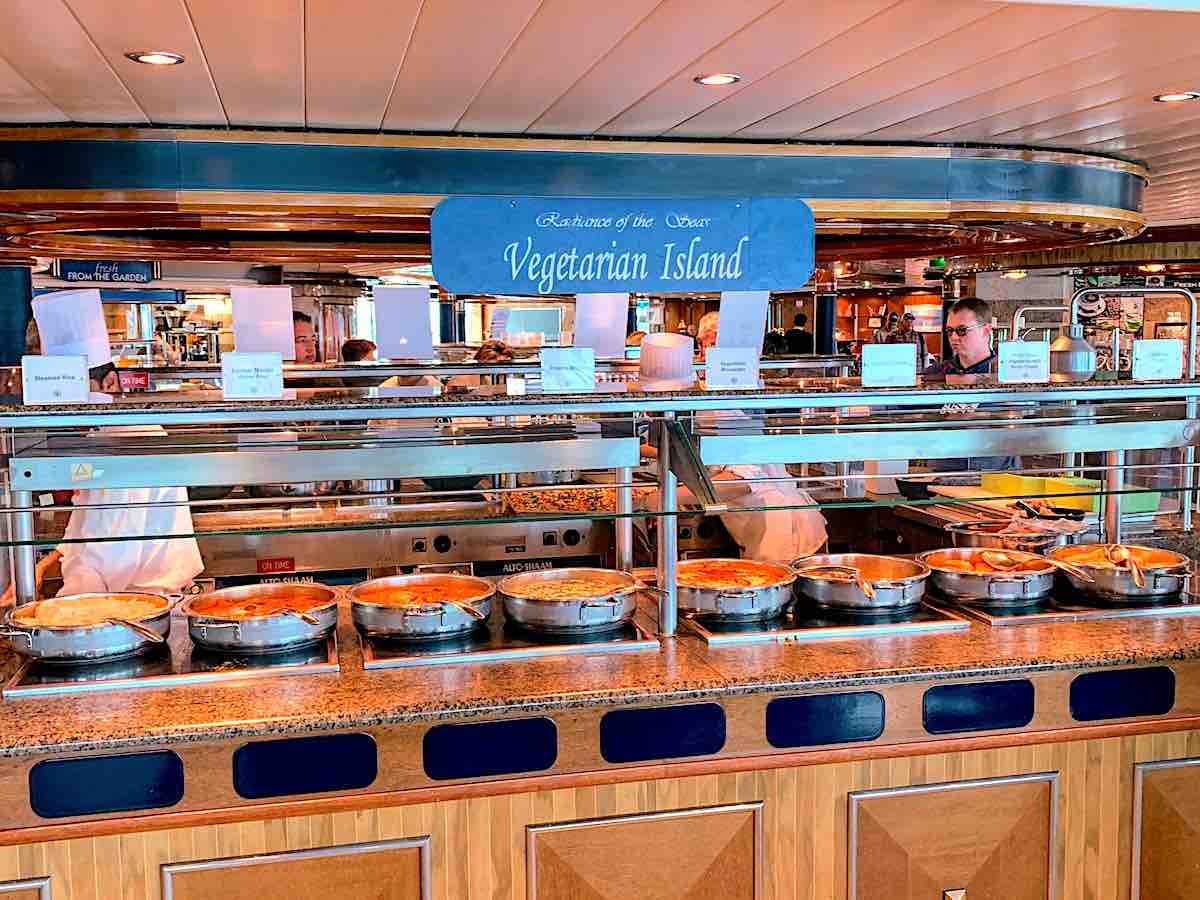 Some things never change and Royal Caribbean's embarkation lunch is one of them. I used to work at Port Canaveral for embarkation on the old Sovereign of the Seas. One of the perks was a 20-minute lunch break onboard.
Though the selections these days are vastly wider, the smells and elbow-to-elbow commotion are the same. My first impression of Radiance of the Seas buffet wasn't a surprise. To find a good selection at the Vegetarian Station was an improvement.
It was tricky juggling a full plate of salad, iced tea, iPhone and wallet while trying to find a table. Finally, I heli-hovered nearby a table for two that was clearing and all was fine.
READ MORE: Eight Tips to Booking Your Own Shore Excursions
Cruise Maven Solo Traveler Tip:
Remember, if you cruise solo, always bring something to leave on the table. Then, if you should want return to the buffet mid-meal, the wait staff will know not to clear your plates.
Radiance Outdoor Areas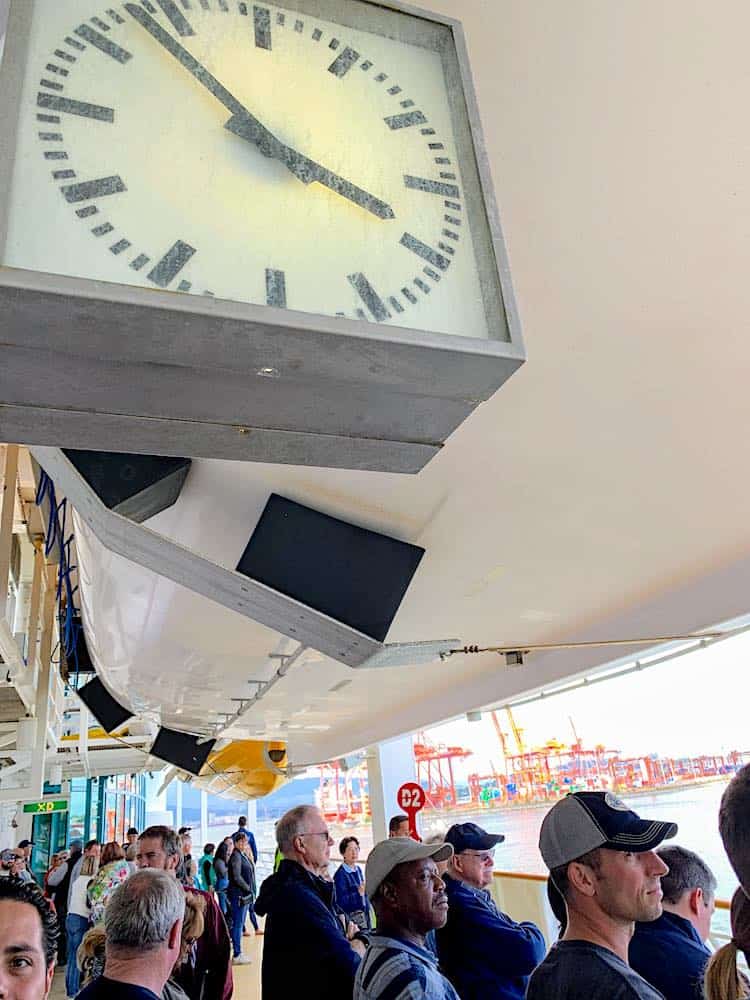 I had a little time to walk around the outdoor areas before muster. Radiance of the Seas arrived into Vancouver at dawn, after cruising from Australia. Maybe that was the reason for the outdoor recreation areas to look so worn down and downright dirty. The kid pools, splash areas and almost all outdoor spaces desperately needed scrubbing.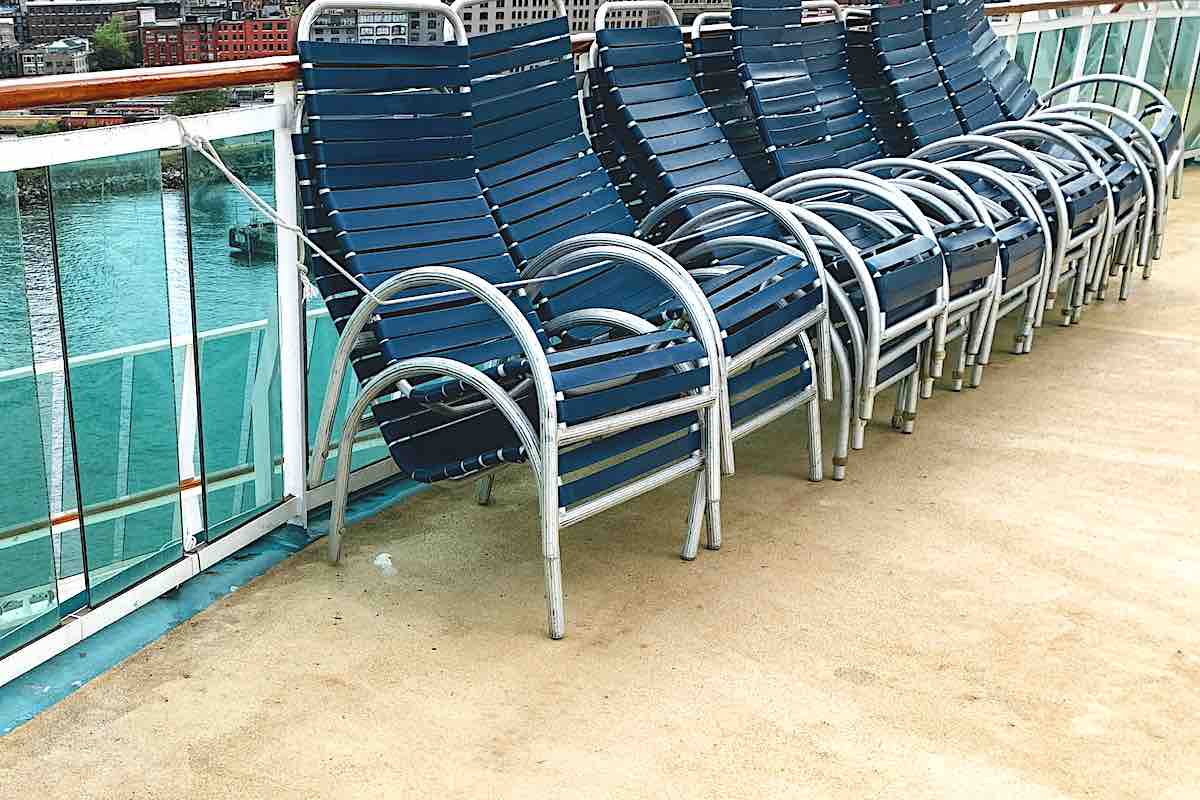 Best Feature on the Radiance of the Seas
This Radiance of the Seas review wouldn't be complete without mentioning the best spot on the ship: the Heli-Deck. There's nothing much better than to be able to park yourself in one of the two benches and gaze out at the sea and scenery.
Believe it or not, except for sailaways and glacier-viewing, this area is usually empty. The wind can turn incredibly fierce and most guests don't want to get battered about while the ship is underway.
Sailaway was beautiful on this sunny Vancouver afternoon. The Heli-Deck was a popular vantage point, as you can see from the photo. As we turned into the channel and the wind picked up, the crowd quickly dispersed.
First Impression: Dinner in the Main Dining Room
Because I chose My Time Dining, I could in theory have dinner any time. Unfortunately, it doesn't exactly work that way. Royal Caribbean highly recommends that My Time Dining people call ahead and book a particular time, each day.
When I read this, I immediately called the four-digit phone number and placed on hold for 24-minutes. Luckily, as a solo, you can fit into just about any timetable. My dinner reservation was at 7:30pm. There were two lines at the Deck 4 entrance; one for those with reservations and the other for walk-ups.
The procedure was very smooth and I asked for the largest available table, with other solo passengers. I was seated at a table for ten…already occupied by four couples.
Here's a brief run-down on my meal: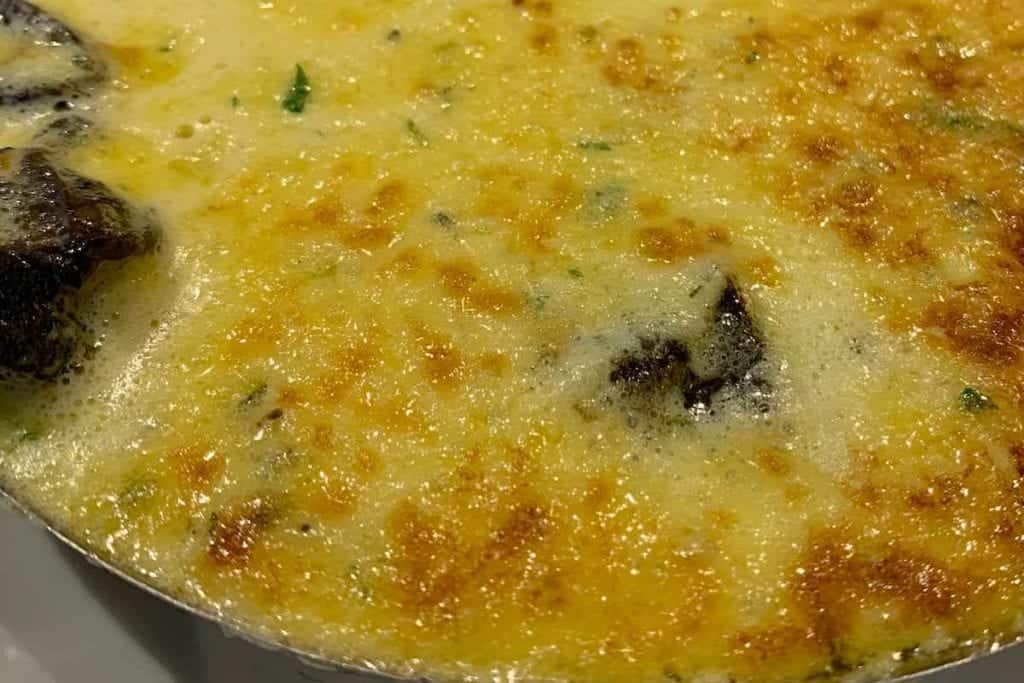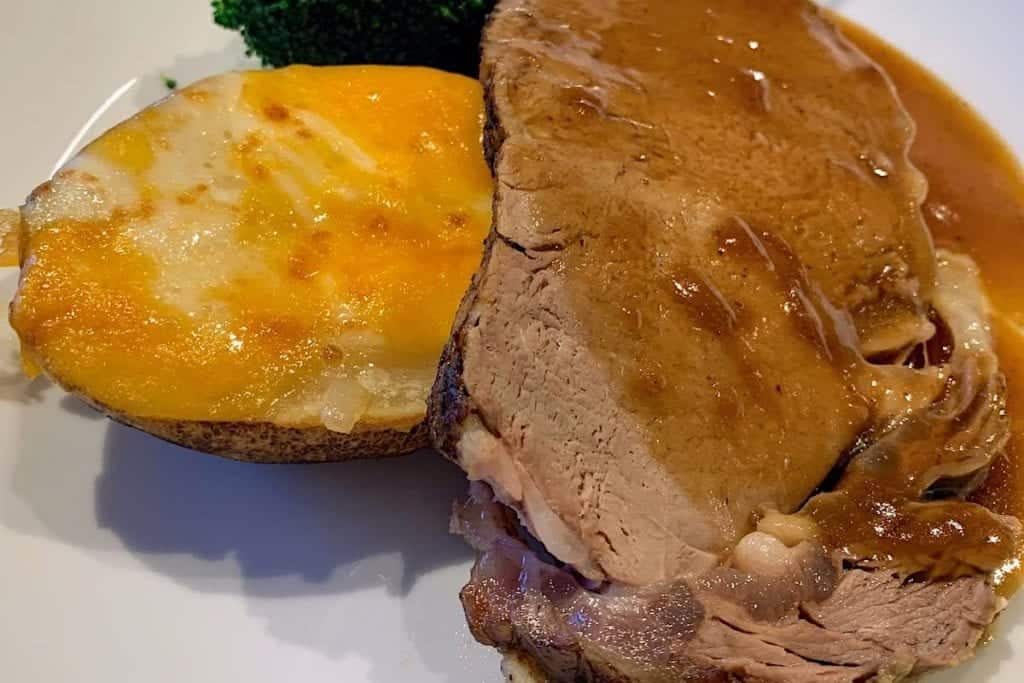 Overall, I'd give the welcome aboard dinner a C- grade. Some of the people at my table finished every morsel while a couple of others, like me, left most of it. There's a pizza counter in the Solarium that I planned to visit. If it would be anything like Sorrento's on Majesty, I'd have a tasty late-night snack.
Wrapping Up the First Night
The evening consisted of the usual Welcome Aboard show in the Aurora Theater, which I chose not to attend. I had been up and running since 6 a.m. and by 10 p.m. I was slowing down. Plus, with this stupendous balcony and fabulous stateroom, I really just wanted to enjoy the space and the clear, cool night air.
Radiance of the Seas Review in a Nutshell
Beautiful ship on the indoors
Outdoor areas are dirty
Wood railings on the outside in desperate need of varnish. Avoid getting splinters.
Aft balcony is enormous
Blanket is the perfect weight; doesn't crush your feet
Crew is very helpful and friendly
Main dining room food gets a failing grade, in my opinion
Solarium is a very nice place to relax (if you don't mind the pervasive chlorine smell)
Windjammer Lido buffet offers good vegetarian and wide selection of gluten-free options
TV programming is mostly Royal Caribbean sales pitches. No free movies.
More Travel Inspiration from Cruise Maven
I'm the editor and creator of CruiseMaven.com, a solo traveler cruising the world on waves and wheels, collecting recipes along the way.  I hope my articles and photos entertain, advise and inspire you to travel the world without flying.  Take a breath…stop for a local meal and a glass of wine along the way.