While it's fairly easy to decide on either an inside, oceanview or balcony stateroom, finding the best stateroom locations can be tricky.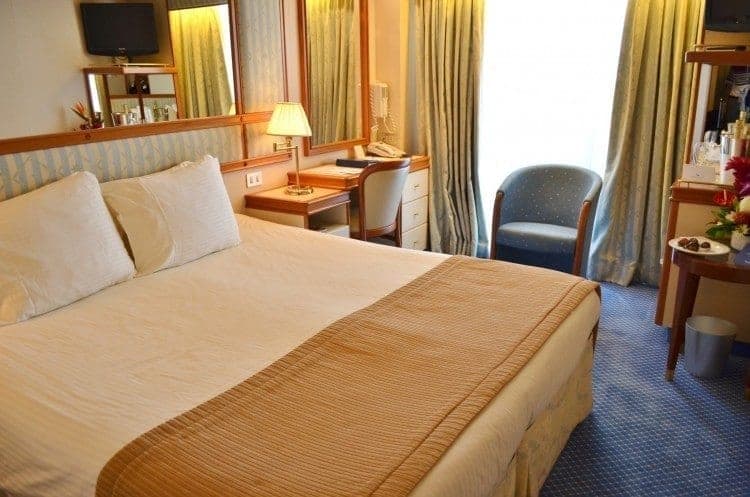 Someone's gotta have a cabin location near the disco, but why you?
A quick read through cruise lines' glossy brochures and flashy websites doesn't always help prospective cruise passengers choose the best stateroom location.
To ensure the best possible cruise vacation, it's important to know exactly where to reserve your room location. This can be accomplished by a thorough examination of the deck plans for your ship.
While the specs aren't perfectly accurate, it is possible to eliminate any unwanted surprises. Check the deck plans to see what's under or above your stateroom.  Once you've decided on the category of stateroom, then proceed to scrutinize the current deck plan. Here is the list of where not to book a stateroom.
1.  Not under or over the disco.
If the late-night party scene isn't in your cruise plans, this is a no-brainer to avoid. Discos can blast away until well past midnight and while you may not hear all the words to YMCA, you'll most likely feel the beat.
2.  Not near crew or service doors.
The disturbance level can vary widely from ship to ship, cruise line to cruise line. When you look at the deck plan and see blank space or white boxes between staterooms, this usually indicates a service or crew hallway. Sometimes it doesn't matter because the crew is considerate and quiet and the closing mechanism creates a gently shut/click. However, I've seen crew stairway doors with towels stuffed into the doorframe to prevent it from slamming shut. I'd avoid this location if possible.
3.  Not under the Lido Buffet.
Think of chairs scraping across the floor and heavily-laden trolleys creaking overhead as early morning breakfast is set up and late night snacks are put away.
4.  Not with an adjoining door.
Unless you're traveling with friends or family, it's important to know that the dividing doors between staterooms do not have as much sound-proofing as the walls.  Even walls let sound through, but adjoining doors are ridiculous.  You might be fortunate and have neighbors as quiet as church mice, but it's a gamble.
How do you know if the room you reserve has an adjoining door?  Study the deck plan.  If you see a symbol (maybe a two-sided arrow) on the wall between two staterooms, that indicates an adjoining door. Check the symbols key for exact information.
5.  Not all the way at the bow.
If you love the motion of the ocean, this is the best location for you. Of course, if you have calm seas the entire cruise, this won't be an issue. But for those who prefer a smoother ride or are worried about getting seasick, this isn't your location.
6.  Not directly across from the lifeboats.
This obstruction isn't usually visible in the brochure or on a website. Obstructions can also occur in varying degrees; from 25 to 100 percent obstructed views. If the stateroom description states that it has an obstructed view, further investigation is needed to determine the degree.
Sometimes, it's only that the lifeboat is below rather than in front of the window.  Ask your travel agent to check with the cruise lines to determine the amount of  blocked view.  Note:  Want daylight at a bargain price?  Sometimes a partially obstructed or fully obstructed view is hundreds of dollars less than a perfectly non-obstructed view.  You still get daylight and sometimes you can peek around the lifeboat and get a little view.
7.  Not under the fitness center.
If you plan to sleep past 6 or 7 a.m., this is definitely NOT the place to where you want your stateroom location. On a transatlantic cruise a couple of years ago, my stateroom was directly below the free weights area of the fitness center.
As soon as the gym opened at 6 a.m., someone was lifting way too much weight and boom! He'd let the weights hit the floor with the force of  a wrecking ball against a brick wall.  After three days of this happening, I finally rang the fitness center to ask the manager to please ask the guest to go a little easier and to set the weights down gently rather than dropping them.
Of course these are only suggestions as to what are not the best stateroom locations on a cruise ship.  Unwanted noise can be very disruptive and sometimes ruin a cruise vacation. Different ships, older vs. new, large vs. small and ocean vs. river, can vary in soundproofing, layout and even respect for disturbing other passengers. A bit of due diligence can result in the best cruise experience of a lifetime.

I'm the editor and creator of CruiseMaven.com, a solo traveler cruising the world on waves and wheels, collecting recipes along the way.  I hope my articles and photos entertain, advise and inspire you to travel the world without flying.  Take a breath…stop for a local meal and a glass of wine along the way.