My first Royal Caribbean cruise was decades ago aboard the old Sovereign of the Seas. The cruise included a stop at CocoCay (properly pronounced Coco"Key"). There was no printed CocoCay price list.
A perfect day at CocoCay meant you could relax on a relatively uncrowded, peaceful beach in the Bahamas.
Nearly everything but booze was included. For only $7, you could rent a floaty mat for the day. There were two volleyball courts beneath the shade of massive pine trees.
Or you could walk along a meandering dirt path around to the back of the island and look for shells or maybe long-lost pirate treasure. CocoCay was itself a treasure of peace and tranquility.
My, how times have changed.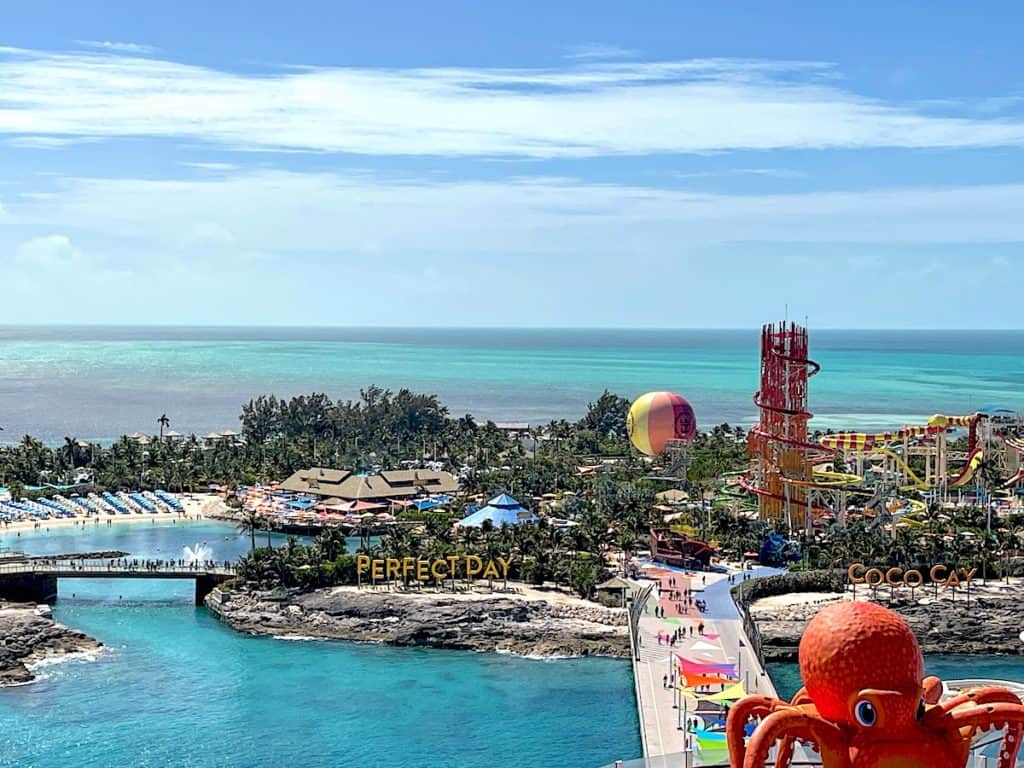 Perfect Day at CocoCay Prices
Royal Caribbean invested $250 million to give the cruise line's private island in the Bahamas a total transformation. This once-tranquil CocoCay was renamed, "Perfect Day at CocoCay."
And taking poetic license, the cruise line has "Cay" rhyming with "Day". Or do they??? Check out what I found on their website area for travel agents:

The heart of the "new" private island destination is Thrill Waterpark. There are 13 waterslides and includes the tallest in North America.
Cool off at Oasis Lagoon, the largest freshwater pool in the Caribbean or for the fearless, try Up, Up & Away, a helium balloon ride with the highest vantage point in The Bahamas, soaring up to 450 feet.
Like almost elsewhere in the world of cruising, everything is on steroids. Bigger ships need bigger cruise terminals to accommodate the bigger ships. And now bigger, private beach destinations.
Perfect Day at CocoCay is a prime example of bigger must be better. And from the looks of what's happening there, maybe it's true. Your Perfect Day at CocoCay now comes with a hefty price tag and a lengthy price list, to enjoy all the features and attractions.
And then there's last minute souvenir shopping, too. Here, you'll need cash or a credit card. There are a lot of straw items, t-shirts, colorful beach coverups and more.
Read Next: Royal Caribbean Beverage Packages List
Where is CocoCay Bahamas Located?
CocoCay was once named Little Stirrup Cay located in the chain of the Berry Islands. The Berry Island Archipelago is located about 55 miles north of Nassau. CocoCay is close to Norwegian Cruise Lines' private island, Great Stirrup Cay.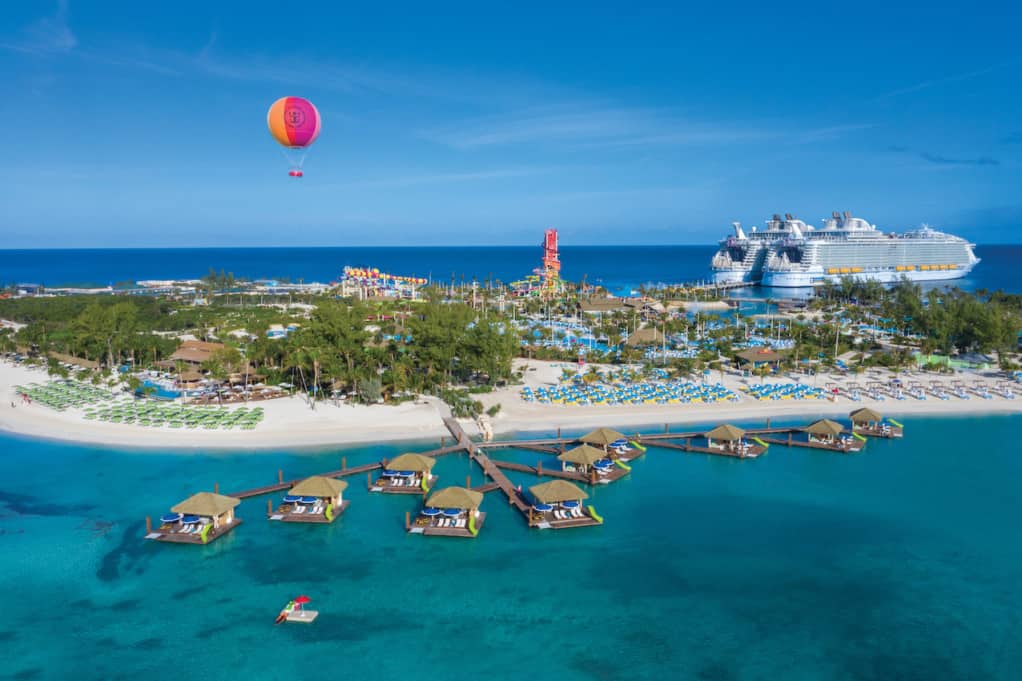 What is Free at CocoCay?
Thankfully, a few things at CocoCay don't come with a price tag. There are still a lot of free things to do, eat and enjoy. What Royal Caribbean calls the largest freshwater pool in the Caribbean, Oasis Lagoon, doesn't cost a dime.
There's a kid's water play area with a pirate shipwreck as the focus called Captain Jack's Galleon with slides and water cannons. Another free area is Splashaway Bay water park plus sports courts on South Beach.
Also at South Beach and Chill Island, you'll find free beach chairs and beach activities. And food!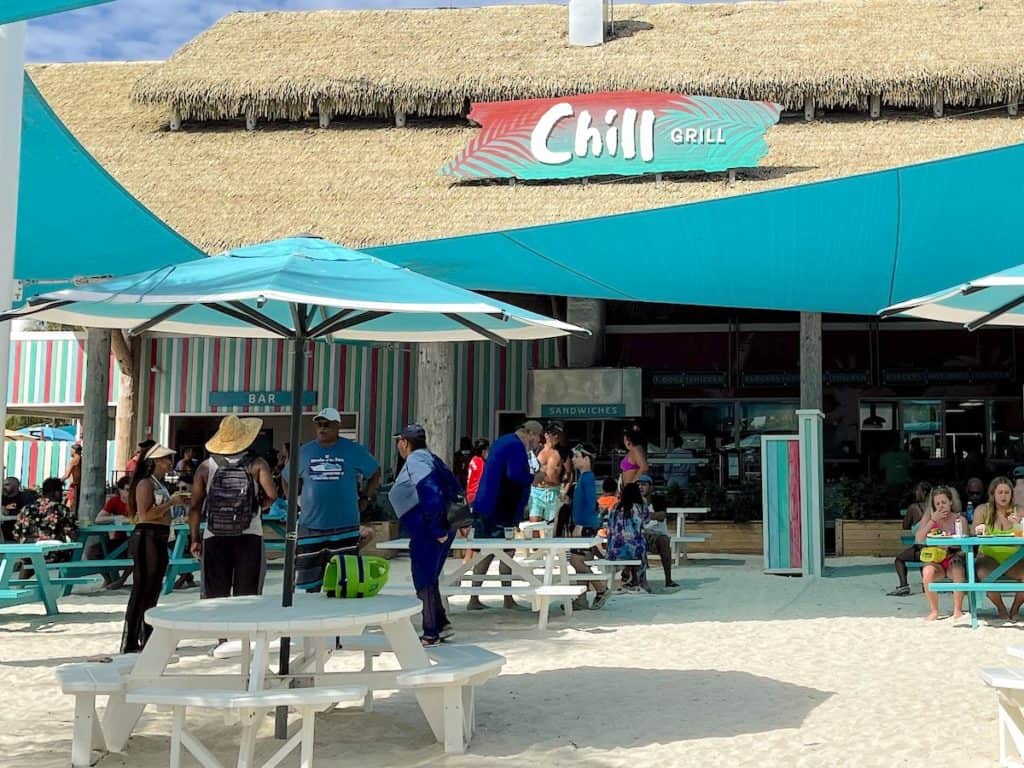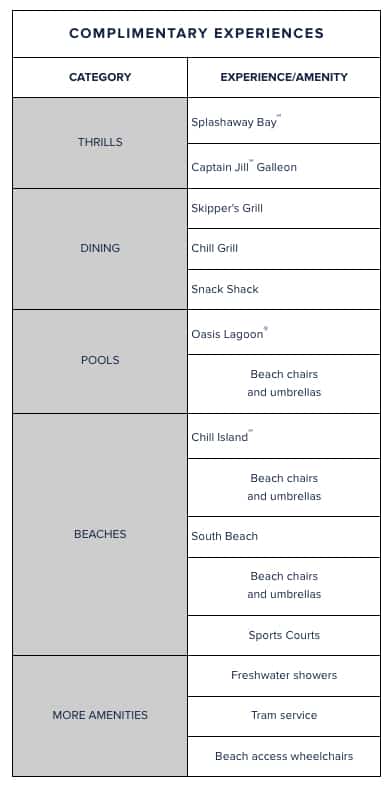 When your stomach starts to rumble, CocoCay offers five complimentary dining spots throughout the island. These include Skipper's Grill, Chill Grill and three Snack Shacks.
Related Post: Royal Caribbean Adds Double Days at CocoCay
Will a Drink Package Work at CocoCay?
Absolutely. If you purchased an onboard Royal Caribbean Drink Package, you can use it on CocoCay.
Perfect Day at CocoCay Price List
Royal Caribbean's Perfect Day at CocoCay prices to experience the water park have changed from the original cost in 2018. Their website doesn't list the actual cost unless you have a booking. So I made a temporary "booking" to access the chart below.
Remember, CocoCay prices can vary based on season. What has stayed the same is kids under three years still have free admission.
You can also purchase half-day passes for Thrill Waterpark and a combo Thrill Waterpark + Zip Line.
Wristbands are used for your entry into Thrill Waterpark. Once you have a wristband, you may enter and exit the park as often as you like. Half-day passes are for afternoons only.
READ NEXT: Radiance of the Seas Review on an Alaska Cruise
The admission price to Thrill Water Park gives you access to what's billed as I mentioned earlier, the highest water slide in North America, Daredevil's Peak, at 135-feet. The cost also includes another 12 waterslides, Wave Pool, Adventure Pool, complimentary dining at Snack Shack, beach chairs and towels.
Beach umbrellas, spa services and water sports toys are at an additional cost. Towels and beach loungers are still free.
How Much Does a CocoCay Cabana Cost?
For shade, there are plenty of options; beach umbrellas, clamshells, and daybeds- all available for a rental charge. Over at the beach, there are cabanas available at Thrill Waterpark, and Oasis Lagoon freshwater pool.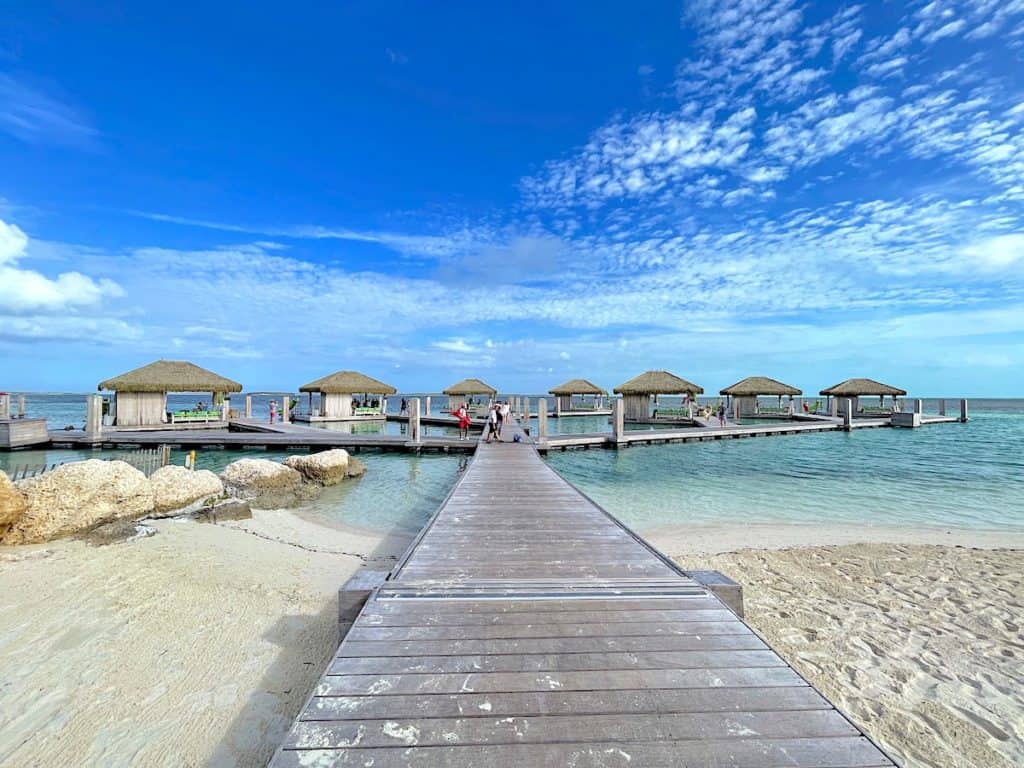 The overwater cabanas at Coco Beach Club accommodates up to eight guests and comes with attendant service, a private hammock, a minibar, and your own personal slide into the sea.
Some cabanas come with extra perks, too. If you reserve a cabana at Thrill Waterpark, you'll enjoy complimentary entry to all of the slides and activities inside for up to six guests.
If you reserve a cabana at Coco Beach Club (including the overwater cabanas), you'll enjoy complimentary access to the club for up to eight guests.
An overwater cabana for eight including full admission to the attractions can run as high as $1,799 during peak season.
The price of a Coco Beach Club overwater cabana also includes admission to the beach club with its complimentary restaurant, an exclusive beach, a beach clubhouse and other amenities.
What Activities Cost Extra at Perfect Day at CocoaCay?
If you want to ride the 1,600′ zip line or soar 450′ skyward in a tethered helium balloon, it'll cost you. Here's the new Perfect Day at CocoCay price list for all the attractions, experiences.
Note the asterisk in their price chart. The cost, especially for the Cabanas, can increase dramatically without notice. This depends on the season, ship capacity, and other factors.
That's why Royal Caribbean is not listing a specific dollar amount for Cabana rentals.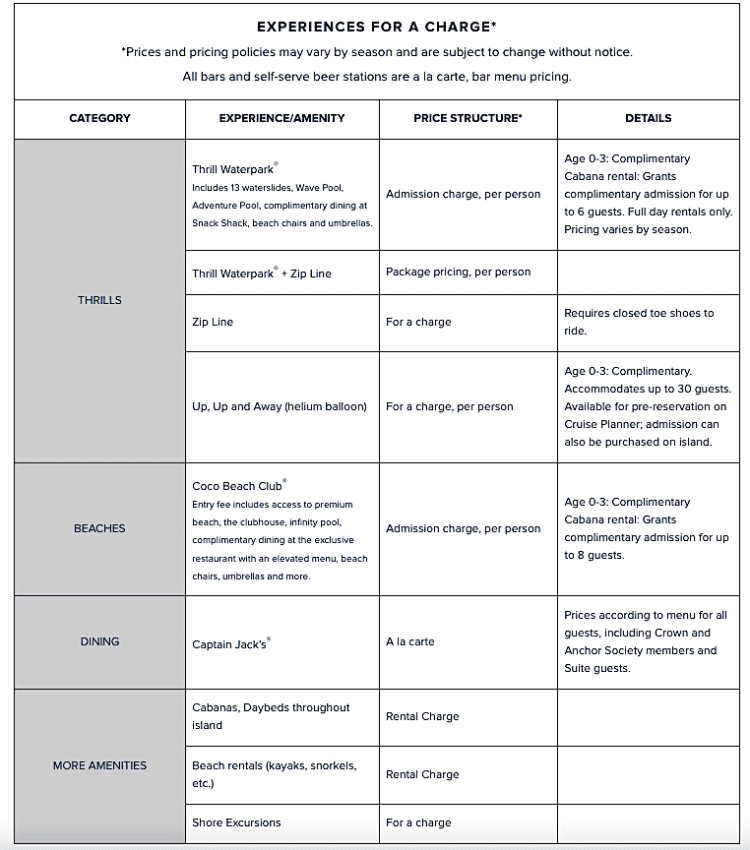 All said, unless you want to dish out the big bucks for a private cabana, it really looks like a quiet day at CocoCay of the past, is gone.
For new cruisers or those with families and others just looking for new experiences on an old theme, this will be a perfect day.

I'm the editor and creator of CruiseMaven.com, a solo traveler cruising the world on waves and wheels, collecting recipes along the way.  I hope my articles and photos entertain, advise and inspire you to travel the world without flying.  Take a breath…stop for a local meal and a glass of wine along the way.