Years ago, and I mean years…a visit to CocoCay (when it was properly pronounced Coco"Key") forecast a relaxing day at a peaceful beach in the Bahamas.  The only time you waited in line for anything was for a volley ball court.  For $7, you could rent a floaty mat for the day.
Perfect Day at CocoCay explained
After a mere $200 million, the island underwent a total transformation. Now, the destination is renamed, "Perfect Day at CocoCay" and according to Royal Caribbean, "Cay" now rhymes with "Day".
CocoCay Transformed into a Tropical Theme Park
Like elsewhere in the world of cruising, everything's on steroids.  Bigger ships, bigger cruise terminals to accommodate bigger ships, and now bigger private beach destinations.
Perfect Day at CocoCay is a prime example of bigger must be better.  And from the looks of what's happening there, maybe it's true.  But CocoCay now comes with a hefty price if you want to enjoy all the features and attractions.
Where is CocoCay Island located?
CocoCay was once named Little Stirrup Cay located in the chain of the Berry Islands.  The Berry Island Archipelago is located about 55 miles north of Nassau.  CocoCay is close to Norwegian Cruise Lines' private island, Great Stirrup Cay.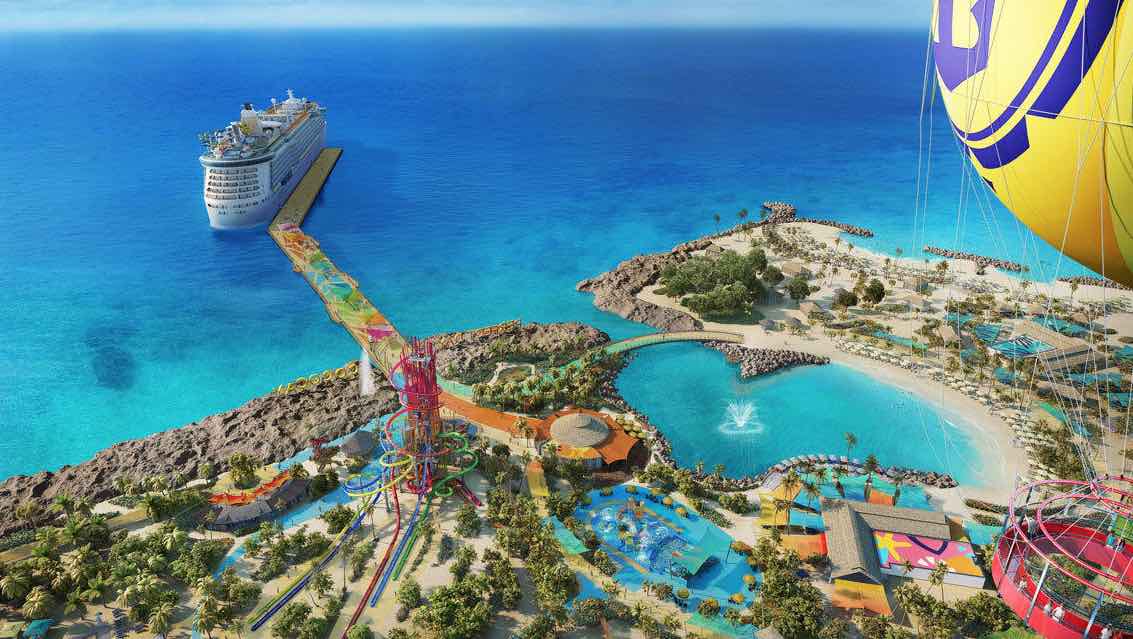 What's Free at Perfect Day at CocoCay?
Thankfully, not everything at CocoCay has a price tag.  There are still a lot of complimentary experiences to enjoy.  What's billed as the largest freshwater pool in the Caribbean, Oasis Lagoon, doesn't cost a dime.
There's a kid's water play area with a pirate shipwreck as the focus called Captain Jack's Galleon with slides and water cannons.  Another no-cost area is Splashaway Bay water park plus sports courts on South Beach.  Also at South Beach and Chill Island, you'll find free beach chairs and beach activities.
When your stomach starts to rumble, CocoCay offers five complimentary dining spots throughout the island.  These include Skipper's Grill, Chill Grill and three Snack Shacks.

Related Post:  Royal Caribbean Adds Double Days at CocoCay
Prices to Play at CocoCay
To begin, Royal Caribbean's CocoCay price list to use the water park has changed.  Their website doesn't list the actual costs, so I made a "booking" to access the chart below.  From what is shows, there is no longer a half-day pass.  And the prices can vary based on season.  What has stayed the same is kids under three years still have free admission.
Wristbands will be used for your entry into Thrill Waterpark. Once you have a wristband, you may enter and exit the park as often as you like.
The admission price to Thrill Water Park gives you access to what's being billed at the highest water slide in North America, Daredevil's Peak, at 135-feet.  The cost also includes another 12 waterslides, Wave Pool, Adventure Pool, complimentary dining at Snack Shack, beach chairs and towels.
Beach umbrellas, spa services and water sports toys are at an additional cost. Towels and beach loungers are still free.
The Cost to Rent Cabanas
For shade, there are plenty of options; beach umbrellas, clamshells, and daybeds- all available for a rental charge.  Over at the beach, there are cabanas available at Thrill Waterpark, and Oasis Lagoon freshwater pool.
The overwater cabana at Coco Beach Club accommodates up to eight guests and comes with attendant service, a private hammock, a minibar, and your own personal slide into the sea.
Some cabanas come with extra perks, too. If you reserve a cabana at Thrill Waterpark, you'll enjoy complimentary entry to all of the slides and activities inside for up to six guests. If you reserve a cabana at Coco Beach Club (including the overwater cabanas), you'll enjoy complimentary access to the club for up to eight guests.
An overwater cabana for eight including full admission to the attractions will run as high as $1,599 during peak season.
The price of a Coco Beach Club overwater cabana also includes admission to the beach club with its complimentary restaurant, an exclusive beach, a beach clubhouse and other amenities.
Perfect Day at CocoCay Price List – Updated for 2020
If you want to ride the 1,600 zipline or soar 450′ skyward in a tethered helium balloon, it'll cost you.  Here's the new Perfect Day at CocoCay price list for all the attractions and experiences.
All said, it really looks like the quiet day at CocoCay of the past, is gone.  For new cruisers or those with families and others just looking for new experiences on an old theme, this is going to be a perfect day.