Cruising was once a vacation only for the wealthy. Today, with an abundance of cruise ships and a plethora of cruising opportunities, nearly everyone can afford a little bit of R & R aboard a cruise ship. Here are my ideas on the easiest eight ways to indulge yourself on a ship and get the most "pampering" from your cruise experience.
BREAKFAST IN YOUR BATHROBE
What better way to begin your day than to have a leisurely breakfast served in your stateroom. Room service is complimentary so why not indulge yourself and order a full breakfast complete with a carafe of hot coffee, an assortment of Danish pastries, eggs prepared to your preference and freshly squeezed orange juice. Even better…enjoy your breakfast on your private verandah. Quite often, a private verandah is only a few dollars more per day than an oceanview (window-only) stateroom and well worth the investment.
CHILDREN'S PROGRAMS
Bringing your kids? Almost all of the cruise lines offer children's programs, some more extensive than others like Carnival and Royal Caribbean. Children and teens can enjoy time away from their parents (and vice versa of course!) in activities run by qualified, trained Counselors. Most programs are complimentary and offer fun and educational age-appropriate activities from early morning to late in the evening for teens. This is a great opportunity for parents or grandparents to find some alone time, catch up on reading, enjoy a romantic dinner in a specialty restaurant or just curl up on a lounge chair and relax.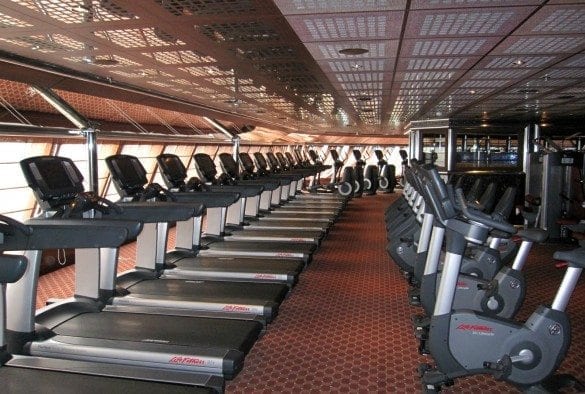 FEEL GOOD AND FIRM UP WITH A FITNESS CLASS
Yearning for a Yoga class? Piqued by Pilates? Spurred on by Spinning? (Sorry, I couldn't resist.) If so, then here is your golden opportunity. Every cruise line offers some type of fitness class. Some cruise lines charge a fee for specialty classes, but it is usually very nominal. The exercise equipment and fitness areas on many ships are state of the art with plenty of machinery for everyone to use. If you'd like, you can even work with a personal fitness trainer for your entire cruise and really make the most of your vacation.
HAVE A NIGHT OUT ON THE TOWN
Dance the night away under the stars, listen to the ship's musicians, try the nightly specialty drink, or take in a fabulous Broadway-style production in the main theatre. Late night comedians can be hilarious (for adults only). Night time entertainment possibilities are almost endless. Of course, don't forget to make your nightly donations in the casino. Before you call it a night, take a midnight stroll around the deck.
RETAIL THERAPY
Can't get enough shopping in port? Visit the shops onboard and indulge yourself knowing that you are saving money (and what could be more important than that!) Designer watches, precious gems and jewelry, liquor and perfumes are much less expensive to purchase onboard than back home. I've checked prices on the ship and in the "recommended" shops. Often they're the same or better. Watch for sales on logo items on the last couple of nights of your cruise.
PAMPER TO THE MAX…IN THE SPA, SALON and SERENITY AREAS
OK…you've been hoofin' it around ports, climbing endless flights of stairs and battling the clinging shower curtain. Isn't it time for a massage? From Rasul to Hot Stones to Aromatherapy, there is a massage for you. Some cruisers turn a three night weekend cruise into a spa vacation. New on many ships and sometimes with a fee, are adults-only "Serenity" areas. Far from the madding crowd, if you long to laze on a hammock or stretch out on a chaise with butler service, these quiet areas are worth every penny. Especially on one of the mega-ships.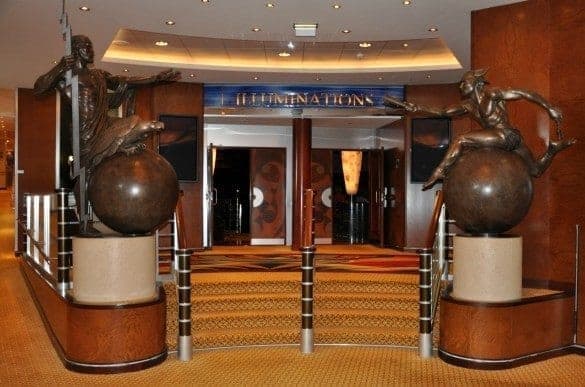 EXPAND YOUR MIND
Enrichment activities and learning classes are on nearly every cruise. From wine tasting to astronomy (aboard Cunard's Queen Mary 2 featuring the only planetarium at sea) to throwing clay on a pottery wheel (Princess Cruises Ruby Princess) there is something for everyone. Culinary experiences – hands-on and demonstrations – are the new rage. Oceania Cruises Marina has the first ever culinary center at sea for hands-on cooking classes. Many ships feature prominent historians or authors who give very interesting lectures several times a week. Come home a little smarter or talented and wow your family and friends!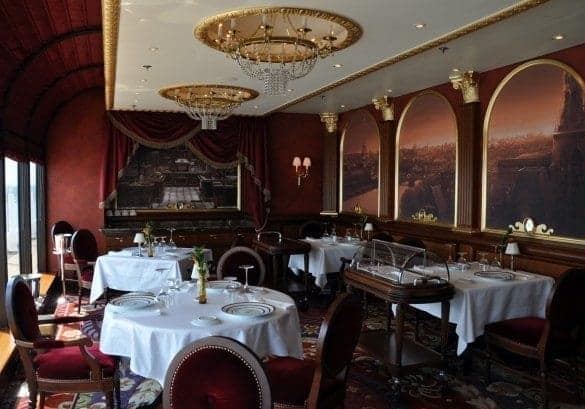 DINE IN WORLD-CLASS SPECIALTY RESTAURANTS
Some of the world's top chefs are lending not only their name but their culinary talents to the specialty restaurants aboard ships. Generally, there are nominal fees of $10 – $30 per person. A few of the celebrity chefs restaurants are: Todd English's Restaurant on Cunard, famed sushi chef Nobu Matsuhisa's Silk Road restaurant on Crystal and the influence of Jacques Pepin on Oceania. Princess and Carnival have a new concept called Chef's Table Dinners where you actually sit in the galley with several other guests and dine on a meal specially prepared and served by the chef, who then will join the table for dessert. Including wine the cost is $75pp.
Pictured above, is Disney's trés chic Remy, from of course the movie, Ratatouille. This exclusive French-insprired restaurant will set you back at least $75 each with wine and alcohol additional. The good news? Only guests over 18 yrs old are allowed into Remy's.
With all these options to relax, rejuvenate and renourish your mind, body and soul, it is easy to return home without chanting the ever-so-popular, "I need a vacation from my vacation" mantra.
Photo credit: Seabourn-Headline photo; Sherry Laskin
I'm the editor and creator of CruiseMaven.com, a solo traveler cruising the world on waves and wheels, collecting recipes along the way.  I hope my articles and photos entertain, advise and inspire you to travel the world without flying.  Take a breath…stop for a local meal and a glass of wine along the way.