Theresa Russell was invited to join Norwegian Prima's inaugural sailing from Iceland. Read on for Theresa's comprehensive Norwegian Prima review, along with her quirky sense of humor.
As early renderings of the ship Norwegian Prima were revealed, my anticipation to sail and write a Norwegian Prima review grew stronger. There were many innovative enhancements added to this latest ship in NCL's fleet and I was excited to see the finished product.
I have sailed on all of the NCL ships except for Sky, so I am quite familiar with the brand and ships' layouts. Or so I thought.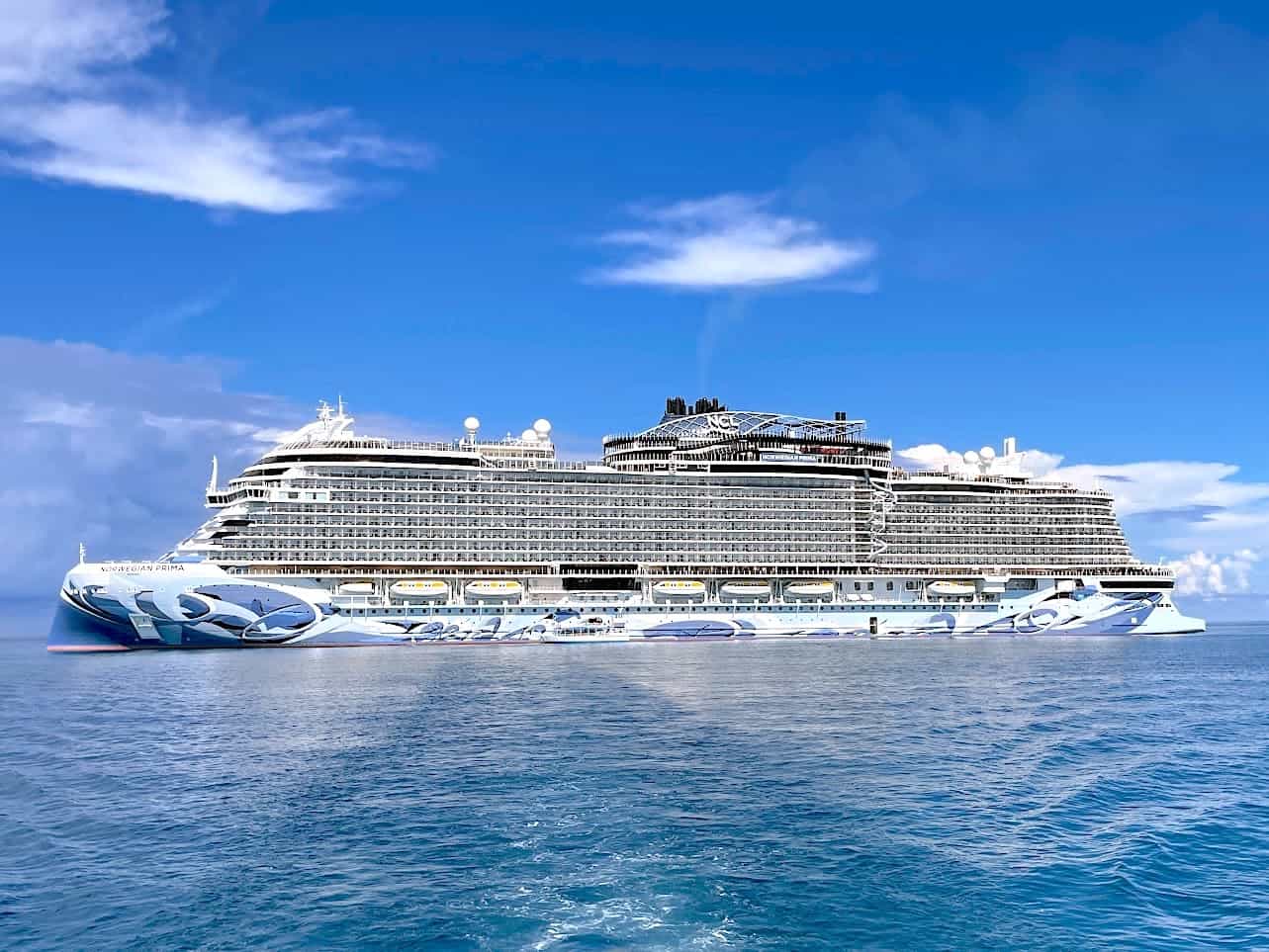 Norwegian Prima Review
When I took my first step onto Prima, I was taken aback. Nothing seemed familiar to me at all. I couldn't get my bearings and felt like a fish out of water.
And speaking of fish, why did I not see them swimming on the carpets? I counted on these fish to help me find my way to the front of the ship. They abandoned me. Keep reading for more on that later.
Norwegian Prima – Fast Facts
Year Built: 2022
Weight: 142,500 GT
Decks: 20
Passengers at Double Occupancy: 3100
Crew: 1506
Total staterooms: 1586
First Impressions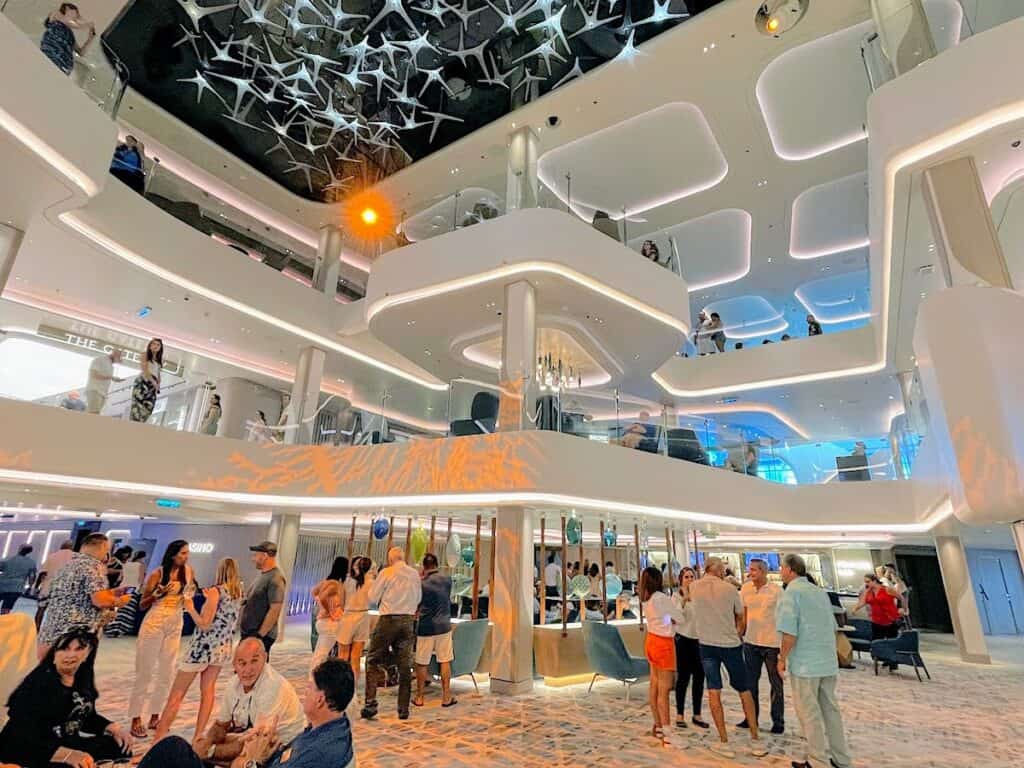 I entered the ship at the Penrose Atrium. Dumbfounded by the view, I stood for a few minutes just a bit disoriented.
The large, open and bright 3-story Penrose Atrium differed immensely from other Norwegian ships. My smugness about knowing NCL so well, waned.
I realized that not only was the décor different on Prima, but also the layout. So much for thinking that I could quickly figure out this ship.
Balcony Stateroom Review
Anxious to get to my balcony stateroom #15770, my intent was to drop my carry-on, grab a bite to eat and explore the new ship.
On this ship, there are only two sets of elevators in the fore and aft. Reaching my deck, I used the convenient directional signs to find my stateroom.
I closely examined the attractive carpet and bemoaned the absence of fish pointing forward. Instead of the usual fish, they were replaced by large triangles that pointed forward.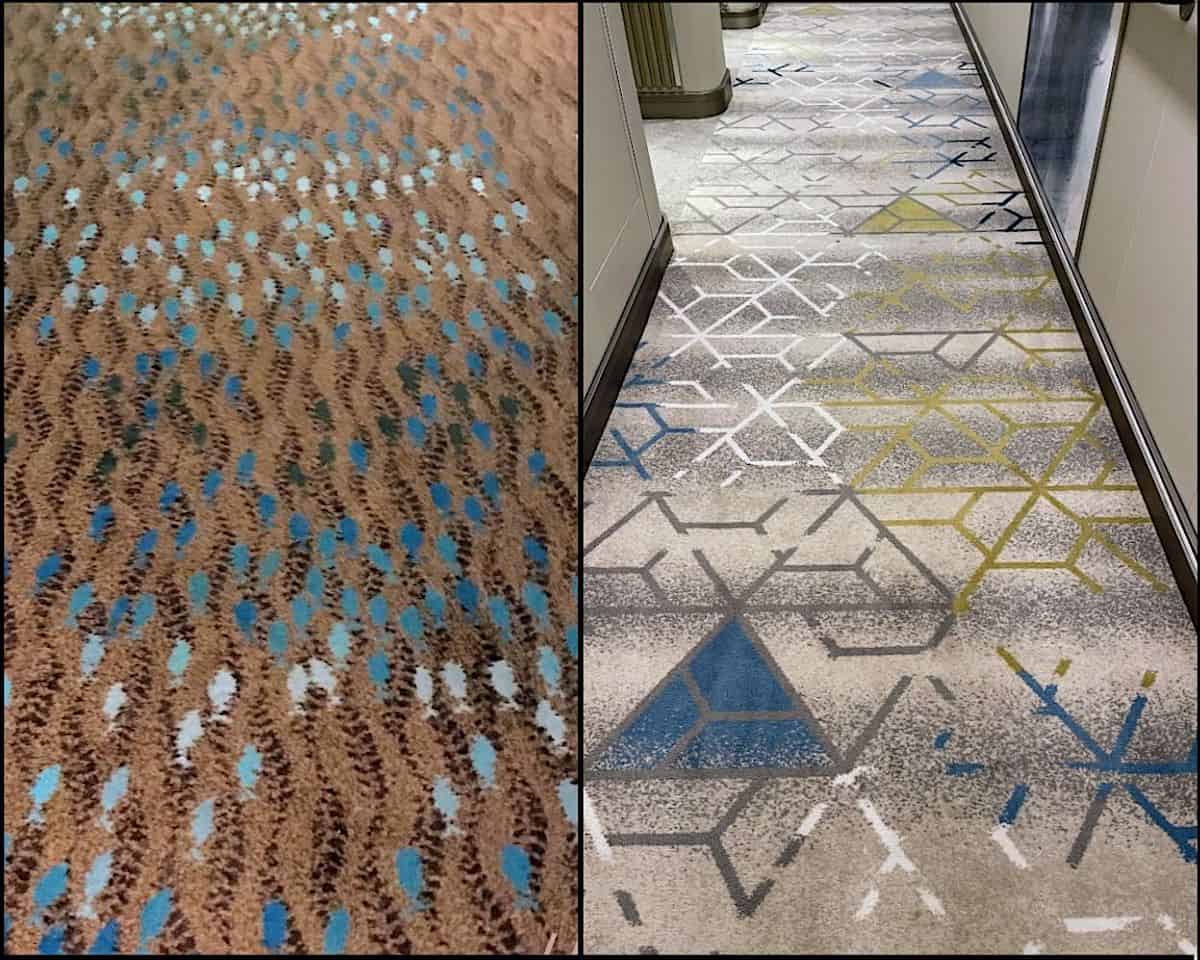 Couldn't these triangles have been made to look like a Picasso-type fish? Just a thought. At least I figured out my new directional guide star.
My midship cabin was ready and waiting for me. I dropped my carry-on luggage there and explored the room. My eyes were immediately drawn to the bed without a bedskirt.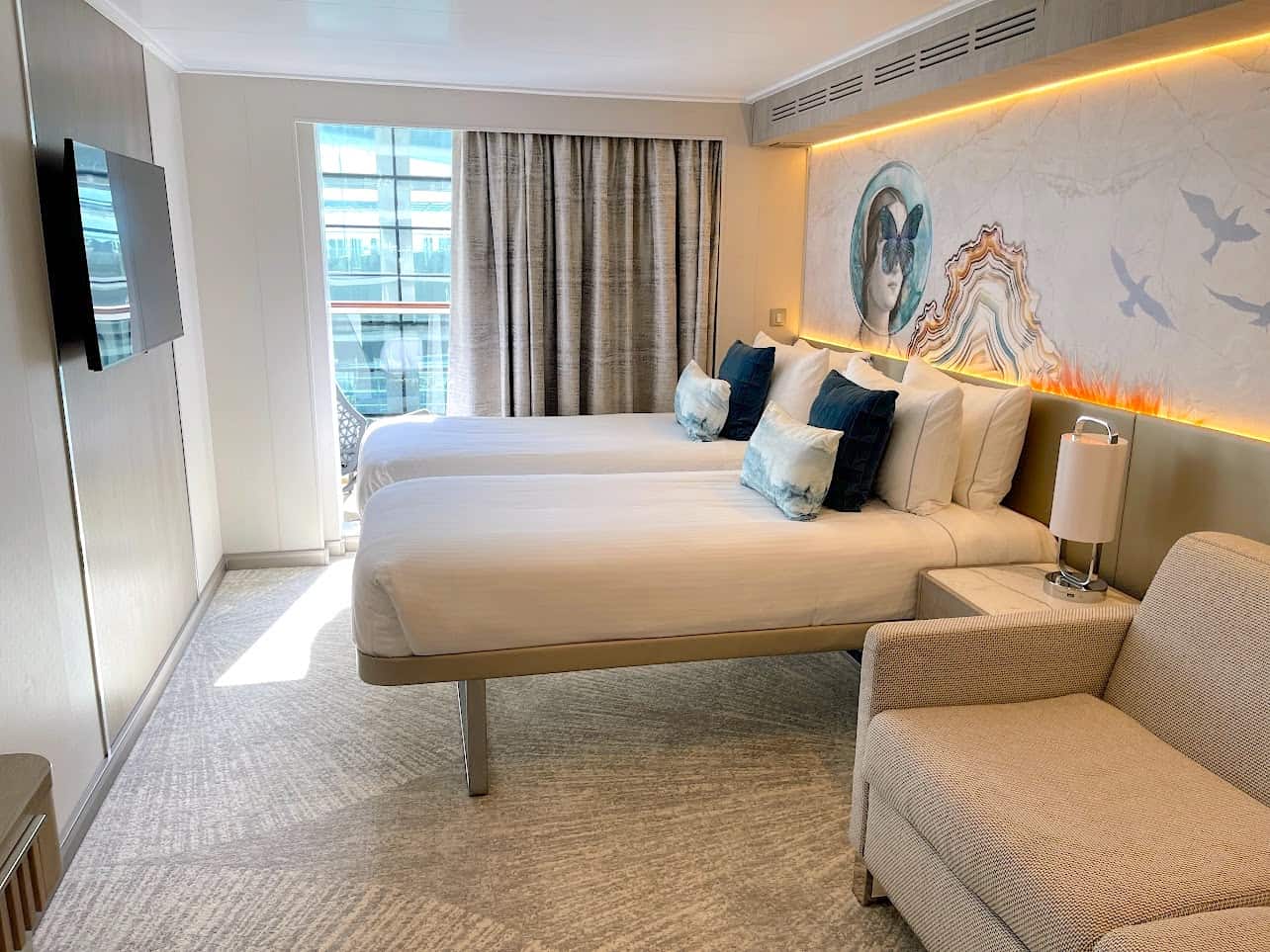 The open space underneath the bed gave the room a modern look. It also made the space appear larger.
On this ship, the balcony cabins have the beds near the balcony. This layout is done with much forethought.
Want to book an aft balcony? Not on Norwegian Prima. Why? It's because the Haven takes up the aft part of the ship with its 107 staterooms.
One of the designers that I chatted with explained the layout. Like at home, you come to the living area first.
The sleeping area is farther away. It certainly makes sense, but I don't know if I agree.
The stateroom is fairly typical with two lower beds that convert to a queen. My family balcony cabin also had a convertible sleeper sofa.
Noticeable Prima Stateroom Interior Differences
What I immediately noticed was the lack of a coffee table. Behind the bed and sofa is a feature wall, itself a large piece of artwork.
Across from the sofa is a small desk with outlets and USB ports. The desk has a barrel-like stool with a handle.
I had plenty of closet space for myself, but wondered if there would be enough if sharing my room. It was difficult hanging longer items.
The closet seems most efficient for hanging shorter garments, even with the lower rack moved. There are also several shelves and room in the night stands.
Furnished with two chairs and a small table, the balcony is about 45 square feet. It had adequate space for relaxing and enjoying the view.
The modern look of the room really adds a touch of luxury to the room. The bed was comfy, and the draperies were pretty good at blocking out light.
As somebody who likes to sleep cool, I could never get the room cool enough. Other guests on this sailing had the opposite problem. They were cold all of the time.
The Bathroom
With bursts of color on the backsplash, the bathroom seemed much bigger and more elegant than others. The walk-in shower was large and there was adequate storage space for toiletries.
INSIDER TIP – Where the hand towel hangs on the vanity is also the handle for a drawer to stash more toiletries.
Dining
Two new dining concepts are found on Prima. The first is that the menu at the main dining rooms never changes. I was concerned about this until I realized that my favorite restaurant at home doesn't change its menu daily, either.
The two main dining rooms are smaller than the MDR on other NCL ships. The Commodore Room and Hudson's appear to be more in line with the size of Taste and Savor on other ships.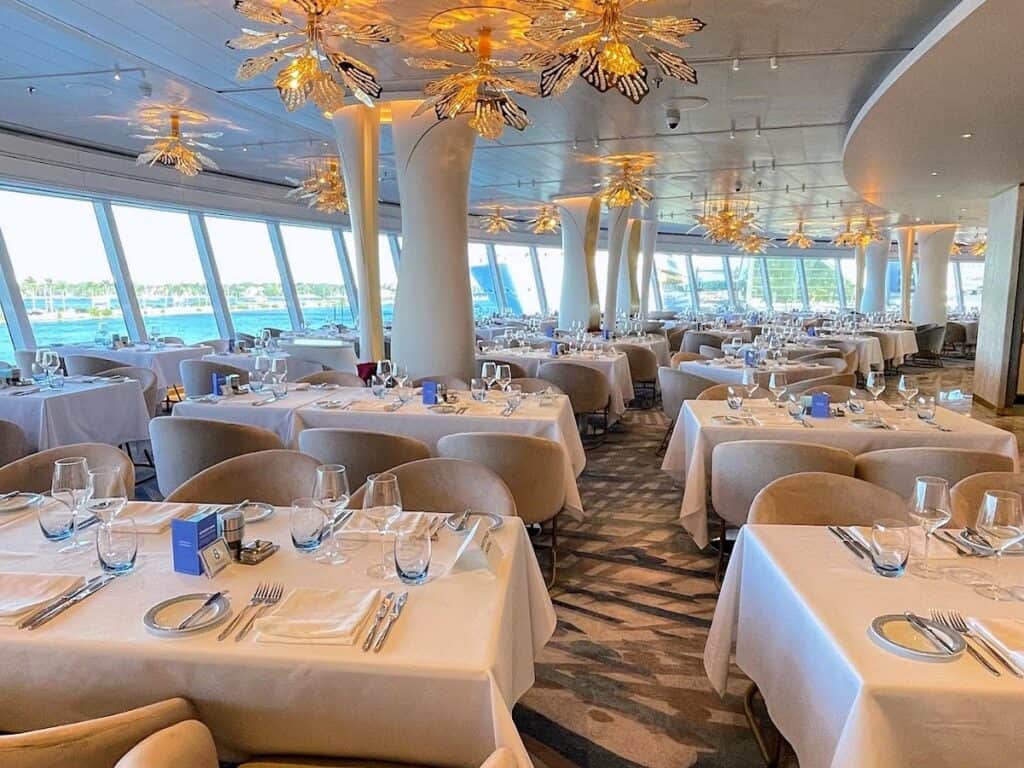 Smaller main dining rooms could mean a longer wait time. Or maybe intended to get passengers to try the specialty restaurants or because so many guests choose specialty dining.
Specialty Restaurants on Norwegian Prima include:
Palomar – Seafood with a Mediterranean influence
Cagney's Steakhouse – The cruise line's famous steakhouse
Onda by Scarpetta – Italian cuisine
Los Lobos – Mexican food with an upscale attitude
Food Republic – Small plate entrées with an Asian flair
Le Bistro – Norwegian's signature French restaurant
Hasuki – Teppanyaki restaurant – always popular so reserve early
Nama Sushi – Elegant sushi bar with a wide selection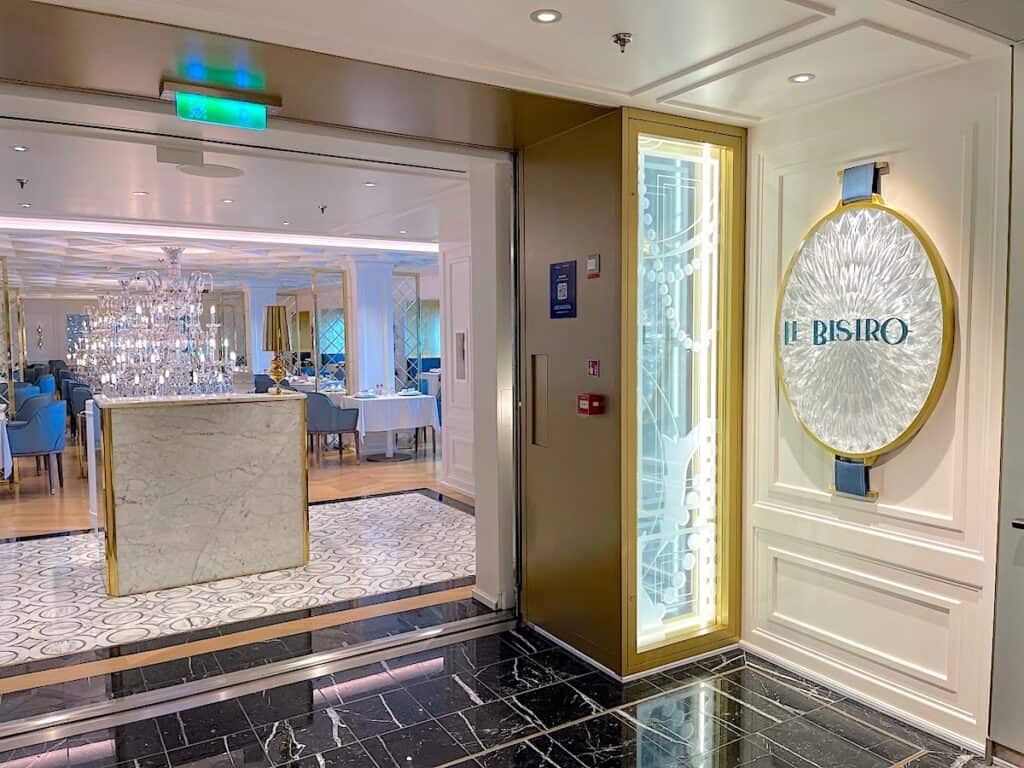 Most of the familiar specialty restaurants from other NCL ships are also on Prima. One that is missing is Moderno, the Brazilian all-you-can-eat steakhouse.
The second new and fun concept on Prima is Indulge Food Hall.
What is Indulge Food Hall?
Indulge is a collection of 11 different types of restaurants all under one "roof". I noticed some strong resemblances to restaurants on other ships.
Some, like Q Texas Smokehouse, retain their names. Their menus are similar to those found on other ships in the fleet.
Others, like Tamara, with Indian cuisine, are new. It's a fun spot to sample different foods.
The one real drawback is the limited seating. And where you sit is important.
How to Order Food at Indulge Food Hall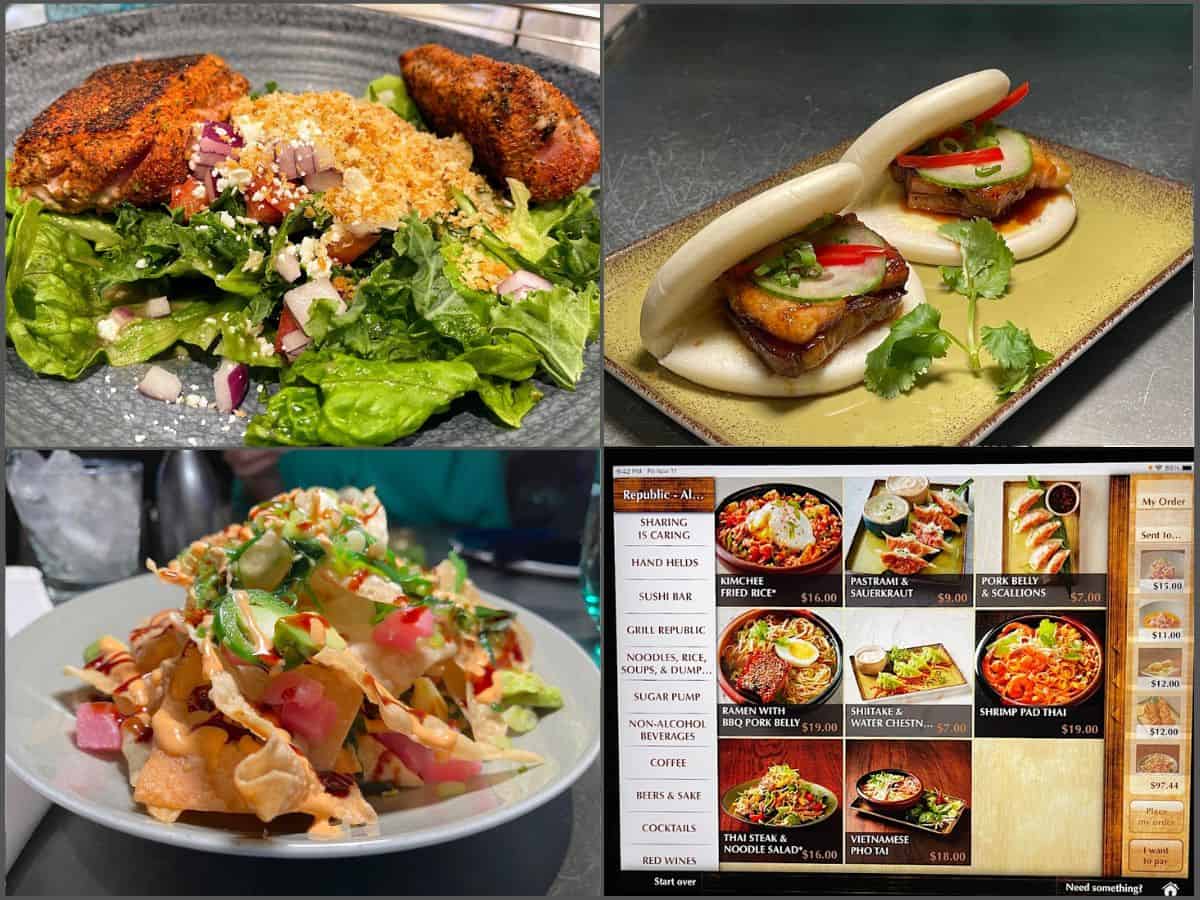 If you want to try something from several of the restaurants, find a seat in the middle of the chaos. Then use the tablet placed on your table to order. Menus from all of the restaurants will be found on those tablets.
On the other hand, maybe you prefer to enjoy just one type of food. Find a seat at the venue's counter or very nearby that particular restaurant.
For example, I enjoyed the Indian food at Tamara. In fact, I ate there a few times, sitting at the counter.
In this case, the tablet only shows menu items from Tamara. Beverages are also shown on that tablet.
It was fun to watch the chef and the servers. Also, the food was quite tasty.
Freshly made naan was not only delicious, but interesting to watch the process. With entertaining antics, the server also made eating at Tamara a mini-show event.
Besides Tamara and Q Texas Smokehouse, a barbecue favorite, there are nine more restaurants, 11 total.
All of the restaurants are complimentary with the exception of Coco and Starbucks. All have meatless options.
List of Indulge Food Hall Restaurants
Nudls – Serves all sorts of noodles. Don't just think of Asian dishes. Pad Thai, tagliatelle and spaetzle are just a few of the noodles offered.
Q Texas Roadhouse – Like on other NCL ships, but without an extra charge. Menus include chili, bbq chicken, pulled pork and sides.
Seaside Rotisserie – With its many skewered meat options reminded me of Moderno. Chicken, brisket, and kabobs can be accompanied by a variety of sides.
The Garden – A variety of salads are available at The Garden. Soups, Spinach Caesar and Cobb are just a few of the choices.
The Latin Quarter – If you have a hankering for chips, guacamole or tostadas, look for the food truck.
Tapas – Think jamon, chorizo and manchego. Perfect for a quick snack.
Tamara – Indian food lovers rejoice. Tamara serves many dishes including paneer, tikka masala, dosa and freshly made naan.
Coco's – Sundaes with Gummies or just a plain gelato. Milkshakes and other frozen treats and everything in between. Prices range from $3-$8.
Just Ice Cream – The name explains it all.
Just Desserts – More sweets.
Starbucks – Head for this Starbucks location if the line at the Starbucks in the main lobby is too long. There's a fee here, too.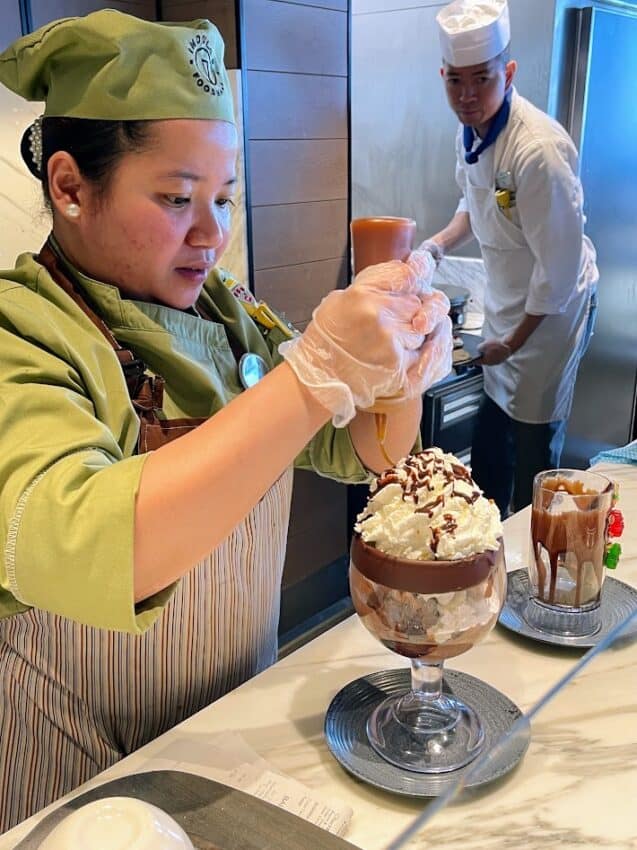 Indulge Food Hall is open for breakfast, lunch, and dinner.
One old complimentary favorite has returned on Prima, The Local. It's a pub-style restaurant, with an outdoor dining area. It's a perfect spot to enjoy the good weather. Open for breakfast, lunch and dinner.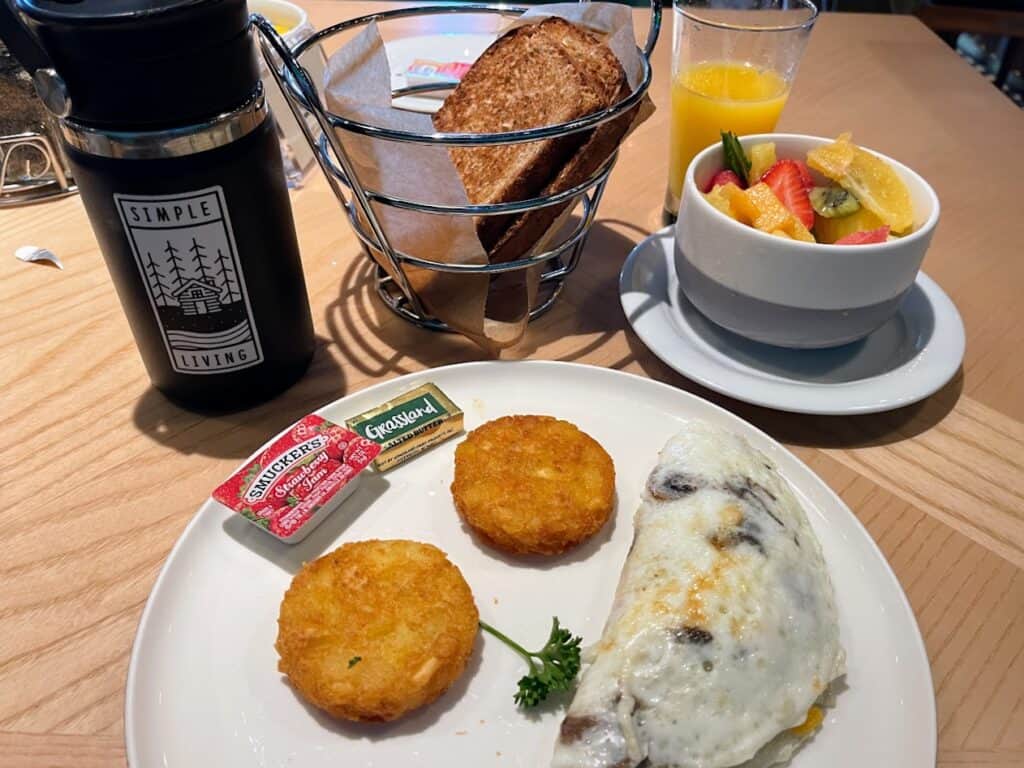 Prima Entertainment Main Production Review
NCL is known for its entertainment and the entertainment on Prima maintains a high standard.
The headline show is "Summer: The Donna Summer Musical". Exciting and insightful into her painful childhood into stardom.
With three different performers playing the part of Donna at different stages of her life, the show was full of music.
This show a great combination of her mega-hits as well as a documentary of her life.
This show lasts for about 75 minutes. If you are a Donna Summer fan, the show's length of time was perfect. Audience sing-along and dancing are encouraged!
INSIDER TIP – Make your reservations for the shows, especially the comedy club and game shows as soon as possible. Improv at Sea, the comedy club, seats about 70 people so early reservations are necessary.
If you can't get a space, check regularly as cancellations do occur. Reservations are released 10 minutes before show time, so go and get in line and standby for unclaimed seats.
Another big show on Prima is "The Price is Right LIVE on NCL". It is the real thing complete with the sets and games from the television show. Guests can actually win real prizes.
Smaller venues for music, a comedy club and a casino are other options for entertainment.
Outdoor Activities for All
The familiar race track at the top of the ship has a course that wraps around the funnels. Longer and narrower than on other ships, Norwegian Prima Speedway ($15 per ride) remains as popular as ever.
On that same deck (17), The Stadium is the spot for games, like ping pong, pickle ball and others. Opposite The Stadium, Tee Time($10 per person) is an interactive mini-golf.
Right next to Tee Time, Bull's Eye ($40 for up to 6 people) offers private space in several parlor rooms to groups of players. An electronic board keeps track of dart throws.
Anybody looking for thrills should head to The Rush or The Drop. The Drop plunges riders down 10 decks at high speeds.
The Rush is a dueling dry slide. Thrill seekers can compete to make it to the bottom first.
The above are both dry slides, but water slide fans gravitate to The Wave. This slide has, as you may have guessed, wave action.
Other NCL ships include Galaxy Pavilion($8 per person, per experience.) I tried several different adventures there including a roller coaster.
That made me wonder how many people get sick on the experiences. I kept my eyes closed for most of that ride.
Prima will have two escape rooms ($15 per person) on board. Due to supply issues, that option was not available on my sailing, but is coming soon.
With all the arcade activities that come with fees, keep track of your kids' (or your) spending. Be sure to limit – or not – which fee-based activities your child participates in.
I know of people shocked by their final bill. The two or three games parents allowed grew astronomically along with the bill.
Insider Tip – If you want to enjoy the entertainment multiple times, consider purchasing a package.
Prima Speedway has a cruise-long pass for $199. Galaxy Pavilion has several starting with an hour pass for $29. A day pass there is $49 and a full cruise pass is $199.
If you want to combine activities, there is a combo pass that combines Prima Speedway, Bull's Eye and Galaxy Pavilion for $399. All prices are subject to change
Outdoors Decks and Pools
One of my favorite activities on Prima is to grab a chair and enjoy the scenery from Ocean Boulevard. This outdoor deck includes Infinity Beach. With two small infinity pools on both sides of the ship, there are also plenty of chairs.
There is just one small main pool up on deck 17. For kids, their dedicated pool has plenty of seating for them and the adults supervising them.
The Mandara Spa
Don't expect the spa area to look like any of the spas on other ships. NCL has spared no expense in the design of Prima's spa area. There are multiple treatment rooms for those with a spa pass.
The thermal suite area is much larger than on other ships. The expansive views of the outdoors is a real bonus.
Here's the absolutely gorgeous thermal pool.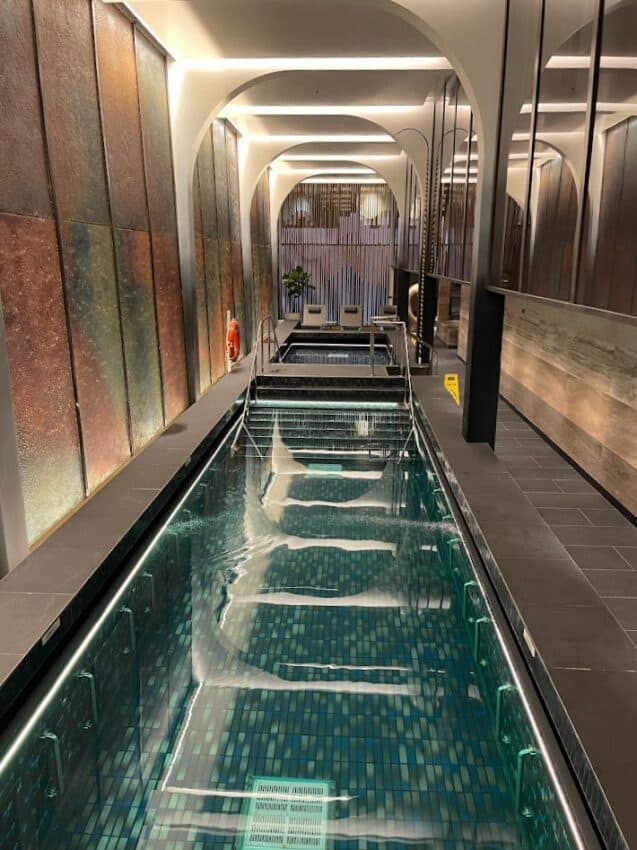 Spa passes are available for one day or the entire cruise. A day pass costs $99 just for the use of the spa area. Treatments are not included in this pass.
With the pass, you have unlimited access to all of the Thermal Suite features, including this amazing Salt Room. Breathe deep!
Insider Tip: Consider buying a spa pass for your entire cruise for $399.
Pulse Fitness Center is accessed via the spa. This seemed odd as it required passing through the spa itself.
Norwegian Prima Disembarkation
With an early morning flight, I chose the self-assist option. It went quite smoothly. I used NCL's transfer to the airport.
Final Thoughts – Norwegian Prima Review
When I first boarded, I found the décor of the ship taken to a much higher level. Not a big surprise as this was the vision for this class of ship.
My favorite part of this ship, Ocean Boulevard, really connected me to the sea. Finding a seat was never a problem.
It's refreshing to know that NCL maintains its Freestyle concept. I like dining when I wish and with whom I wish.
Besides the new features, NCL maintains its great kids' club.
The bright and comfortable buffet, now known as Seaside Café, is not as large as the Garden Café. Like other venues on Prima, it has a very modern vibe.
What I found most impressive about Prima was the high level of service. The crew served with a smile and anticipated my needs.
It says much when a server who moves between restaurants recognizes you and greets you by name.
Prima will be based in Port Canaveral and Galveston. She will also sail Europe with transatlantic sailing before and after the Caribbean season.
The changes on Norwegian Prima were thoughtfully planned and well executed. Regular NCL cruisers will have fun comparing this new class of ships with others in the fleet.
You may come away pleasantly surprised as I did. I hope this Norwegian Prima review helps you to decided if this is the ship for you.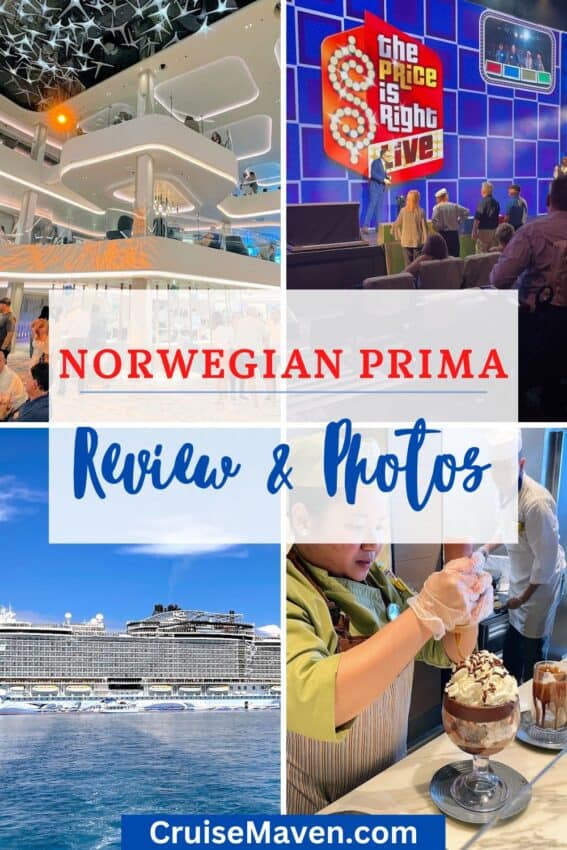 Initially hesitant to cruise due to misconceptions, Theresa Russel first sailed French Polynesia, quickly becoming a convert to this style of travel. Since then, she has sailed on big and small ships on many of the oceans and rivers of the world. Having won awards for her words and images, she continues to seek new experiences and adventures throughout the world to write about and photograph.