Cruise Maven contributor, Theresa Russell, had the chance to cruise aboard Royal Caribbean's Wonder of the Seas. I love her sense of humor and objective, unbiased commentary so of course I asked her if she'd write a review.
Read on for Theresa's Wonder of the Seas review of this innovative and truly eye-popping new ship. And for now, the largest ship in the world.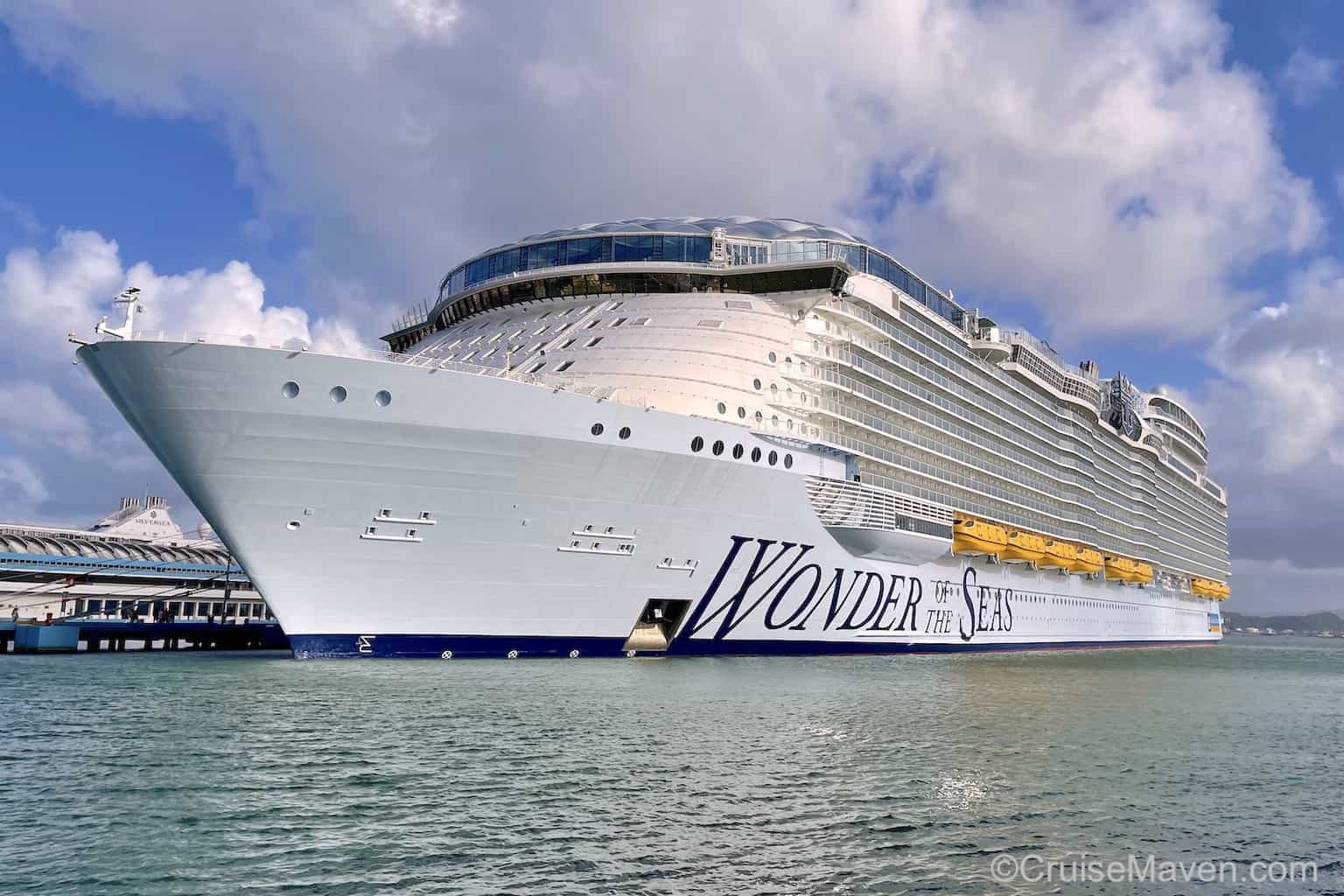 Wonder of the Seas Review
After many years of cruising solo or with friends, I was finally able to cruise with my recently retired husband, Robert. The only Royal Caribbean ship he had sailed on was Monarch of the Seas many years ago.
I was so anxious to see what his impressions would be of Wonder of the Seas, currently the world's largest cruise ship. As for me, I had sailed on Oasis Class ships before.
Being larger than Oasis of the Seas and the other Oasis Class ships, Wonder of the Seas added a few new things that I needed to see to check off my list.
Fast Facts – Wonder of the Seas
Year built: 2022
Weight: 236,857 GT
Decks: 18
Passengers at double occupancy: 5734
Crew: 2300
Total staterooms: 2867
Seven-Night Wonder of the Seas Caribbean Itinerary
Sailing round trip from Fort Lauderdale, our ship visited four ports, with two sea days. The sea days were spaced nicely to allow recovery from the port days and allowed for exploration of the ship.
Our Port Visits Included:
Labadee, Haiti
San Juan, Puerto Rico
Nassau, Bahamas
Perfect Day at CocoCay
Welcome Aboard Royal Caribbean's Wonder of the Seas
We flew into Fort Lauderdale the day before boarding and used Lyft to reach the pier. Prior to boarding, we had downloaded the Royal Caribbean app to simplify and expedite the boarding process. After several frustrating attempts, we finally got their app to work.
Rather than standing behind counters, the check-in staff stood with tablets in hand to finish the check-in process. Asking why we didn't receive keycards or a band, we were told that our keys would be found outside our stateroom door.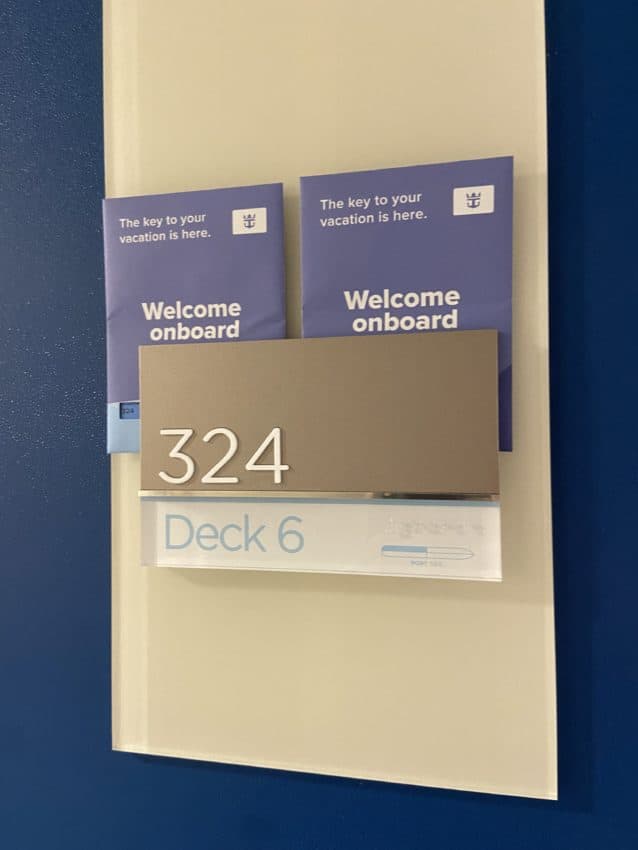 Considering the size of the ship and the fact that we arrived a tad earlier than our assigned time, we expected a slower boarding experience. How wrong we were!
It took just 11 minutes from the time we walked into the terminal to the minute we walked onto the ship.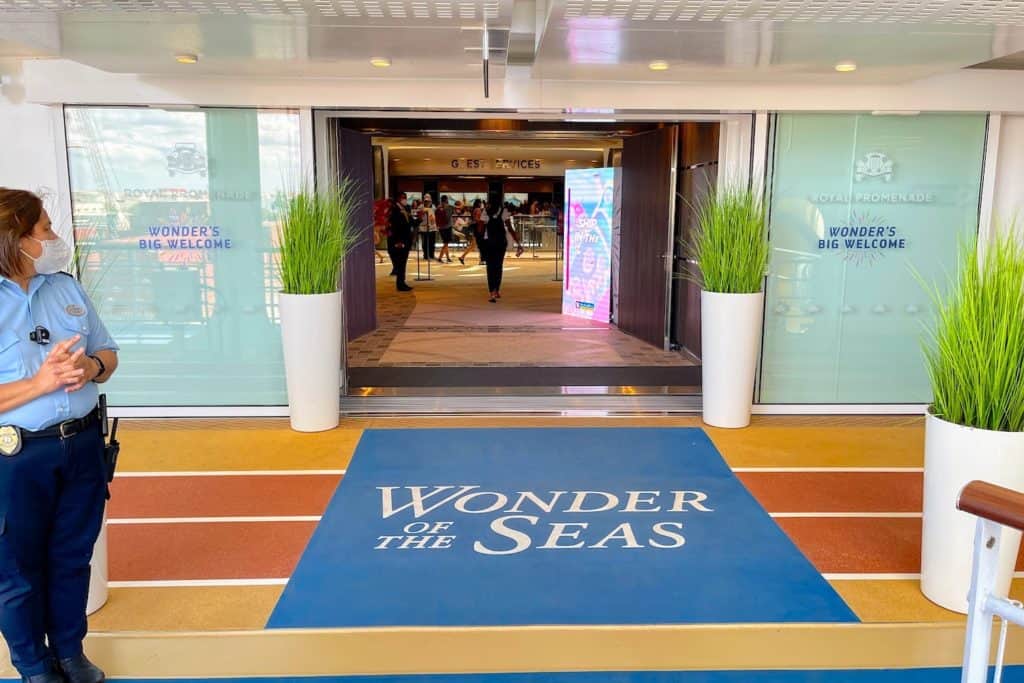 RELATED: Sherry's First Cruise During Covid Aboard Wonder of the Seas
First Impressions
A Wonder of the Seas review wouldn't be complete without mentioning our "First Impressions."
For many reasons, setting foot onto Wonder of the Seas was eventful.The Promenade was buzzing and full of excitement. People moved about everywhere, many with drinks in hand. The energy on The Promenade was palpable.
It was an experience just to watch my husband's face after stepping into The Promenade Neighborhood and see all of the activity there.
Robert couldn't believe that there were seven more neighborhoods to explore. He was overwhelmed, over stimulated and almost intimidated by the size of the ship.
Having sailed on Oasis Class ships before, I felt comfortable in this familiar space. After the missed connections, delayed flights, and lost luggage issues of the past few days, I was ready to go directly to our cabin and then find something to eat. Finally!
Wonder of the Seas Standard Balcony Stateroom
We arrived at our stateroom #6324 on Deck 6 Aft. We found four stateroom keys waiting for us. Just one of them opened the door. Getting those in good working order took several attempts.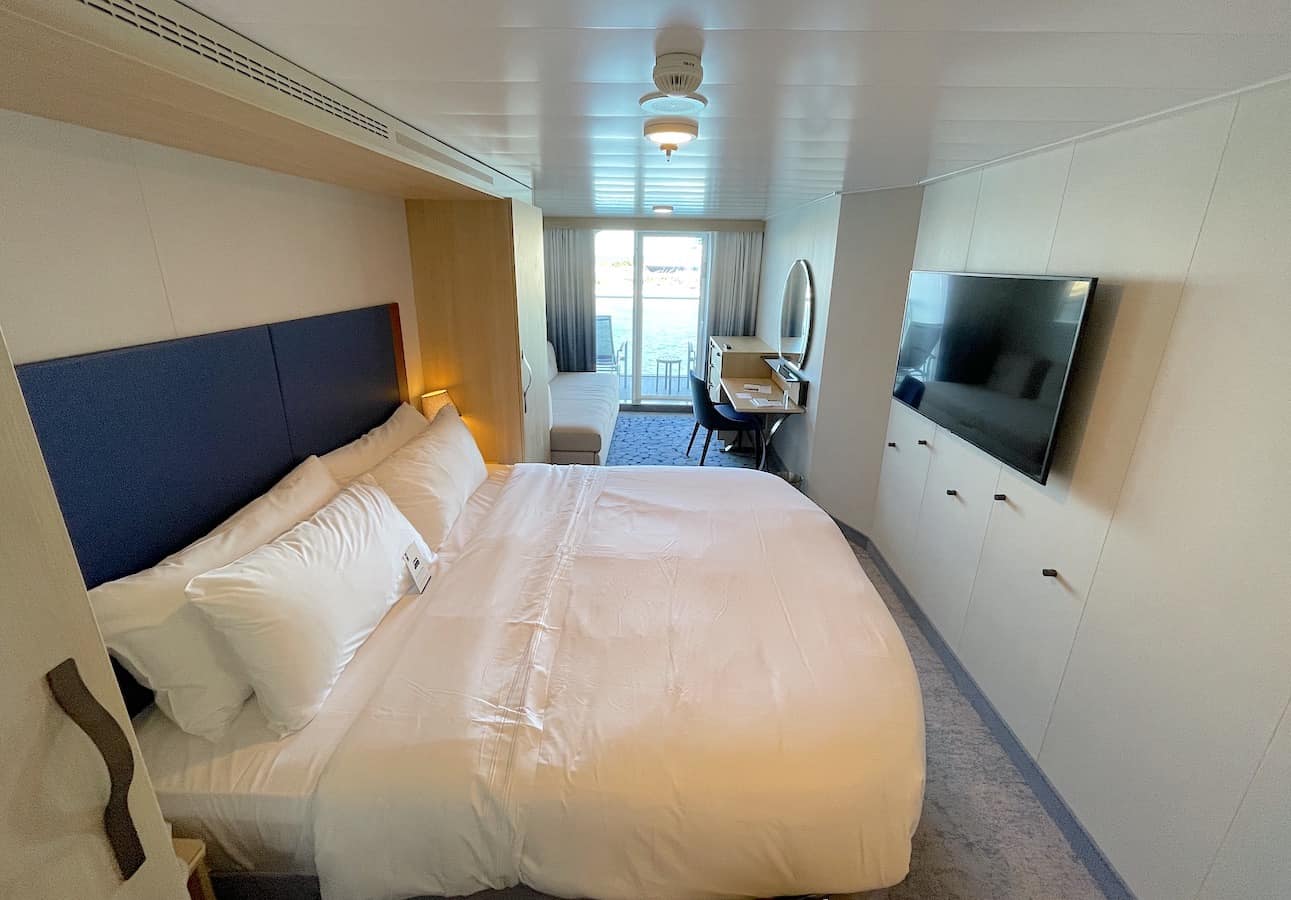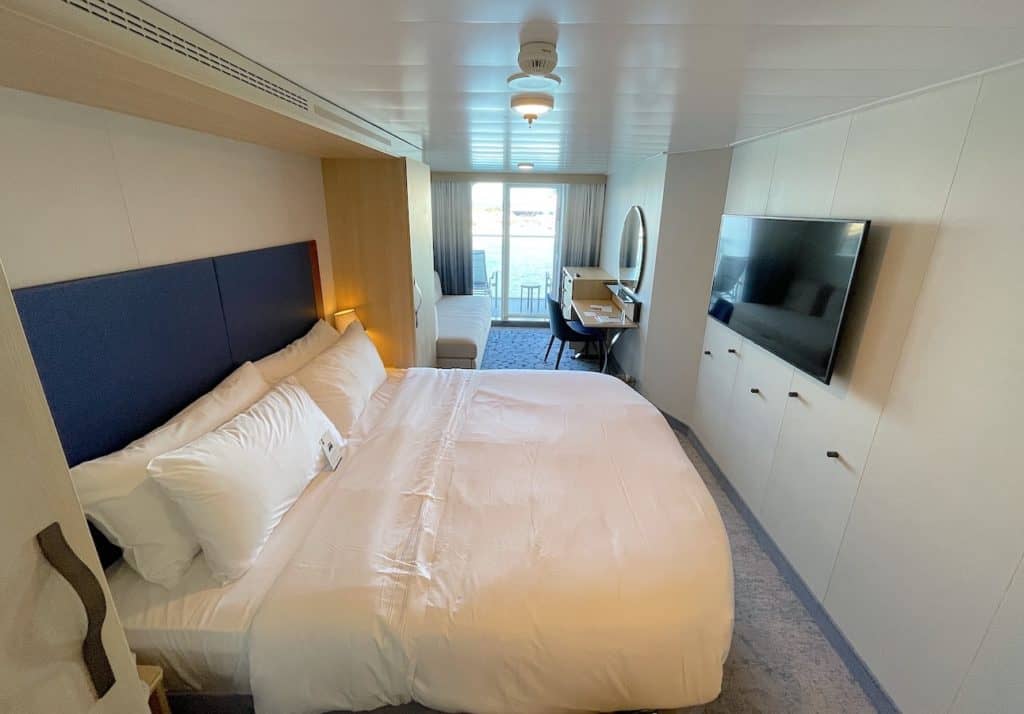 Our stateroom consisted of two twin beds that had been converted into a Royal King. Additional sleeping space was available in a double sofa bed. The light and airy décor made the room appear larger than its 182 sq. ft.
Across from the bed is a large screen television with hooks below. Those hooks are good for hanging smaller items, but anything big would obstruct the walkway between the bed and television.
The tiny night stands next to the bed held a few shelves for smaller items.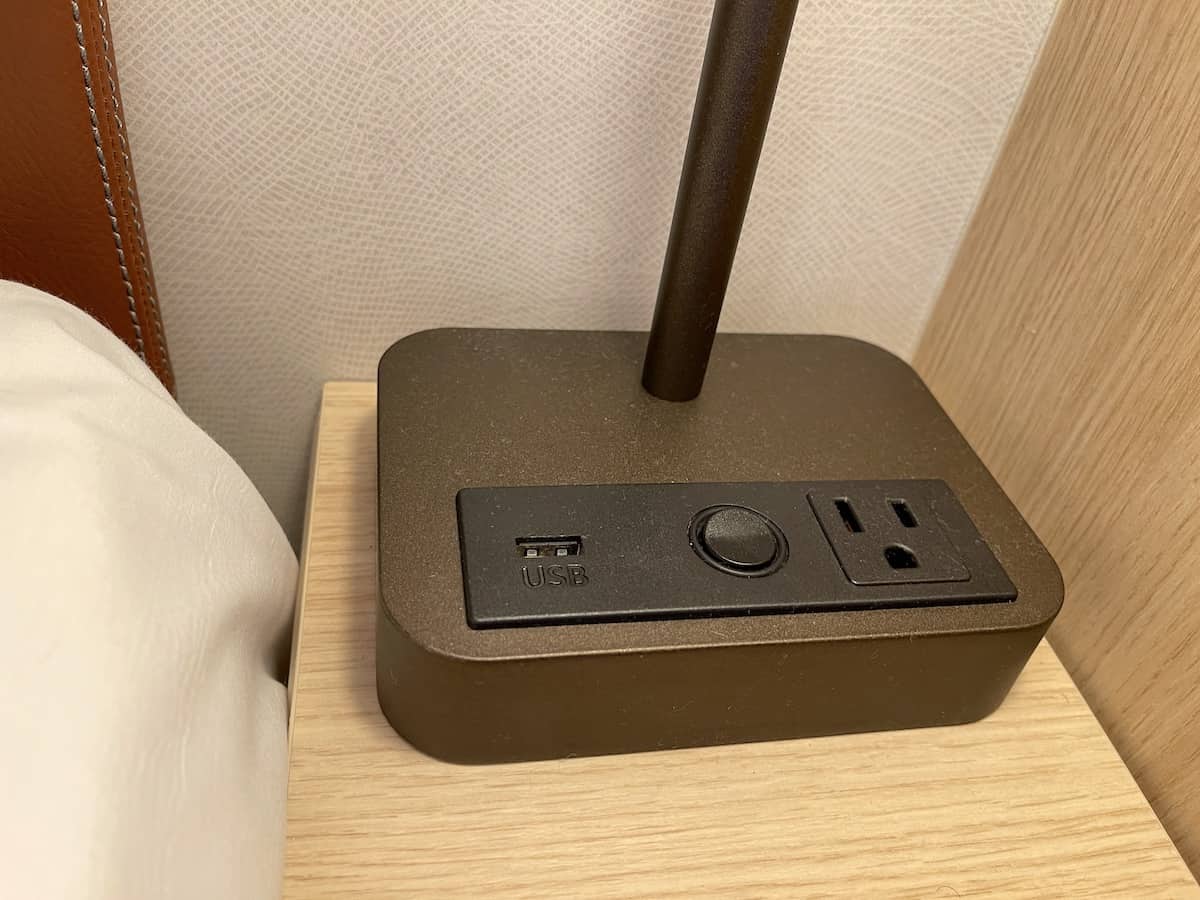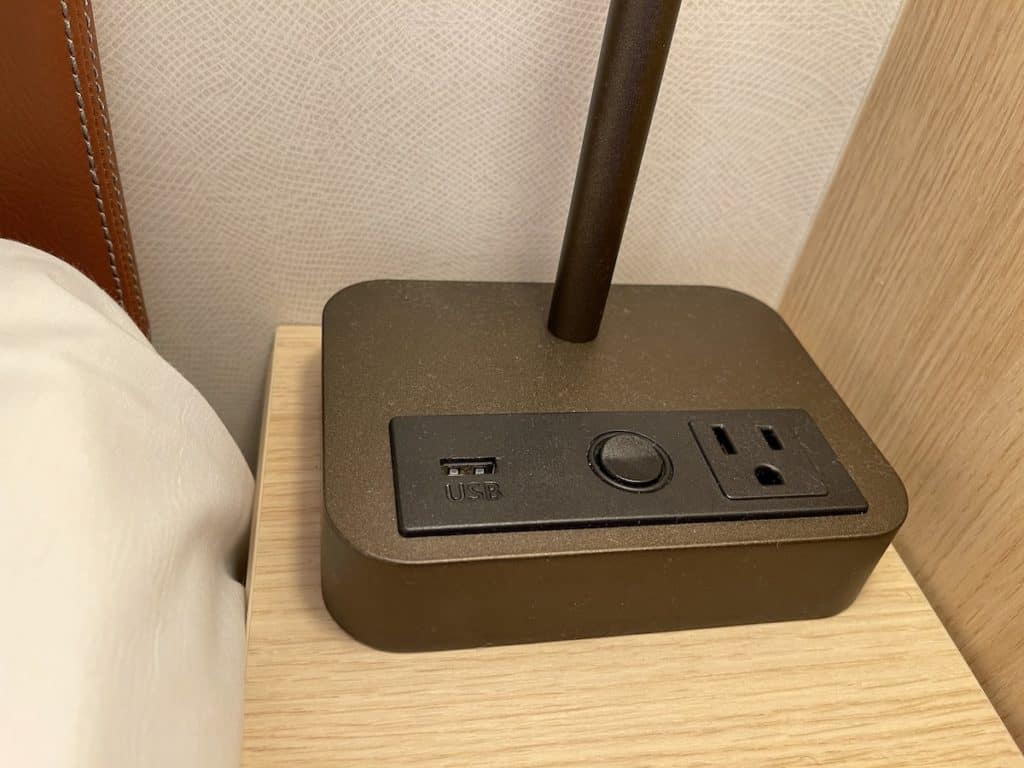 Small lamps on these tables offer low lights and also an outlet and USB port. Switches for the overhead lights were conveniently located next to the bed.
Next to the television is a desk area. There were adequate USB and outlets there and a nice area for a laptop. There, of course, is a chair as well and a large mirror.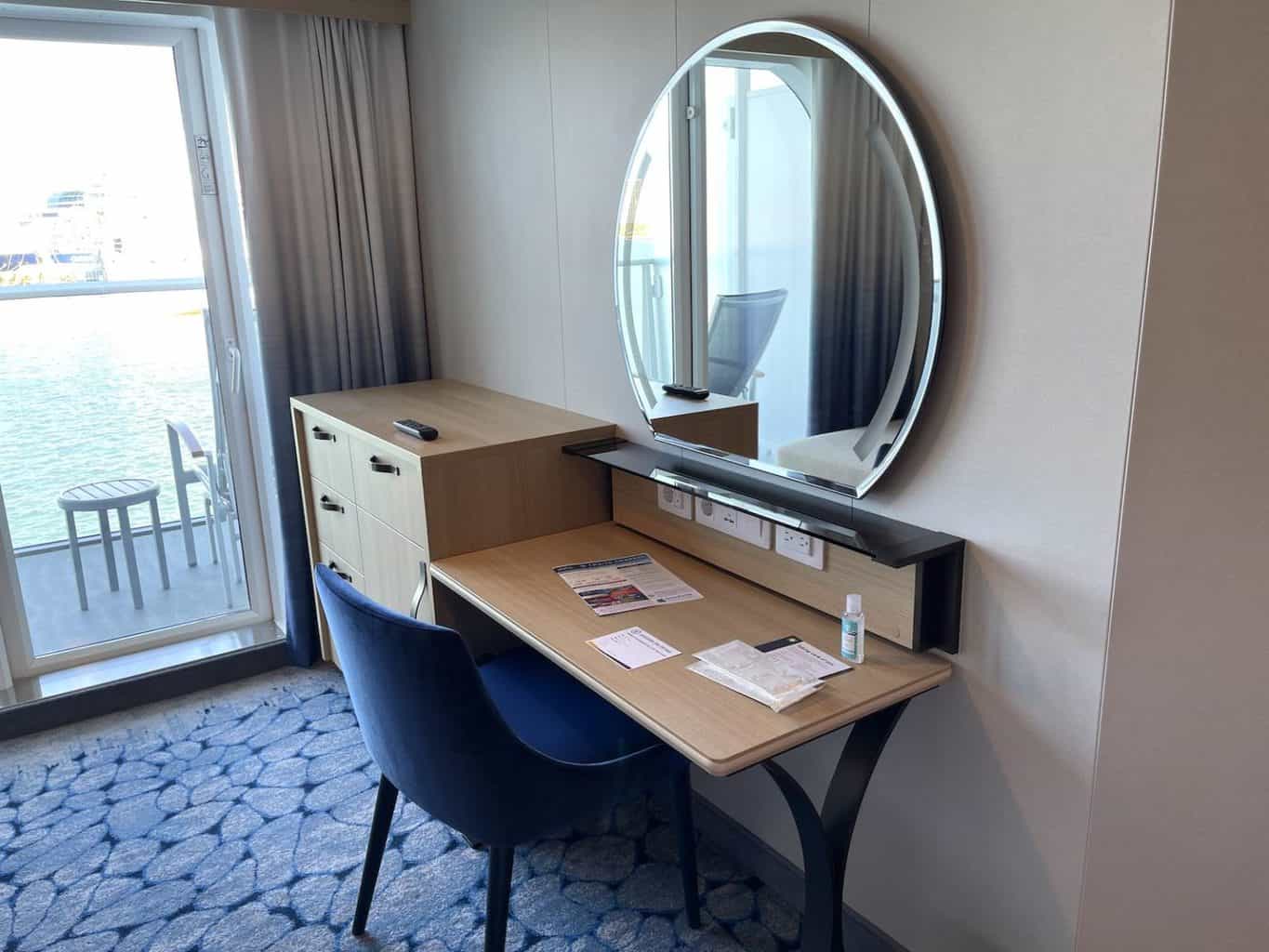 Nearing the balcony door, is another storage area where the mini-fridge is located. In addition, there are several drawers with bright yellow interiors.
The balcony is 50 sq. ft. and comes with two chairs that can recline. A nice feature is the foot stools. A small table is perfect for holding drinks.
The balcony door must be fully locked for the air conditioning to function. The drapes provide some room darkening, but the addition of magnets to keep out slivers of light would help people who enjoy total darkness for sleeping.
The sofa was comfortable for sitting or lounging. It also doubles as additional sleeping space.
Between the sofa and the bed is a nice closet with double rods. We removed the lower rod to hang our longer items. Although we did not have too many hanging items, we did request additional hangers.
Speaking of the hangers, the hooks on ours were not rounded and a bit difficult to slide. We wondered if the shape was to prevent them from moving on rougher sailing days. We found the closet adequate for our needs.
On the other side of the bed, another closet had space for shorter items. Shelves to the left included one for the safe. Two drawers at the bottom offered even more space. Our larger suitcases easily slid under the bed.
Our Bathroom
Splashes of blue on the floor and the backsplash brightened this small but efficient room. The curved shower with a clear door, had an adjustable shower head, a few hooks, a shaving bar, and a retractable clothes line.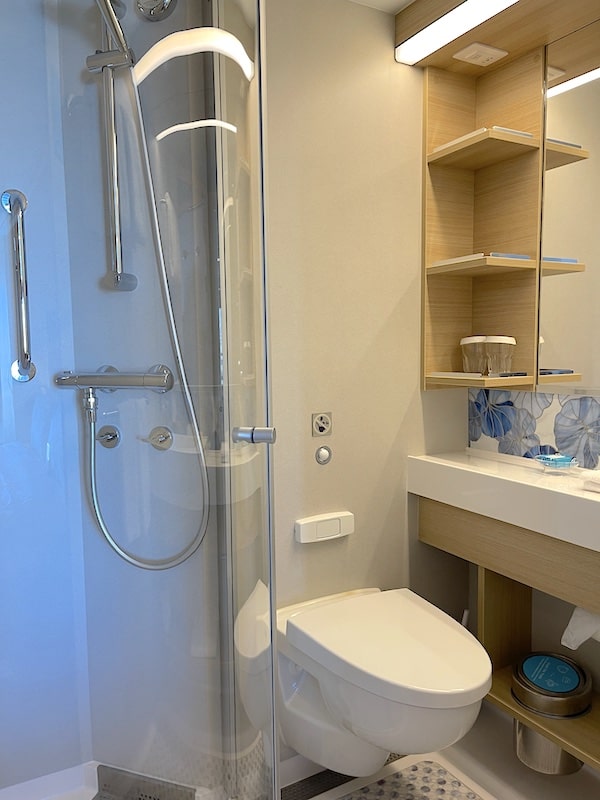 A dispenser contained a combo body wash and shampoo, much to my disappointment. There was bar soap for the sink, but no other amenities like conditioner or body lotion.
Insider Tip #1:
Unless you want to wash your hair with harsh liquid soap, pack your own from home.
To the left of our sink, there was counter space and also a corner shelf with drinking glasses. Below the sink, there was an additional long storage shelf shared with the waste basket.
The light above the sink never fully turned off, in effect making it a night light. For those who need it, it's perfect. For others who like to sleep in total darkness, it was a bit of a nuisance. We taped a sock over the lit part.
Insider Tip #2:
Be aware of your stateroom location. Our stateroom was comfortable and efficient, however, we were located on Deck 6, port side aft. Right across the hall from us was the back entry into Playmakers Sports Bar & Arcade.
They serve chicken wings there. The smell of chicken wings wafting into the hallway and into our cabin made this cabin choice undesirable – unless you like that smell!
New on Wonder of the Seas is an eighth neighborhood exclusively containing suite staterooms. The Suite Neighborhood is located on Decks 17 and 18 and you need a key card to enter.
We couldn't include any Suite Neighborhood staterooms in this Wonder of the Seas Review because the suites were all sold out!
Guests staying in the Suite Neighborhood have exclusive access to the Coastal Kitchen dining room and also a private sun deck with lounge chairs, small soaking pools and a bar.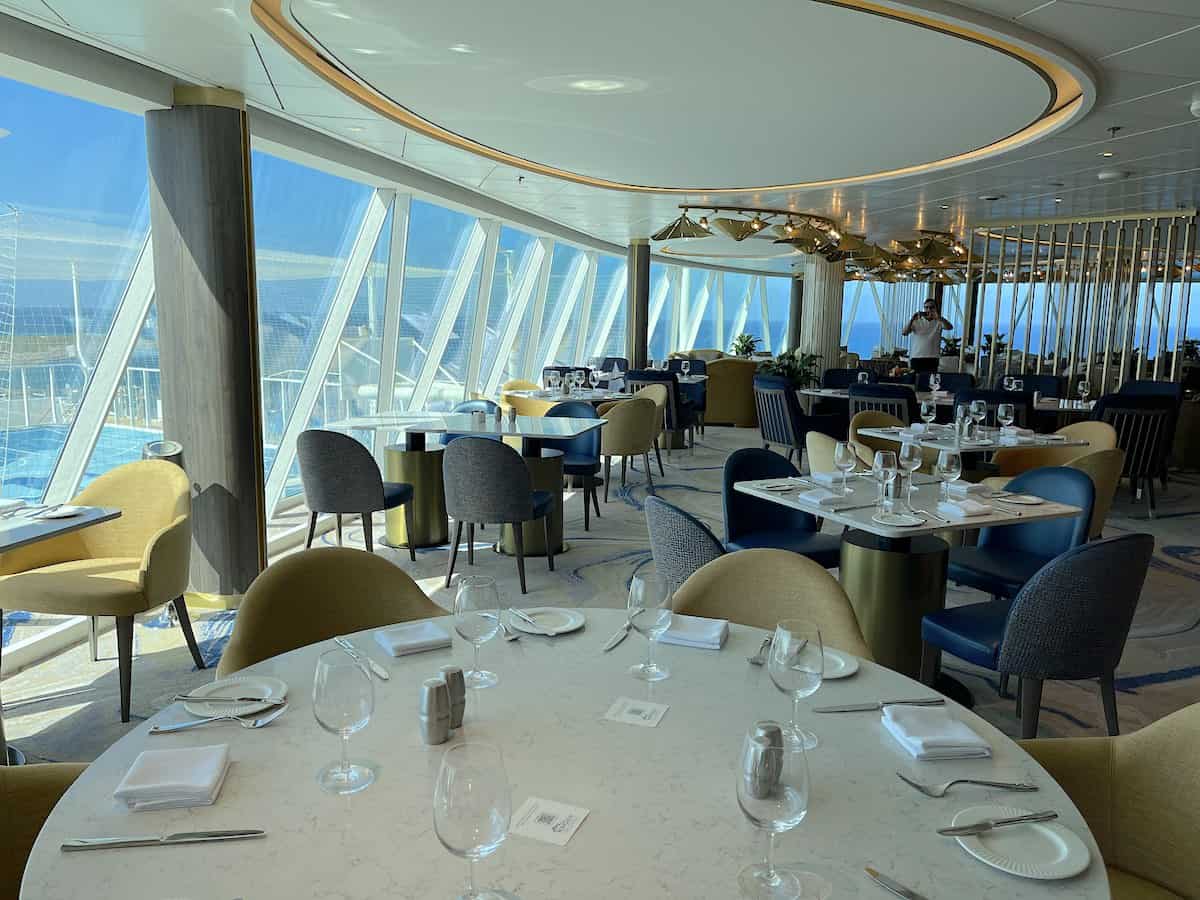 Dining Experiences
Commenting on food is so subjective. In general, I assume that most of the food served on cruise ships is similar to banquet food – just because there are so many people to feed. Specialty restaurants on the other hand get held to a higher standard.
Wonder of the Seas offers dining options for all tastes and budgets. One of the new restaurants is the Mason Jar, a specialty restaurant focused on southern-style cooking.
Mason Jar serves a brunch on sea days and dinner daily. The cost for brunch is $24.95 plus the 18% gratuity. Dinner is $39.95 plus gratuities. We tried the brunch.
The menu offers many options, with very large and filling portions. We opted for Mee Maw's Fried Chicken N' Waffles and also the Southern Breakfast. Prior to the meal, we received pimiento cheese and saltines and also a jalapeño cornbread.
Along with our meals, we tried two of the many specialty drinks served at the Mason Jar bar.
As its name suggests the PB&J Old Fashioned uses a peanut butter whiskey. The Far From Manhattan adds a brown sugar bourbon garnished with a slice of candied bacon.
In the evenings, there is live country music in an area with rocking chairs, tables and bar seating. The interesting drink concoctions are included in the beverage package.
More Wonder of the Seas Dining Options
We tried several other dining options so we could include them in our Wonder of the Seas review. With over 20 choices, about half of them specialty restaurants, we would never be able to sample them all, especially since we don't usually eat three meals per day.
Some of our favorites included the complimentary breakfast at Johnny Rockets, Indian food from the world's largest Windjammer and pizza at Sorrento's.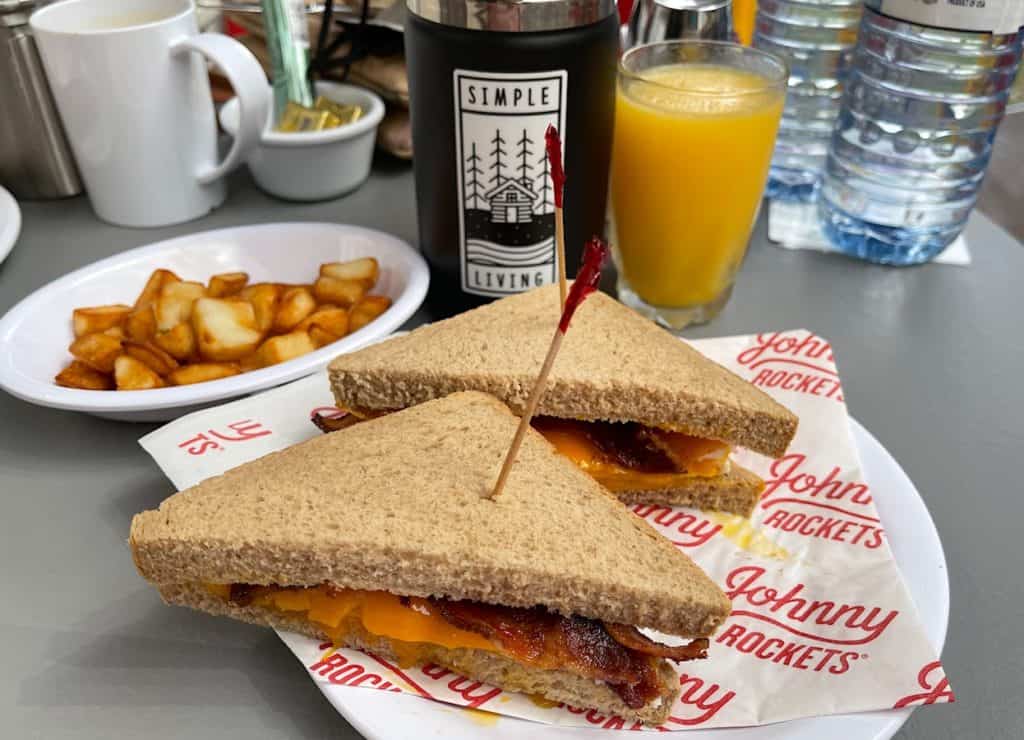 In the Boardwalk neighborhood, Johnny Rockets was close to our Deck 6 cabin and we liked dining outside with views of the AquaTheater. The spot was relatively quiet in the mornings.
For many reasons, buffets rank low in our dining preferences, but we took a chance when lobster was being served in the main dining rooms.
Few people dined at the Windjammer that night and we satisfied our desires for Indian food. Windjammer has a nice selection of ethnic and vegetarian dishes.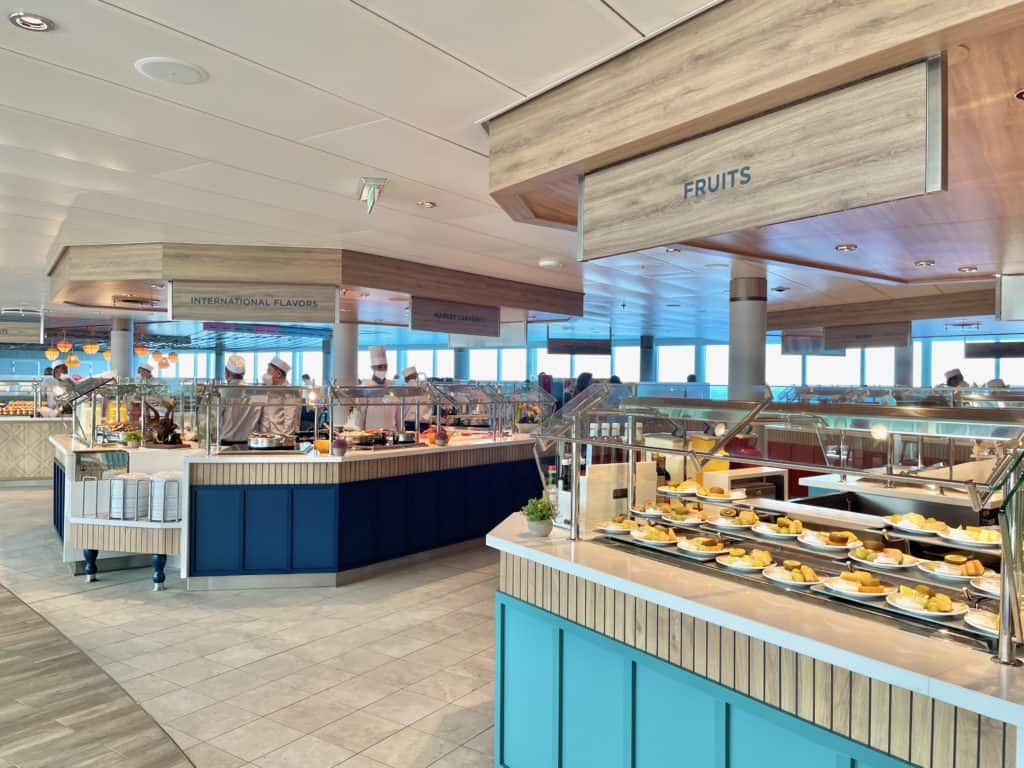 Sorrento's on the Promenade was quick and easy for times when our schedule conflicted with opening hours of other restaurants.
This complimentary venue serves a variety of pizzas and antipasto. In fact, we found it just as good, if not better than the pizza in Giovanni's.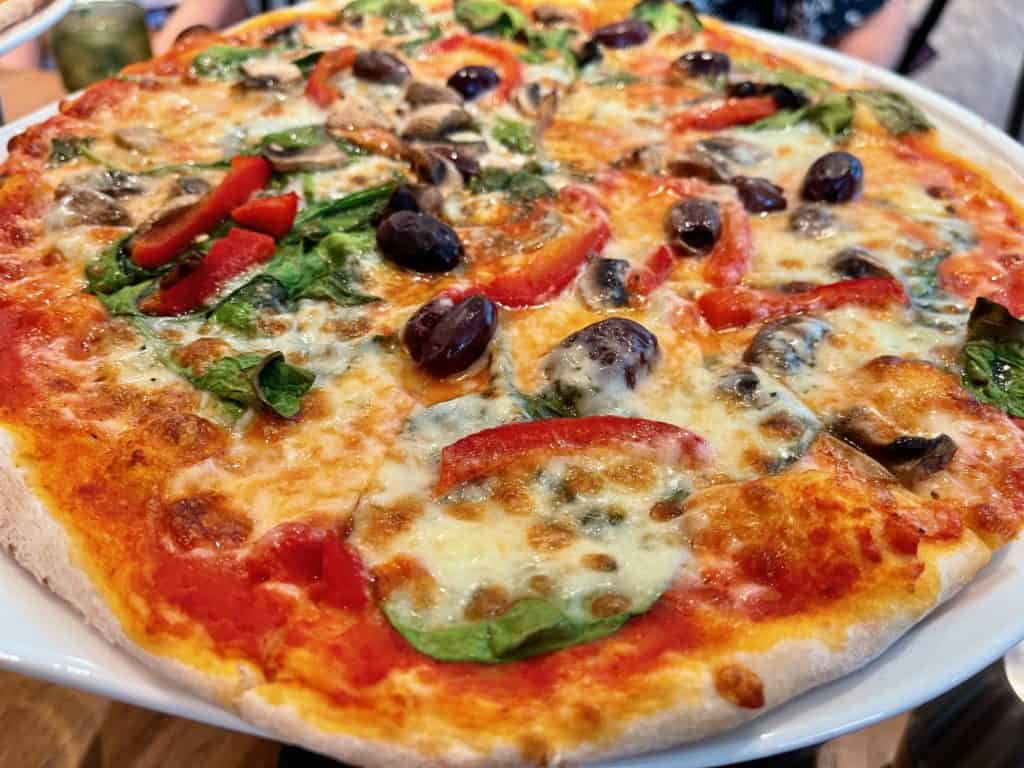 On boarding day, we ate at Park Cafe in Central Park, which is my favorite. The Kummelweck roast beef sandwich is my first choice. There are plenty of salads and even desserts to choose from.
If you prefer enjoying your meals in the main dining rooms, you may choose between early, late or MyTime dining. The dining rooms expand over three decks, with MyTime dining on Deck 4.
While we found that the selection of food was decent, we did find the acoustics over amplifying the ambient sound. One evening, we found the background music so loud that it was difficult to converse with our table mates.
Insider Tip #3:
Smoke from the casino can waft into the front area of the Deck 4 dining room (the My Time section). Be sure to request a table far from the entry into the dining room.
The Chop House offers both lunch and dinner for a fee. I tried the filet and my husband had a Caesar salad with chicken. My filet was the smallest choice for lunch, but I still ended up sharing what I couldn't eat with my husband.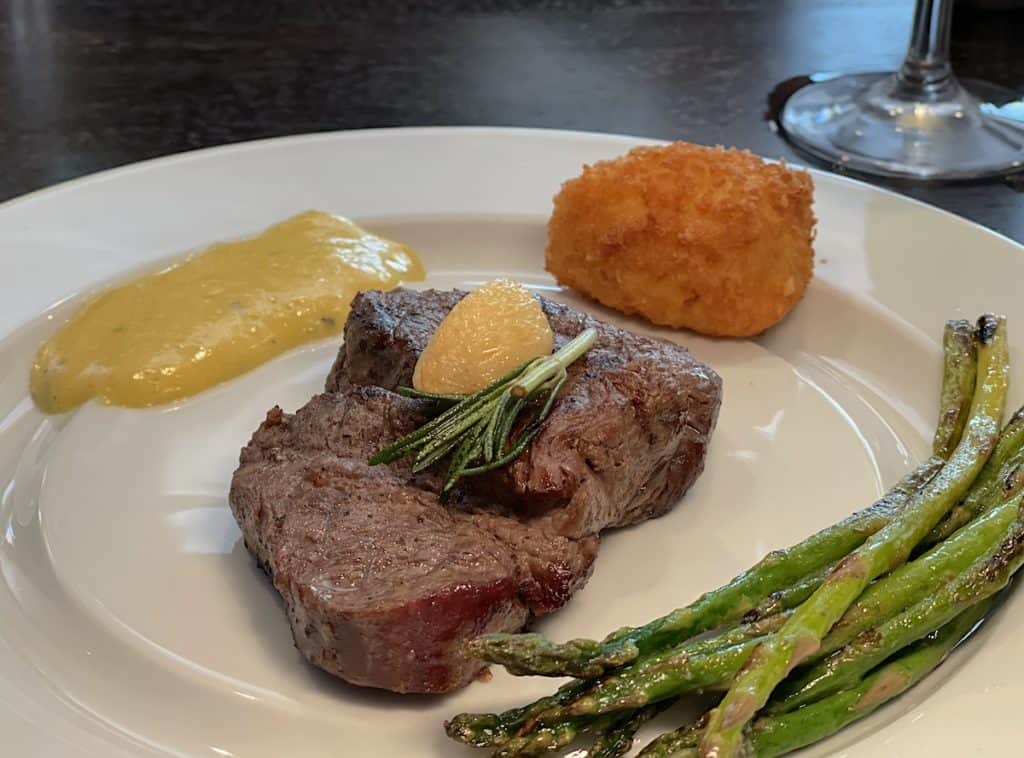 The atmosphere was nice, but it seems that the specialty restaurants might be a better value for those who eat a lot of food. Of course, remember that Royal Caribbean does offer dining packages, which lower the average cost of the specialty dining prices.
Onboard Entertainment
Unlike other Royal Caribbean ships, Wonder of the Seas does not feature any Broadway production shows. So unfortunately, this Wonder of the Seas review couldn't include a big theatrical production number. Take note, if this is important to you.
However, there are some other shows of interest.
Not knowing what to expect, we opted for "Voices." The description made me think of a group I enjoy listening to called Pentatonix. Singers not only sing the melody, but also mimic instruments and other sounds.
The songs varied throughout the performance, starting in a chronological order, which inexplicably vanished. The visuals reminded us of Brady Bunch visuals.
It would have been preferable if we could see those performing the instrumental parts on the stage along with those singing the melodies. Overall, we enjoyed this show.
Insider Tip #4:
Although we checked the app when boarding the ship, we found that many of the shows had no seats. We never could book a comedy show and the Aqua Show was often sold out. Be sure to reserve as soon as your app works.
Fortunately, we found a spot at the ice show, 365. The performance depicted the changing seasons. Some of the costumes verged on flamboyant, but what a great way to depict spring – especially for those of us still hoping for its brilliance to soon arrive back home.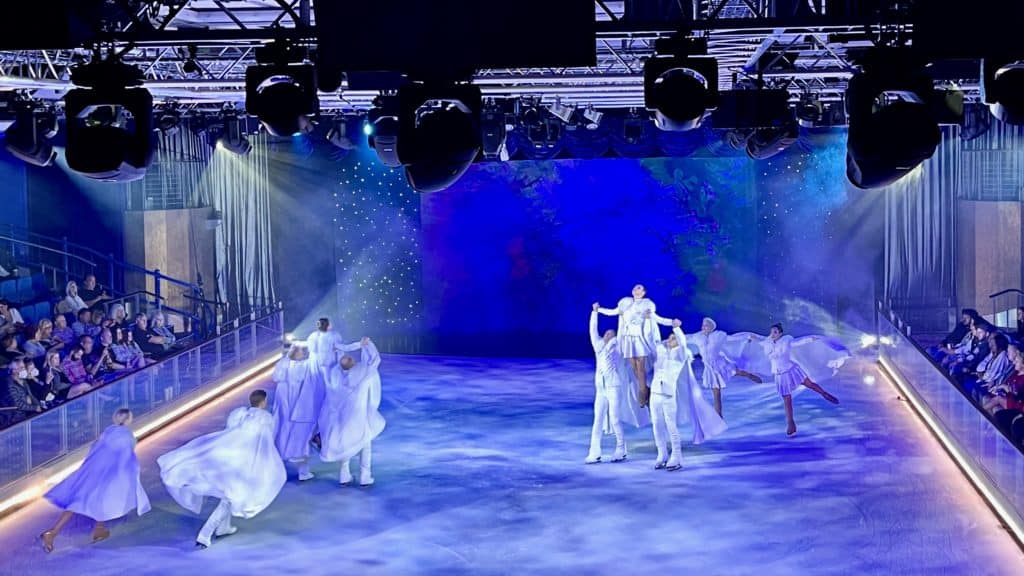 InTENse, the all woman show at the Aqua Theater, showcases diving, acrobatics and high wire feats. Due to rough seas, the performance that we attended was cancelled. A safer show took its place.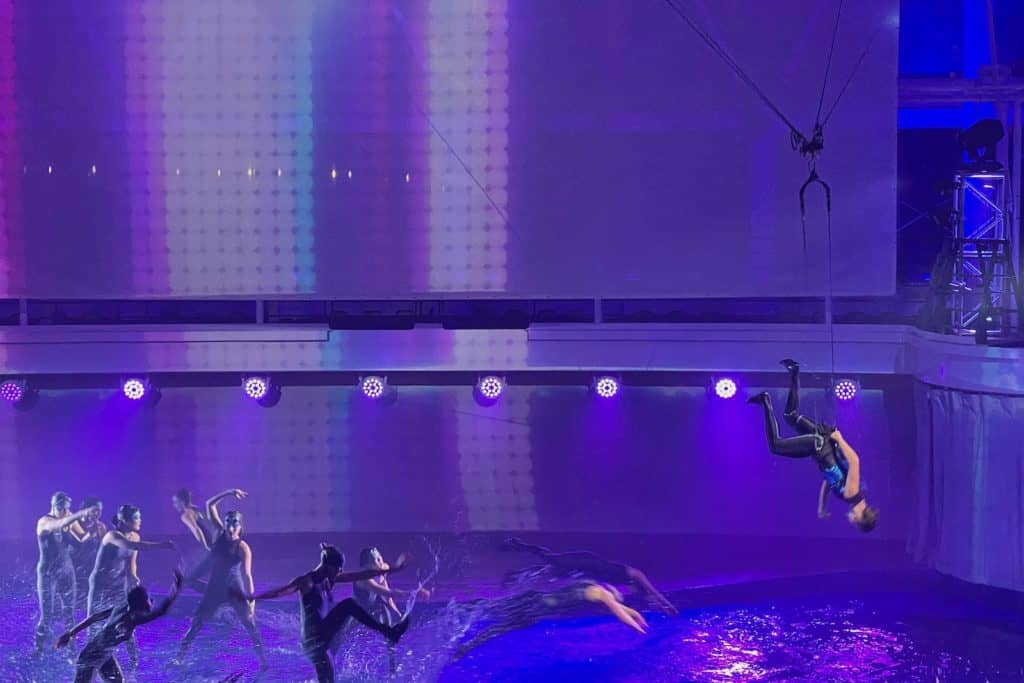 We unsuccessfully attempted to get reservations for the next performance. Considering our ship was only about 70% full, we wondered how it would be to get into any of the shows when the ship sails at full capacity.
Throughout the ship, there are musicians performing. We enjoyed listening to performers in the Schooner Bar near our cabin.
Guests may join in on karaoke, trivia and a multitude of other activities throughout the day. Usually huge fans of trivia, we found our one session brutal with some fellow participants looking up answers on their cell phones; all for a key chain prize.
Outdoor Activities on Wonder of the Seas
Outdoor entertainment includes the 10-story slide, UltimateAbyss; the surfing FlowRider, mini-golf, a brand new kids' play area called Wonder Playscape, basketball court, zipline, pool areas and Perfect Storm water slides.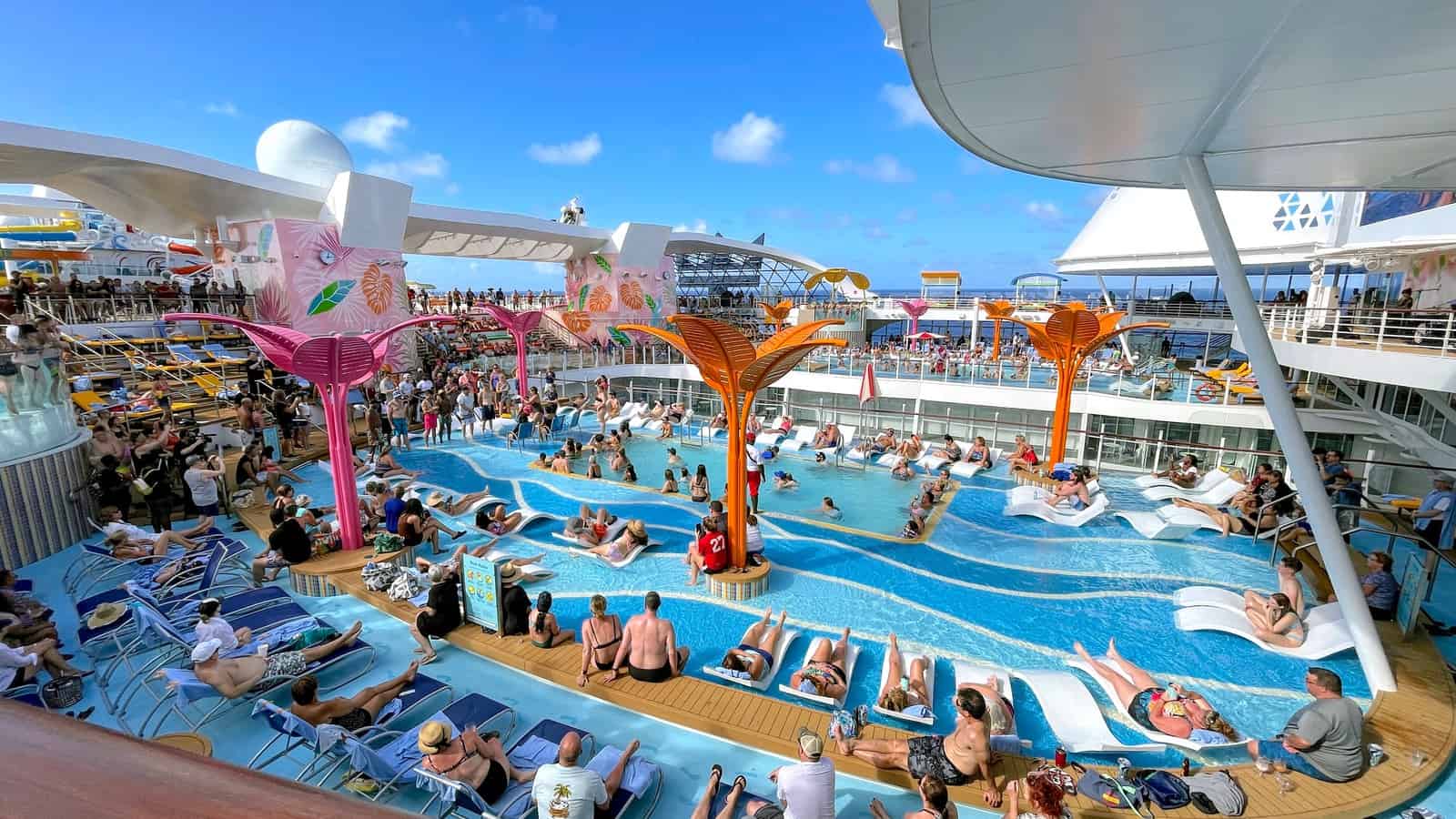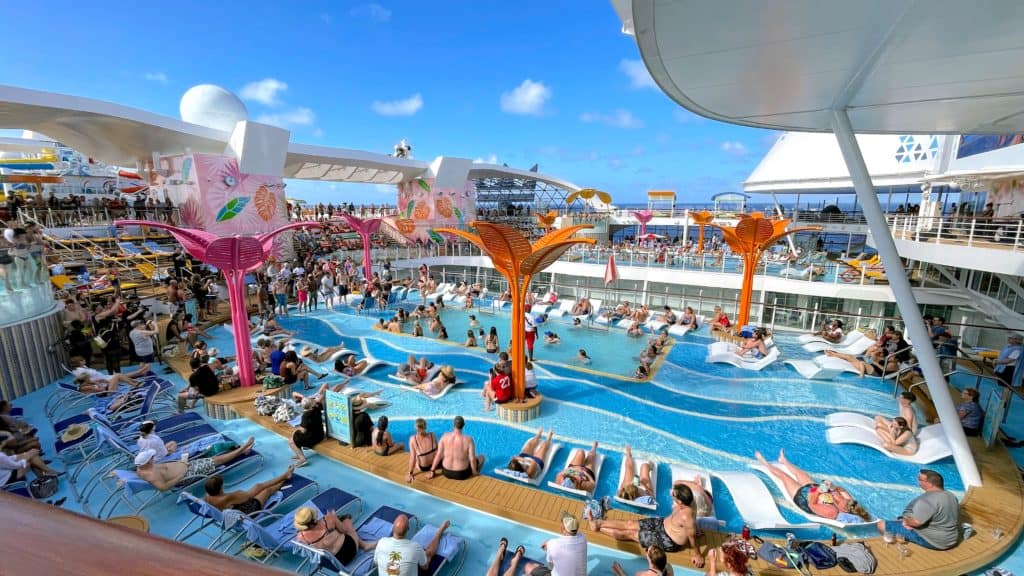 A large casino on Deck 4 has slots and table games. The smoking area is large and not surprisingly, very smoky. It's a pass through point to get from the dining area to the front entertainment areas.
Ports We Visited
Labadee, Haiti
We spent some time in all of the ports. Our first stop was Labadee, Haiti, Royal Caribbean's own destination. We strolled the sandy area and enjoyed the views.
Cabanas may be hired here, but there are also areas for kids and activities. A roller coaster and zip-line are popular. There are several beach areas.
Food and drink are available. The area has a market with local crafts and shop owners strongly encouraging passersby to browse at their stores.
It's a longer walk to the beach area, but there was a water taxi offered from the ship to one of the beach areas. There are also trams that travel to the different beach areas and activities.
San Juan, Puerto Rico
Having visited San Juan several times in the past, we strolled through Old San Juan and headed to the fort, El Morro. The weather was hot, but the breeze was strong.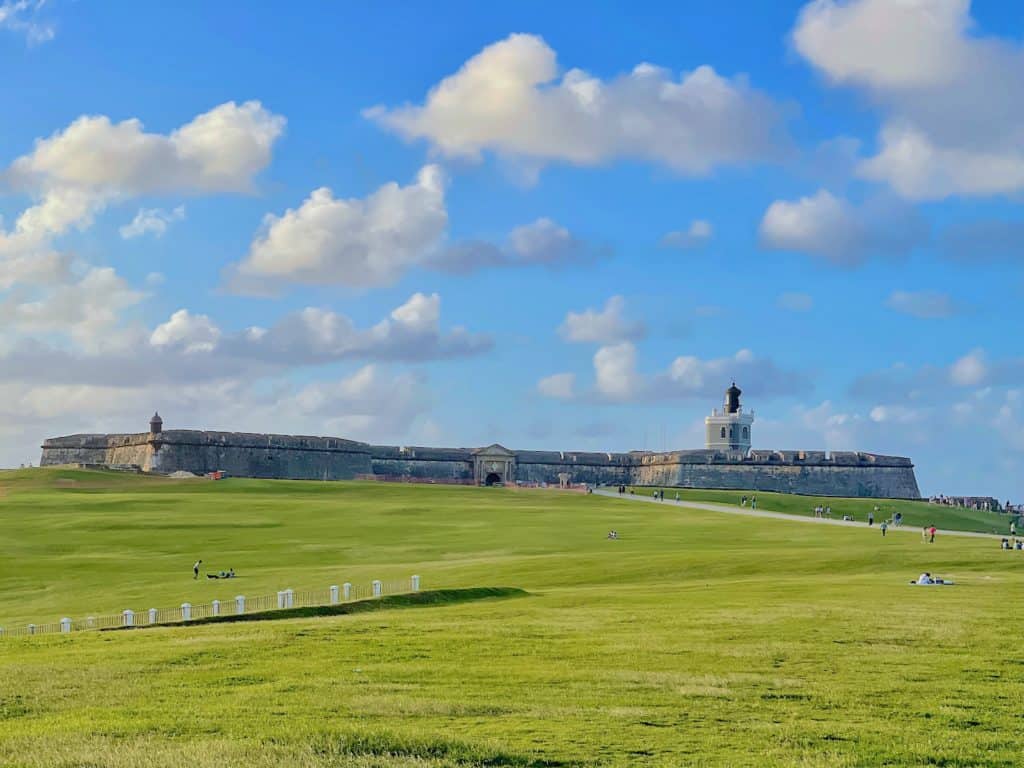 We plopped ourselves on the ground and enjoyed the cooling and refreshing breeze, while watching kids fly kites.
READ MORE: Best Things to Do in San Juan in Only One Day
Nassau, Bahamas
Nassau is another spot we have visited a few times, but my husband had not been to the Queen's Walkway. We made our way to the start near the hospital and enjoyed the sheltered coolness there.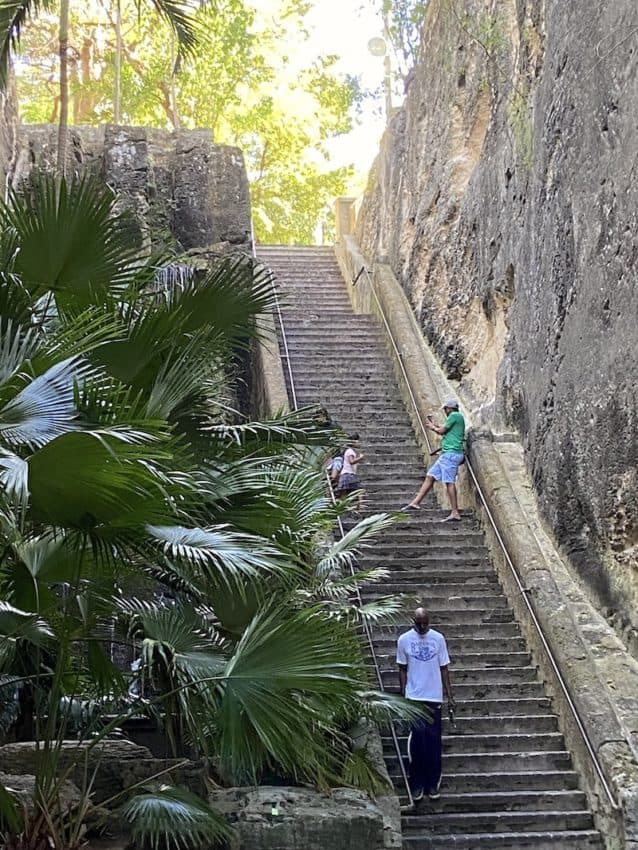 Perfect for climbing the 64 steps to the top.
Perfect Day at CocoCay
Neither of us had visited Perfect Day at CocoCay, so we had to check it out. We enjoyed a good burger at one of several food shacks, before touring the island.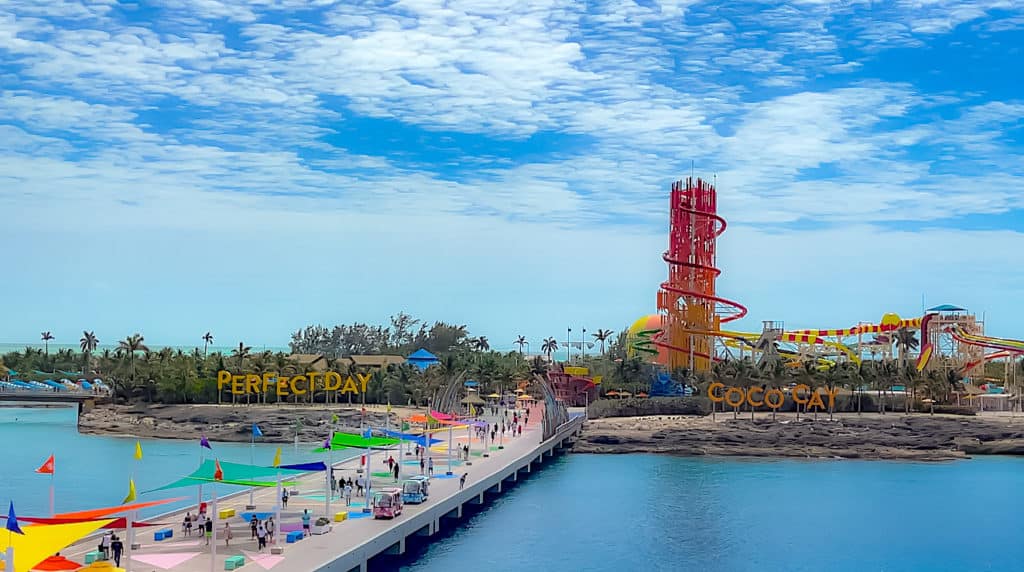 Much like the ship, Perfect Day has different neighborhoods. We decided that Chill Island was much to our liking. Throughout the island, there are more active beaches and pools scattered about.
There are plenty of places for kids along with activities like the hot air balloon and a zip-line.
A variety of cabanas are available by reservation at the different beach areas. Over-water bungalows are found at the exclusive Coco Beach Club. Depending on your preferences, you may spend a lot of money at Perfect Day or no money at all.
Disembarkation Day
We decided to try breakfast at the main dining room on this morning. We arrived exactly at opening time. Although we were seated immediately, it took some time to place our order and even longer for our food to arrive.
About 30 minutes after ordering, we finally received some of the food we ordered. We never got the entirety of our order, but finished what we had so that we didn't miss our shuttle to the airport.
Final Thoughts – Wonder of the Seas Review
Sailing on the world's largest cruise ship means that there is something for everyone. Wonder of the Seas caters to families. Several times, I heard young children telling their parents that they wanted to go back to the kids club; the best recommendation for the popularity of those.
Fortunately, I had sailed on the Oasis Class of ships before, so had a head start in exploration and knowing how the navigate the ship. First-timers might be overwhelmed by all of the possibilities for dining and entertainment.
My husband, Robert, fit into the second category. He was amazed at the construction and design of the ship. He discovered the walking track and found quiet niches along the way with nice open views.
The artwork in the stairwells seduced us into further exploration. It was a good excuse to pause while walking upstairs and didn't make it look as if we stopped because we were out of shape.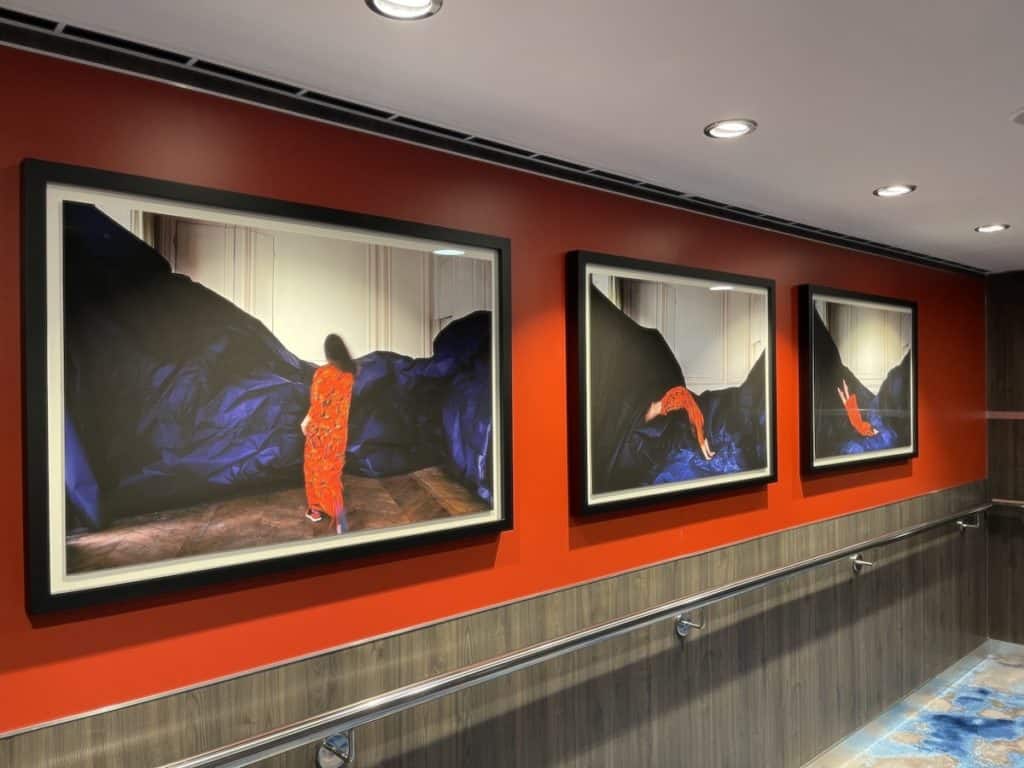 Looking for some quiet time? We found our balcony to be one of the few quiet spaces on the ship. Those niches on Deck 5 walking track provided some respite from the noise.
Even one of our favorite places, Central Park, echoed noise from the outside movie screen several decks above.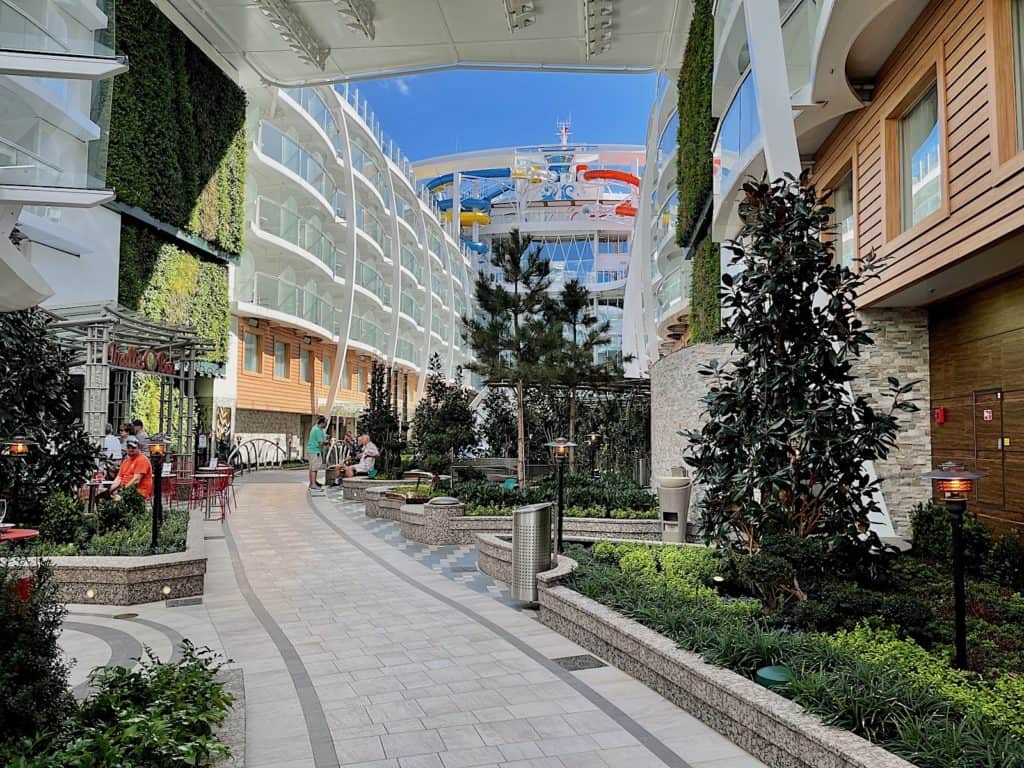 Throughout the ship, we noticed people having a good time whether participating in daily activities, enjoying a show, or sitting around the pool. And what is more important than that? We hope this Wonder of the Seas review will help you when planning your next (or first!) cruise.

Initially hesitant to cruise due to misconceptions, Theresa Russel first sailed French Polynesia, quickly becoming a convert to this style of travel. Since then, she has sailed on big and small ships on many of the oceans and rivers of the world. Having won awards for her words and images, she continues to seek new experiences and adventures throughout the world to write about and photograph.