Cruising solo has its advantages.
Cruising solo pushes the envelope for most people. We're a "couples" society for the most part and those that hit the road by themselves are sometimes looked on as a bit odd. Or brave. Or adventurous. For me, the last two adjectives are the most accurate. Traveling or cruising solo doesn't mean an all-night singles party and a singles' cruise isn't the same as cruising solo.
I've learned a lot over the years about the joys of cruising solo. I share this with you in hopes of giving you the confidence boost and enough great reasons to get you on your first solo cruise.
10 reasons why I prefer to cruise or travel solo.

10. Do what you want, when you want.
No more having a long, drawn out debate. You've dreamed about swimming with dolphins but your Significant Travel Companion (the STC) would rather squeeze into borrowed, too-small aqua shoes and hike the waterfalls. Someone usually has to acquiesce.
9. Meet new people everywhere you go.
One of the most revered memories I bring home after a trip are the peopleI've met along the way. But if your STC isn't outgoing or worse still…doesn't like or feel the need to socialize with total strangers but you do, you're stuck. There goes a valuable opportunity to meet new, possibly life-long friends. Best case scenario; you'll both meet the same people, and you, being the social one, will simply end up lugging a dead weight around with you for the duration of the trip (the STC). Solo travel, anyone?
8. Get invited by others to join them.
I've learned to request a table for one when I'm on a cruise. When I've asked for a table seating ten or the singles/solo table, many times I'm still seated with four newlywed couples. A table for one solves the problem very nicely. You'll find that people at close-by tables kind of look at you with a quizzical eye as if to ask, "why is that person dining alone?"
Be prepared because out of nowhere the maitre'd may come over and say that table so-and-so would like to know if you would join them for dinner. You can of course accept and suddenly have eight dinner companions that actually want you to join them.
If this isn't something you'd like to do on a nightly basis then this is the perfect opportunity to meet new people yet graciously mention that dinner is the time that you like to reflect on the day's events or something like that.
However, it's important to note that I've met lasting friendships on several long cruises this way and I gladly learned to do my day's writing at a different time so that we could meet for cocktails and dinner. The same can apply to shore excursions and on tour buses. Great way to meet people and you can see as much or as little of them as you'd like.
See Related: What the Cruise Lines Don't Want You to Know About Solo Cruising
7. Sleep with the TV on all night.
Or nap when you want without interruption. Need I say more.
6. You choose the restaurants.
One of my favorite memories is of wandering around Civitavecchia in search of a small restaurant for lunch. After passing by a Subway store and a couple of tourist joints, I found an out of the way cafe where for sure I was the only American in the place. Had I been with someone, we might have ended up at Subway or at a place mobbed with tourists. Bring your e-reader, smartphone or something to do should you find that you feel a bit self-conscious.
5. Homestead without having to claim-jump.
No more will you have to divvy up the drawers, negotiate the hangers, section the closet or create a mini-Maginot Line on the counter top.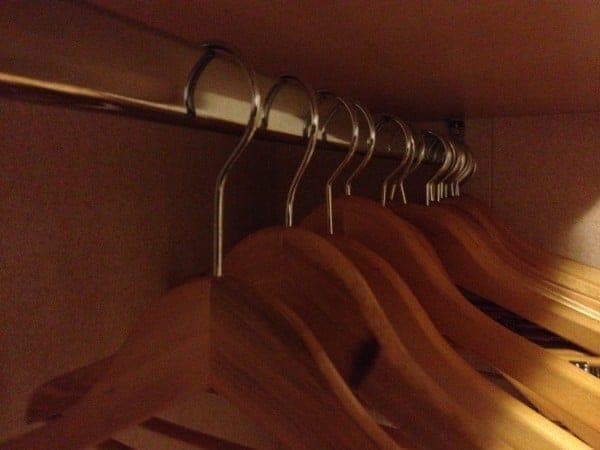 Hang up all of your clothes, if you wish. Line up your toiletries in the bathroom instead of always rummaging through your hanging tote kit. Totally unpack for the duration and not have to fold and stack half of your clothes on closet shelves.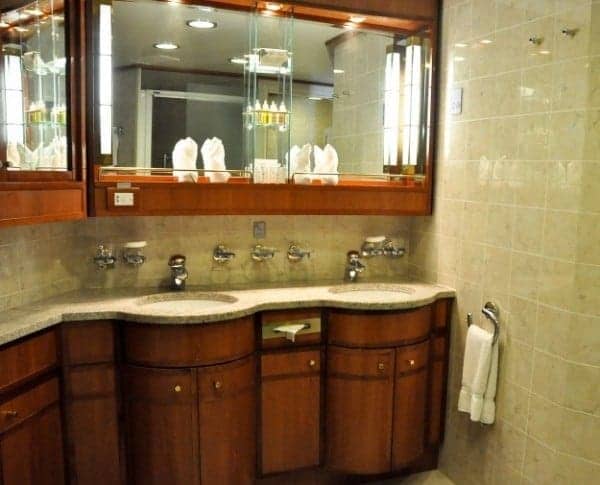 4. Take your time in the bathroom.
Whatever you're doing in there, take your time. Take a longer shower after a strenuous day exploring ancient ruins. You won't have to worry about putting anyone out to have to find a public bathroom either! And no more hearing, "Are you almost finished in there?"
Read next: Norwegian Epic Solo Studio Staterooms
3. The electric plugs are all yours.
Two people traveling together usually means one laptop, two cameras, two phones and two phone chargers, maybe a tablet or e-reader and on and on. Usually there are only two or three available outlets to use to charge eight or nine devices. No more having to do rock, paper, scissors to see who gets to charge what electronic device first. They're all yours!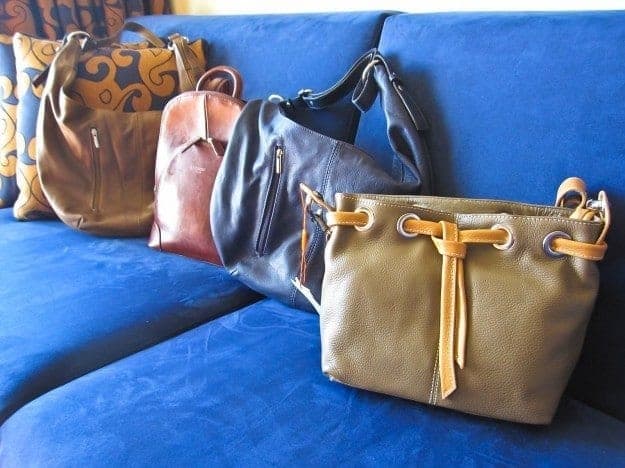 2. Look over all of your terrific stuff you've bought.
You can display and admire all of your shoreside purchases on the empty bed or sofa. Shopping for woolens in Norway? Maracas in Mexico? Italian leather in, well, Italy? It's so much fun to unpack your treasures and set them out while you decide who will get what souvenir when you get home.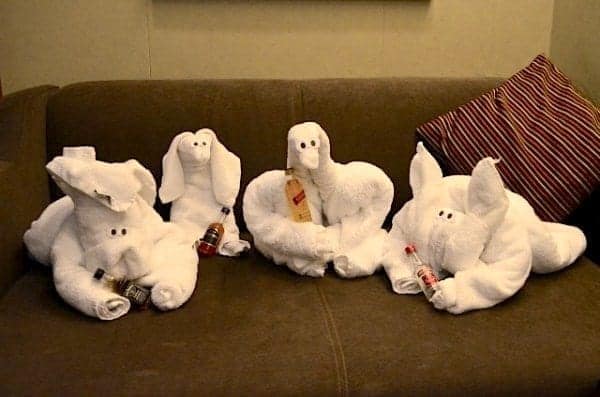 1. And my number one, totally ridiculous reason to cruise solo?
You can party with your towel animals! If you haven't cruised lately, the towel animals that your room attendant leaves on your bed at night are getting pretty fancy. At one time, the towel monkey on a hanger attached to a ceiling tile was considered extreme.
Now there are elephants, ducks, manta rays and pigs with snouts and googly eyes. It's actually fun to set up a display and take a photo of all of them on the last night of your cruise. And no one to say, "Oops! So that's where my towel is!" and destroy the terrycloth critter.
N.B. If you find yourself carrying on a lengthy conversation with any of these adorable yet inanimate creatures, maybe you're just not cut out for cruising solo.
Yes, I've gotten a little silly here with the towel animals, but only to emphasize my point. Solo travel, whether by choice or necessity, isn't for everyone. I've known people who would rather fall off the earth than even sit in a restaurant by themselves let alone take an escorted tour or a cruise.
But if you should ever try it, you'll find that cruising solo instills confidence and will drag you out of your comfort zone. Solo travel imparts a sense of wonder and satisfaction in knowing that you could actually go it alone and have the most wonderful time ever.
I'm the editor and creator of CruiseMaven.com, a solo traveler cruising the world on waves and wheels.  I hope my articles and photos entertain, advise and inspire you to travel the world without flying.  Take a breath… stop for a meal and a glass of wine along the way.