Amtrak
wasn't around yet so I was aboard the historic Santa Fe Super Chief. I became hooked on trains at an early age.  Several solo cross-country driving trips in high school, college and much later, I was sure this solo travel thing was for me.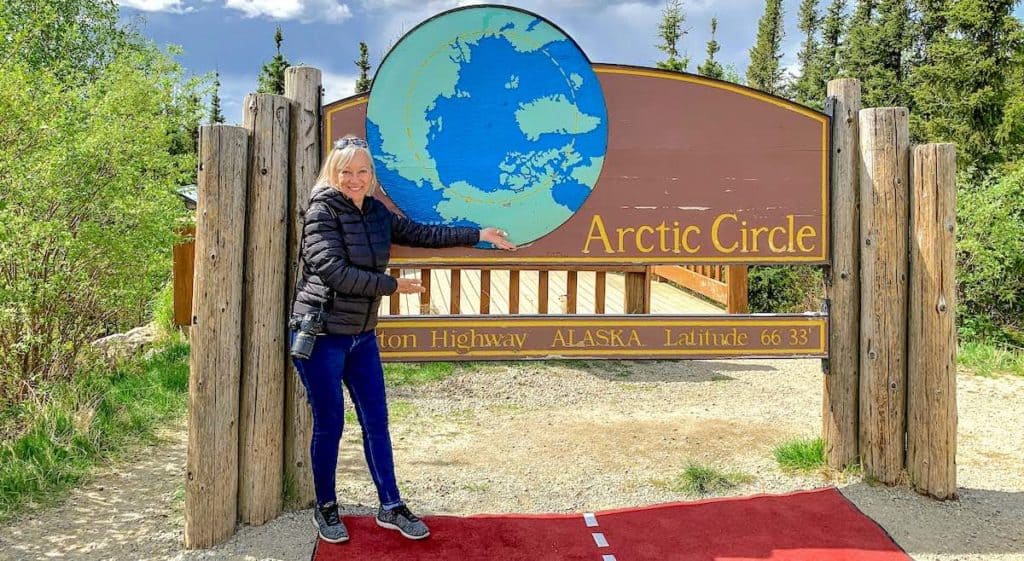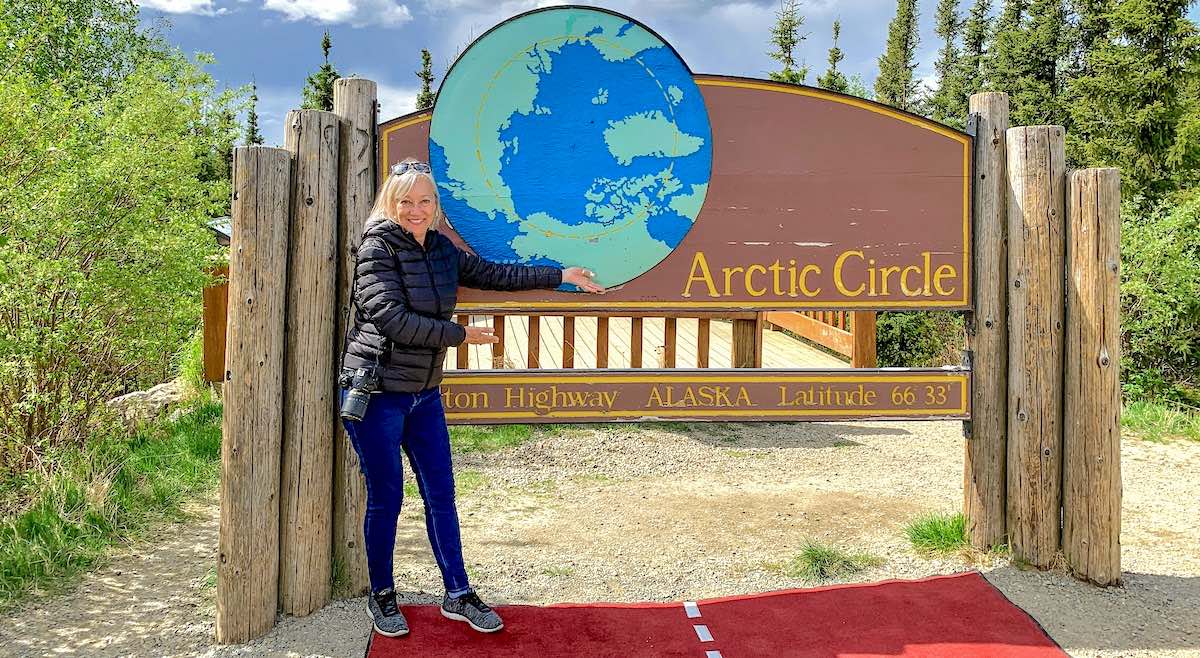 Right after college I embarked on my first solo cruise. I hopped aboard a short three-night Miami-Bahamas run.  While being somewhat cautious and in my "invincible" 20s, solo travel skills weren't yet in my repertoire. Why do I choose to continue to explore the world on my own and without ever flying?  I travel solo simply to enjoy the freedom and independence to eat, stay and explore wherever and whenever I want. Plus the sometimes daunting challenge, for example, to figure out how to get from Orlando, Florida to Tunisia, Africa without flying. There are a myriad of things to know as a solo female traveler or solo cruiser.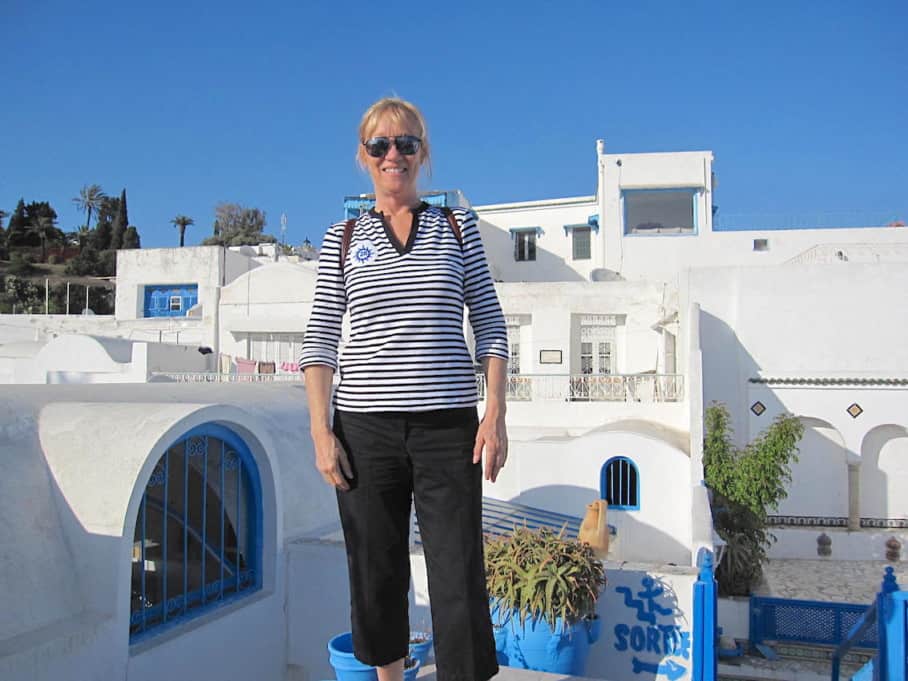 There are some not-so-obvious safety tips learning from experience.  Other solo travel tips cover the gamut from dining alone and what to pack to trip planning and preparation.
Some of the links in this article are affiliate links, meaning, at no additional cost to you, I will earn a small commission if you click through and make a purchase, at no additional cost to you.  Thank you.  Read our full affiliate disclosure here. 
What to Know if You Plan to Travel Solo
As a solo female traveler, safety and security are the most important things to remember.  Next is being comfortable on your own. This includes on transportation, overnights in hotels, interacting with a wide variety of humans and especially dining. Women who travel solo that I've spoken with say their biggest concern is dining alone. Actually, dining should be their least. I always advise to start solo dining small, which could even be a food truck and finding outdoor seating.  Safety is number one. Most of these 44 solo travel tips lean towards female travelers.  But a lot of these tips could apply to men venturing out on their own, too. Here is my most concise list of lessons I've learned traveling solo, otherwise known as my top 44 solo travel tips.  They're sorted by category for easier reading.
READ:  Holland America's New Solo Staterooms
Solo Female Traveler Basics at Train Stations in Europe and USA
Start using 5 lb. hand weights two or three months before departure. It'll be so much easier to lift your luggage.
If you're in Europe, arrive at the station no more than 20 minutes before your train departure time.  Amtrak, 45-minutes to 1 hr.
If you're in Europe, try to go to the station a day or two before your departure.  The same trains depart every day and from the same platform. Walk the route from the station entrance to as close to where your train will depart.  Especially helpful at major train stations like Amsterdam, Paris and Rome.
If you can do the station check, note where the elevators are located. If you have a lot of luggage, avoid the escalators.  You don't want a nasty pile-up if a suitcase wheel doesn't roll smoothly off the escalator.  It happened to me and was scary.
No matter if Europe or US, I always try to find a hotel or Airbnb within a very short walk of the train station.  With an early morning departure, it's better than taking a taxi.
Avoid train station elevators that aren't see-through glass.  Many in Europe and now the US are plexi-glass.
While you wait at a train station in Europe, situate yourself so you can clearly read the departures board, and keep your hands on your luggage handles at all times.
If ANYONE approaches you at a train station in Europe and asks if you need help, DO NOT make eye contact and loudly say, "NO!"  All train stations in Europe have information kiosks marked with a large yellow "i" where you go for any train travel information as well as to have your Eurail Pass validated.
Pack as light as possible.  Not only to get your luggage up onto the train but also rolling cases across carpet, over ancient cobblestones and metal curb-warning bumps.
Be aware of huge gaps between the station platform and the train entrance.  In addition to the gap, there could be three or four steps up to the train.  Remember those hand-held weights?  You'll thank me later.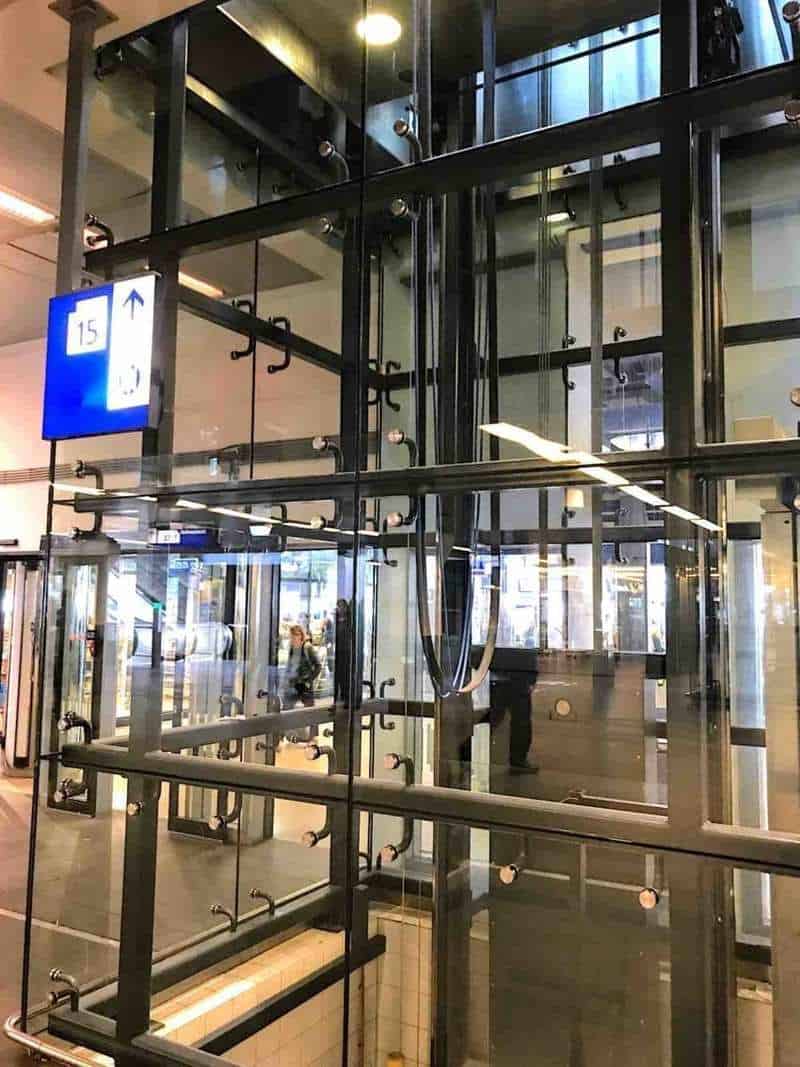 Solo Travel Precautions While en Route
Turn on Find Friends on your phone and make sure to share with someone back home. It's a solo traveler's best friend.
Leave a copy of your itinerary and last-minute updates with friends and/or family.
Pack a faux wedding band.  As sexist as this sounds, certain countries view married women differently than someone not wearing a ring.
Be friendly and polite to the front desk staff whether hotel or ship.  You never know when they'll be needed to help.
If walking back to your hotel or apartment in a new city or neighborhood late at night, find a group of women that are heading in your direction and tag along with them.
Don't walk around while using your mobile phone.  Duck into a store to read your walking directions.
Take an up-close screen shot from Google Maps and study it before you leave.  It's easier for a quick glance down in Photos rather than have to walk and follow directions and not be aware of your surroundings.
Carry a note in the local language with the hotel address or ship dockage.  In case you get lost, ask a female shopkeeper or restaurant worker for directions.
Always confirm the shared-ride's license plate with what's on your phone.  Don't just hop in and assume it's your ride.
If you're in a taxi after dark, pretend to call someone and say you're on your way.  Mention the location of your taxi and sound like you know where you are and how soon you'll arrive.
Know exactly how many things you bring with you into a taxi or bus or ride-share.  When you go to exit, do your count.
Turn around and look back into the car and make sure you didn't leave your phone or wallet on the seat.
If you're approached on the street and asked for money, don't make eye contact and loudly say, "No".
I always give a euro or two to a street musician who's music makes me smile.
Always keep your phone at least half-charged.
Bring local currency with you.  That famous gelato stand may not take a credit card.
Avoid Walking Alone at Night – Here's what I did on my first visit to Rome.
My boutique hotel sold me a ticket to an evening performance of La Traviata. The small theater was only a four-block walk and it would be just past dusk when I walked there.  Unfortunately, it would be dark by the time the opera ended.
As I waited in line for the doors to open, I spotted two women about my same age nearby in line. I walked over and asked if they minded if I waited with them.
These two women from Ireland were only too happy to have my company.  We sat together in the theater and afterwards they walked me back to the hotel.  
Now I don't hesitate to tag along with a group of women at night, even if the group doesn't know I'm there. There's safety in numbers.
READ MORE: 
Observations on a Solo Transatlantic Crossing
Hotel or Apartment Rental Precautions When Traveling Solo
Ask the front desk clerk for a room near an elevator.
Don't accept a room that is located all the way down a corridor and around a corner.  If you find this out when you get to your floor, turn around and head back to the front desk to change it.
If someone knocks on your hotel door, never open it without confirming with the front desk that someone was sent up to fix something.
Have your key card ready as you exit the elevator.
Carry a door alarm for your hotel room or rental.  Who knows if a past renter made a copy of the key or if the Air BnB owner is a nut case.  I always use these on ships, too.
Whether on a ship or in a hotel, always make sure the windows and balcony doors are locked.
Check under the bed, behind the curtains, in the closet and shower.
Dining Alone
If the idea of dining alone makes you panicky, start small.  Visit a nearby food truck or snack shop.  Baby steps.
Dining alone can be a great time to sort through the day's photos and delete, delete, delete.
When dining, keep your purse/wallet/cross-body bag either on your lap or away from any foot traffic.
Don't drink too much and then have to try to get back to your hotel.
Old news but don't ever leave or turn your eyes away from your open drink, if you're at a bar. It's so easy to swivel on the bar stool and leave your drink exposed.
Tired? Dark outside in a new neighborhood?  There's always room service.  Or stop at a local market and picnic in your room.
If something doesn't "feel" right, leave!

Always bring something to watch/read/do.  It's a good dinner companion.

Be ready for strangers to ask you to dine with them.  Then it's up to you to join them. 

Don't berate yourself if you're getting burned out on public dining.  It's decompression time.  Order room service, whether in a hotel, on a ship or even on Amtrak.  Watch a movie, stare out the window and shut out the rest of the world, if only for a few hours.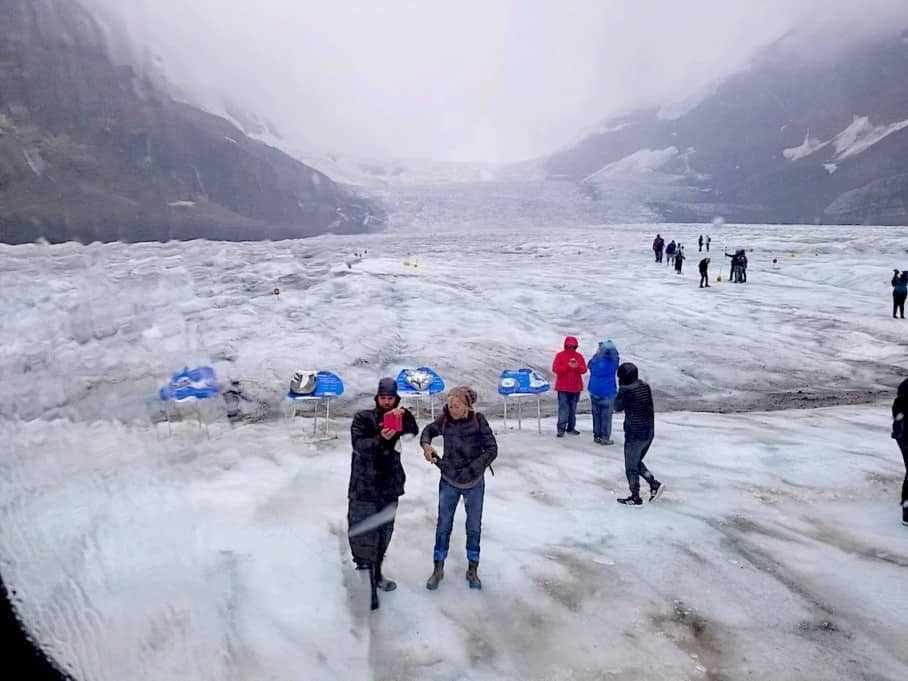 READ NEXT:
What the cruise lines don't want solo cruisers to know
Tech Tips and Travel Hacks for a Solo Female Traveler
Pack a separate phone charger like a Mophie or Anker (this is the one I have) and keep it fully charged and ALWAYS carry it with you.
If you see a touristy couple trying to take a selfie, you could ask if they'd like you to take their photo.  They'll usually then ask if you'd like them to take your photo.  Quid pro quo.  Go with your gut on this one.
If someone approaches you to ask if you'd like your photo taken and if this person doesn't have a phone or a camera, your internal radar should have screeched and you need to walk away. Immediately.
I shouldn't have to remind you but leave valuables (jewelry, excess cash, extra credit cards) in your room safe or apartment.  Better yet, at home.  I absolutely cringe when I see solo women flaunting their jewelry in tourist areas and craft markets.
When you get up to leave a restaurant, bar, café, bookstore and especially at a cashier counter, do a mental checklist of your belongings.  Make sure to take your phone. Put everything away before you head out the door.  Don't walk down the street fumbling to put your wallet away.
Have a keychain size bottle of pepper spray nearby and know how to use it.

Download movies, podcasts and music before you leave home.  What you can't download, store in the cloud to download after you've deleted another.  In many places, hotel, ship and train wifi isn't capable to download video. 
Some of these suggestions may seem really obvious or downright idiotic.  But when you travel solo, no one has your back except you.
My MOST Important Lesson Learned From Traveling Solo?
Expect a new sense of self.  Yes, you probably stepped a little or a lot out of your comfort zone.  It doesn't take bravery (you'll hear that a lot) or the lack of a travel companion to travel solo. Just the will to go where you want, when you want and however you choose to go.
When all is said and done, traveling solo builds confidence and character, independence and innovation. Looking back on some of my solo travel adventures, I wonder how in the world I managed alone. Yet, if given a reset option, I wouldn't change a thing.  You can do it, too.
What solo travel tips do you have to share? 
Please
leave your comments below.  Travel safe and travel happy. READ NEXT: 
More about life as a solo female traveler and cruising solo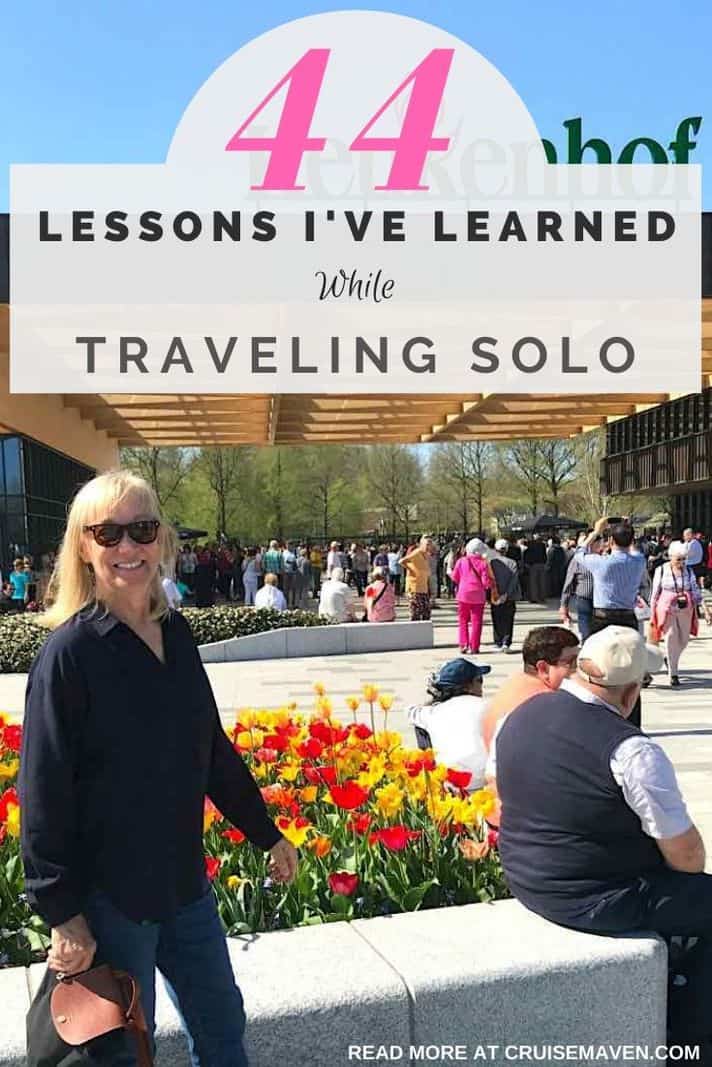 Please pin this to your favorite board and share with others.