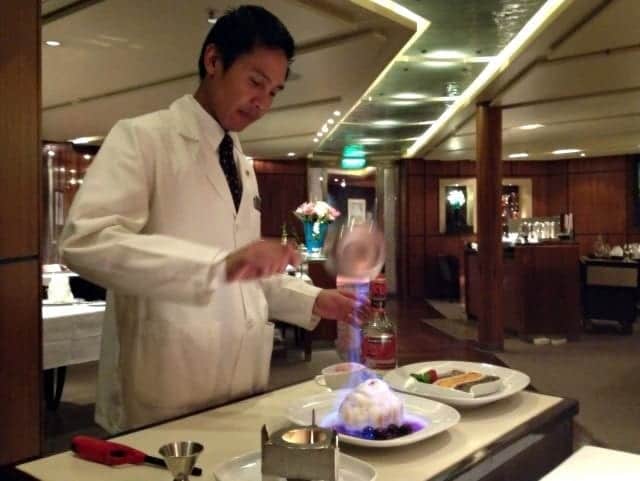 Prices for Holland America specialty dining are on the rise.
While I'm a big fan of specialty dining restaurants aboard ships, there are specific venues that stand out in my mind. Usually it's one or two restaurants per ship that I revisit each voyage. With Holland America specialty dining venues, I have always had a hard time picking my favorite.
That's why when I heard that fees for Holland America specialty dining have increased, I had to investigate. Here's what I found for the restaurant changes.
Prices are per person. Gratuities additional.
Pinnacle Grill: Dinner was $29 now $35. Lunch stays the same at $10.
Canaletto: Open only at dinner. Was $10 now $15. I remember when it was free.
Tamarind: Dinner was $20 now $25 – Located only on Koningsdam, Nieuw Amsterdam and Eurodam. For $9.75 guests can order a dinner-size Bento Box delivered to their stateroom. Lunch is available and still complimentary.
Evening at Le Cirque: One night per cruise, the Pinnacle Grill is transformed into an "at sea" version of New York City famous Le Cirque restaurant, For a fee of now $49 guests can savor an authentic Le Cirque dining experience.
Taste of Librije: Aboard the Rotterdam and Eurodam, on one night per cruise the Pinnacle Grill becomes a Dutch dining experience featuring deconstructed molecular cuisine of Jonnie Boer, a 3-star Dutch chef. Fee is $69.
Related: What's new aboard the Eurodam after multi-million dollar refurbishment.
Dining package changes
Four dining packages are available and offer a savings of individually purchasing each restaurant.
Evening in Pinnacle Grill: Dinner for two was $52, now at $62.
Signature Dining Package: Includes one dinner in Pinnacle Grill and one dinner in Canaletto, was $35 now $44.
Distinctive Dining Package: Includes all three – Pinnacle Grill, Canaletto and Tamarind, was $50 now $55.
Ultimate Dining Package: Includes one dinner at Pinnacle Grill, Culinary Arts Center, Sel de Mer, Tamarind and Canaletto, was $104 now $119, available only on the new Koningsdam.
Nothing stays the same forever. If you haven't experienced any of these Holland America specialty dining restaurants, even at these new prices, the culinary experience is worth the price of admission.
PIN THIS FOR LATER!