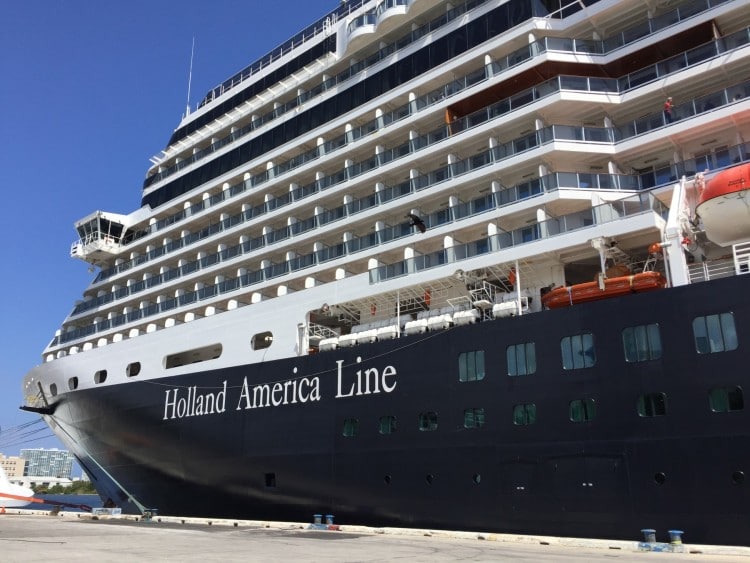 After Eurodam refurbishment, you'll find new dining options, live music and more!
The Eurodam emerged from drydock in December 2015, updated and chock full of new experiences for guests. Recently, I had a chance spend an afternoon aboard the Eurodam and take a peek at the new venues and concepts.
Passengers are still warmly welcomed aboard by one of Holland America's smiling, uniformed crew members.
During my 3 hour visit, I wanted to see as much of the refurbishment and new concepts as possible. I headed straightaway to Music Walk.
The New Music Walk
With a trend aboard other cruise lines to replace live music with canned, Holland America went against the tide. Music Walk showcases and offers guests three uniquely different choices of live music: Lincoln Center Stage with a classical ensemble, Billboard Onboard features two pianists, a guitarist and DJ join the already hugely popular B.B. King's Blues Club that rocks Memphis blues and R&B until the wee hours.
Musical details

Billboard Onboard and their two pianists, guitarist and DJ take turns performing high energy shows centered around Billboard's music history charts. Guests will also be able to sing along and test their music knowledge nightly with trivia questions presented on screens throughout the room.
B.B. King's Blues Club and the 8-member All Star Band entertain each evening in the Queen's Room.
What else is new?
Lido Buffet is now the Lido Market. Holland America describes the new marketplace concept as "a marketplace with different themed stations offering a select array of delicious options guests can grab on the go or have quickly made to order." Beverages will be served tableside so guests won't have to make trips back and forth from their table. In the evening, diners will tables preset with placemats, glassware and cutlery.
Gallery Bar. Another first for Holland America. The much-underused Northern Lights disco has been completed transformed into a cozy cocktail lounge and art gallery. Celebrity mixologist Dale DeGroff, author of The Craft of the Cocktail, brings his own potent potable recipes.
New York Pizza serves five different NYC-themed, thin crust, made-to-order pizzas for one. Salads and desserts are also on the menu.
Suite upgrades. Eurodam is the first ship in the fleet to receive the suite upgrades. You'll find new furniture in the living area along with new carpets and soft goods. Thinking smart, USB outlets were added to the bed's headboard, LED reading lights and new electrical outlets. Neptune and Pinnacle suites have a Bose Bluetooth speaker. Suite bathrooms now have designer glass tile in the vanity area plus mirrors with integrated LED lighting, new floor tiles and a nightlight.
The Eurodam will spend spring and summer cruising the western Mediterranean. In the late fall, Eurodam returns to Ft. Lauderdale for Caribbean itineraries.