Two cows in your window gets you free ice cream. What?
The beloved bovine-themed Ben and Jerry's Sweet began as a coverup. Kind of like putting lipstick on a pig cow. When the Freedom of the Seas launched in 2006 and a Ben and Jerry's venue included, the ice cream parlor's location along the Promenade Deck was installed directly below a Promenade stateroom. The result was the top of Ben & Jerry's marquee directly below and outside of the stateroom's bay window. And the coveted Ben and Jerry's Sweet was born.
If you haven't been aboard any of Royal Caribbean's three Freedom-class ships, the Freedom, Liberty and Independence of the Seas, a Promenade stateroom is really a glorified inside stateroom with a bay window that overlooks the busy Promenade below. Depending upon the stateroom location, you might get a bird's eye view of everyone strolling below including the gala street parades during the cruise.
Not identified in any brochure, is Promenade stateroom 6305. Priced the same as any other Promenade stateroom, this is what you'll view during your cruise: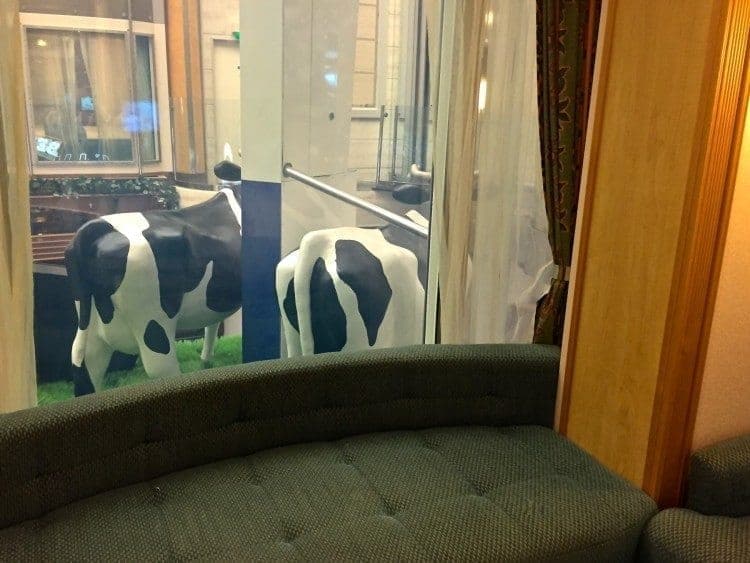 The southbound end of two northbound cows didn't set well with unsuspecting guests who anticipated a grand view of the Promenade. Something had to be done. Back to the lipstick on a pig theory.
The clever folks at Royal Caribbean created the Ben & Jerry's Sweet, obviously a play on words as this stateroom is no where near being a traditional suite. So redecorating began….a sort of barnyard and bovine theme. Cows. Lots of them.
The original makeover included cow-themed soft goods for throw pillows and bed covers all with the spotted black and white Holstein cow print. Today, only the décor remains: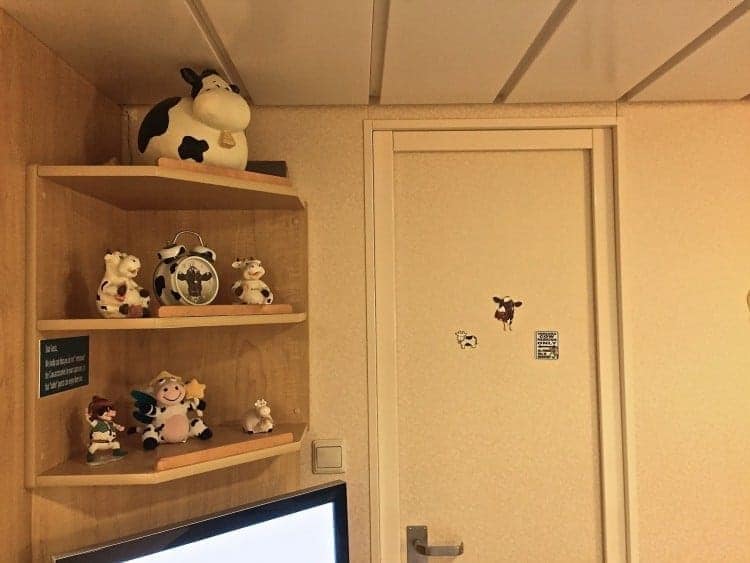 While much of the really cute cow appointments that weren't nailed down have been removed (hopefully by Royal Caribbean and not cow-centric guests), Royal Caribbean still deems this as sort-of a suite and guests are given access to the Concierge Lounge, reserved for guests who book the pricier and more luxurious suites. But those suite guests don't have bragging rights to the Cow's Sweet.
And there's one more perk that other guests don't receive: free Ben & Jerry's ice cream. Each Sweet guest is given a voucher that entitles each of them to seven trips to Ben & Jerry's for free ice cream. You'll have to plan ahead if you want to reserve the highly sought-after Ben and Jerry's Sweet. Apparently, everyone loves free ice cream and cows.
Elsie would be proud.

I'm the editor and creator of CruiseMaven.com, a solo traveler cruising the world on waves and wheels, collecting recipes along the way.  I hope my articles and photos entertain, advise and inspire you to travel the world without flying.  Take a breath…stop for a local meal and a glass of wine along the way.