Embarkation Day has finally arrived. Barring any unforeseen delays on the way to the cruise port, knowing what to do when you arrive and then board the ship can go a long way avoid any glitches or disappointment on your cruise.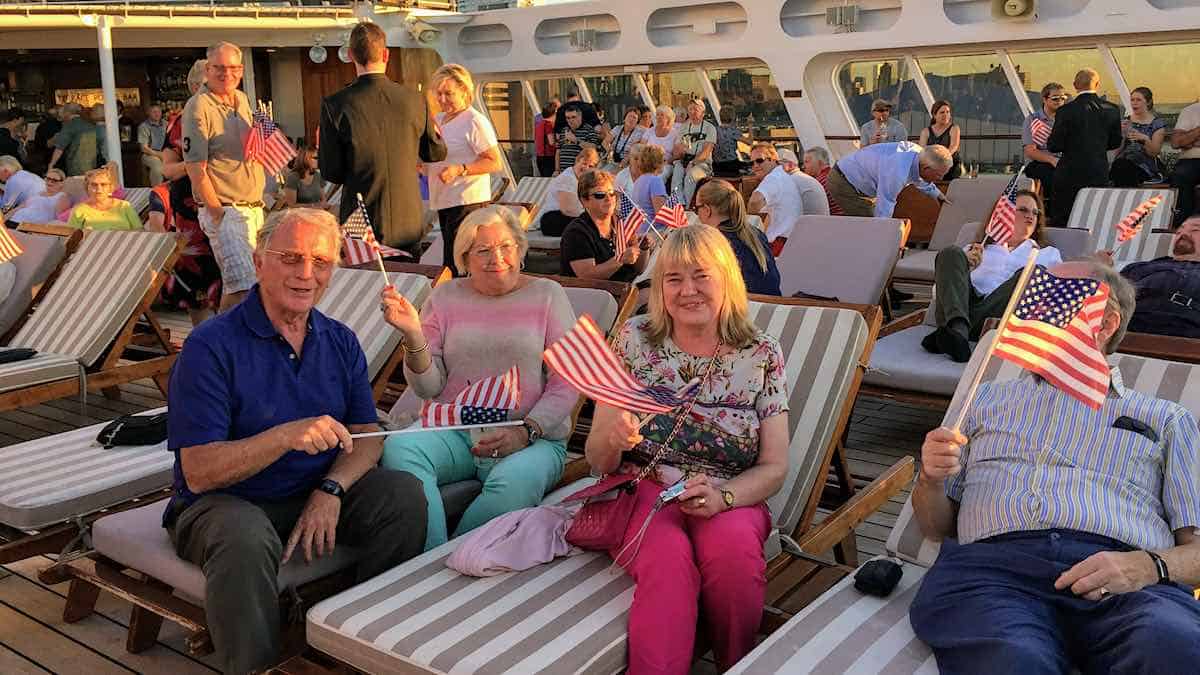 To minimize my frustration and unwanted surprises, I've figured out a plan to make this hectic boarding day into a day of fun and promise. With my check-list of what to do when I board the ship, not only do I enjoy the cruise day ritual but avoid potential issues that could arise. Here's what I've finally figured out to do.
10 best things to do on embarkation day
Leave home with a bunch of one-dollar and five-dollar bills. Depending on how much luggage you have, remember to tip the porter who takes your luggage from your car or motor coach to the loading carts.
Before you walk into the cruise terminal, have your boarding documents ready to grab. This includes your passport, cruise ship boarding pass and any other necessary paperwork. You'll need to show your boarding pass just to get in the door…and sometimes even into the port. If you're cruising to Cuba, you'll need special paperwork.
Keep your own pen handy. Want to avoid getting sick? Don't use the community pen when filling out your cruise ship health questionnaire.
Unpack as soon as possible. Even if your big luggage hasn't been delivered, unpack your carry-on.
Put your wallet with money and credit cards, car keys and passport in the safe.
Look for a little card or on your stateroom key card for your dining time AND table assignment. One of the first things I do is to walk through the main dining room and check out my assigned table. I don't want anything less that a table for eight.
If you didn't purchase these at least three days before departure, take advantage of any embarkation day promotions. They actually do save money…especially wifi package embarkation discounts, and beverage/water packages.
Before you head out for the buffet lunch and your ship tour walkabout, note the time you need to be at muster. Plan your afternoon around it. You don't want to be leisurely sipping an umbrella drink and suddenly have to rush to your muster station sans expensive cocktail.
Plan to arrive at the port at least 2 hours before the buffet closes, if you want lunch. There have been many times when I've arrived later than planned (traffic was usually the issue). If I wanted something a bit healthier than pizza or a burger, I've had to go straight away to the buffet and if I was lucky, there were leftovers.
Take photos of your stateroom as soon as you get there. Whether it's a simple stateroom pic or one that you want to strike a pose for a social media post, do it before the room is cluttered with stuff.
Weather permitting, don't miss the embarkation day sail-away party, even it you only stay for 10 minutes. It's festive, it's fun and a great way to start your vacation.
I hope these top 10 tips are helpful. What are  some of the first things that you do on embarkation day?
 Please save and share this pin!
I'm the editor and creator of CruiseMaven.com, a solo traveler cruising the world on waves and wheels, collecting recipes along the way.  I hope my articles and photos entertain, advise and inspire you to travel the world without flying.  Take a breath…stop for a local meal and a glass of wine along the way.