For as long as I've been cruising (and that's a long time), I've never been charged a room service fee. Except of course, a couple of dollars to tip the delivery person.
But times have changed. Mainstream cruise lines that charge a room service fees are the norm, depending on what you order.
While meals delivered to your stateroom are free on premium cruise lines, it can get costly on popular cruise lines. Certain food items and when you order them can have a surcharge.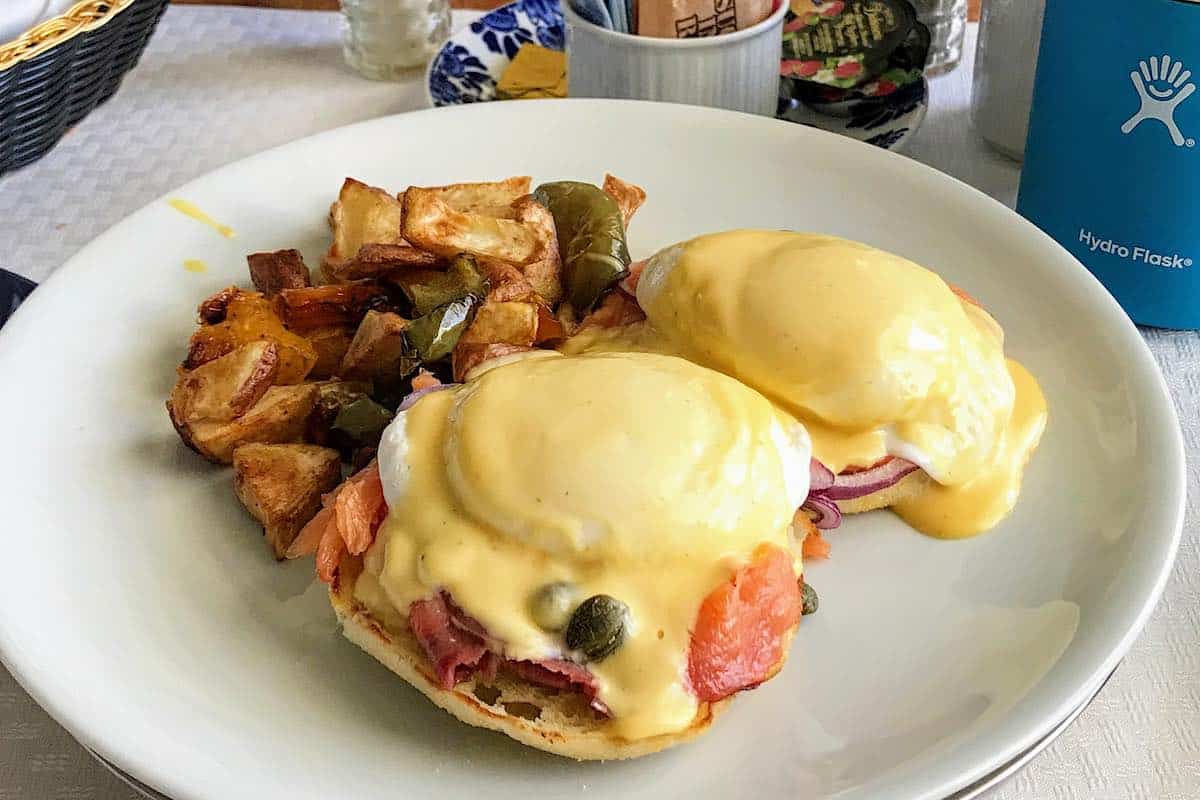 Cruise Line Room Service Fees: Complete List
Mass-market cruise lines are slowly adding in either a service fee for delivery or they now charge a fee for upgraded or à la carte items. It didn't take long for them to figure out how to monetize what used to be free.
What Can I Order From Room Service?
Breakfast, for sure. Complimentary breakfast can vary between cruise lines. My recent cruise aboard Royal Caribbean's Wonder of the Seas offered only a cold, Continental breakfast for free.
Some cruise lines list all sorts of sandwiches and burgers while others add a wide range of salads and even hot soup. On a few cruise lines, you can order main dining room menu items.
For a fee, on Holland America you can order from the specialty restaurant menus at dinner. Pizza delivery is very popular on Carnival, MSC and Norwegian. Princess Cruises has their fee-based dinner-on-the-balcony offer.
Here is the current list of what you'll pay (or not pay) for room service.
List of Cruise Lines Room Service Fees
Carnival Room Service Fees
Mass hysteria among Carnival fans developed when Carnival announced back in 2019 that it would begin to charge a room service fee.
After a quick backtrack, Carnival announced that they were not going to charge for most room service after all, just for certain items. Now, in 2023, there's a fee for everything except the Continental breakfast.
Carnival has a pretty nice complimentary breakfast menu that includes coffee and juice, toasted bagels, white and wheat toast plus cold cereal, danish and even yogurt. For $5.00 – $6.00 you can order a hot breakfast sandwich.


Carnival room service (called "All Day Dining" ) is no longer complimentary from 6:00am to 10:00pm. For fees that range from $4.00 to $8.00, you can order items like Chicken Tenders, Spicy Fried Firecracker Shrimp, Chicken Quesadilla, Philly Cheesesteak and Pan Pizza.
There are more items available for a fee, too, including pizza ($7), chicken tenders ($6), Firecracker Shrimp ($8) and more. Remember that there's an 18% service fee added to all fee-based room service menu items.
Desserts range from $3 to $5 dollars, cookies to cakes.
READ NEXT: Cruise Lines Consider Charging for Second Entrée in MDR
Bar items are ordered through room service. This includes beer, liquor and wine.
If you order wine through room service, you can only order two bottles and it must be consumed in your stateroom. And you must be over 21 years old.
Of course, DIY late night snacks at the Carnival Deli and pizza stations are open and still free.
Celebrity Cruises
Beginning this year, Celebrity did away with its complimentary room service. Now they've instituted a $9.95 room service fee on almost all of their ships. The good news is that this isn't per item as on Carnival. There's also an 18% gratuity added for a total of $11.74 fee per order any time of day.
The only exception is breakfast. On all sailings, a late night room fee of $4.95 will be added to all orders received between 11pm and 6am. Room service outside the hours of 11pm and 6am is a complimentary continental breakfast from 6 a.m. until 11 a.m. Loyalty members Elite and above have access to their own area with cappuccino and pastries. This space used to be called, Michael's Club.
Disney Cruise Line
Free room service is still part of your Disney cruise fare and most items are available without a fee. Certain snacks and upgraded meals will carry an additional fee.
Holland America
This is becoming a trend. Basic room service on Holland America is complimentary. However, Holland America has a fee-based nice upgrade on its breakfast menu. Their smoked salmon Benedict priced at $7.50 is my favorite. Steak and eggs; $9.50.
If you've upgraded and purchased their Club Orange program, the à la carte breakfast item are included.
Holland America also offers a full room service breakfast on debarkation morning. That's something other non-luxury lines do not offer.
MSC
It isn't all la dolce vita at MSC. If you're in Bella class (inside, oceanview and standard balcony, there's a $4.99 delivery fee. There is no delivery fee if you have booked a stateroom in Aurea or Fantastic Experience.
The room service menu for Bella, Aurea and Fantastica has both pay-for and free selections.
Book an MSC Yacht Club suite and there's no fee or charge for room service. Plus, each suite has a complimentary mini-bar. And the Yacht Club Lounge has a revolving array of hot and cold snacks throughout the day.
Norwegian Cruise Line
While individual menu items are complimentary, there's a $9.95 service fee per order. A service fee is not charged to guests in The Haven. There's no service fee for ordering a Continental breakfast with pastries and coffee.
To justify the new $9.95 service fee, Norwegian Cruise Line added an enhanced room service menu. The new menu offers a larger selection for breakfast, plus a wider variety of options available 24 hours.
The menu items are all complimentary with the $9.95 fee. As on other mainstream cruise lines, morning coffee with a cold, continental breakfast does not have a service fee.
Orders placed by guests cruising in The Haven do not have a charge.
If you want to order beverages that have a price tag, then a 20% gratuity and beverage service charge will be added. Room service is offered 24-hours a day.
Princess Cruises
While room service is still complimentary on Princess 24/7, they do offer select menu items that are available for a fee. Some things are free, other items are fee-based. It's all on the room service menu.
If you check Princess's website, here's what they wrote:
"We offer 24-hour complimentary room service when you want to enjoy a quiet moment in your cabin eating a delicious club sandwich or maybe that slice of chocolate fudge cake you can't forget. Treat yourself to breakfast in bed, or stay in for an intimate dinner, and perhaps even cocktails, in the comfort of your stateroom. 24-hour room service is just a phone call away. Charges apply on select menu items."
There's no definitive way to look for what the select menu items are from what's posted on their website. They do list several menu items like sushi and steak that carry a fee.
Royal Caribbean
Royal Caribbean charges a $7.95 service fee and room service is available 24-hours a day. Every stateroom has a room service menu. On top of that, there's an 18% gratuity fee. Stay in one of the Royal Suites and room service is included.
New room service menu items feature several upgraded selections. These include a Wagyu Beef Hamburger, Philly Cheesesteak and Grilled Salmon with Cucumber Mint Yogurt and Roasted Asparagus. Not bad for $7.95 + 18%.
Of course, you can still order a hot breakfast for everyone in your stateroom, and the fee is still $7.95 plus 18% gratuity.
If you only want a cold Continental breakfast with pastries and coffee, there is no charge between 6 a.m. and 11 a.m. You might want to tip the delivery person, though.
Cruise Lines With No Room Service Fee
Azamara Club Cruises
This tiny, Royal Caribbean-owned, two ship cruise line (plus one expedition ship) still offers complimentary room service. Their room service menu is very extensive, too. So far, no late night service fee or add-on cost for select items.
Luxury Cruise Lines
Book a cruise on Regent, Seabourn, Silversea, Viking and Virgin Voyages and as you'd expect, room service is complimentary. Most will even set up a tablecloth meal on your balcony. Luxury has its perks.
Do I Tip the Room Service Delivery Person?
You can give a small gratuity to the person who delivers your room service order, whether it's included or not. I purposely get $20 worth of one-dollar bills just for room service.
Before I go to sleep, I set out $2.00 on the desk. When I get up to open the door for breakfast room service, I grab the money and have it in my hand.
As the delivery person leaves, I hand over the tip. This just makes the morning go so much easier.

Whether you pay a fee or it's free, room service is something that every cruiser should try, if only just once.
It's so nice to have breakfast in your robe rather than table service in the main dining room or fighting Lido Buffet traffic jams at 8am. Happy cruising!
Please Pin and Share!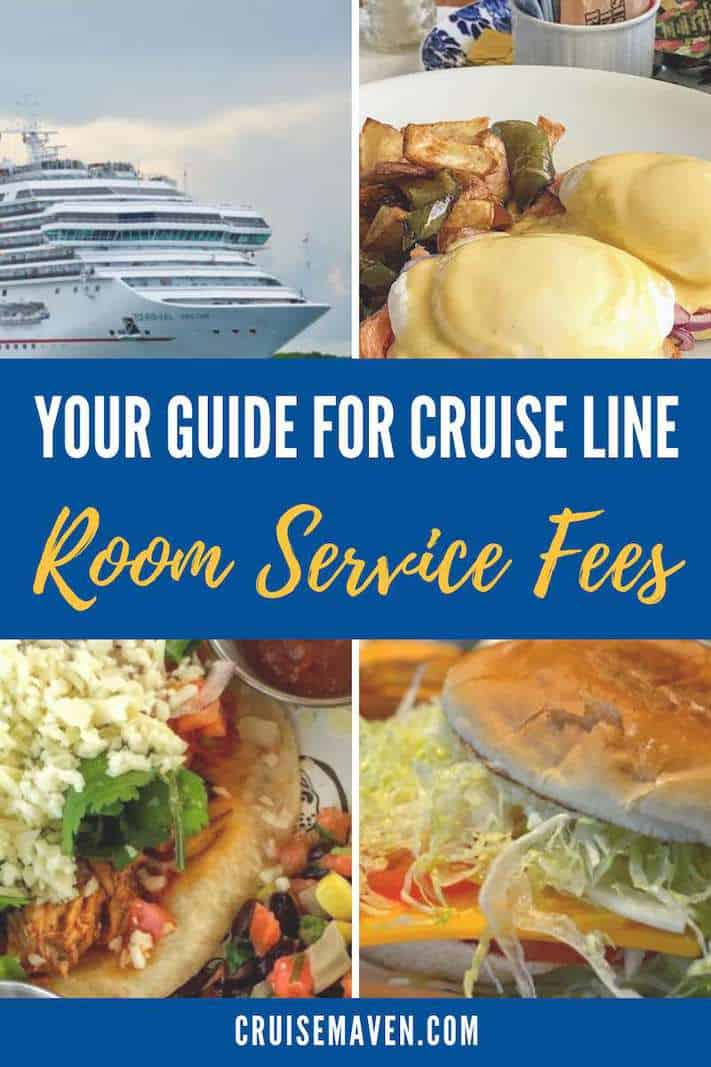 I'm the editor and creator of CruiseMaven.com, a solo traveler cruising the world on waves and wheels, collecting recipes along the way.  I hope my articles and photos entertain, advise and inspire you to travel the world without flying.  Take a breath…stop for a local meal and a glass of wine along the way.