Whether your cruise line calls them daily service fees, cruise ship gratuities or crew appreciation, it's simply tipping on a cruise. Nearly every cruise line has a name for these automatically-added service fees.
Most cruise lines add daily gratuity fees directly to your onboard account throughout your cruise. Plus, different onboard experiences, from using your stateroom mini-bar to dining in a specialty restaurant, have an added fee.
Tipping on a cruise isn't really complicated but it's something good to know before you go.
We've listed each cruise line's per-person daily gratuity. We break down tipping on a cruise to what you'll pay depending on your stateroom category, plus any additional service fees.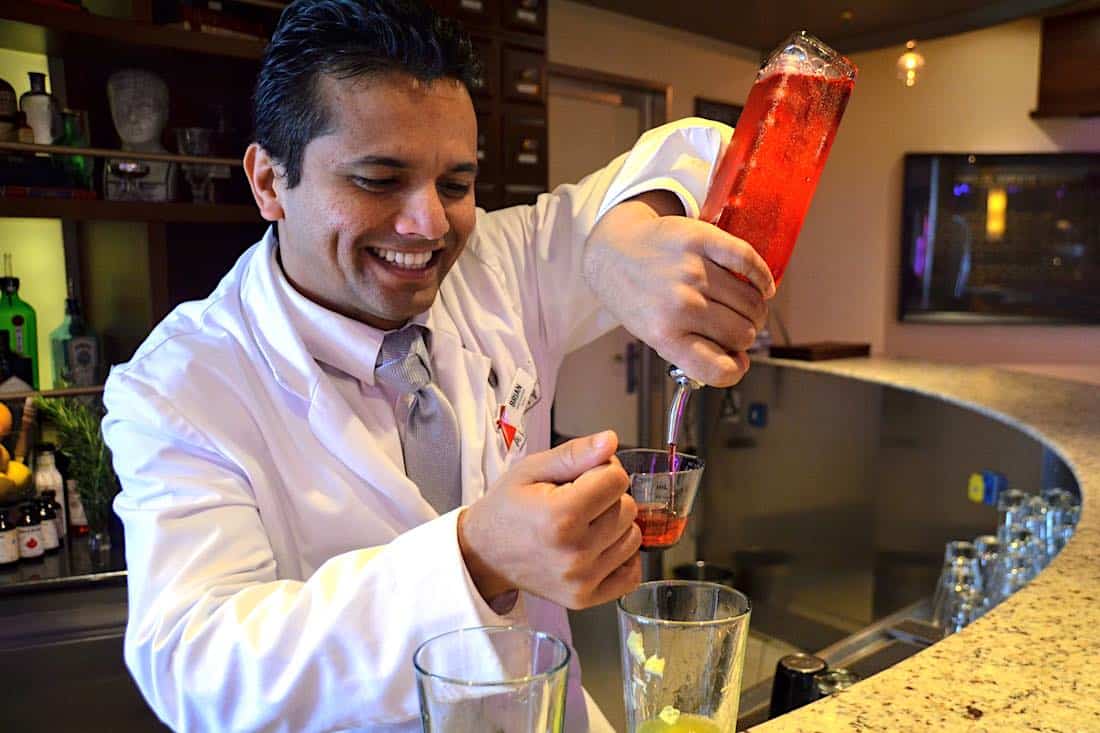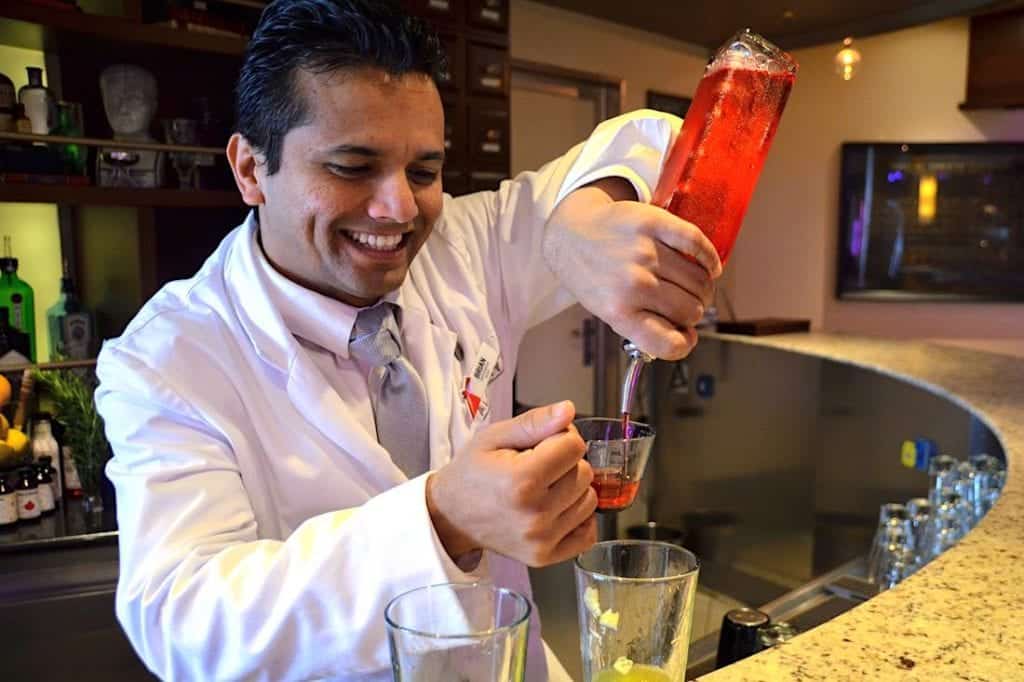 What are Daily Cruise Ship Gratuities?
Every cruise line has a recommended amount that each guest should pay to the crew. Holland America calls it a "Daily Service Fee." Princess calls it "Crew Appreciation." Basically, it's a gratuity fee; how much you'll pay for tips on a cruise ship.
Some cruise lines may call this a "Guest Services Fee" on your onboard account statement. While others simply add "Gratuity" to your onboard account.
Tipping on a Cruise Begins Before Sailaway
Savvy cruisers know that gratuities begin before you board your ship. Why? If you plan to drop off your larger pieces of luggage, be prepared to give the portside luggage handler a $2- $5 tip per bag. The amount can depend upon size, weight and amount of luggage.
If you're a solo traveler and only have one large bag to check, a $5 tip is appropriate.
Consider this tip as baggage delivery insurance.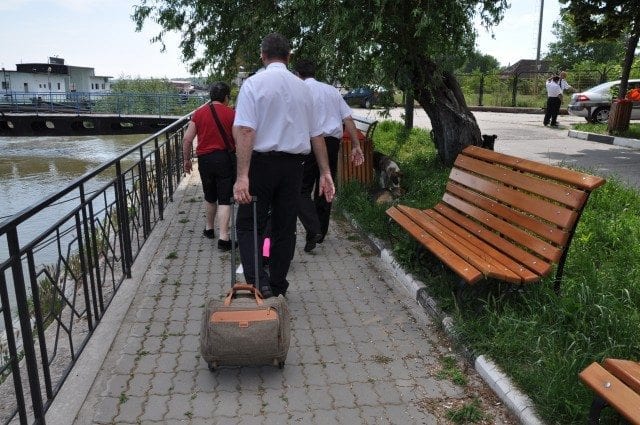 Should I Pre-Pay Cruise Gratuities?
If you want to get the daily cruise tipping fees out of the way before your cruise and avoid last-night sticker shock, I always suggest that you pre-pay gratuities.
Also, if you pre-pay your gratuities, and should the cruise line raise the cruise tip amount before you sail, you are "grandfathered-in" at the previous lower rate.
Don't pre-pay gratuities and if there's an increase, you'll pay a bit more at the end of your cruise. For one person, it's not too bad. If you're paying for a family, it could be a very costly added expense.
Average Daily Cruise Line Gratuity
Roughly speaking, you can expect to pay anywhere from $11.50 – $20.00 per passenger per day for onboard gratuities. As mentioned, cruise lines automatically add gratuities to your onboard account.
Luxury lines like Azamara, Ponant, Regent, Silversea, Seabourn, Sea Dream, Virgin Voyages include gratuities in the cruise fare.
On cruise lines where gratuities are not included, you can monitor the charges on your shipboard bill either from the Front Desk or on your stateroom TV.
Sometimes cruise gratuities are only added at the very end of your cruise, too. Talk about sticker shock!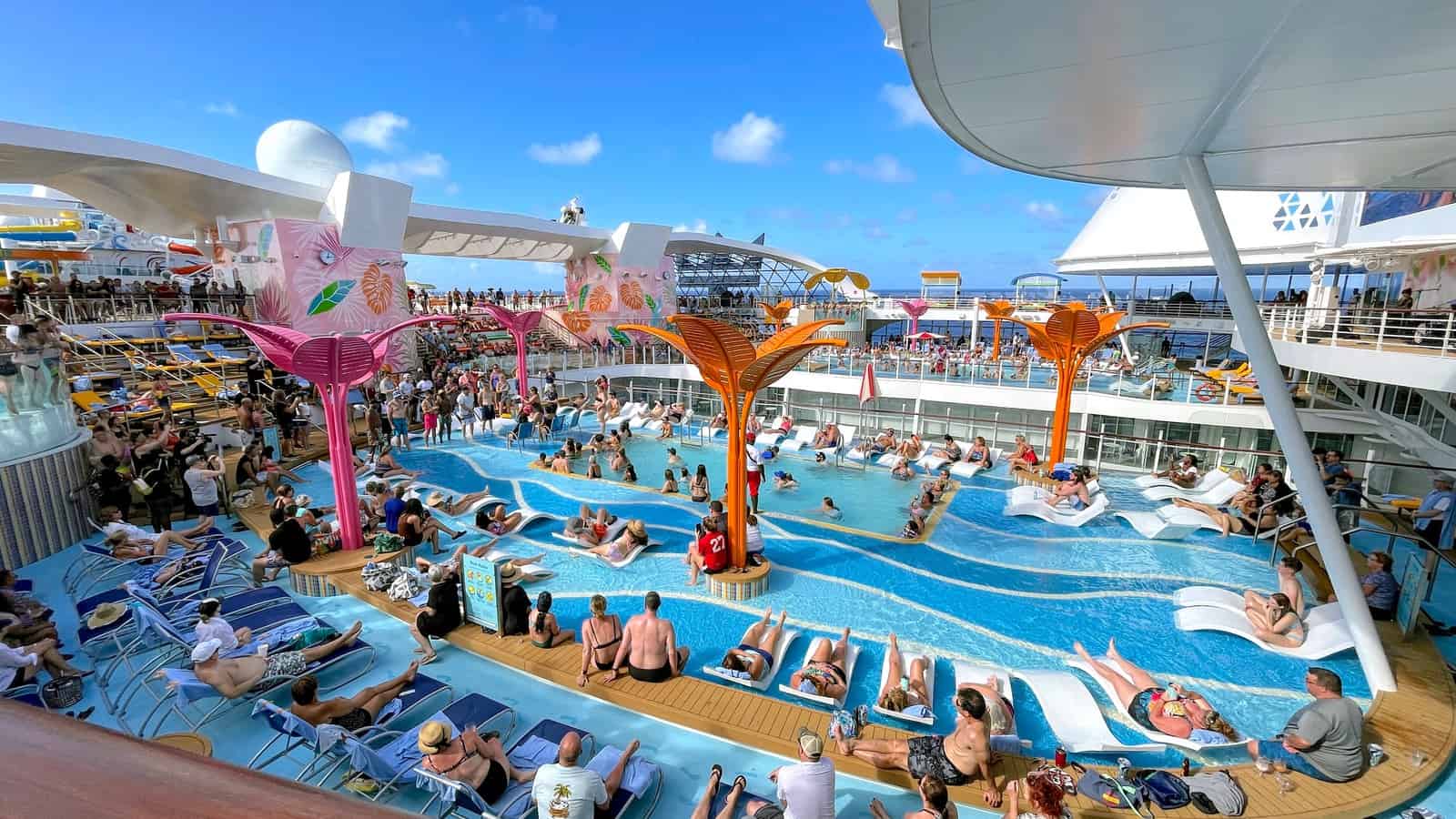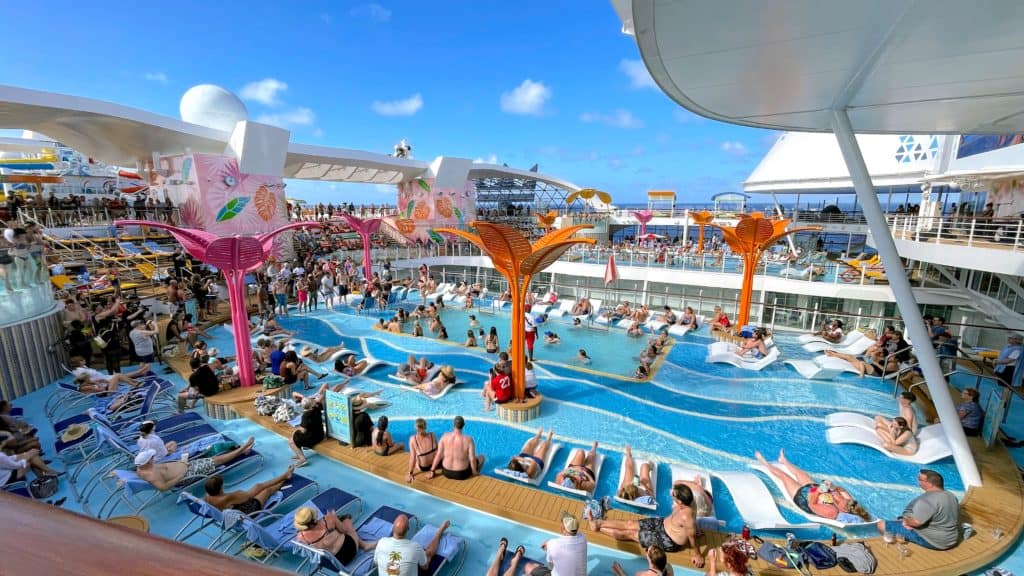 Cruise Line Gratuities for 2024
Here's what you will pay per person per day for cruise ship gratuities/service fees/crew appreciation as of this writing.
CARNIVAL: $14.50 for Standard Staterooms; $16.50 for Suites. An 18% automatic charge is added to beverages at the bars, plus at Bonsai Sushi, Bonsai Teppanyaki and Chef's Table restaurants.
On April 1, 2023, Carnival raised its services fees to $16.00 per person per day for those in standard staterooms. Suite passengers now pay $18.00, an increase of $1.50 per day.
CELEBRITY: $17.50 for Standard Staterooms; $18.00 in Concierge and Aqua Class staterooms. Those booked in the Retreat do not pay a daily gratuity fee. If you purchase Celebrity's All Included plan, the gratuity is included. But you'll pay 20% fee if you order a drink that's not in your beverage package (Classic or Premium). There's an 18% charge for the spa and salon services.
COSTA: An automatic $12.50 service fee is added onto all U.S. departures. There's €11 on Europe departures. 15% beverage charge. Kids 4-14yrs 50% less. Under 4, no charge.
CUNARD: With a name change from "gratuities" to "hotel and dining service charge", you'll pay $11.50 for Britannia Class staterooms (inside, oceanview and balcony). Then, $13.50 for those in the Grill Suites. Pay a 15% beverage charge and 12.5% for a visit to the salon or spa.
DISNEY: $14.50 is the suggested amount for those in standard staterooms. If you're in a suite or concierge stateroom, Disney recommends a $15.50 gratuity fee. Disney doesn't automatically post the fees to your account, however. 15% beverage charge and 18% for spa services
HOLLAND AMERICA: $16.00 for those in standard staterooms. Suite guests will pay an automatic $17.00 per person per day fee. Gratuity charges for beverage packages, drinks, dining room and specialty dining, and other non-included service fee amenities is 18%.
HURTIGRUTEN: $12.00 – Suggested amount on expedition cruises. Norwegian coastal cruises there is no gratuity fee.
MSC CRUISES: Valid until summer 2024: $14.00 for adults 12 years and older. $7.00 for children ages 2 – 11 years. Under 2 years old, no charge. This applies to Caribbean, Canada and USA cruise departures. Cruises abroad, gratuities are in euros and at a comparable exchange rate. MSC website also states they do not recommend tipping individual members of staff.
NORWEGIAN CRUISE LINE: Book a Club Balcony Suite and below and pay $20.00 per person per day. Reside in The Haven or above Suites and it's $25.00 pppd. For children under three years, there's no daily fee. There's also a 20% beverage charge with each non-included drink you order. On Hawai'i sailings, there's a 4.275% pre-paid service charge GET tax.
OCEANIA: $16.00 for guests occupying standard staterooms. For Penthouse, Oceania, Vista or Owner's Suites with Butler Service, gratuities of $23.00 per guest, per day will be added. An 18% service gratuity is automatically added to all beverage purchases, spa services and dinner at La Reserve.
PRINCESS: Now called "Crew Appreciation" the daily fee is as follows: inside, oceanview or balcony staterooms are $16.00. Mini-Suite and Reserve Collection staterooms are $17.00. Book a suite and you'll pay $18.00 pppd. There's also a "service charge" of 17% for specialty dining that's included in the cover charge. You'll pay 18% for individual drinks and drink packages, corkage fee and spa services.
ROYAL CARIBBEAN: Royal Caribbean automatic gratuity rates are $16.00 per person, per day for guests in non-suite staterooms. Book a suite and pay $18.50. Gratuities will be applied to each guest's SeaPass account on a daily basis. There's also an 18% charge for beverages, mini-bar items, and salon and salon purchases.
VIKING OCEAN CRUISES: Simple here. $15.00 per day for all staterooms and a 15% beverage charge.
Should You Tip the Room Service Delivery Person?
Here's another category that needs addressing; room service delivery fees.
Royal Caribbean, Carnival and Norwegian automatically add a room service delivery fee. Sometimes it depends on what you order.
You can still directly offer a tip to your delivery person. He or she will appreciate it.
I always suggest to bring $1 and $5 bills from home. This way, you're ready to personally hand it to the room service delivery person.
Having several small bills is very handy, especially for early morning breakfast delivery. You don't have to fumble around to find a tip. $2.00 to $5.00 is appropriate, depending on the food or how many meals ordered.
Who Gets a Share of the Gratuities?
Depending upon your cruise line and accommodation category, the amounts of who gets what may vary by a few dollars. But this should give you an idea as to where the cruise ship tips go and how it's divvied up at the end.
For this example, the amounts listed below are for standard (non-suite) staterooms, may vary by a dollar or so and subject to change every couple of years.
Also, these amounts will differ because the cruise lines stress that a portion of the service fees also goes to many crew members who work behind the scenes and/or towards a shared crew incidentals/emergency fund.
The top tier of crew recipients, however, are the waiters and stateroom attendants. Next, are the assistant waiters and staterooms attendants. The head waiter may or may not receive a cut in the share.
Those hard-working crew members behind the scenes that you never see will get a small piece of the pie, too.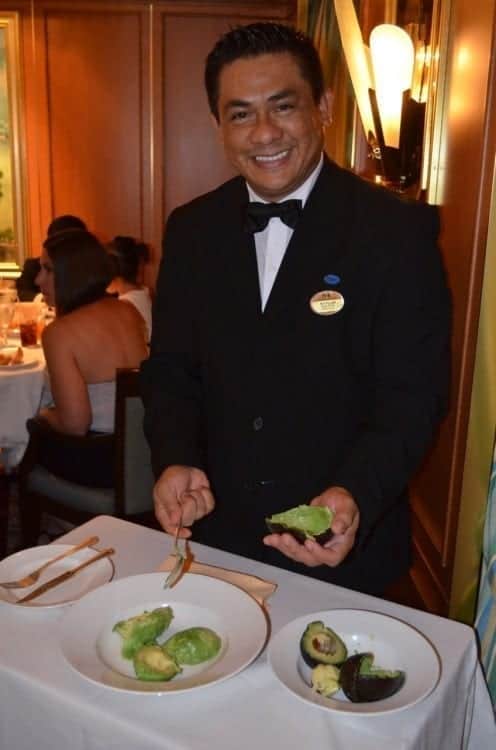 Cruise Tips for Those Not on the Automatic Gratuity List
Some onboard services aren't subject to automatically-included gratuities. Since these are people that you may interact with on a daily basis, it's nice to add them to your gratuity list.
Childcare provider: At your discretion, similar to your babysitter at home.
Bartender: Plan to frequent the same bar throughout your cruise? Give your new favorite bartender a $10 – $20 upfront tip. If you've had excellent service, another tip at the end of the cruise is also appreciated.
Wine sommelier: Based on their involvement, $10 or $20 at the end of the cruise is appropriate. Some cruise lines have done away with a sommelier and your waiter is responsible for keeping track of your wine bottles. Tip accordingly.
Shore excursion guide: $2.00 – $5.00. Some passengers base their shore excursion tip on 10%-20% per person based on the cost of the tour.
Shore excursion motor coach driver: $1.00 – $2.00, especially in Europe.
Spa and Salon services: The spa will automatically add a 15% – 20% gratuity. Is there a need to tip your service provider? It's up to you.
Read more: Seven Stateroom Locations to Avoid
Personalize Your Tip-Giving Experience
Many cruise passengers from Britain and a few European countries where tipping isn't a common practice, prefer to have the automatically-added tips removed from their account. This can be requested at the Reception (Purser's) Desk.
Hopefully, these folks will then hand out cash to those who have worked hard for them during the cruise. Others simply refuse to tip. And it's not just non-Americans, either.
Conversely, some guests who are familiar with and follow the tipping guidelines, prefer to hand out cash-filled envelopes to crew members.
Bring a stack of small bills from home and keep separate from your other cash, to avoid the last night panic line at the Purser's Desk.
You can also visit the casino cashier to break your larger bills. Bring envelopes (and thank you notes) from home in case the ship's front desk doesn't have any to give for tips.
When in Europe, Euros are the preferred currency for tipping on both ocean and river cruises. Or you can usually put the gratuities directly onto your onboard account and credit card.
I always leave the automatic gratuities on my account. Then on the last night, if service was very good, at dinner I'll bring envelopes with a little extra cash for my waiter, assistant waiter and sommelier.
Whether or not to tip the Maître d' is up to you, depending on if you've actually communicated with this person.
On the last night or on the morning of departure, I always give an extra tip to my room steward when I say goodbye.
Tipping After Your Cruise
After the cruise, if you ask a porter to load your luggage and wheel it to the outdoors or motor coach, you'll need to dip into your wallet one more time.
In many ports or after a transatlantic crossing, you'll get through the customs and immigration line quicker if you ask a porter to help with your luggage.
If you don't know what to expect, tipping on cruise ships can be confusing and a bit daunting. Know the gratuity amounts before you go and avoid last-minute surprises, long queues for cash and empty-pocket embarrassment.

If this was helpful, please PIN for others!
I'm the editor and creator of CruiseMaven.com, a solo traveler cruising the world on waves and wheels, collecting recipes along the way.  I hope my articles and photos entertain, advise and inspire you to travel the world without flying.  Take a breath…stop for a local meal and a glass of wine along the way.