Nine family things to do in Sydney, Nova Scotia.
At first I thought it was just an interesting, over-sized violin that greeted our cruise ship arrival into Sydney Harbour. But to a Cape Breton Islander, it's more than that. Translated from the Gaelic, "Fidheal Mhor A' Ceilidh,"  it's actually the world's largest fiddle. "Ceilidh" is Gaelic for a social gathering, so that should give you some indication as to the personality of the people of Sydney.  They are friendly, outgoing and welcome you with open arms to their corner of Canada.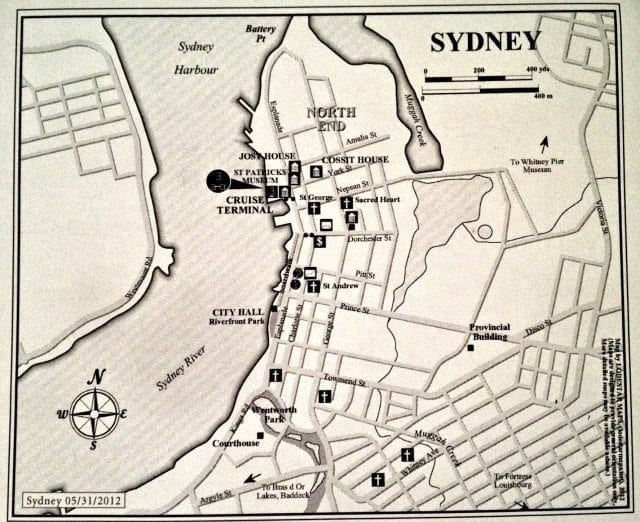 Sydney, Nova Scotia is located on the Atlantic Ocean side of beautifully rugged and scenic Cape Breton Island. Although the first inhabitants of this area were French Acadians, they were eventually succeeded by mostly British, Scottish, Irish immigrants.
The city of Sydney was founded in 1785 when British Loyalists abandoned their posts during the American Revolution and fled north to Cape Breton island.  Settlers soon realized the great wealth of natural resources and it wasn't long before Sydney became a major coal and industrial city.  In search of employment, immigrants from many different cultures settled into the area which gives present-day Sydney its multicultural flavor.
Proud of their Celtic background and Gaelic language, activities in Sydney include many colorful festivals reflecting the music, cuisine, culture and natural beauty of the island. throughout the year from the Cape Breton International Drum Festival to the Celtic Colours Music Festival and even a close of the lobster season festival.
Upon arrival into Sydney Harbour, you are immediately greeted by the aforementioned mega-fiddle and the Joan Harriss Cruise Pavilion.  The pavilion is a destination unto itself with shopping for authentic Cape Breton products right there; hand-made arts and crafts, knitwear and a great place to buy your souvenirs.
So what should you do with your eight hours in Sydney? Better yet, here are the most popular attractions that are either available as short independent walking tours right from the port or a planned shore excursion with your cruise line.
At the Joan Harriss Cruise Pavilion

Inside the Pavilion, in Pittmann Hall is the Big Fiddle Market. Local artisans have set up their crafts in this huge warehouse-like facility. If convenience is your thing or you don't want to go very far from the ship, there's a shore excursion tour offered by most of the cruise lines that takes place right there in the pavilion. Visitors are "escorted" through the cruise terminal by a Scottish bag-piper, to a sitting area where guests are treated to the experience of genuine Celtic fiddle music, talented young step-dancers (kind of a mini-River Dance) and can learn more about life in the area from past centuries. Don't be surprised if this tour is quickly sold-out.
Walking distance to the port

Smart Shop Place
Located along the boardwalk where you can shop for authentic Cape Breton jewelry, clothing and even yarns and knitting supplies. Turn right out of the port and head south along the river.  Be sure to take home some  Cape Breton Fudge and sample the freshly made lobster rolls and chowder.
A short walk north of the port (turn left upon exiting) leads to the Historic North End Conservation District, where you can re-visit life in Sydney in the 1700s.  Many of the original buildings in the area are open to the public:
St. Patrick's Church Museum
The oldest Roman Catholic church in Cape Breton. Preserved in its original Gothic design, it was built in 1828 and features three-foot thick walls. The museum houses a miniature colonial village and an authentic mid-19th century whipping post.
Jost House 
Built in about 1787 by a prosperous local merchant is also now a museum and the home to a marine exhibit. The structure itself showcases the typical colonial-era wooden house.
Cossit House
From 1878, it is the oldest house in Sydney and possibly in Cape Breton Island. Inside Cossitt House are restored period furnishings and depictions of 18th century life in the area.  The house was named for its original owner, Reverend Ranna Cossit,  who lived there the house with his wife, Thankful and their large family.  The Cossitt House is one of the earliest examples of neo-classical Georgian architecture in Nova Scotia, originally built with wood from New England and assembled in Sydney.  If you have the time, take a tour of this interesting house presented by Colonial-dressed guides and discover how one one family lived when Sydney was founded.
St. George's Church
This pretty little church is located almost directly across from the cruise terminal. Located under the canopy of expansive old trees, small concerts are regularly held here.  There is the old cemetery behind the church with intriguing tombstones and inscriptions.
Ship excursions
Fortress of Louisbourg
Your excursion will take you to the largest reconstructed 18th century French town in North America. Completed in 1745, the fortress took more than twenty-five years to complete, spans over fifty acres and is surrounded by a wall nearly two miles in length. Costumed guides recreate the daily lives of the original settlers.  "French soldiers" go about their daily lives and you are able to interact with the local "residents."
Cape Breton Highlands National Park and the Cabot Trail
Located within the Cape Breton Highlands National Park, this is one of the most scenic drives throughout Canada.  One-third of the famous Cabot Trail runs through the park, hugging the coastline for most of the way. Hop aboard your tour bus and head out for a historic and scenic trip, and a view of sparkling Bras d'Or Lake.
Baddeck

The summer home to Alexander Graham Bell, Baddeck is situated on the shores of Bras d'Or and is still a quaint small village, with a downtown area including the waterfront and harbor.  A visit to Baddeck will may include a brief tour of the grounds of the Alexander Graham Bell National Historic site well as some time to spend in the museum.
Cruise ships begin their Canada New England itineraries in late May and continue until the end of October. As the popularity increases, more and more cruise lines are heading north.  Not all cruises call on Sydney, Nova Scotia, however.  In 2013, you can choose from most of the mainstream cruise lines which include Carnival, Holland America, Celebrity, Norwegian Cruise Line, and Princess Cruises. Among the more upscale cruise lines to visit Sydney in 2013 include Oceania, Regent and Silversea.  Holland America makes the most port calls to Sydney than any other cruise line.
Photo credits: All photos by Sherry Laskin except:
Fortress photo: WhatsGoingOn.ca; Cossitt House:  Nova Scotia Museum; Sydney Map: Celebrity Cruises; Jost House: HistoricPlaces.ca; Cabot Trail: CabotTrail.com