When I first started cruising as an adult (or quasi-adult), first it was NCL, now officially renamed Norwegian Cruise Line. Then I was all about Carnival. My kids cut their teeth on Carnival, loved Camp Carnival and the dancing waitstaff at dinner. Then came a couple of tries aboard Disney. Great product, very expensive. Yet I still hadn't tried a Royal Caribbean cruise.
Back then, I was a work-at-home mom with my own cruise-oriented travel agency. One snowy Michigan morning, I received a phone call from a woman in Washington DC named Monique. She wanted to take her mother on a Royal Caribbean cruise from Port Canaveral on the Monarch of the Seas.
During the course of getting her reservation in place, we became phone friends. So much so that when I realized I'd be near Port Canaveral on a vacation from Michigan, it seemed like fun to join Monique and her mom on their first Royal Caribbean cruise.
With my youngest daughter in tow, off we went on the "new" cruise line. We met up with Monique and her mom, had wonderful hugs and made plans to meet for dinner. It was a highlight of my cruise.
From then on, I was a Royal Caribbean cruise enthusiast. I started collecting loyalty points in the Crown & Anchor club like my mother used to save Green Stamps, always planning on their rewards.
Redemption for enough points in Crown & Anchor occurred for me when I reached Diamond Plus level, about 10 years ago. I now could use the Diamond Plus lounge for continental breakfast in the morning and happy hour in the evening. There was always a pillow gift of some sort and invitations to this and that "private" event.
Loyalty programs, no matter what cruise line, have their benefits.
From about 2010 until I swore off Royal Caribbean in 2013, despite my accumulation of points, I really sensed a steady decline in the product. Food quality and preparation had tumbled. Service was curt and impersonal, waiters asked diners for increased tips. The ships I cruised on showed wear and tear.
Truth be told, I decided to move my cruise dollars and vacation days back to Carnival. Also on my list was  Holland America and Princess. Years ago, I worked at Norwegian Cruise Line in their Miami office in the late 1970s so that cruise line was out of my system for a while.
I hadn't been on a Royal Caribbean cruise since my disappointing week on the Allure of the Seas in 2013.
My return to Royal
Last week, to celebrate my (shhh…insert large number!) birthday cruise, I chose Oasis of the Seas. For convenience to Port Canaveral and the Oasis being fairly new with plenty to offer, it seemed like the perfect match.
My group ranged in age from 29 to 86, with me somewhere above middle. I'd been to all of the western Caribbean ports that we'd visit in seven days, and so had the others older than me. They didn't plan to leave the ship in any of the ports that included:  Labadee (private beach on Haiti), Falmouth, Jamaica and Cozumel, Mexico. But for me and the rest of the small gang, we planned events for each port…or at least a go-ashore walk.
But here's the clincher. About mid-week through this Oasis of the Seas cruise, the unexpected happened. I did a 180-degree turnaround. I liked the ship, the food, the service…all of it. It was as if I was back on an old-time Royal Caribbean cruise where everything seemed nearly perfect.
From the beginning
Embarkation at the new terminal next to Grills restaurant was a snap. I arrived at Port Canaveral at 2pm, prepaid for my parking ($136 for the week)  and within 20 minutes, I had unlocked my stateroom door. My friends who arrived at 10:30am encountered a logjam at the parking structure as well and hoards of early arrivals anxious to get onboard. That's why I never arrive early for embarkation. Anywhere.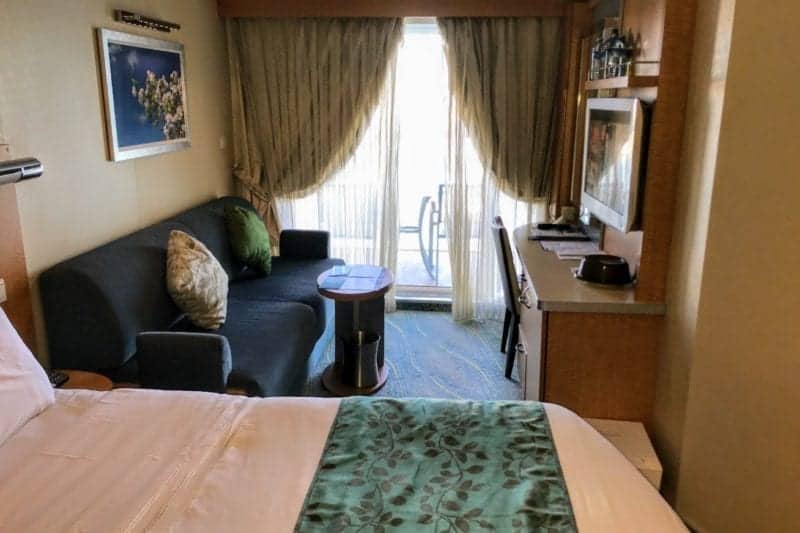 My stateroom was clean with no torn linens and no scratched and dented walls. The tubular shower stall showed no sign of mold and the floors were spotless. Either my room steward was a magician or the company was training their crew to the nth degree.
Many years ago, I was on a Royal Caribbean cruise aboard the Freedom of the Seas out of Port Canaveral. The main dining room food was so awful that my table of random strangers all agreed to not return after the second failed dinner.
Last week, except for my birthday dinner in 150 Central Park, I never skipped the main dining room. Our waiters were spot on with getting my three free happy hour drinks (a Diamond Plus reward, which I could share) before the 8pm cutoff. They remembered to bring me a pot of peppermint tea when serving after-dinner coffee to others. It's the little touches that make all the difference.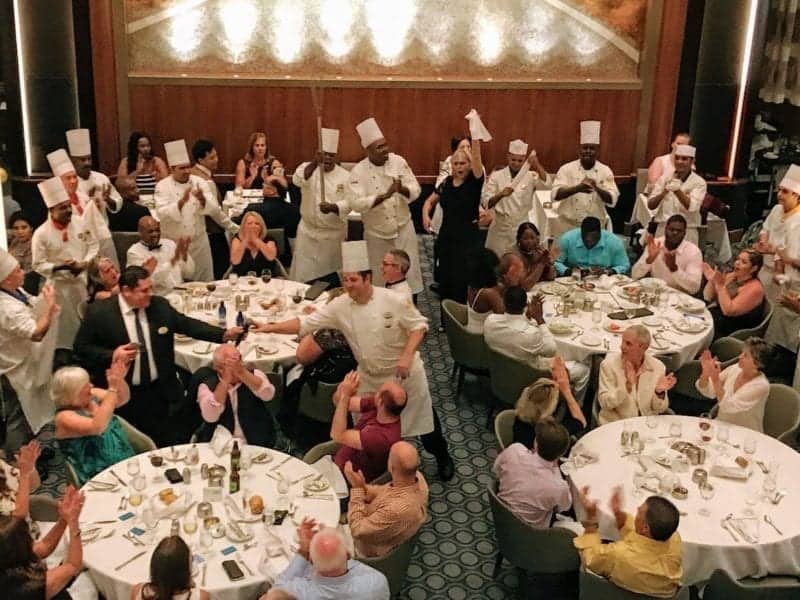 Four years ago when I dined solo at 150 Central Park aboard the Allure, I was not impressed. The Black Cod (a fish staple on the menu) was over-salted and over-cooked. This time aboard the Oasis, the same fish was fabulous.
Everything at Oasis' 150 Central Park was excellent and worth the $45 per person fee. But most memorable was the rich and gooey chocolate layer cake, specially ordered for my birthday. Wrapped in a thin chocolate ganache with sweeping orange stripes, this two-layer cake was truly one of the best chocolate cakes I've ever had to "endure".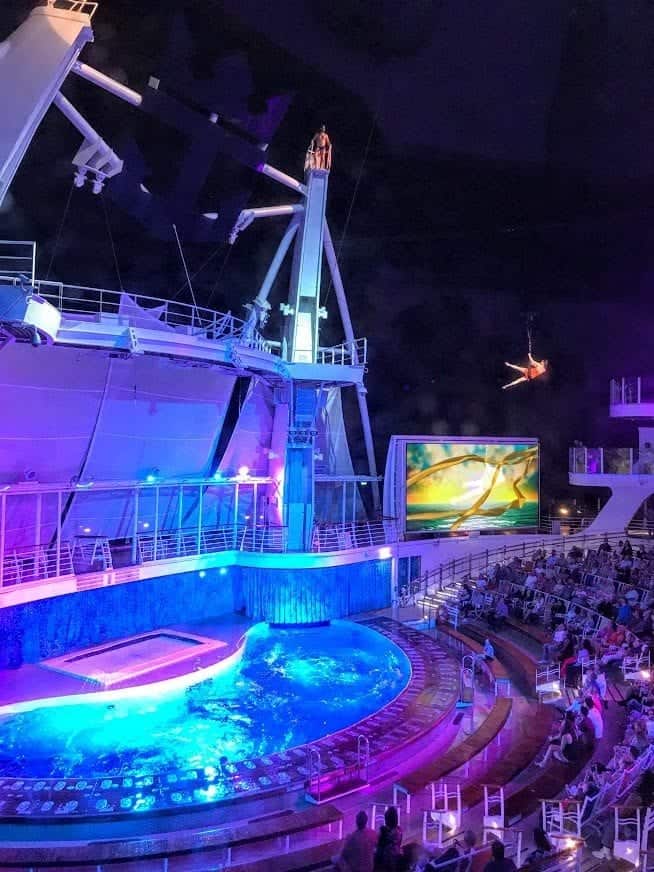 Entertainment could not have been better. While the Aqua Theater performance on the Allure, four years prior, was spectacular, the folks at Royal have now elevated it to new heights…literally. Now the divers are also aerialists, suspended above the tiny pool as cables slowly raise, lower and transport them across the audience. Even the high dive seemed higher than in the past.
"Come Fly with Me", a main production show, was an absolute treat. With a tip of the hat back to music and dance from the 40's, its innovative dance numbers and acrobatic routines were brilliantly thought out and implemented. I'm not going to issue any spoiler alerts so all I can say is, WOW.
Then there was the Broadway-style full-length production of CATS. Really, if you've seen it once, you've seen it enough. This once-groundbreaking musical has gotten a little tired over the decades. I looked forward to a Betty Buckley-style belt-it-out "Memories" but the singer never quite reached the crescendo that I (and other in the audience) expected. I heard that CATS will be replaced when Oasis goes in for refurbishment next year.
Tip:

  Late in 2018, it is rumored that Cats will (finally!) be replaced with Hairspray.
When in Falmouth, my kids and their friends chose Royal Caribbean's Kayak Adventure. I wish I had gone with them. Not strenuous at all, there was a surprise foot massage and lunch included after the 40-minutes of kayaking among jelly fish and other creatures that could survive in freshwater.
I stayed behind for a birthday lunch at Margaritaville. Lunch at any Margaritaville is always a nice respite or alternative from a shore excursion. This particular M-Ville was a bit disappointing. Service was painfully slow and the Cheeseburger in Paradise dreadfully overcooked. The upside was that the margaritas were icy cold, the sky was brilliant blue and I was in Jamaica for my birthday. Cheeseburger be damned.
But I digress.
As the week drew to its inevitable end, I looked back on what was a truly perfect cruise. From the weather, to the ship and all that it entailed, to the destinations and shore experiences, it couldn't have been better.
And for Royal Caribbean? They've got a new "old" fan. I deposited my Next Cruise cruise while onboard. I don't know where I'll go or what ship I'd like, but I feel pretty confident that they'll once again, as their old tag line used to say, "Deliver the WOW.
I'm the editor and creator of CruiseMaven.com, a solo traveler cruising the world on waves and wheels, collecting recipes along the way.  I hope my articles and photos entertain, advise and inspire you to travel the world without flying.  Take a breath…stop for a local meal and a glass of wine along the way.