Steeped in history, charm and incredible scenery, a visit to Charlottetown on Prince Edward Island is more than just a routine port call. PEI, as the island is affectionately nicknamed, is Canada's smallest province.
Prince Edward Island lies in the Gulf of St. Lawrence, nestled in the curve of Nova Scotia and New Brunswick, to the island's south.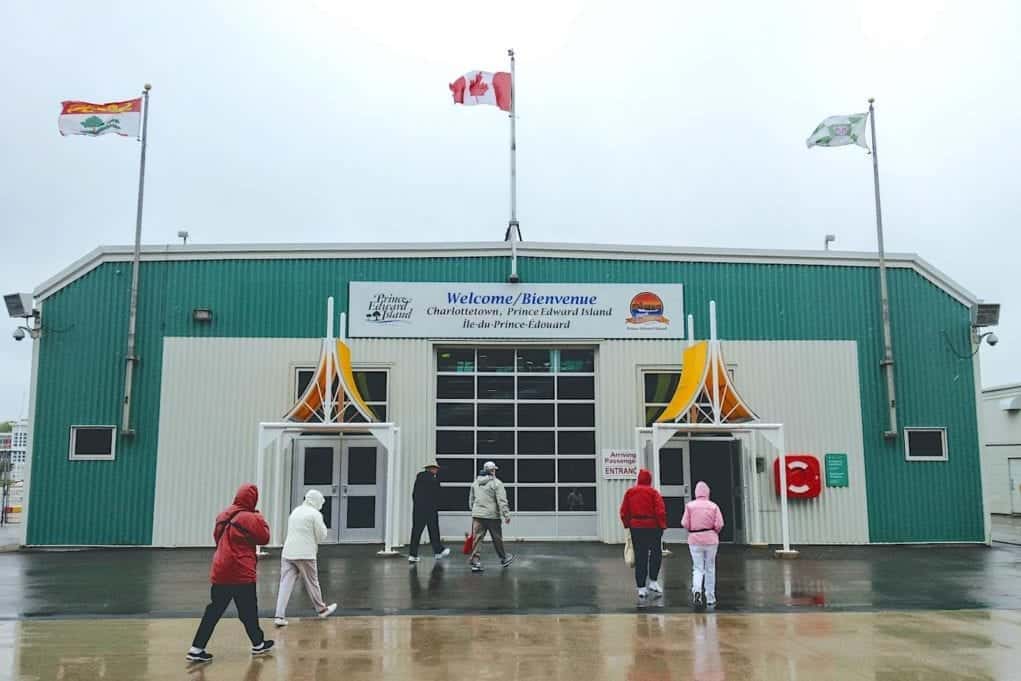 Victorian Charlottetown and Enchanting Anne's Land
Charlottetown, the capital of PEI, is the most visited city on the small island. From the Historic Charlottetown Seaport and its modern cruise terminal, it's a short walk to the quaint downtown area, filled with souvenir shops, seafood diners and craft pubs.
While Prince Edward Island beckons tourists from all over the world for its rolling hills, pristine beaches, rugged coastline and scrumptious fresh seafood, the island's preeminent fame lies in its literary history.
When Lucy Maud Montgomery published Anne of Green Gables in 1908, a heartwarming story of a little red-haired orphan named Anne Shirley, the book became an instant bestseller. Prince Edward Island was catapulted into world fame and curiosity. Did such an idyllic place as described by L. M. Montgomery actually exist? It did and still does, as millions of tourists have discovered.
Though the impact of Anne of Green Gables on PEI began in the early twentieth century, the island's history dates back to 1763 and the Treaty of Paris, following the British defeat of the French on what was then St. John's Island.
In 1765, Charlottetown was declared the capital of the new province and nearly 100 years later, in April 1855, officially became a city. Thirty years later, electricity illuminated the island and growth as a tourist destination began.
Adjacent to the Seaport, visitors can stroll the brick-lined paths through tree-lined Confederation Park to the cobblestone streets that lead to the historic area. Nineteenth century Victorian brick homes and flat-front wooden houses line the streets that emanate from port.
Charlottetown Historic District
The historic district of Victoria Row stretches along Richmond Street, between Great George and Queen Street. Quaint artisan shops, restaurants with locally sourced seafood and craft pubs attract both locals and tourists. Shops offer colorful hand-knit woolens and flannels, from scarves and mittens to pashmina wraps and stocking caps.
READ MORE: Best Things to Do in More Canada Cruise Ports
Charlottetown is noted for its rich, homemade fudge and shopkeepers stand in their doorways to lure tourists inside with sweet, chocolaty samples. Word of warning: once tasted, it's nearly impossible not to buy an assortment of fudge to bring home.
Culinary enthusiasts and history buffs will enjoy spending the day in Charlottetown. The legion of Anne of Green Gables fans will savor every minute on this picturesque island dotted with literary landmarks, especially an area on the north shore of the island known as Anne's Land and the small town of Cavendish.
A Little Background About Anne of Green Gables
Born and raised in the Cavendish, Lucy Maud Montgomery and her beloved fictional character Anne Shirley of Green Gables attract over 125,000 visitors each year. They come to pay homage to Canada's first woman to receive the distinction of Officer of the Order of the British Empire and to walk in little Anne Shirley's fictional footsteps.
Now part of Prince Edward Island National Park, the home where Lucy Maud Montgomery lived and found inspiration for her novels about Anne, is preserved in grand Victorian detail. While the road to Cavendish from Charlottetown is cluttered with tourist attractions, the homestead looks much the same as it did at the turn of the twentieth century.
A visit to nearby Green Gables Heritage Place should be savored, not rushed. It is here than fans can immerse themselves in the fictional world of Anne Shirley and walk through the green gabled house that was the storybook home to Anne.
In reality, this beautifully restored green gabled home was Montgomery's cousin's house, which she frequently visited while living with her grandparents, just a short distance away.
L. M. Montgomery was inspired in part by the island's rolling hills, hidden harbors, mysterious woods, and her own issues of being abandoned as a child and sent to her grandparents. Cavendish became the fictional town of Avonlea, where Anne loved to explore, play and experience the beauty of the sea, the changing seasons and the realities of life.
Tours at the Green Gables House offer a glimpse into Anne's very Victorian way of life in the late 1800's. The house is accurately decorated as though torn from a page of Montgomery's novel. Even Anne's room on the second floor is furnished as it was depicted in the stories.
Marked paths from the house beckon visitors to explore the Haunted Wood trail and Lover's Lane as referenced in Montgomery's novels. Follow signs to the remains of the home where Lucy Maud Montgomery spent her childhood and at age 31, wrote "Anne of Green Gables." Unfortunately, all that's left of her childhood home is the stone foundation that marks the perimeter of the house.
Out-buildings within Heritage Place have been carefully restored to keep the ambiance and appearance of an 1800's farmstead. Also on the grounds are the Anne of Green Gables gift shop, a restaurant, and colorful flower gardens.
Included on most "Anne" shore excursion tours and en route to Heritage Place is the Anne of Green Gables Museum at Silver Bush. This 110-acre farm will brighten the day of any Anne fan with its beautiful gardens, carriage rides, views of the lake and especially the home of Montgomery's cousins, the Campbells.
Walk through parts of the home to view personal effects of the author as well as Victorian items described in her books. When L.M. Montgomery chose to be married in front of the fireplace at the Campbell's home in 1911, little did she know that couples from around the world would choose the Campbell's living room for their weddings.
After a visit to the Museum, the nearby Lucy Maud Montgomery Birthplace is the next stop on an Anne of Green Gables tour. Here at the tiny wooden house where she was born visitors can view authentic Victorian furnishings including her mementos, copies of her writings and replicas of her books.
What was once a craggy outcrop of an island in the Canadian Maritimes, Prince Edward Island has developed into a destination unto itself. Rich in scenery with a vibrant arts scene and culinary excellence, any time on year is a good time to visit.
However, due to the daunting winds of autumn, legendary Canadian winters and the late spring thaw, cruises to Canada and New England have a limited season from May through October. Leaf-peepers may love a fall cruise to this area to observe striking shades of gold, orange and burgundy leaves from their ship as well as on drives through the pastoral countryside.
It's difficult not to fall in love with quaint yet vibrant Charlottetown with its beautifully preserved homes, friendly locals and small town atmosphere. But it's the spell cast by little Anne of Green Gables that people remember most from a visit to Prince Edward Island. And the fudge!
I'm the editor and creator of CruiseMaven.com, a solo traveler cruising the world on waves and wheels, collecting recipes along the way.  I hope my articles and photos entertain, advise and inspire you to travel the world without flying.  Take a breath…stop for a local meal and a glass of wine along the way.