Cruising solo on a transatlantic crossing isn't your typical solo cruise experience. Because I don't fly, I've learned a lot on these long voyages.
It really helps to know what to expect and to be prepared.

Solo Cruise Advice on a Transatlantic Crossing
I've cruised solo on 22 transatlantic crossings. With Cunard, between New York City and Southampton, U.K., you'll have seven nights and six consecutive sea days. Onboard a Holland America Koningsdam transatlantic crossing, we had eight sea days before reaching our first port in the Azores.
It's interesting to plan on how to fill a week or more with days-alone time. I don't mean being lonely but simply time spent alone; whether it's dining, an upcoming shore excursion, at a show in the main theater or in Holland America's high-energy B.B. King's Blues Club.
The longer the consecutive sea days, there's usually less chance to meet people. Or maybe just the opposite? Let me explain.
Face it; it's a couples' world, especially on the high seas. Those of us cruising solo see this all the time. On long crossings, people seem to cocoon a bit and stay within their comfort zones.
Except for idle or polite elevator greetings, people seem content within the confines of their stateroom-mates or group of friends.
Here are my observations on cruising solo with lots of sea days IF you want to meet new friends.
Choose a Fixed Dining Time
When cruising solo, this suggestion is important if you want to have a chance to meet and get to know people, for other than polite elevator greetings.
There are two major points to remember. One is to confirm your fixed seating dining time as soon as you book your cruise. Keep in mind that these long, 14-day cruises are popular with the over-55 crowd. This is the target market that is used to traditional main dining room service with a fixed dining time.
Second point: Because of the older demographic, early seating – usually 5:00pm or 6pm – fills up first. On longer cruises, this seating is usually requested by families with small children, too. If you'd like to meet a more late-night crowd, choose second seating. But reserve it as soon as you book your cruise.
There is also the option to "float" between tables each night. The Maitre d' can arrange this for you.
Many guests like the idea of new table mates every night. That also means a new waiter who doesn't know that you'd like extra veggies or a glass of water without ice. Sounds silly but it's the little touches that make for a memorable cruise.
Sometimes, I try to arrange to have a standing reservation at a table for one at 7:45pm in the main dining room. Depending upon where it's located, I might be able to chat with another couple if their table for two is close enough to mine.
Yes, I have specialty restaurant reservations, too. But there's an even slimmer chance to meet others in the fee-based restaurants. Though it has happened to me.
A horrifying experience created an interesting exception. A few years ago, I was at my own table, quietly having dinner at the Todd English restaurant aboard Queen Mary 2. A woman was choking to death across the dining room.
The man at the table next to me rushed to her table and performed the Heimlich maneuver. He saved her life as the wait staff stood nearby, stunned. I wouldn't have become great friends with Elizabeth and Walter if not for that terrifying incident.
There are odd circumstances, but usually, at a table for one, you won't meet anyone.
RELATED: Top 10 Reasons Why I Love to Cruise Solo
Sign Up For Trivia
This is a sure-fire way to meet people. You're generally in teams of six people. I just walk around and ask, "May I join you?" to an already small group. Sometimes the cruise director will also help to place you on a team.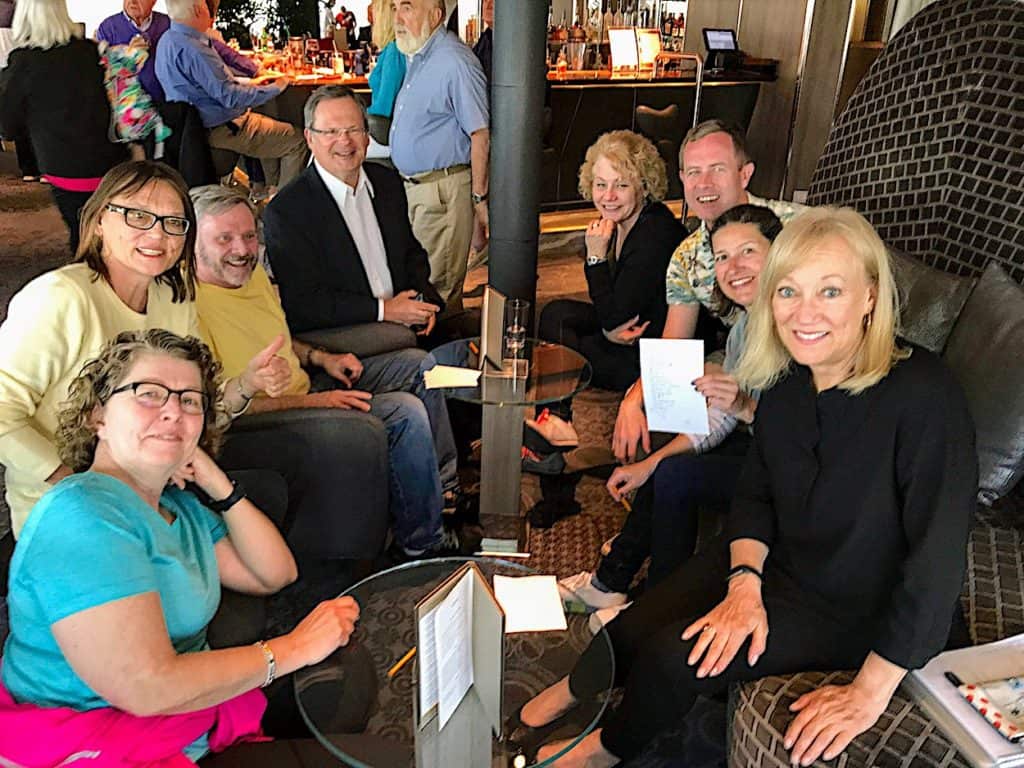 With trivia happening at least once a day and in the same location, if you want to meet people, test your knowledge and have a chat, this is where to go. Try to go on the first opportunity for trivia. That's when the bonding happens.
Try a Ship Cruise Excursions
In the past, this is one area in which I've met my fellow travelers and remained friends through the rest of the cruise.
Long bus rides to distant landmarks, historic cities or ancient ruins help to bridge the gap. Shore excursions that include a meal also help build camaraderie.
It's almost impossible not to strike up a conversation while you're rolling along to your destination. Cruising solo, especially on a long transatlantic cruise, just got a little more friendly.
Take Advantage of Loyalty Programs or Suite-Only Lounge Access
Holland America has their Concierge Lounge for only suite passengers. While many cruising solo cannot afford to pay double for a suite, if it is possible, this well-furnished quiet lounge is a great place to meet others in suites.
Royal Caribbean and Celebrity probably have the best loyalty programs for their upper tier repeat guests. There's a happy hour every day from 5-8pm plus a much less well-known continental breakfast buffet.
With so many Diamond and Diamond Plus members these days, if you're lucky enough to find a seat in the lounge, you'll inevitably begin talking to whomever is crowded in next to you.
As a solo cruiser, it's nice to build loyalty status to have a your own special event room to go to each day.
Norwegian has their Studio Staterooms for solos only. These are awesome little 100-square foot rooms, as compact as you can imagine. The benefit is that there is a beautiful contemporary lounge only for studio passengers (though I was told that any solo guest can visit).
It's open 24/7, has a daily Happy Hour ($), group shore excursion options and group events in the lounge. I'm not much of a joiner, but I did stop by on occasion just to check it out.
Solo Cruiser Daily Activities
This is not among my favorite things to do. But for the sake of accurate reporting, I've been known to pop in once per cruise. People are quite sociable and warm…but it's not my thing. If I happen to make an acquaintance, he or she usually attends all the events on any given day, from mid-morning coffee (Cunard) to afternoon lunch (Holland America) and solos-only dinners.
Cruising solo doesn't have to be a time of loneliness. I enjoy my alone time…it gives me a chance to think about time, reflect on being out here in the middle of nowhere and plan future stories and workflow.
There are socializing opportunities onboard; I know where they are and if I want to participate. Whether it's crossing the Atlantic or Pacific, extended days at sea are special. Make the most of them, no matter what you choose to do.
And with hundreds or thousands of other passengers, you are never alone.
Want More Solo Cruise and Travel Inspiration?
I'm the editor and creator of CruiseMaven.com, a solo traveler cruising the world on waves and wheels, collecting recipes along the way.  I hope my articles and photos entertain, advise and inspire you to travel the world without flying.  Take a breath…stop for a local meal and a glass of wine along the way.