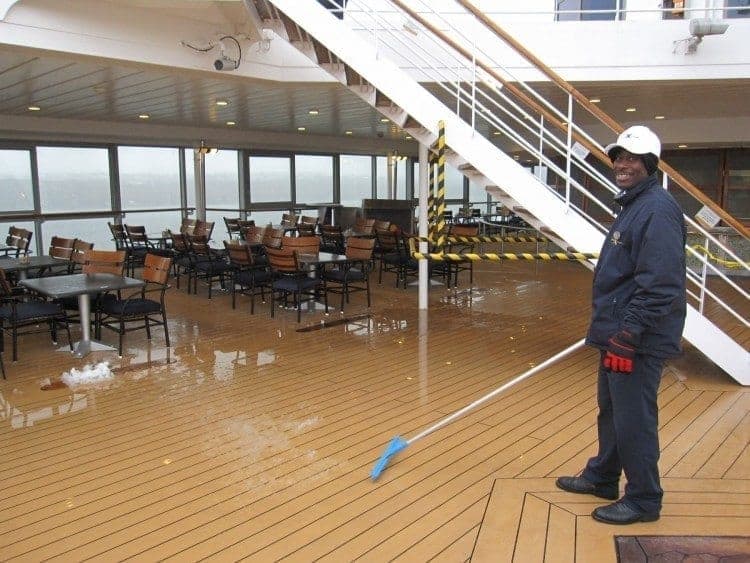 As soon as I started to sell cruises back in 1992, l tried to identify cruise-booking trends. At that time, the playing field was completely different from what it is today. You've probably heard stories when people showed up at the port with their suitcase hoping for a last minute deal if someone canceled or a stateroom was unsold. Then 2001 happened and the industry and booking tactics changed.
Now, the cruise lines want you to book your cruise early. Why? So they can use your deposit money of course. But also important, it gives them an opportunity to monitor their own booking trends far enough out so that promotions and sales can be well planned to fill vacancies.
One of the most common questions I'm asked is, "When is the best time to book your cruise for the best rate?"
Here are some reasons why people don't want to book early.
They don't want to tie up their funds 18 months before their cruise.
They are sure the rates will drop closer to sailing time and then they'll get the best deal.
They're not sure what their plans will be so far in advance.
If they wait til the last minute, there will be plenty of staterooms from which to choose. Because who takes a Caribbean cruise in September?
They don't care where on the ship their stateroom will be located because they're buying the cheapest possible accommodation.
What they don't know is that…
The best deals are rarely at the last minute. Instead, book your cruise at the time of the deployment announcement; that is, when the new schedules and itineraries are made public, usually 18 months ahead.
Early booking means stateroom selection is wide open. Don't get stuck with an adjoining room next to the Loud Family or under the Disco or the pool deck.
If the rate drops before final payment is due, ask for a price adjustment. If the rate drops after final payment…well, that's another issue altogether, especially on the mass market cruise lines. I'll address that further on.
Buy travel insurance. If vacation plans change and third-party travel insurance with a Cancel for Any Reason waiver was purchased, almost all of the monies are returned if canceling for a non-covered reason.
No matter what season, cruise ships usually sail full. For a certain itinerary, stateroom location or groups of family/friends, the sooner you book and deposit your accommodation, the better your selection.
Supply and demand rules. Full ships usually mean higher prices for leftovers.
Book your cruise late and you won't get early dining in the Main Dining Room.
Dining times are also affected. Book late and you'll end up either dining at 8:30pm or most likely, all that will be available is an Anytime Dining program. Early/main seating in the Main Dining Room fills up quickly for yet another reason to book early.
When to expect rates to change in your favor? Promotions added?
Here's a little trick of the trade. Large travel agencies block out huge quantities of staterooms as soon as the new deployment is public. While the rates may be equal to what everyone else can access, by grabbing dozens or even hundreds of staterooms, these agencies may be able to give their clients onboard credits, wine, hors d'oeuvre trays, shore excursion money and more. Enticing.
At some point, any unsold group space has to be returned to the cruise line or the agency will get stuck paying for any unsold space. This usually happens at intervals; 90, 60 and depending upon the contract with the cruise line, even 30 days before the cruise.
Suddenly, the cruise lines are faced with hundreds of empty cabins pretty close to the sailing date. Here's when you might be able to pick up a good deal. But you must know what your cruise line's cancelation penalty policy is so you don't get your nose out of joint if they won't let you reduce the rate on your cabin.
New promotions can pop up at almost any time…especially around the holiday season plus Memorial Day, Labor Day and the Fourth of July. Keep scanning the horizon.
Are you listening? Know the penalties, then decide.
Say the rate significantly drops while you are under the least amount of penalty; ex. the loss of your deposit. It can be cheaper to cancel, lose your deposit, and rebook the same cruise at a lower, discounted rate. You'll either save money or break even and maybe be able to upgrade your stateroom. I know this works. I've done it for myself several times. It was cheaper to cancel, pay a small penalty and rebook myself into a higher category stateroom and still come out ahead.
A little knowledge can go a long way. No one likes to feel they've paid too much. And frequent cruisers know that people love to blab about what they paid for their cruise. Put any 10 people together on a cruise and you'll probably get 10 different prices.
Bottom line.
Book your cruise early. Then re-book later on if necessary, following the cruise line's booking and penalty policies. Know before you buy.
Use a cruise-oriented travel agent. Someone who's actually been on many cruises and is focused on selling cruises.
Book early to choose your favorite dining time, the best stateroom based on your budget and the stateroom location on the ship.
Monitor the rates and contact your agent if the prices drop. Chances are when your agent is on the phone with the cruise line, not only will you get the lower rate, your agent might be able to combine new promotions that you would not otherwise receive.
Bonus tip.
Another little know reason to book a cruise early? If you like the best of the best, remember that the highest category suites are the first to sell out.
PIN THIS FOR LATER!
I'm the editor and creator of CruiseMaven.com, a solo traveler cruising the world on waves and wheels, collecting recipes along the way.  I hope my articles and photos entertain, advise and inspire you to travel the world without flying.  Take a breath…stop for a local meal and a glass of wine along the way.