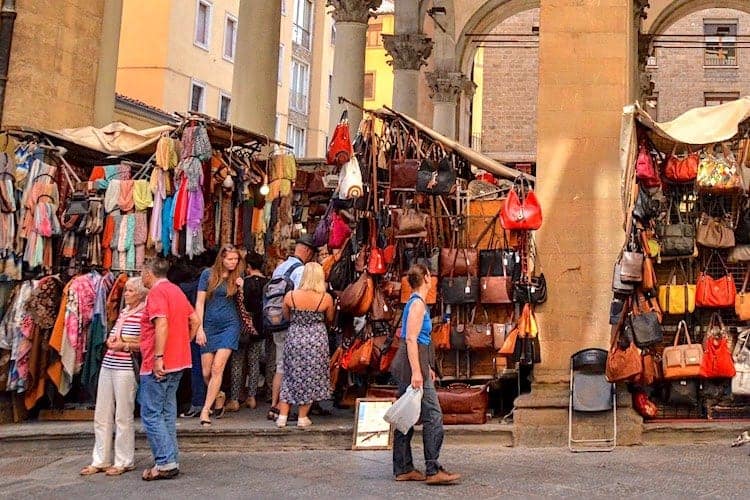 Shopped a little too much? Overpacked?
You've done it again. Either you packed too much into your suitcase(s) when you left home or that extra tote bag designated for souvenirs is simply way too heavy. What's a tourist to do?
Ship the sh.., er, stuff, home.
Sounds easy, but it gets a little more involved than what we're used to doing here in the U.S. To mail a load of souvenirs or your extra unworn clothes back home requires a little planning.
Don't feel bad if halfway through your European vacation you realize that half of the clothes you brought will never be worn.  We all do this, even pro-packers (as if) like me!
There's the sense of doom when we realize all the "stuff" we bought on our whirlwind trip to Europe either weighs way too much or there's not enough room in the suitcases unless we leave our shoes in the hotel/cruise ship/river ship.
How to easily mail packages from Europe
First, let me tell you what not to do.  If it can be avoided, do not attempt to ship a box of souvenirs or clothes or anything back to the U.S. from Rome or quite possibly, other major cities in Italy.
Packages are shipped from busy local postal locations.  Each time I tried to communicate to the clerk what I needed, no one understood English.  Even my American friend who lives in Rome couldn't communicate the concept of a cram-everything-in-for-one-price box.  After three attempts at three different mailing locations in Rome, I gave up.  I never found an Italian equivalent to a Mailman Joey, DHL or UPS store. I'm sure these stores exist – I just never found them.  Forget Rome.  And I'm half Italian.
My personal favorite cities for shipping
I've shipped to my home (actually to my neighbor's home since I wasn't at home-and what you may need to do too!) extra clothes, souvenirs and extra tech gear from Europe.  Everything arrived in Florida in one piece with no smashed boxes. I've mailed packages from Amsterdam and Rotterdam in Holland; Aix-en-Provence and Strasbourg, France; Cologne (several times), Regensburg and Miltenburg, Germany, Linz, Austria and even Dunoon, Scotland.  Every time without a hitch.  Here's my method.
In my suitcase from home I always pack:
Black ink Sharpie
Ball-point pen
Kid scissors
Sturdy packing tape or colorful duct tape
Bubble wrap
1-2 blank sheets of paper pre-written if possible with the name and address of where box will be sent
That's all you need.  That plus a box.
All of the above-mentioned cities have either a combination gift shop/post office/DHL drop or a regular postal facility.
First thing to do is ask someone where the nearest post office is located.  You can ask your Cruise Manager (if you're on a river cruise) or someone at the front desk of your cruise ship or hotel.  Then Google-map it and test-walk it.  Why?
If you're mailing 10 lbs. home – 4.5 kg – you have to know if it's a walkable distance.  When I've a ton of stuff to ship home, I put everything into my carry-on bag and wheel it to the post office/store etc.  Everyone walks around European cities with luggage so you definitely blend in.
I've also hand-carried 4kg or so to the closest facility and I thought my arms were going to fall off.  Unless you know local shortcuts, be prepared for bridges to cross and stairs to climb.
By now I know where to go, what I'm sending home and I'm equipped to successfully construct and mail the box.  Wait. What box?
Remember I mentioned the pre-fab boxes?  Keep reading…
"Psssst….Pin and Save for Later"!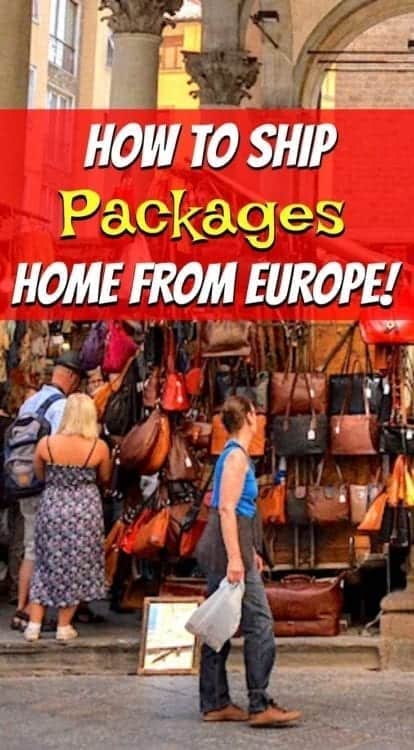 Using the fold-it-yourself boxes
Enter the post office, queue up at the sales counter and when it's your turn, ask for a pre-built box.  Think Priority Mail boxes at U.S. post offices. There are usually several sized from which to choose.  Sometimes a nice employee will give you a test box to fill to see if it is big enough.  There's a small fee for the box, too, but it's added in at the end.
It's not a flat-rate fee box as we have here.  It's by weight and a price range.  Once you've chosen the right size box, put your belongings inside, it's time to get out your supplies from home.
Put your pre-addressed sheet of paper on the top of your clothes before you seal the box. Then remove the tape on the box's ends or use tape strips included with the box.  Seal  the box.
Now get your scissors and tape and reinforce all ends and cracks.
Complete the mailing label and customs form with a ball-point pen.  The form will ask for the address of the sender.  Since you are the sender and most likely have no European address, you can put your U.S. home address.
Under "Contents" write: souvenirs, old clothes.  Value? I usually write $200 or so, which is usually accurate, especially if I'm mailing home a lot of extra clothes.  There is automatic insurance included. Anything of more value, like maybe a leather jacket from Florence, I'll carry with me come Hell or high water!
I use the Sharpie over the ball-point pen, if there's enough room without blurring the To: address.  Or to outline the To: address box.
Cash Only
One major point – have cash with you.  Most of the drop-off locations do not accept a credit card.  Euros only.  You can expect to pay around €35-45 to ship the largest box home from Europe.  From the U.K., it wasn't quite as expensive.
For me, unloading a half-suitcase worth of clothes I won't wear or souvenirs that take up space, it's worth every penny.  Since I don't fly, airline weight limits don't apply to me.  BUT…since I'm hauling my suitcase, carry-on and over-sized "purse" on and off of trains, elevators, escalators, through cruise ship terminals and river ship docks, I want the least amount of weight as possible.  And now you know.
I'm the editor and creator of CruiseMaven.com, a solo traveler cruising the world on waves and wheels, collecting recipes along the way.  I hope my articles and photos entertain, advise and inspire you to travel the world without flying.  Take a breath…stop for a local meal and a glass of wine along the way.