You don't need to spend a fortune to return home refreshed and relaxed. Just plan ahead.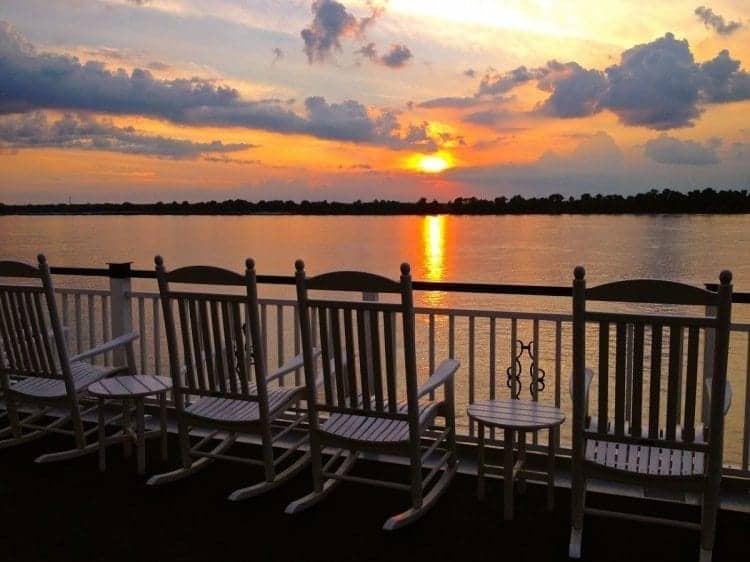 Cruising was once a vacation only for the very wealthy. Today, with an abundance of so many cruise ships and a plethora of cruising opportunities around the world, a vacation at sea is affordable, convenient and entertaining.
Here are my 8 ways to unwind, relax and totally pamper yourself to return home rested and renewed. Over the years, I've tried all of these and yes, they work.
1.  Breakfast in your bathrobe.
Begin your day with a leisurely breakfast served in your stateroom.  Doesn't matter if it's Carnival, Cunard or Crystal.  Room service is complimentary so indulge and order a full breakfast, complete with a carafe of hot coffee, an assortment of Danish pastries and eggs prepared to order.  Some cruise lines include fresh squeezed orange juice.
Even better…enjoy your breakfast on your private verandah.  A few upscale cruise lines (Silversea and Regent) will convert your balcony into an elegant tablecloth dining experience for breakfast, lunch and dinner.
2.  Children's programs.
Almost every cruise line offers children's programs. Children and teens can enjoy time away from their parents (and vice versa of course!) Most programs are complimentary, run by qualified counselors and offer fun and educational age-appropriate activities. Attention all you harried parents out there…this is perfect for you to get some along time, whether a single parent or a couple. Catch up on that book, enjoy a romantic dinner or just curl up and decompress for a few hours in a cozy lounge chair and watch the world go by.
While most daytime programs are complimentary, if you're looking for late-night babysitting, you will pay by the hour. But the prices are reasonable, even for multiple children.
3.  Feel good and firm up with a fitness class.
Yearning for Yoga? Piqued by Pilates? Spurred on by Spinning? If so, then a cruise could be your solution. All cruise lines have a complimentary fitness center and a variety of classes. Yes, you will pay about $10-$15 per class and discount packages are available.
The exercise equipment and fitness areas are state of the art with dozens of treadmills, ellipticals, stair-steppers and more. It's also possible to arrange for a personal trainer for a week. All the info you need can be found on the cruise lines website or by calling their office.
4.  Have a night out on the town.
Dance the night away under the stars, listen to the ship's musicians, try the nightly specialty drink or take in a fabulous Broadway-style production. Late night comedians can be hilarious (for adults only.) Night-time entertainment possibilities are almost endless on many ships. Except for Disney Cruise Lines, every other cruise line offers a full-service casino on all of their ships.
5.  Shop 'til you drop.
If portside shopping doesn't cut it for you, watch your daily planner for sales and special deals. Designer watches, precious gems and jewelry, liquor and perfumes are a bit less expensive to purchase onboard than back home.
6.  Pamper to the max…in the spa and salon.
OK…you've been hoofing it around ports, climbing endless flights of stairs and battling the clinging shower curtain. Isn't it time for a massage? From Rasul to Hot Stones to Aromatherapy, there is a massage for every budget. With a little planning and a bit of savings, you can make your cruise vacation into spa vacation. Or…head to the salon for a precision haircut, mani, pedi or both. Remember to check your daily planner for special salon deals. Also, stop by and ask if there is a printed list of any port day specials.
7.  Expand your mind.
Enrichment activities and learning classes are offered on every cruise ship. From wine tasting to astronomy (Cunard Line's Queen Mary 2 features the only planetarium at sea) to throwing clay pots on Princess Cruises Ruby Princess, there's bound to be an activity for everyone. Many ships feature prominent historians or authors who present interesting and timely lectures throughout the voyage. American Cruise Lines has a "Riverlorian" aboard their Queen of the Mississippi itinerary providing fun and informative commentary between New Orleans and Memphis.
8.  Dine in world-class specialty restaurants.
Some of the world's top chefs are lending not only their names but their culinary talents as well. From Carnival's Guy Fieri's Burger Joint (complimentary!) to Michelin Star chef Geoffrey Zakarian's Ocean Blue Restaurant about Norwegian Cruise Lines newest ships at a fraction of the cost of his land-based eateries.
Other celebrity chefs include: Todd English on Cunard, Nobu Matsuhisa Silk Road restaurant on Crystal and the influence of Jacque Pepin on Oceania.
Many ships, including Princess, have their Chef's Table concept dining where guests actually dine in the galley. On Princess, the cost is $75 per person including wine. You'll dine on a specially-prepared, multi-course meal with the chef stopping by to explain each dish, and even join the guests for dessert.
The key to a successful and relaxing cruise is to plan ahead. Know what your ship offers, or find a ship that offers what you feel is important to you. Make your spa reservations online at home, before your cruise so you don't get left with inconvenient times for your treatments.
With so many options to relax, rejuvenate and renourish your mind, body and soul, it's easy to understand why an estimated 21 million people will have taken a cruise by the end of 2014.
PIN THIS AND SAVE!