Chowin' down at Guy Fieri's Burger Joint on a Caribbean cruise.
I'll admit it. I'm a big fan of TV food shows, especially Diners, Drive-Ins and Dives. So when I learned that the Food Network's celebrity chef, Guy Fieri, was going to collaborate with Carnival Cruise Lines to open a burger restaurant on their ships, I was intrigued.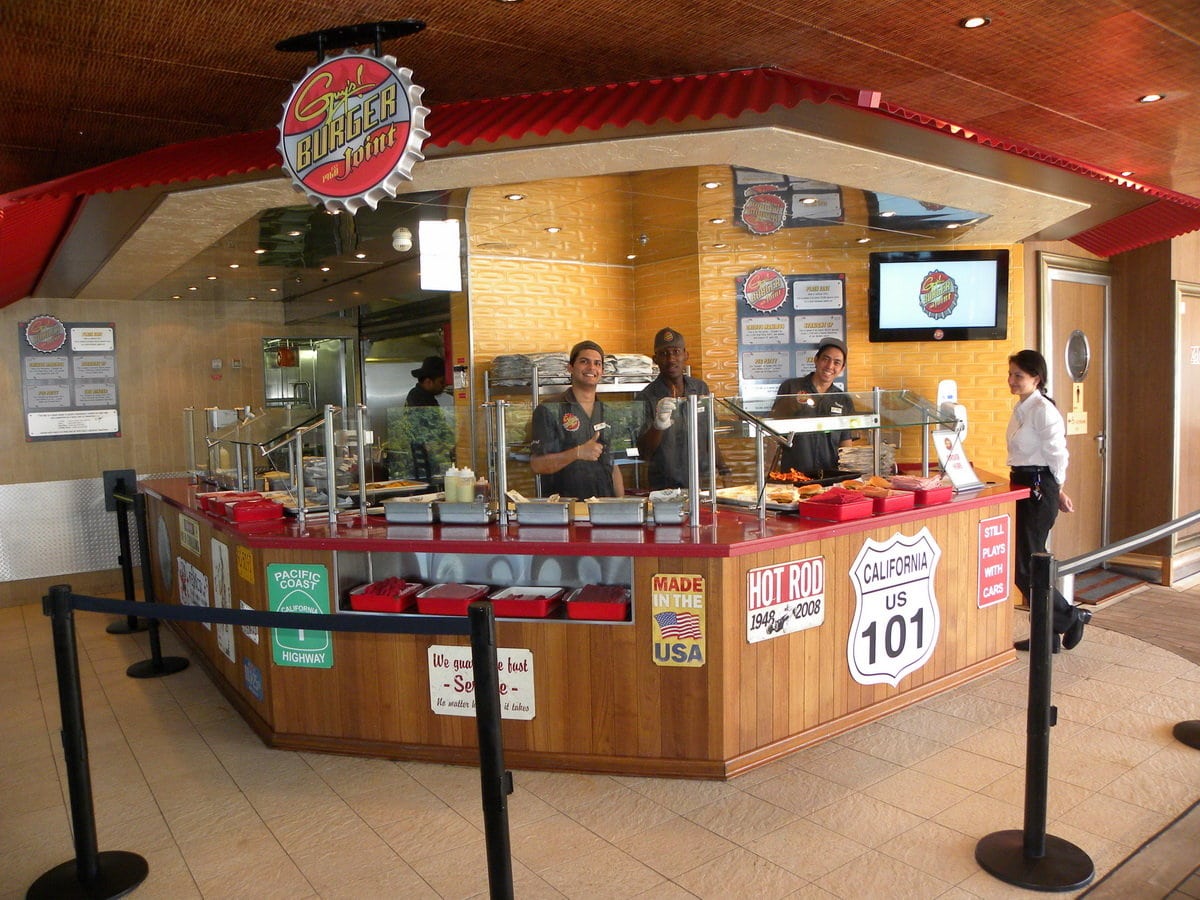 Guy's Burger Joint, designed to be reminiscent of a California oceanside hamburger stand, has been added to seven of Carnival's ships, including the Carnival Liberty. It's an outdoor, buffet-style burger bar, located in the shade on the Lido deck. All you have to do is get in line, order your burger, stop by the toppings bar and grab a seat.
READ NEXT: Authentic Guy Fieri Burger Recipe with Donkey Sauce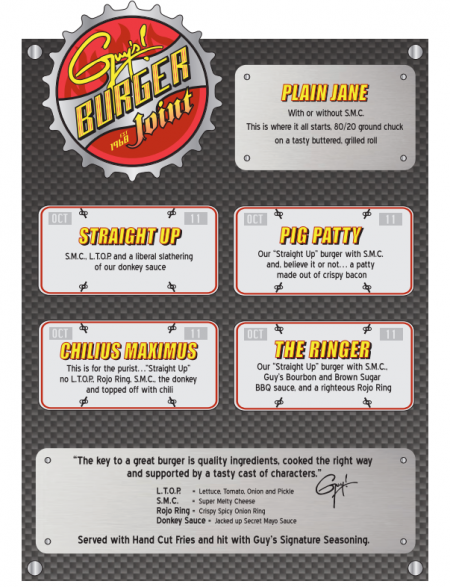 The burger eatery (complimentary of course!) is open for lunch and dinner almost every day. There are five different burgers on the menu, including the Pig Patty (yes there's bacon involved) and the Ringer (has Guy's BBQ sauce) plus six toppings that the burger-man can add to your selection.
Then there's the toppings bar! You can add sauteed mushrooms, onion, lettuce, banana peppers, pickles and of course, more bacon. Be sure to taste the chipotle mayo and the BBQ sauce. Both are great on the hot-from-the-fryer French fries.
Rumor has it that Guy himself selected the beef and even specified directions for the hand-cut french fries. And I don't doubt it. These are probably some of the best burgers and fries I ever ate…on land or sea.
But it's not just the beef that scores a 10. It's the combination of the freshly baked hamburger buns, the 80/20 ground beef, and even Guy's melted cheese concoction. He's even created "Donkey Sauce" – his "secret" condiment.
Read Next: Refurbished Carnival Paradise Cruises from Tampa

Slightly Vegetarian?
No worries. Just ask the man at the counter for a burger with everything…except the meat. Yes, they'll look at you a little strangely, but even without the meat, it's a great sandwich. Don't forget to add the sauteed mushrooms and onions to your "salad on a bun" entree.
Warning: No matter what your preference, meat or no meat, bacon or not, a trip to Guy's Burger Joint usually ends up happening more than once per cruise. Budget your calories accordingly.

I'm the editor and creator of CruiseMaven.com, a solo traveler cruising the world on waves and wheels, collecting recipes along the way.  I hope my articles and photos entertain, advise and inspire you to travel the world without flying.  Take a breath…stop for a local meal and a glass of wine along the way.