I am convinced that some of the best bites on cruise ships are at the walk-up restaurants. And Guy Fieri's Burger Joint on Carnival ships is no exception.
So I thought, wouldn't it be nice to have a Guy Fieri Burger recipe with Donkey Sauce to create at home?
Guy Fieri's Burger Recipe
For me, the sandwich is great, with or without the meat patty. I love all the toppings. But for Carnival Carnivores, a Guy's burger patty with all the fix-ins is a real craving. Once I ordered straight-up burger just to try a bite or two. It wasn't easy to leave some on the plate. In fact, the person I was cruising with had no problem chowing down my leftover burger.
One of the most popular Guy Fieri burgers is the Straight-Up Burger with Pig Patty and Donkey Sauce. Just ask one of the gas-station clad cooks behind the plexiglass! Somehow mixing cow and pig meat into one bite is not exactly my thing, but it sure rings the (cow)bell for almost everyone.
For me, though, it was all about the Donkey Sauce. For almost everyone else, it's the Straight-up Burger with Pig Patty that lingers in their minds when the cruise is over.
RELATED: Carnival Magic Refurbishment Adds More Food and Fun Hotspots!
If you want to have a special treat before your next Carnival cruise, here's Guy's burger recipe. It's the authentic Guy's Burger Joint Recipe for a Straight-Up Burger with Donkey Sauce. Try this home, until you're back on board again.
READ NEXT: Tour of Carnival Legend After $$$ Refurbishment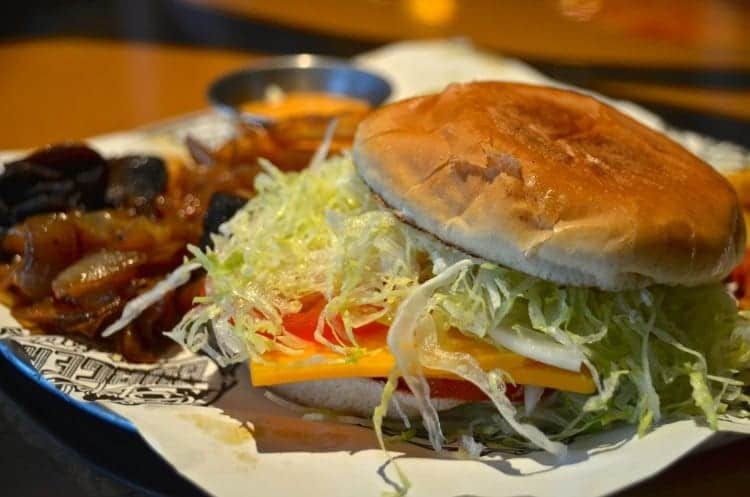 Here's Guy's Straight-up Burger with a Pig Patty to recreate that mouth-watering hamburger at home. Plus, Donkey Sauce and bacon. You can find a list of Carnival ships with Guy's Burger Joint eatery at the end of the recipe.
Guy Fieri's Straight-Up with a Pig Patty Burger
Here's the recipe to recreate that same awesome burger you had at Guy's Burger Joint on your Carnival cruise!
Ingredients
2

heads

garlic

Extra virgin olive oil

2

tbsp

unsalted butter

softened

12

ounces

thinly sliced applewood smoked bacon

32

ounces

ground beef (80/20 blend)

2

ounces

Mornay Sauce

recipe follows

8

slices

yellow American or Cheddar cheese

1/4

cup

low-sodium chicken broth

mix with 2 tbsp water

4

soft, brioche hamburger buns

cut in half

Donkey Sauce for serving

recipe follows

1

Kosher dill pickle

finely sliced

1/2

Vidalia onion

very finely sliced

1

heirloom tomato

finely sliced

1/4

head

iceberg lettuce

finely sliced
Mornay Sauce S.M.C (Super Melty Cheese)
2

tbsp

unsalted butter

3

tbsp

all-purpose flour

1

cup

whole milk

warmed

1

tsp

kosher salt

Pinch

grated nutmeg

3

ounces

yellow America cheese

grated
"Donkey" Sauce
1

cup

prepared mayonnaise

1/4

cup

roasted garlic

1

tsp

regular yellow mustard

4

dashes

Worcestershire sauce

1/3

tsp

kosher salt

4

pinches

ground black pepper
Instructions
Special equipment: brick covered with aluminum foil.

Preheat over to 375 degrees

Roast Garlic: Cut off the top third of the garlic head to expose cloves. Place onto a piece of foil. Drizzle with olive oil and sprinkle with salt and pepper. Fold foil to cover then place into oven for about 1 hour 15 minutes. Remove from the oven, discard husks and mash.

Make Garlic Butter: Mix 1 teaspoon of the roasted garlic with room temperature butter. Season with salt. Set aside in the fridge to slightly firm up.

Make Pig Patties: Set a large pot of cold water over high heat and add the bacon. Bring to a boil and cook until the bacon is very tender and almost falling apart, 1 1/2 to 2 hours. Drain and set aside to cool. Set a cast-iron pan over high heat. Divide the bacon into 4 even portions and form into a patty. Place each on the grill. Press down with a foil-covered brick to squash the bacon flat. Cook until golden and very crispy – about 4 minutes. Remove and keep warm.

Make SMC Sauce: In a medium saucepan, add the butter and set over medium heat. Allow the butter to melt, then sprinkle with the flour and stir with a whisk. Cook over low heat until the butter and flour combine into a mixture, like wet sand. Once combined, stir for 1 to 2 minutes to cook the flour (but without adding color). Pour in the milk slowly, whisking to combine. Continue stirring until the mixture thickens up, 3 to 4 minutes. Add the salt, nutmeg and cheese and stir until the cheese has melted and the mixture is smooth. Set aside and keep warm until ready to use. Yield: 1 cup.

Make Donkey Sauce: Mix mayonnaise, roasted garlic, mustard, Worcestershire, salt and pepper together until smooth. Yield: about 1 cup.

Make Burgers: Divide the ground beef into 4 equal portions (8 ounces each) and form into 4 tight balls. Season all over with salt. Place in pan (which still has some of the bacon fat on it) and allow to brown for 1 minute. Then flatten with a strong, flat metal spatula – press down with a foil-covered brick on top of it, as well. Flatten to approximately 1/3-inch thickness and continue to press down with the spatula as it cooks. Cook until the burgers develop a crust on the first side, 1 1/2 minutes. Flip over and cook on the second side to develop a crust on that side, 1 minute. Add 2 ounces SMC Sauce and top with a slice of cheese. Add a splash of the chicken stock and water mixture to the pan and immediately place a dome lid over the top of the burger to trap the steam. Allow to cook for 1 minute and allow cheese to melt then remove dome and set burger aside. Brush the cut sides of the buns lightly with the garlic butter. Toast the buns in the pan until golden, about 30 seconds on each side.

To assemble: Smear the Donkey Sauce on the cut side of both bun halves. Layer the base with pickle slices and onions. Top with the hamburger patty. Top with a bacon "pig patty" and SMC Sauce. Top with tomato slices and lettuce. Place the top half of the bun on top.
This is the only time you'll see the Burger Joint empty…on a port day when everyone is ashore.
READ NEXT: Carnival Takes Delivery of New Mardi Gras
Carnival ships where you'll find Guy's Burger Joint
Guy's Burger Joint is now available on ALL Carnival ships. Plus, soon on Mardi Gras, Carnival Celebration and Carnival Radiance. But like in the photo above, the place is closed when everyone is off the ship.
So if you were hoping to stay onboard and enjoy a wonderful hamburger sandwich, until things change, you'll most likely have to settle for the cafeteria or pizzeria. In the meantime, try making a delicious Guy Fieri Burger at home!
READ MORE: Emeril Lagasse opens his first restaurant at sea on Carnival Mardi Gras
PIN THIS AND SAVE FOR LATER!
I'm the editor and creator of CruiseMaven.com, a solo traveler cruising the world on waves and wheels, collecting recipes along the way.  I hope my articles and photos entertain, advise and inspire you to travel the world without flying.  Take a breath…stop for a local meal and a glass of wine along the way.