There are food tours and then there are food tours. Holland America chose Spoon Food Tours to provide this particularly tasty shore excursion. Spoon Food Tours is owned and operated by a local family. Based on their excellent choices for our food experiences, it's apparent they know their city. And their hot sauce.
Rocio, a super-energetic guide for our three-hour walking food tour, promised a surprise. In addition to a meal, she said we'd have some kind of hands-on experience. But she wouldn't give us a clue.
It happened on the third stop of our planned five food venues in Old San Juan. Welcome to Deaverdura, a favorite local hangout and stubborn survivor of 2017's category 5 Hurricane Maria.
Learning about Pique
We were going to learn how to make "Pique" – Puerto Rico's signature hot sauce. Pronounced "pea-kay", this easy-to-make hot sauce is found in every home and restaurant in Puerto Rico. Each of us would have our own little bottle of pique to bring home.
I had never heard of pique. At first I thought pique would be something like what's in those tall, skinny bottles stuffed with tiny pale green peppers you see in barbeque joints. Pique is so much more than a bottle of pickled peppers. It's aromatic, it's spicy and it's so easy to create pique just for your own palate.
Pique hot sauce at Deaverdura
A smiling woman with thick brunette hair tied in a short ponytail, greeted us as we entered. This was Virna Brull, Deaverdura's general manager. She straightened her black apron, emptied a box of small bottles onto the table and briefed us on what we'd do and how we'd do it.
Pique, she explained, was easy to make and had a long shelf life if kept in the refrigerator. Pique accompanies almost every meal in Puerto Rico. Its heat is adjustable, too.
Deaverdura's Pique Recipe
Virna set out plates of fresh herbs and spices. There was velvet-soft sage, tiny bright green and fire-engine-red peppers. Large already-peeled garlic cloves filled one bowl while mandatory black peppercorns filled another. Fragrant rosemary and thyme plus narrow slices of fresh pineapple completed the ingredients. White vinegar would fill the bottle.
We could use any or even all of the herbs and spices but Virna had her personal recommendations.
Always put two- or three cloves of garlic in first
Then add four or five peppercorns
A couple sprigs of thyme
One or two tiny peppers
two slices of pineapple
I followed her recommendation. After all, she's the expert. I could always make this at home and experiment with flavors once I have a base.
Then it was time to get to work…and…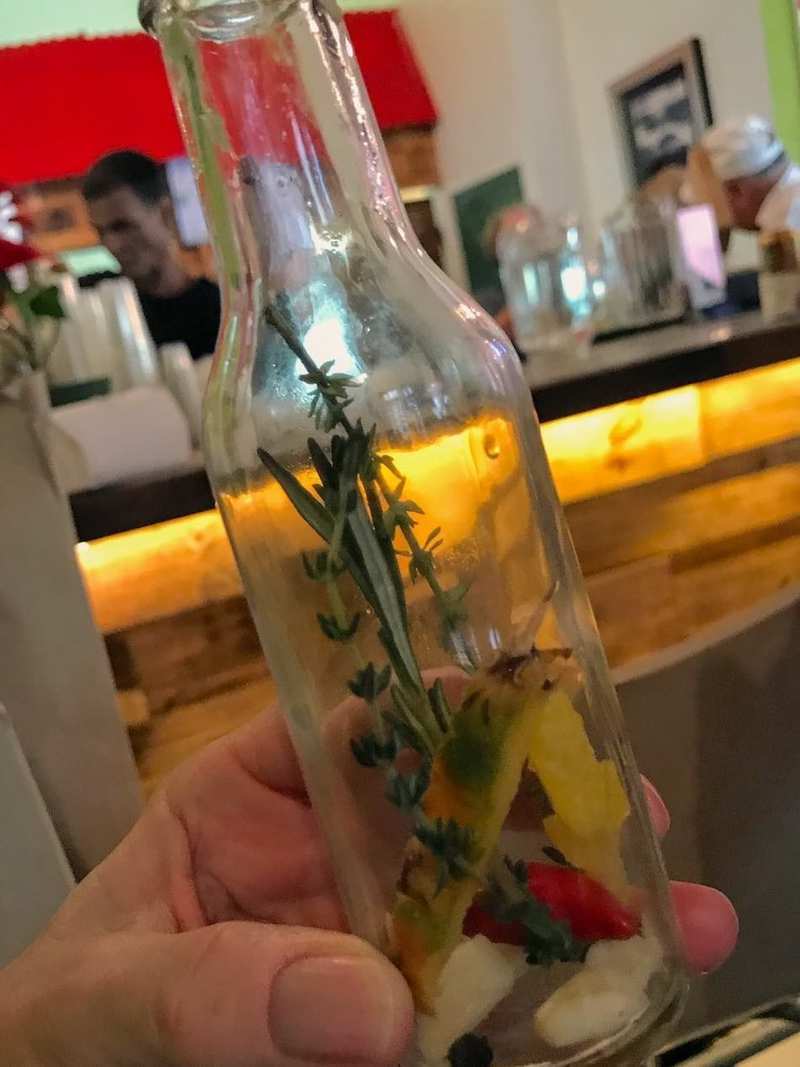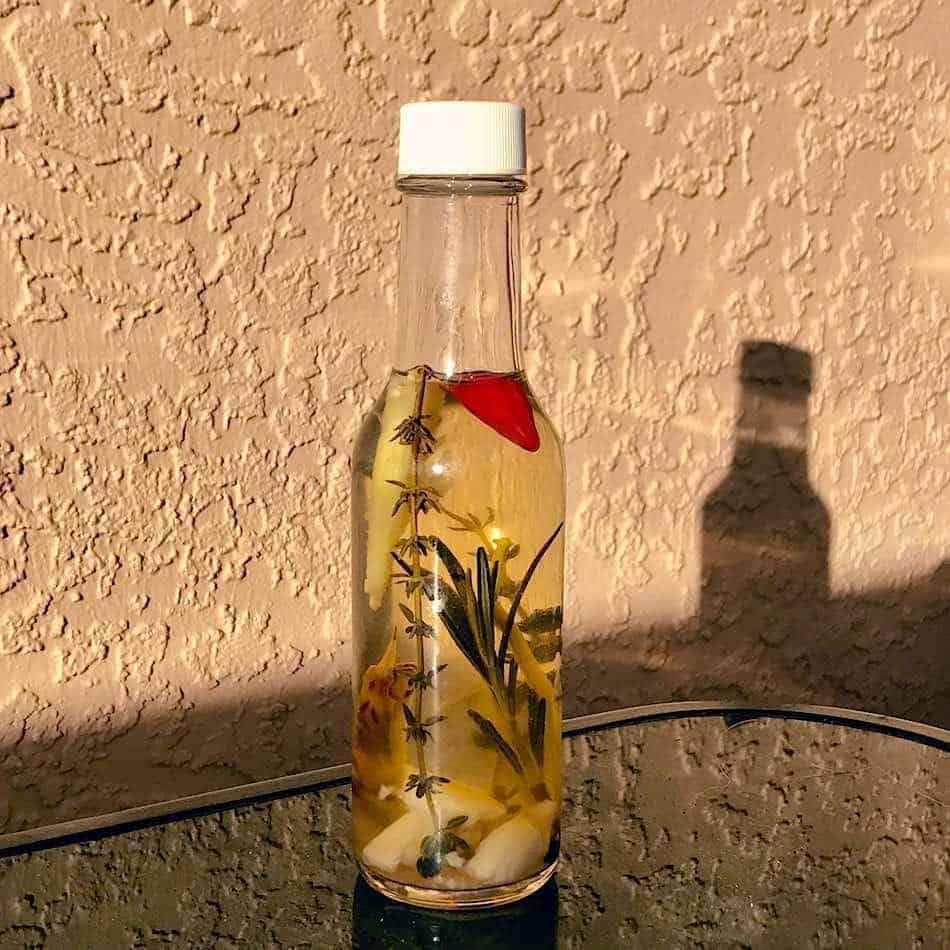 Now that you know how easy this pique recipe is, here's a printable copy for you to try at home.
Pique Recipe - Puerto Rico's Homemade Hot Sauce
From restaurant to home, Pique is a kitchen table staple. Depending on how hot you like your Pique, you can adjust the heat based on the amount and type of peppers you use.
This is the Pique recipe from Deaverdura restaurant in Old San Juan.
Ingredients
2

cloves

smashed garlic

1 - 5

small chili peppers

green or red

4-5

black peppercorns

2

sprigs

fresh thyme

1 - 2

sprig or leaf

fresh sage or rosemary,

optional

1

stem

cilantro

Enough white vinegar to almost fill the jar
Instructions
Peel the garlic cloves. Smash small enough and drop them into the bottle.

If you have very tiny peppers, add them right into the bottle. If too large, remove the stems and slice in half or to fit.

Drop in the peppercorns, thyme sprig, cilantro stem.

Pour the white vinegar into the bottle. Leave a little room at the bottle neck.

Tighten the bottle cap and shake to mix.

Place the bottle in a bright place and allow to sit out from 2 days to 2 weeks. Once you start to use the hot sauce, keep it in the refrigerator.

You can add more peppers, herbs and vinegar to refill. Enjoy!
Notes
You can use this sauce on almost everything!  It's especially good on fish, in stews and even deli meats.  
Control the heat by adding different peppers.  
I'm the editor and creator of CruiseMaven.com, a solo traveler cruising the world on waves and wheels, collecting recipes along the way.  I hope my articles and photos entertain, advise and inspire you to travel the world without flying.  Take a breath…stop for a local meal and a glass of wine along the way.