As a fan of Holland America's 2016 Koningsdam, I jumped at the chance to spend a week aboard the cruise line's newest and sister ship to the Koningsdam, Nieuw Statendam.
Nieuw Statendam arrived into its homeport of Fort Lauderdale in late December 2018, after a fall season cruising the Mediterranean. For now and the next three months, Nieuw Statendam will cruise 7-day voyages to the eastern and western Caribbean. Then it's back across the Atlantic to Rome where the ship will remain until late fall.

Holland America's Nieuw Statendam
To practice what I preach, I drove to Fort Lauderdale a day before the cruise. The risk of missing the ship has finally gotten to me. It's pointless to advise others to arrive a day before their cruise if I don't do it, too.
Rested and relaxed, on Sunday I boarded Holland America's newest edition to the 15-ship fleet. Definitely worth the overnight hotel expense.
Boarding Day
Embarkation at Fort Lauderdale's Port Everglades was pretty smooth. I requested a late check-out time from the Renaissance Plantation hotel. Never one to arrive too early and with work to finish, I got into my car at the hotel about 12:45pm and was at the mid-port parking structure at the port in less than 20 minutes.
First, I dropped off my suitcase with the porter in front of Terminal 26, gave him a tip and within two minutes I parked my car and casually walked to the terminal entrance. From car to stateroom: 35 minutes. A little longer than I expected to get through security but it was a smooth transition, just a but more crowded.
Nieuw Statendam First impression
I think I may have found my new home. With a bit of time spent aboard Koningsdam under my belt, the familiarity of Nieuw Statendam was easy. Boarding the ship was on Deck 3.
With a quick right turn I wheeled my carry-on (you didn't think I only had one suitcase, did you?) past the nearby elevator bank and headed aft. My stateroom, 4199, wasn't all the way at the back of the ship, but closer to the aft elevators where I knew there wouldn't be as many people. I was right.
Extended Balcony Stateroom

On Koningsdam, I've had both oceanview, obstructed and unobstructed balcony staterooms. My Nieuw Statendam stateroom, 4199, has an unobstructed extended balcony. Something new for me.
One of the most convenient features of Holland America's new ships (and most other cruise lines, too) is a USB port on both sides of the bed. Plus another one at the desk.
There's plenty of cubbie storage and that helps because in this stateroom, hanging closet space is limited. But nearly two dozen real hangers, the type that actually come off the closet rod, makes up for the smaller hanging space. And there are drawers, too.
READ NEXT: Detailed Review of Nieuw Statendam Extended Balcony Stateroom
Muster With a Difference
Sail away was planned for 5:00pm. At 3:30pm the cruise director's voice announced over the PA system and in staterooms to advise that before the scheduled muster drill would begin, everyone had to return to their staterooms and watch the safety video.
After that, the six short and one long bell would sound and we were to proceed to our muster stations. But don't bring your lifejacket.
My muster station was in the main dining room. You have to present your room card to be scanned when you enter your muster station, so there's no hiding in your bathroom. They know where you live.
A quick and information briefing ensued with a crew member demonstrating how to don the lifejacket and other important safety points. And that was it.
No more sweating outside in the hot sun while wearing a dirty old lifejacket, as still happens on other cruise lines. This was painless and stress-free. I hope other cruise lines can soon adopt this procedure.

Holland America's Club Orange
There's something new aboard Nieuw Statendam and it's called Club Orange. At first I was a little confused so let me explain.
Club Orange is an add-on fee-based program that entitles you to special privileges and benefits. It can be added to any category of stateroom for $50.00 per person per day. A solo cruiser in a stateroom does not pay double.
Exclusive dining area at breakfast and dinner with expanded menu options.
Priority check-in, disembarkation and tenders ashore (where needed)
Guest Services desk – separate line for Orange Club members
Shore Excursions desk
Premium in-room dining breakfast menu
Dedicated Concierge hotline
Club Orange tote bag
Welcome glass of sparkling wine at dinner on the first night
Premium bathrobe to wear while on the cruise
Club Orange must be purchased for the entire cruise, not on a per-day basis.
Over the course of this week, we'll visit Nassau, San Juan, St. Thomas and a day at Half Moon Cay, Holland America's private island. Check back for updates for the cruise and ship review as well as what to do in these ports.
RELATED ARTICLES BY CRUISE MAVEN:
Disclosure: I was a guest aboard Holland America's Nieuw Statendam. This does not affect my review and all opinions are my own.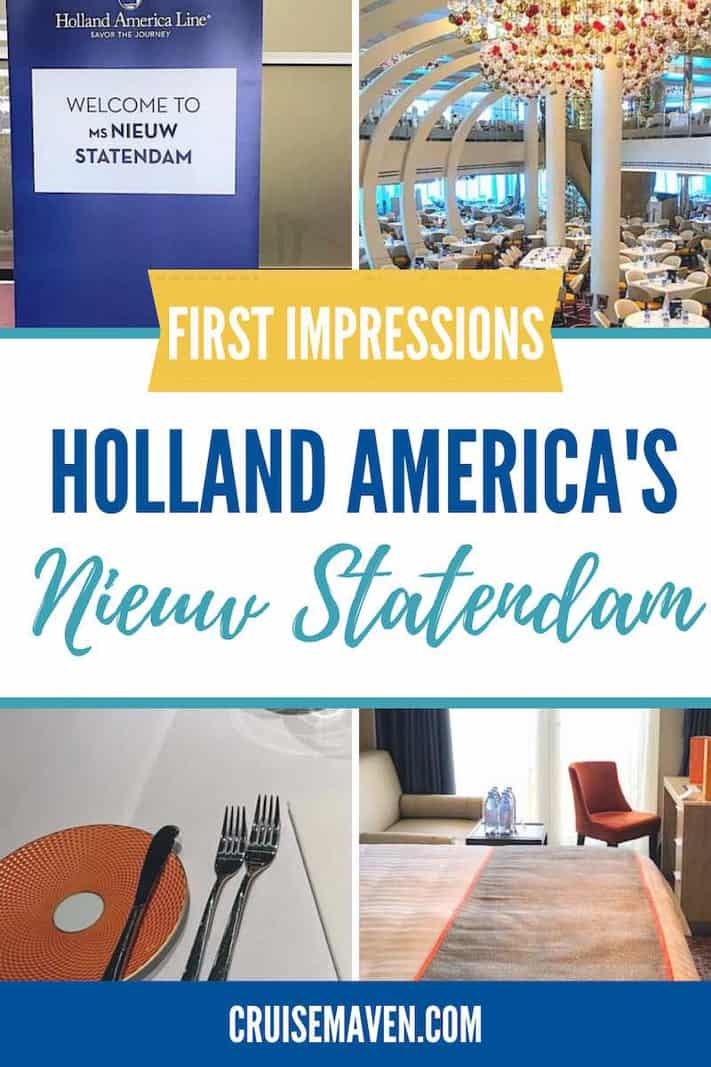 I'm the editor and creator of CruiseMaven.com, a solo traveler cruising the world on waves and wheels, collecting recipes along the way.  I hope my articles and photos entertain, advise and inspire you to travel the world without flying.  Take a breath…stop for a local meal and a glass of wine along the way.