Nearly four years had passed since my last Holland America's Eurodam cruise. But now I was going on a cruise to Alaska aboard the recently refurbished Eurodam.
Here's my review of the ship and what Eurodam is like on an Alaska cruise.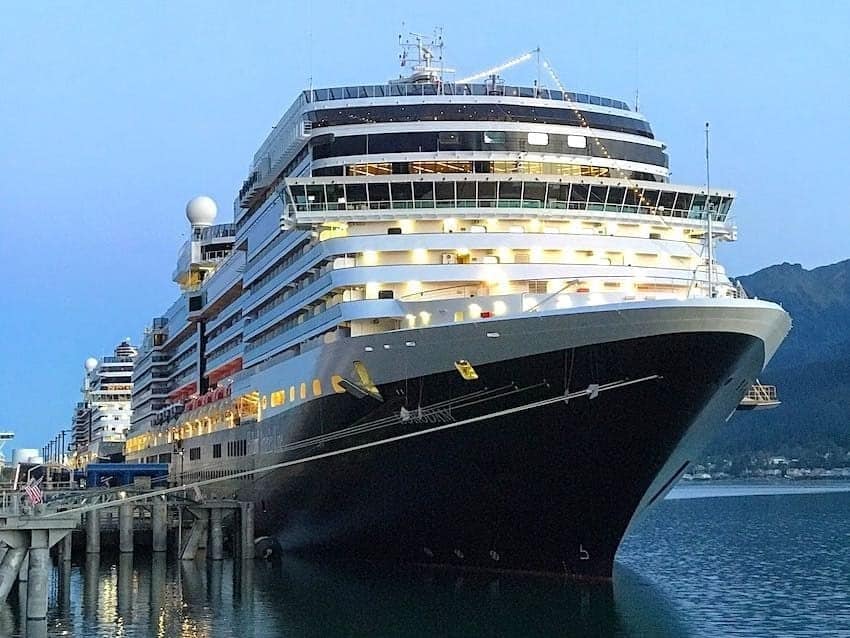 Holland America Eurodam Review and Photos
Eurodam has been a long-time favorite ship for me. This Alaska Inside Passage cruise was a chance for me to experience the ship after its major 2015 refurbishment. Most of all, I'd learn what cruising Alaska is like on a medium-sized ship.
From Seattle our itinerary included Juneau, Sitka, Ketchikan and the required stop in Victoria, British Columbia. In addition, Eurodam would spend a full day cruising spectacular Glacier National Park.
Eurodam Fast Facts
Cruise Line: Holland America
Cruise Ship: Eurodam
Category: Premium cruise line – $$$
Passengers/Crew: 2,104/929
Refurbished: 2015
Dining Rooms: 2
Dining Times: 5:45, 8pm and Open
Self-Serve Laundry: No
Welcome aboard Holland America's Eurodam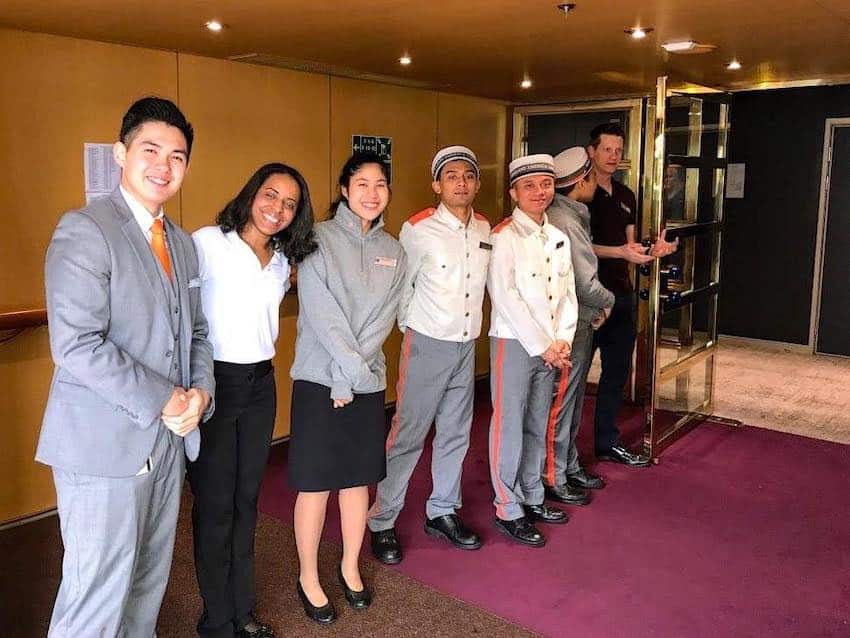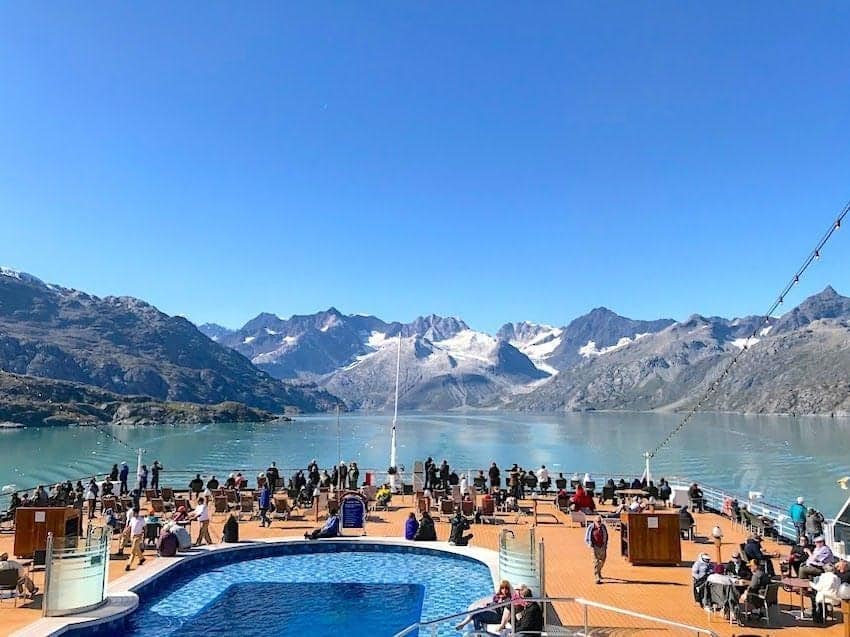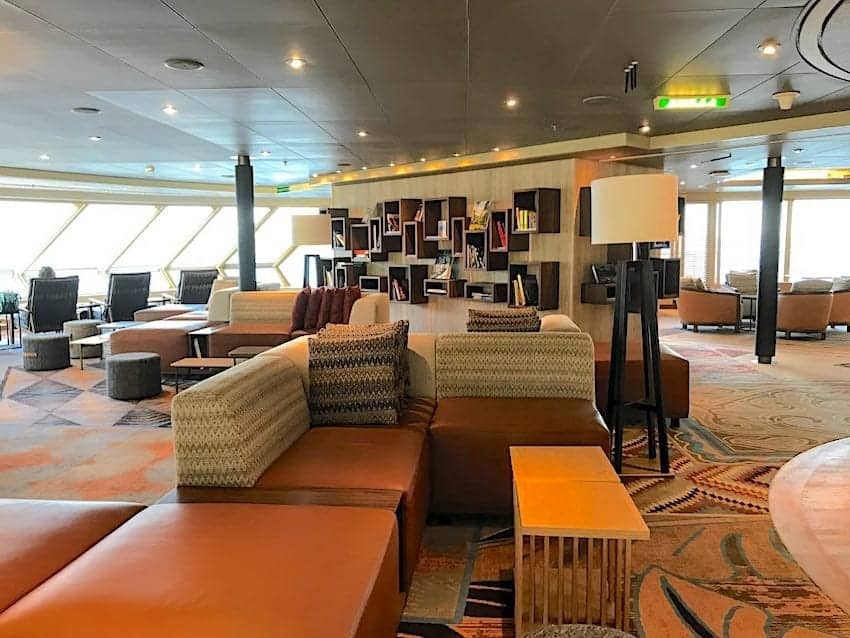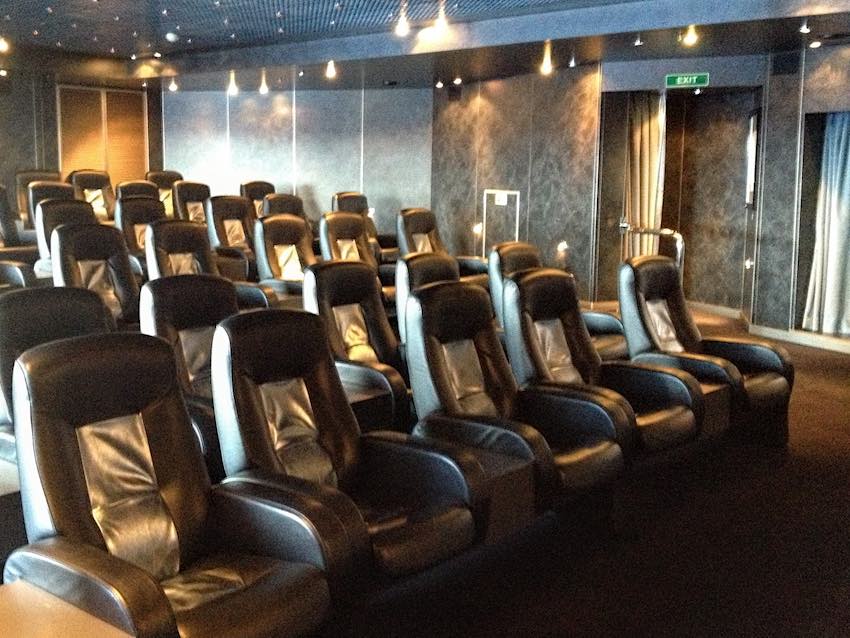 What to Expect on Holland America's Eurodam
I'll start my Alaska Holland America Eurodam review with a little background info about the ship.
Holland America launched Eurodam in 2008, the first of two ships in their mid-size Signature Class of ships.
With only 11 decks and 2,104 passengers, based on double occupancy, it's fairly small compared to the mega-ships of other cruise lines.
That's one thing I really like and appreciate about Holland America; all of their ships are medium-sized and very easy to get around without a major learning curve.
When Eurodam was refurbished in 2015, it was the first ship to add B.B. King's Blues Club, and has become one of the liveliest nightspots on the ship.
The following year, the cruise line partnered with the BBC Earth and now features live classical music to accompany the amazing BBC Earth Live movie presentations in the main theater.
On this particular itinerary, the one-night-only BBC Earth Live event was entitled, "Alaska in Concert". I never miss these multi-sensory production shows.
There are a total of 24 public rooms aboard Eurodam including 12 bars and lounges, two swimming pools (one under the sliding glass dome), fitness center, spa and salon and my favorite, a dedicated movie theater with freshly popped popcorn.
Alaska is all about the outdoors and there's plenty of deck space aboard the Eurodam. There's no "best" side of the ship for viewing as the ship makes a U-turn in Glacier Bay so everyone gets the best view.
Also Read: 21 Best Things to Do in Sitka, Alaska
One of Holland America's long-standing accolades has been the superior level of service provided by their crew and staff. This cruise didn't disappoint in that category either.
Every crew member always said good-morning, may I help you, can I get you anything, without getting too friendly or intrusive that it made you cringe upon each encounter.
Onboard Expenses
Holland America is not an all-inclusive cruise line so plan to pay extra for specialty dining, soft drinks, alcohol & spirits, deluxe coffees and shore excursions. You can purchase various beverage and dining packages before or during your cruise, and you won't feel nickel'd and dime'd during your vacation. One bottle of wine per person may be brought aboard at embarkation.
As with most cruise lines, wifi is not complimentary. The wifi packages are reasonably priced and connectivity fairly consistent except in wilderness areas of course. One advantage of an Alaska cruise is that you're still in the United States and you can use your phone for internet access. Just make sure to turn on Airplane mode when cruising the coast of British Columbia!
Eurodam Stateroom Review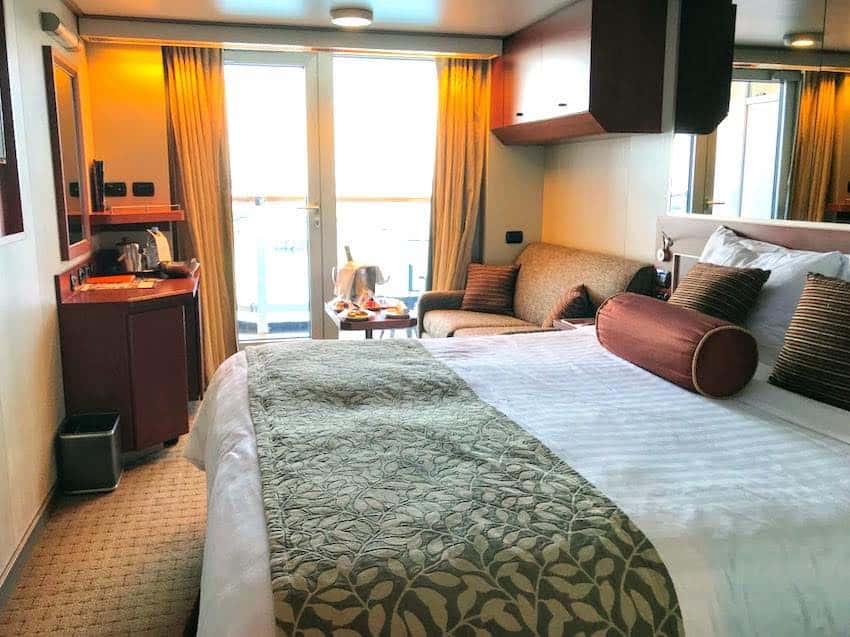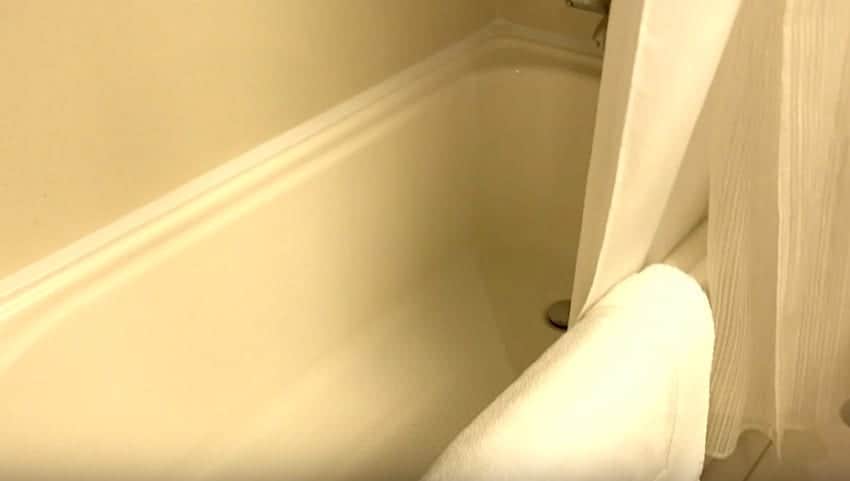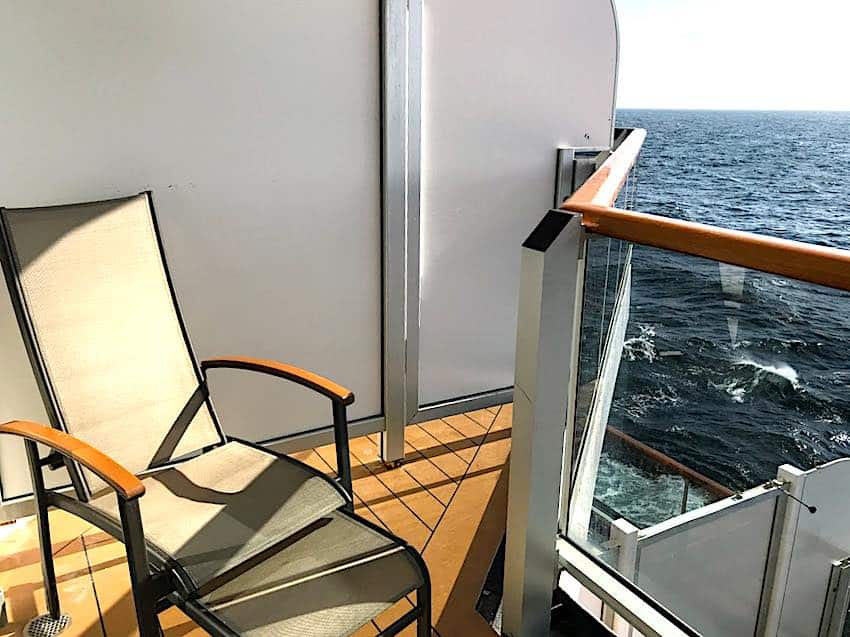 My standard balcony stateroom, with a little extra balcony
This is stateroom #5138 and as you can see, there's a wee bit extra balcony space. There are two really cool features to this balcony; 1. if you stand in the little triangle space you have a perfect forward view without having to look to your side and 2. There's no one above you to look down onto your balcony – as I was able to do to the enormous balcony just below my room.
As you can see, the standard balcony has everything you'd need including a ton of USB ports dotted around the stateroom. There's extra storage in the bins above the small sofa as well as at the end of the desk and under the bed. Closet space is excellent, too, with "real" hangers that you can actually remove from the closet rod. You don't find that on many cruise lines very often.
Something else you don't find very often is a bathtub. I think almost all of the older Holland America ships put bathtubs in all but the inside staterooms. I was also happy to see that the tub is equipped with large grab bar to help getting in and out of the tub/shower. Or to hold onto in the shower in rough seas!
Under the bathroom countertop is more open storage space. A non-wall-mounted hairdryer is also furnished as is a magnifying mirror. Toiletries are the Elemis standard and pump bottles with shampoo, conditioner and body wash are mounted in the shower. I find the basic Elemis products too harsh so I always bring my own. The bar of hand soap on the sink is just fine.
Cruise Maven Loves: In the closet is a neatly-folded, not-to-heavy bathrobe and slippers tucked inside a mesh zip bag.
Read next: How I traveled from Florida to Alaska without flying
Eurodam Dining Review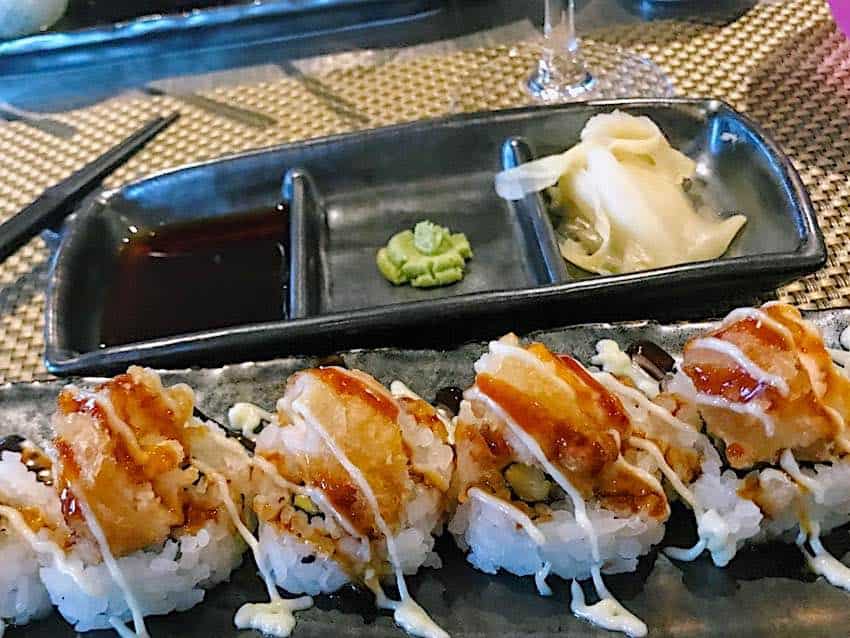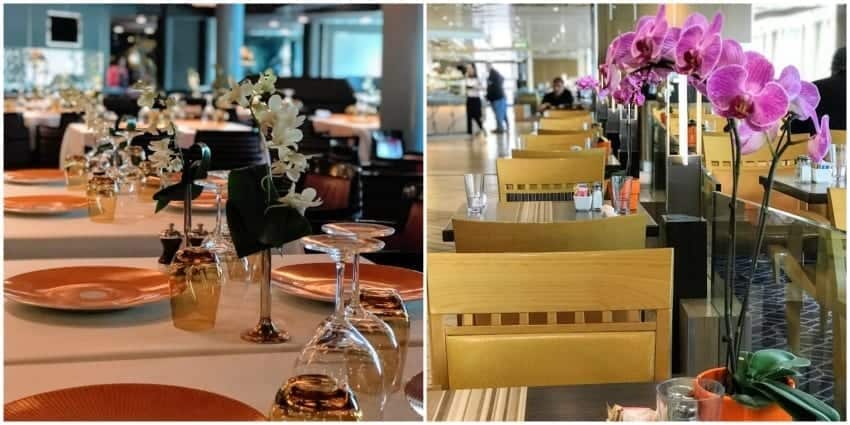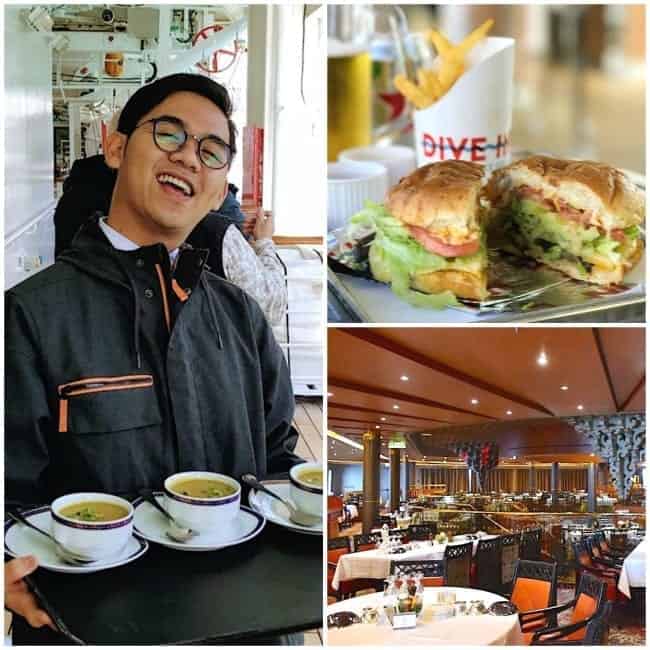 I'll admit it. I'm a fussy eater. That's why more times than not, you'll find me at the Lido Market scouting out my options. Holland America has revamped their Lido dining experience and grouped food stations into a smoother flow, with clearly-marked signs for each type/category of food; The Homestead for comfort food, salad bar, Asian, a carvery, ice cream, etc.
READ MORE: Holland America Increases Specialty Dining Fees
Eurodam's Rembrandt Dining is on two levels. The first level is located on Deck 2 and offers open seating at breakfast and lunch. At dinner time, it's again open seating, called "As You Wish" dining with Holland America. You can choose to dine from 5:15 pm until 9:00 pm. The second level is on Deck 3 and is where you go for fixed dining times, offered at 5:15 pm and 8:00 pm.
All totaled, there are 14 dining options, including daily afternoon Royal Dutch Tea time.
Complimentary
Main Dining Room, Lido Market, Dive-In, 24-hr room service, New York Pizza
Additional cost
Grand Dutch Café, Gelato, Explorations Café (specialty coffees), Pinnacle Grill, Canaletto, Tamarind, Rudi's Sel de Mer, Culinary Arts Center
Cruise Maven loves: Any of the three dining packages. You'll save $6 – $9 per person and have wonderful culinary experiences to remember.
Eurodam Entertainment Review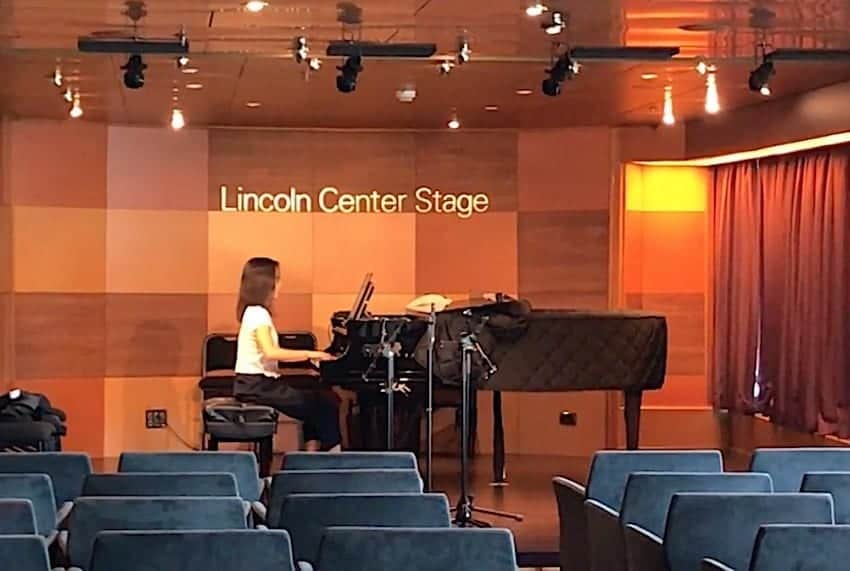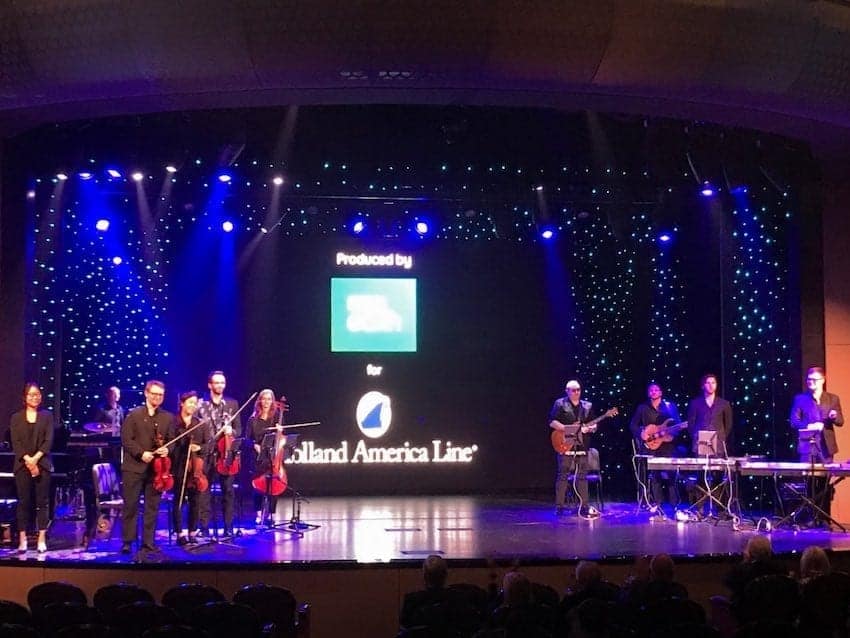 My favorite night spot on Eurodam and any Holland America ship with B.B. King's Blues Club. The band plays three sets on almost every evening, the last set starting at 10:45 p.m. and that's when the place really gets going. In addition, there are specialty cocktails with jazz and blues themes.
In partnership with BBC Earth, you can experience live concerts that accompany BBC Earth nature production films from all corners of the earth.
If you haven't had enough music, head over to Billboard Onboard's piano bar. Guests can sing along with the piano players who dole out fifty years of top of the charts hits.
Cruise Maven loves: To arrive a little early for the one and only BBC Earth main stage event. I think the best seats are middle-center.
Onboard Activities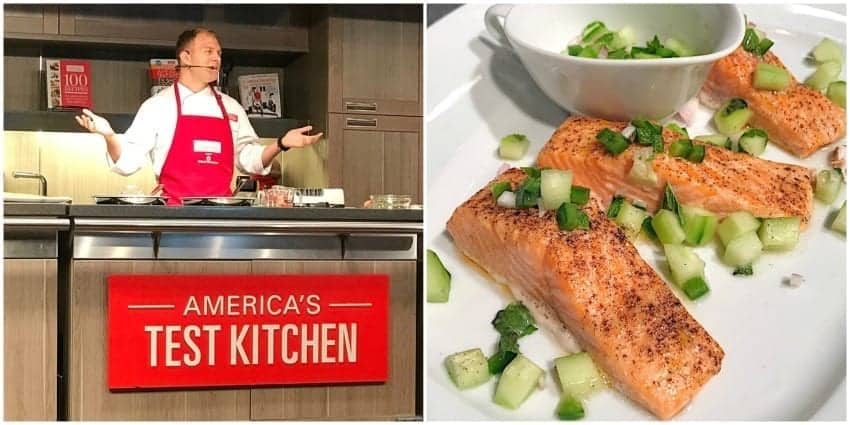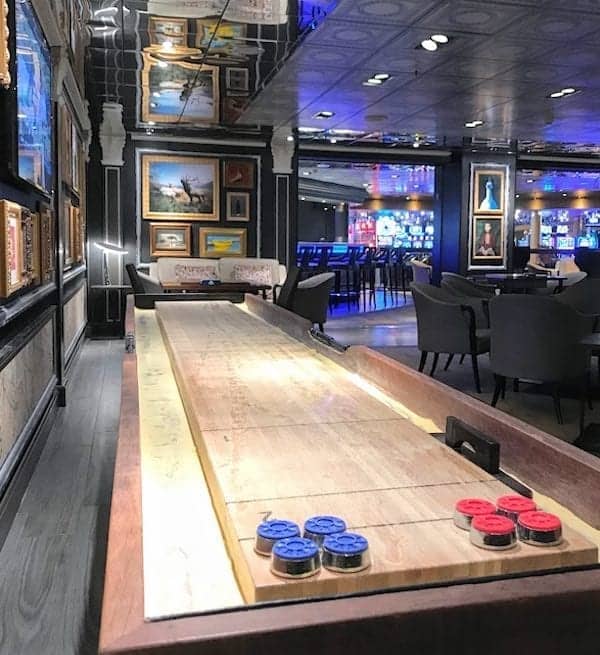 Onboard activities are offered from sunrise til late night. On an Alaska cruise like this one, the ship brought a naturalist on board from the National Park Service and Alice, a member of the Tlingit tribe. They joined us as we entered Glacier Bay and set up their tables in the EXC Lounge.
As part of Holland America's EXC, Explorations Central – a destination immersion program, the naturalist narrated our 9 -hour cruise through Glacier Bay. Alice was on hand to talk about Native American life in Alaska. I had met Alice a couple of weeks before on another guided trip so it was fun to see her again.
Several times during the cruise (on sea days) a chef from America's Test Kitchen does a cooking demonstration. No, there aren't any samples given out at the end! But you do get a large recipe card to bring home.
Also Read: Holland America and America's Test Kitchen Jalapeno Poppers Recipe
The pool under the dome was pretty popular – in fact this whole area was usually filled with swimmers, loungers and diners from Dive-In (upper left corner) or the Lido Market.
There's trivia contests, dance lessons, computer classes and more. Everything is listed in the daily planner that you'll receive at bedtime.
There's so much going on, I can't list it all. But this gives you an idea of some of the activities, especially on sea days.
Cruise Maven Loves: To always pack a yellow highlighter pen to note the activities in the daily planner that I want to do.
Who's Onboard
For years, Holland America was known for catering to the over-55 crowd. And for good reason.
With smaller, easy-to-get-around ships, superior crew training that resulted in respect and kindness to their older passengers and a slightly less jam-packed onboard schedule, it was a perfect combination.
Today, as you'd expect, Holland America adjusted their focus to attract the 40s to 60 crowd. The addition of Music Walk (with Billboard, Lincoln Center and B.B. King's), more active shore excursions and even improved wifi all help to lower the age demographic.
This Alaska cruise, as on many cruises to our 49th state, attracted an outdoorsy crowd across the age range spectrum. Our cruise began on September 1 so the amount of young children was really minimal.
During a conversation with the Captain, he related that during the past summer, there were many families some of which spanned three generations.
Despite a somewhat older crowd, every show at the B.B. King Blues Club was a full house. The dance floor was jumping until the last minute of the last music set. Older doesn't mean the carpet rolls up at 9 p.m. Especially not here.
On every cruise, Holland America hosts a loyalty club luncheon. Eurodam's luncheon filled the lower level of the Rembrandt dining room. Holland America has an avid loyal following and at this event, it was evident.
Parting Thoughts
During this time in Alaska, I also completed a one-week Alaska Inside Passage cruise on a very small ship.
Getting to Alaska without flying, I traveled aboard the Alaska Marine Highway ferry. I was curious what the same itinerary would be like aboard this larger 2,104 passenger ship.
Bottom line, the Eurodam Alaska cruise was excellent, for several reasons. Because Holland America has been cruising Alaska for 75 years, they have a bit of clout when it comes to being allowed into Glacier Bay.
On my small ship cruise, the Park Service said we weren't allowed to get up to breathtaking Marjerie Glacier because the viewing area already had its two allotted ships.
But aboard Eurodam, under spectacular blue skies, we scooted right up to what's probably the most photographed glacier in the park.
The selection of well-managed shore excursions was vast and varied. There was something for every level of Alaska adventurer.
Float planes and helicopter rides to stand on mighty glaciers. There were culinary tours, easy walking or uphill hikes, and my favorite, a visit and ride to a dog sledding training camp.
Something for everyone at every level. Alaska cruises are about the great outdoors, so visits to museums or indoor activities are nearly non-existent.
More of What I love About Eurodam
Riding up and down in the glass elevators overlooking the ocean. You have to try it – the view is amazing though a bit daunting at first!
The traditional teak wraparound promenade. No running allowed.
Watching first-run movies in the dedicated Cinema. Pick up your bag of popcorn at the entrance.
To have a cocktail or two at the exotic Silk Den Lounge while relaxing on plush, purple velvet sofas.
The lighted, magnifying make-up mirrors and detached hair dryers
On Deck for a Cause 5K walk to benefit cancer research.
Holland America Eurodam Review Facts in a Nutshell
Cruise Line: Holland America
Cruise Ship: Eurodam
Category: Premium cruise line – $$$
Passengers/Crew: 2,104/929
Best time to go: Alaska cruises go from May – Sept. Beginning and end of season offer best values.
Internet: Fee-based, packages available. Shoreside phone signal in Alaska is available.
Itinerary: Inside Passage cruise round-trip from Seattle. Ports included: Ketchikan, Juneau, Inside Passage, Sitka, Victoria – British Columbia.
Gratuities: Tipping guideline – $14.50 per person per day standard staterooms / $16.00 per person per day suite guests.
Disclosure: I was an invited guest aboard Holland America Eurodam. I was not offered compensation nor was I required to write this article. As always, all opinions are my own. Cruise experiences are very subjective and if I like or dislike something, it does not mean my readers will all agree. My Holland America Eurodam review represents my personal experiences without bias.
If you like this Eurodam review, please PIN it!
I'm the editor and creator of CruiseMaven.com, a solo traveler cruising the world on waves and wheels, collecting recipes along the way.  I hope my articles and photos entertain, advise and inspire you to travel the world without flying.  Take a breath…stop for a local meal and a glass of wine along the way.