Luxury cruise ship Viking Sky slowly limped into the port of Molde on Sunday, the closest port on the west coast of Norway.  It was a harrowing and terrifying day and night for all aboard when the cruise ship's engines failed during a storm in the often-turbulent Norwegian Sea.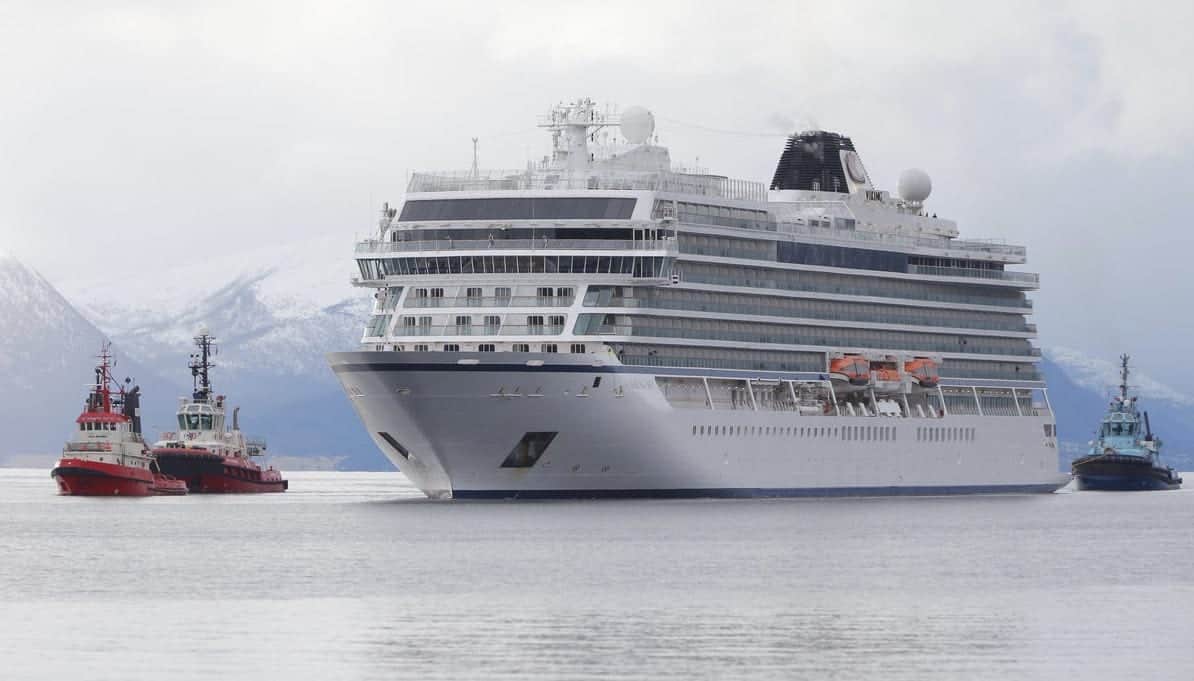 When none of the engines could restart, Viking Cruises' Viking Sky sent out a Mayday distress call.  As wind gusts reached up to 79 mph and seas reached nearly 25 feet, passengers and crew prepared to abandon ship.
The nearly 1,400 passengers and crew donned their neon orange life jackets and reported to their assigned muster stations.  While those onboard waited for their next instructions, two Norwegian rescue boats had to return to port due to the high seas.  Then, two of the five rescue helicopters were temporarily diverted to airlift crew from a nearby listing cargo ship.
Operating in treacherous winds, the rescue helicopters managed to safely airlift 479 passengers to shore.  Close to 900 more passengers and crew remained onboard.  Around noon on Sunday, the captain ordered the air evacuation to cease.  With one engine restarted, the ship slowly limped into the Norwegian port of Molde late Sunday afternoon.  Norwegian tugboats flanked the ship as it made the one-mile journey into port.
What happened to Viking Sky
The terrifying event unfolded on Saturday afternoon off the western coast of Norway.  The cruise ship was on a southbound voyage from Tromsø, Norway to Tilbury, England when it found itself in the middle of a ferocious storm in the Norwegian Sea.
Viking Sky cruise south and followed the Norwegian coastline. Eventually the ship had to travel through the unsheltered waters of Hustadvika, a rugged 12-mile stretch dotted with shallows and jagged reefs.
Dangerous to navigate in rough seas and high winds, passenger and cargo ships usually try to skirt further out from Hustadvika during weather events.  With winter barely over and unpredictable early spring weather, this intense storm, though predicted, wasn't unusual for Hustadvika.
What the Danish news reported
The report from Norway stated that Viking Sky lost power due to rough weather and gale-force winds.  A friend of mine living in Copenhagen said the Danish news reported that the cruise ship lost power when trying to go full speed ahead and outrun the storm.  The news went on to say that the ship's engines couldn't handle the extreme power needed to battle the elements to avoid the storm.  That is the reason they're saying the engines failed.  The investigation continues.
Norwegian officials who are heading to the port of Molde to investigate what caused the harrowing and potentially deadly incident. Viking Sky was on a 12-day cruise, heading south along the coast to the Norwegian port of Stavanger.
Viking Sky on Social Media
California resident and author, Alexus Sheppard, shared several videos and photos on Twitter and kept the world apprised on the terrifying situation aboard ship.
Still waiting for evacuation. #VikingSky #Mayday pic.twitter.com/6EvcAjf5D2

— Alexus Sheppard 🏳️‍🌈 (@alexus309) March 23, 2019
From her videos, you can see ceiling panels crashing down on passengers.  Furniture can be seen violently swept back and forth from one side of the ship to the other.
Finally coming into Molde, Norway #VikingStar #WhatARelief pic.twitter.com/SiOiuz80SD

— Alexus Sheppard 🏳️‍🌈 (@alexus309) March 24, 2019
All 915 passengers, mostly senior citizens from American, Canada, Australia and Britain, and crew members are safely accounted.  Several passengers remain in hospital, two with broken shoulders.
Besides fear, another sentiment expressed by everyone interviewed was their admiration for how well the crew handled the situation.  Lavish praise was heaped upon the actions and demeanor of the entire staff.  That's always good to hear, especially when things get rough out at sea, and it does.
Viking has made the air arrangements for guests to return home.  Viking Cruises canceled the next Viking Sky cruise scheduled to depart from Tilbury on Wednesday.  No further voyages are canceled at this time.

I'm the editor and creator of CruiseMaven.com and self-appointed "expert" on cruises, trains and solo travel.  By sharing news and reviews plus my cruise and travel experiences, I hope to entertain, inform and inspire you to travel the world without flying.  Be sure to enjoy a local meal and a glass of wine along the way.