With so much outside competition for your shore excursion dollars, Princess Cruises wants to be fair, competitively priced and accommodate those who really want to join the excursion. To accomplish this, Princess Cruises shore excursion reservation procedures are being revamped with two new policies.
Effective December 5, 2016, a Best Price Guarantee goes into effect. This will apply to shore excursions in all ports except for those in Asia, Southeast Asia or Japan.
If you pre-purchase your shore excursion and find the same excursion somewhere else for a lower price, you'll receive 110% of the price difference in the form of a non-refundable onboard credit.
Beginning with Summer 2017 voyages, any Princess Cruises shore excursion reservation will require pre-payment. Princess Cruises hopes that with this new procedure, only those who are truly committed to the excursion will book their space. This will help prevent guests from pre-booking their shore excursions without payment and then tying up space for other guests, should they decide later not to go on that excursion.
How It Works
The new Best Price Guarantee is announced to Princess guests through pre-cruise e-mails and on Princess.com. It is only available to guests who book their excursions with Princess before their cruise. Then, if they find an equivalent shore excursion elsewhere at a lower price, a request must be submitted at least seven days before the sailing date to shoreexcursions@princesscruises.com – for review by the Shore Excursion customer service team. Guests will be notified within two business days if their request meets the Best Price Guarantee criteria. If it does, 110 percent of the price difference will be applied in the form of a non-refundable onboard credit.
If you've ever been turned away from a much-anticipated shore excursion, then you'll be happy with this new pre-payment policy by Princess. And those who love to shop for discounts may find themselves with an onboard credit.
Pin for Later!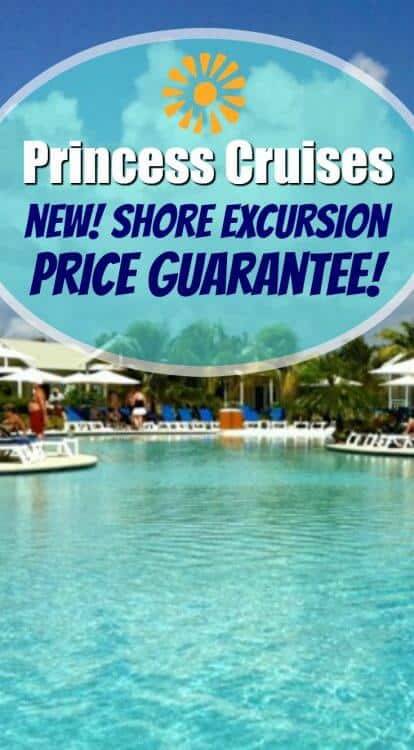 I'm the editor and creator of CruiseMaven.com, a solo traveler cruising the world on waves and wheels, collecting recipes along the way.  I hope my articles and photos entertain, advise and inspire you to travel the world without flying.  Take a breath…stop for a local meal and a glass of wine along the way.