One thing's for sure; unless you reserve a suite, this Viking Star balcony stateroom review applies to the majority of staterooms. Every stateroom on this cruise ship has a balcony.
If you're wondering what a Viking Star balcony stateroom is really like, keep reading.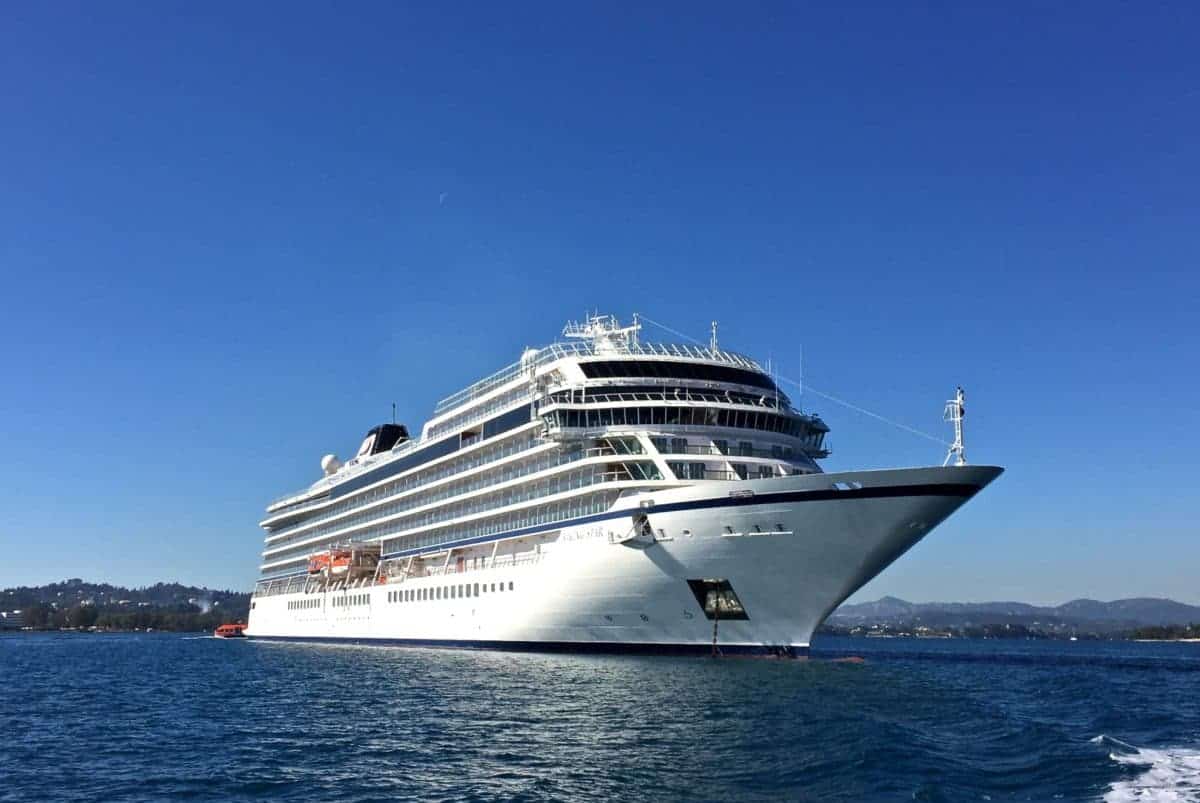 Viking Star Balcony Stateroom Review
The difference between upper premium and luxury cruise lines isn't always easy to distinguish. Viking Ocean's first ocean cruise ship, the 928 passenger Viking Star, is a case in point.
After 12 days of cruising the Mediterranean aboard Viking Star I felt as though I was aboard a stunning new luxury cruise ship. Heated bathroom floor? Yes, please.
When Viking Cruises launched the all-veranda Viking Star in mid-2015, the ship was quickly categorized as upper premium by most cruise reviewers.
And I might slightly agree with everyone except for one major, hard-to-overlook feature: the attention to detail throughout the ship and especially in your stateroom. You're in Luxury Land.
In no particular order, here's why, among other reasons, Viking's well-planned attention to detail in the staterooms pushes their cruise ships into luxury territory.
Lighted Mirror and Make-Up Vanity/Desk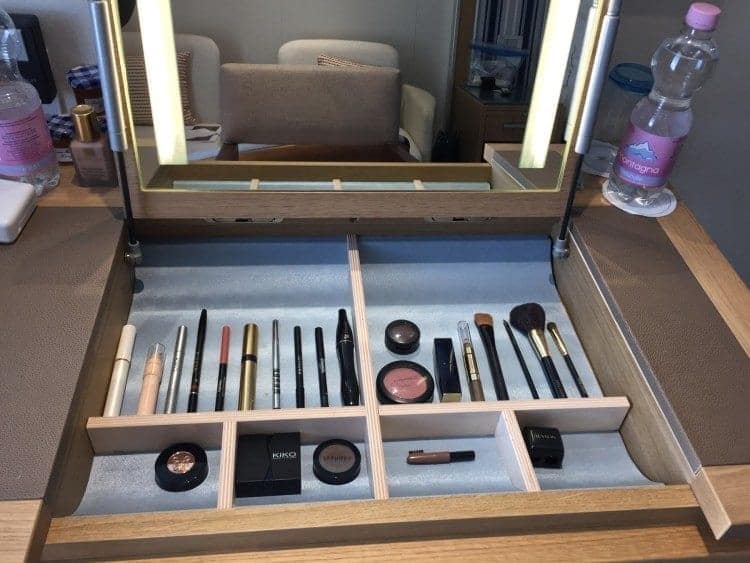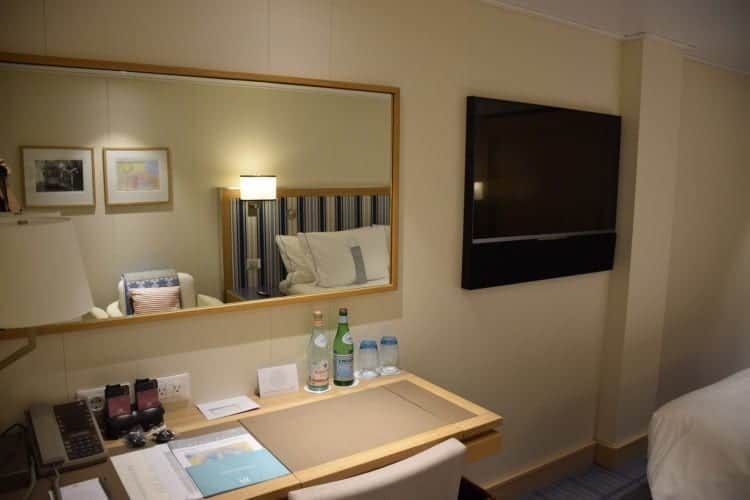 Heated Bathroom Floor
It looks like an ordinary faux wood floor. But turn on the light for the bathroom, wait a few minutes and presto – cozy warmed floor. Especially welcome on cool weather itineraries.
READ NEXT: My Top Ten Reasons to Cruise Solo
Bathroom Storage Space
It's rare to find ample bathroom storage for two people, especially if two women are traveling together. Usually you end up cramming all of your stuff on one or two small shelves with no unobstructed under-cabinet option.
On this ship there is the equivalent of twin bathroom storage so no fighting about who gets to put their stuff where and on which shelves.
Discreet Night Light
Tired of leaving the bathroom light on all night or packing your own nightlight? The Viking Star has a dim, low-level night light in your room's foyer that subtly illuminates the path to the bathroom.
You'll find the control switch at both sides of the bed. If you want pitch darkness for sleeping, simply flick the switch as needed for any middle of the night bathroom breaks.
Nightstand Electric Outlets
Wouldn't it be nice to keep your phone at your bedside (think alarm clock) and have it charge at the same time? Most cruise ships have two or three 110/120 outlets near the desk area but none next to your bed.
Located at box spring level at both sides of the bed is an electric outlet. Nice, simple touch.
Extra USB Chargers
Simple solution to a decade's old problem: How to charge multiple computer devices at the same time. If you've even been on a river cruise, you might be familiar with the audio device that you wear around your neck on shore excursions to hear your tour guide. The new Quiet Vox charging stands have two USB ports right on them.
Shower Space
It's not quite a chair, but there's a handy ledge, perfect for sitting, shaving legs and placing all of your bath products. No more having to crowd your own shampoo, conditioner, bath gel, face wash and shaving cream on the metal wire basket next to the shower bar.
Every Stateroom Has a Doorbell
Breakfast room service is one of the joys of cruising. But to hear the delivery person knock on your neighbor's stateroom door at 7am and announce at the top of their lungs, "Room Service" can be annoying not to mention startling, especially when it's at your door..
Usually found only on upper level suites across the cruise spectrum, every stateroom door on the Viking Star has a pleasant-sounding doorbell.
Room Service on Disembarkation Day?
Yes! Not only can you stay in your room until 9AM on the morning of departure, you can also order a full breakfast with room service.
Closet Has Plenty of "Real" Hangers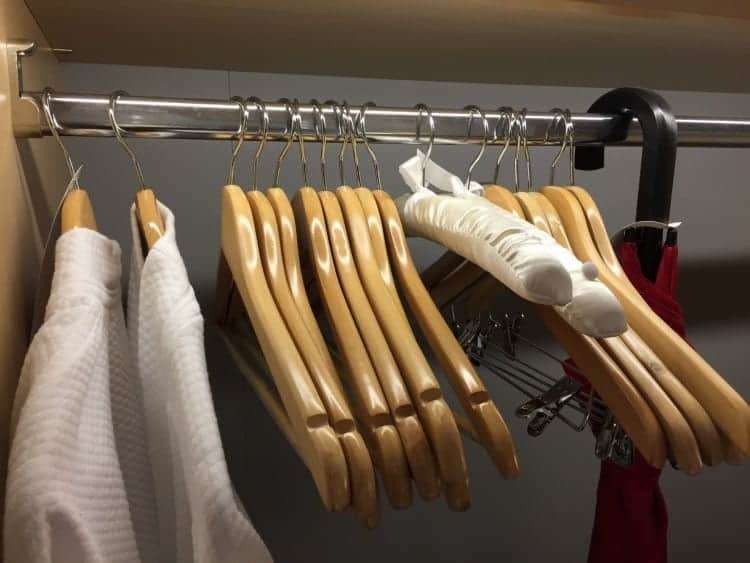 Real hangers. Viking Star has a closet full of wooden hangers that you can actually remove from the closet rod. Not just the wooden part with a protruding spoke, but the whole deal, wooden hanger, hook and all.
For me, luxury extends beyond fine dining, exceptional service and an extensive pillow menu (which Viking Star also offers.) It's also the consideration to details that gives me reason to to believe that Viking Star is has raised the bar on upper-premium cruising.
Disclosure: I was a guest of Viking, though in no way was I under any obligation to write a favorable Viking Star review or commentary. This article would have been just as positive if I had bought my own ticket. All opinions are my own.
If you liked my Viking Star stateroom review, please pin for later! Thank you.