Cruise on Carnival's Mardi Gras and ensure a party for your tastebuds. After all, you can't name a ship after one of the world's most famous festivals and not expect the food to be a celebration.
Carnival Mardi Gras restaurant options gives you a choice of 22 (yes, 22!) places to dine, day and night.
Mardi Gras holds fast to Carnival favorites like Guy's Burgers and Bonsai Sushi. The ship introduces new venues like Rudi's Seagrill, a high-end seafood restaurant.
Also new is the long-awaited Emeril's Bistro 1396, a Creole-inspired menu created by the legendary New Orleans chef himself, Emeril Lagasse.
The first-ever Chinese-Mexican restaurant on a cruise ship will excite your palate with Chibang!. Though it began as a free eatery, Carnival's website now has a "$" next to the restaurant's name.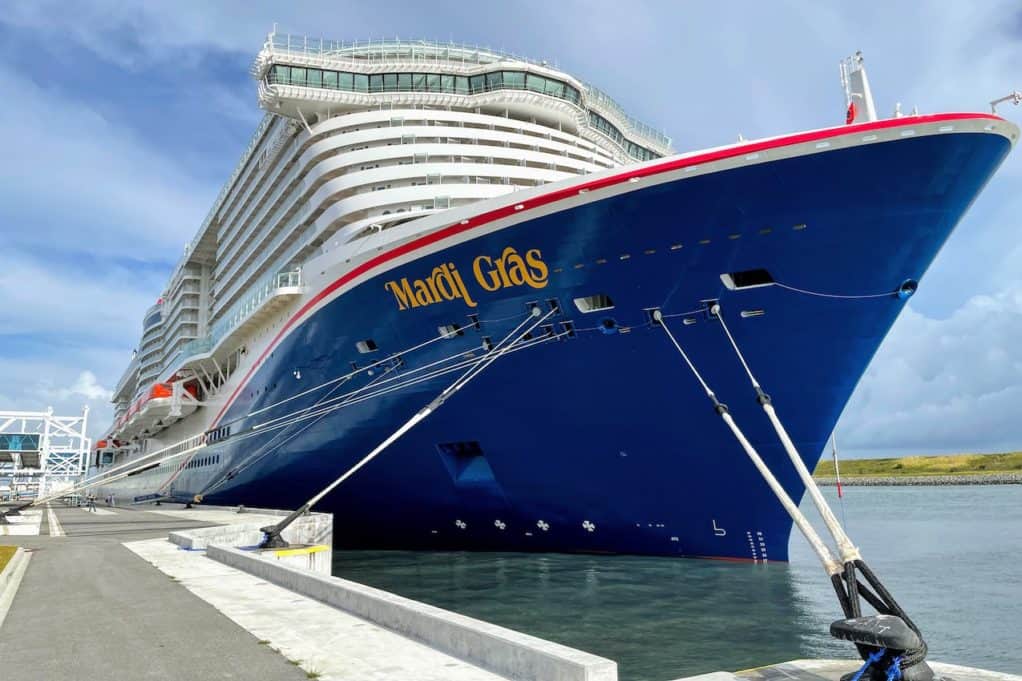 Carnival Mardi Gras Dining Options Overview
Known for its tremendous value offering, Carnival provides complimentary dining options aplenty. There's a new chicken joint on Mardi Gras, created in partnership with none other than Fun Ambassador Shaquille O'Neal.
We were happy to learn that familiar venues like Guy's Pig & Anchor and Cucino Del Capitano are also on board Mardi Gras. Looking to splurge a bit? There are still more places than ever, from immersive cooking classes at Carnival Kitchen to a night at the cruise line's signature Steakhouse.
To keep your dining options — and your budget — sorted, we've rounded up every Mardi Gras restaurant, from the main dining room to 555 Steakhouse.
Plus, we sort out whether or not the restaurant is included in the price of your cruise or has an additional fee.
As of now, in the ship's inaugural season, the specialty dining fee has been discontinued at Guy's Pig & Anchor, Cucina Del Capitano, and Chibang! If this should change, we'll let you know.
Quick Glance: Complimentary Restaurants and Dining Options
Palm Restaurant (Main Dining Room)
Chibang! (at this time it's free)
Guy's Pig & Anchor Smokehouse | Brewhouse
Cucina Del Capitano
Big Chicken
Street Eats
BlueIguana Cantina
Guy's Burger Joint
Lido Marketplace (Buffet)
Pizzeria Del Capitano
Room Service
Quick Glance: Specialty Restaurants With a Fee
Emeril's Bistro 1396
Fahrenheit 555 Steakhouse
Rudi's Seagrill
Bonsai Teppanyaki
Bonsai Sushi
Seafood Shack
Carnival Kitchen
JavaBlue Cafe
Chef's Table
Green Eggs and Ham Breakfast
Pizza Delivery
Free Restaurants on Carnival Mardi Gras
PALM RESTAURANT (Main Dining Room)
Decks 6 and 7 are home to the main dining room on Mardi Gras, known as the Palm Restaurant. The elevated but never-stuffy atmosphere accompanies a multicourse dinner menu that updates daily, but keeps a few items, like chicken breast, on standby.
Expect the specials du jour to reflect your port of call; for example, in Cozumel, you might enjoy steak tacos with tosdado de pollo, a pulled chicken appetizer. While you're at sea, this is the location of the Seaday Brunch, a tempting combination of breakfast and lunch delights.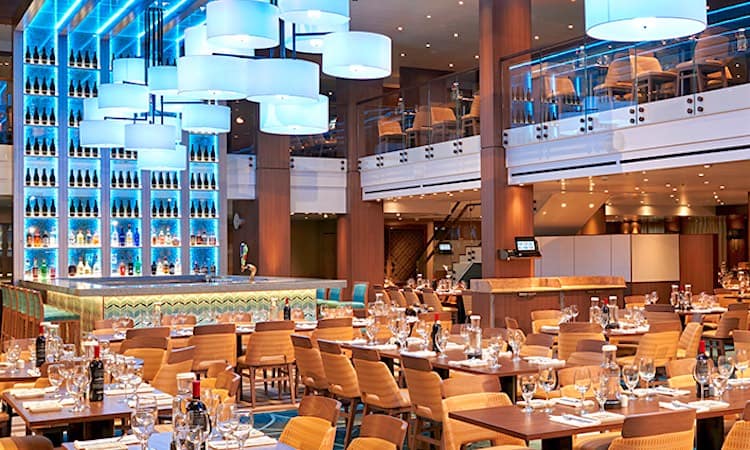 CHIBANG!
A first for Carnival — and maybe any cruise ship — is this venue on Deck 8 that combines the flavors of Mexican and Chinese cuisines in one place. At lunch, it's all about the build-your-own bowls, from Chinese noodles to Mexican burrito bowls.
At dinner, mix and match apps, entrees, and desserts from a Chinese menu and a Mexican menu. For an additional fee, diners can enjoy a golden roasted duck for two, a Chinese specialty.
The Carnival site might still list Chibang! as an added-fee option, but for now it's free.
GUY'S PIG & ANCHOR SMOKEHOUSE / BREWHOUSE
Head to Deck 8 for a sit-down feast from Guy Fieri paired with homebrewed beer or a drink from the surprising cocktail menu.
Dinner (typically for a fee on other ships in the fleet) features shareable starters like the Trash Can Nachos — tastier than they sound — or the brisket cooked for a quick 18 hours.
At lunch, step into the open air for Guy's al fresco barbecue. Located just outside of Guy's Pig & Anchor Smokehouse, the also-included lunch option features a variety of smoked meats.
Choose from beef and pork butt, as well as a stellar bunch of comforting sides, from mac 'n' cheese and potato salad to coleslaw and collard greens.
CUCINA DEL CAPITANO
It's hard to go wrong with a night out at an Italian restaurant, especially when so many of the ship's captains are Italian. This typically for-fee venue is included in the fare on Mardi Gras and located on Deck 8.
The charming, rustic atmosphere and the authentic flavors are up to par, offering dishes like minestrone, risotto, and branzino. An emblem represents signature menu items chosen by the captains, including arancini or a polenta dessert cake.
BIG CHICKEN
Up on Deck 16 is the place to be if you love chicken — for breakfast, lunch, or dinner. Yes, Shaq's own poultry-focused restaurant serves amazing breakfast treats like chicken and a biscuit, and what's even better is it's served until 3 p.m.
Three tempting crispy chicken sandwiches, chicken strips, and a fried chicken basket make up the menu, along with fries and sides like a jalapeno slaw or potato salad. Choose from white or dark meat — grilled chicken can be provided upon request.
STREET EATS
Carnival's homage to street food lives on Deck 16 of Mardi Gras, and the stalls come alive for lunchtime. You'll have a hard time deciding between the bao buns of Steam Dream, the kebabs of Mad Sizzle, or the loaded cheesesteak fries from Time Fries.
BLUEIGUANA CANTINA
Out by the pool on Deck 16 is the onboard Mexican cantina, with free burritos, tacos, and even huevos rancheros and arepas at breakfast.
Another killer find for the first meal of the day, BlueIguana features breakfast burritos brimming with scrambled eggs before it swings over to its lunch items featuring chicken, fish, or pork. Top it all off with something from the serious salsa bar.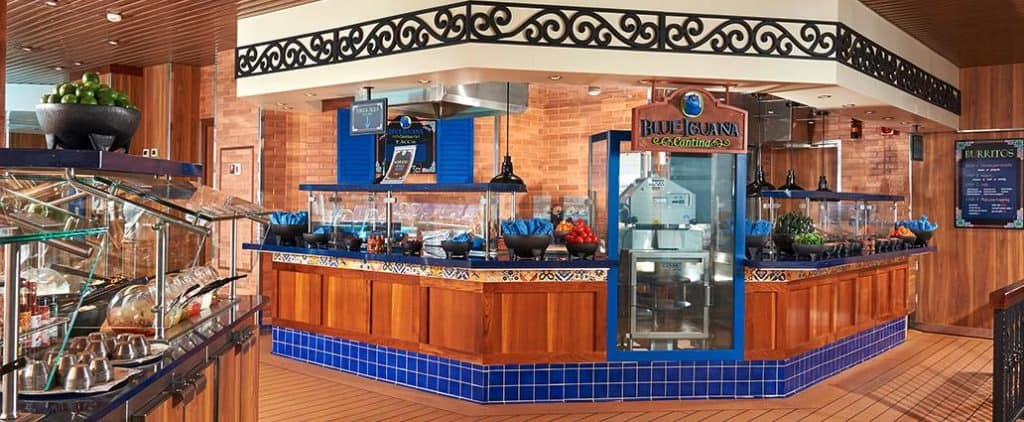 GUY'S BURGER JOINT
This fan favorite moves one deck up, to Deck 17, but still serves its droolworthy burgers and handcut fries with signature seasoning. Get your patty "Straight Up" or collect all your calories at once with the "Pig Patty," which includes a patty of crispy bacon in addition to the beef.
The sauces here are what make the experience complete, so don't skip the condiments bar.
READ NEXT: Here's the Recipe to Make Your Own "Straight Up" Burger at Home
LIDO MARKETPLACE (Buffet)
Carnival has been trying to shake up the idea of a cruise buffet for a few years, and the Lido Marketplace on Decks 16 and 17 is the result of that effort.
Specialty stations like a deli counter or pasta bar are scattered throughout the space, in addition to all the classic favorites, at breakfast, lunch, and dinner. Swirls, the 24-hour fro-yo and ice cream machines, are also located here.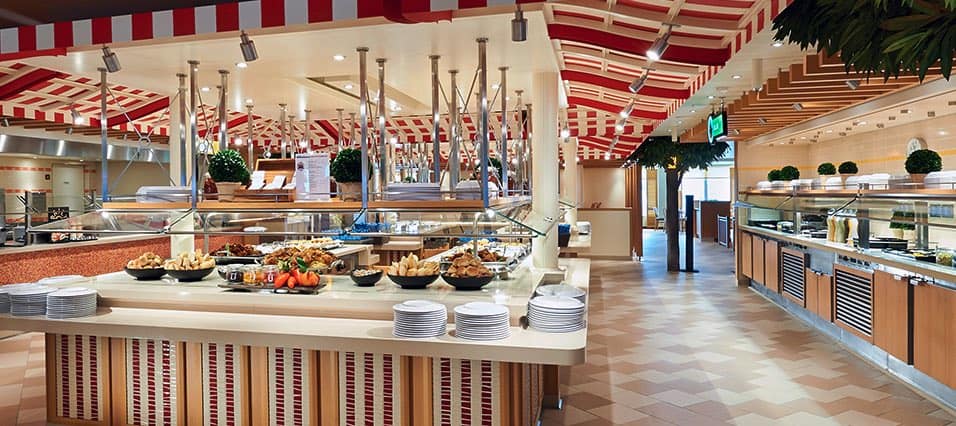 PIZZERIA DEL CAPITANO
There is a good chance you will find time to try a slice of pizza on Mardi Gras with its counter open 24 hours a day. On Deck 16 in the Lido, you will find your choice of pies from a simple margherita to quattro formaggi or four cheese.
Grab by the slice or try your luck ordering an entire pie to share — or not. It's a busy spot, so expect a wait, especially around mealtimes. The Piazza Panini counter is located close by.
ROOM SERVICE
From 6 a.m. to 10 p.m. Carnival still offers a free room service menu. Continental breakfast is included, but a hot entrée might incur an added fee.
While room service is offered 24 hours a day, be on the lookout for what's included and what is extra, like firecracker shrimp for $6. However, the chocolate cake is blissfully free of charge.
Carnival Mardi Gras Specialty Restaurants
Cut to the chase with our list of Mardi Gras Specialty Dining options. In other words, these restaurants cost extra.
EMERIL'S BISTRO 1396 (A la Carte Pricing)
What's a French Quarter without Emeril? Tucked into Deck 6, the ship's French Quarter area, is Emeril's Bistro — the 1396 is a reference to Mardi Gras' hull number in the shipyard.
The partnership extends beyond a few plates and incorporates Chef Emeril's signature Cajun flavors into breakfast, lunch, and dinner. Start your day with shrimp and grits or bananas foster crepes. Come back for a plethora of po-boy sandwiches at lunch.
And end the day with grilled oysters, jambalaya, and a lemon ice box pie. Beer and root beer is offered by Louisiana-based Abita Brewing.
FAHRENHEIT 555 STEAKHOUSE ($38 per person)
Did you even take a cruise without a night out at the steakhouse? On Deck 7, Mardi Gras-goers will find the line's upscale take on the standard steakhouse.
For a cover charge, Fahrenheit offers more than just choice cuts of beef for dinner. Indulge in jumbo shrimp cocktail, lobster bisque, grilled lamb chops, or the Dover sole.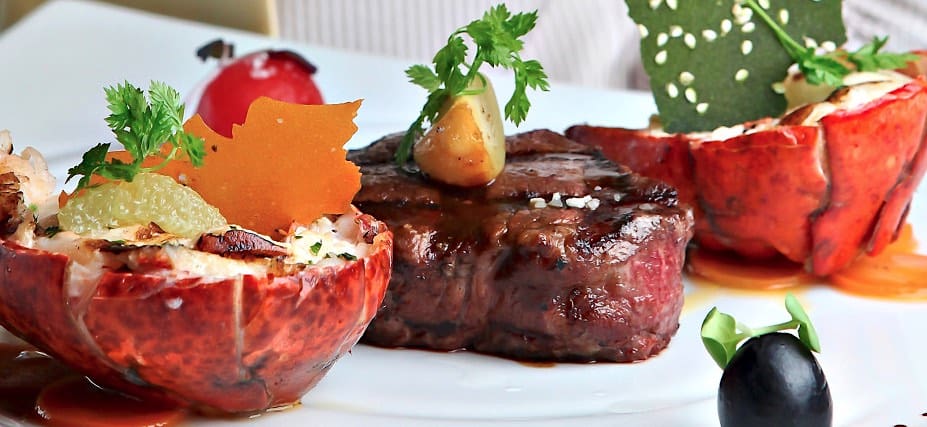 RUDI'S SEAGRILL($38 per person)
Carnival Corp. aficionados or anyone who has also sailed Holland America Line might be familiar with its executive chef and larger-than-life personality, Rudi Sodamin.
Chef Rudi makes his CCL debut on Deck 8 of Mardi Gras, bringing with him his elegant take on seafood.
The charge will likely be worth it once you try the crab-stuffed lobster tail or scallops au gratin. A specialty cocktail and wine menu round out this evening dining experience.
BONSAI TEPPANYAKI($32 Per Person)
Teppanyaki, also known as hibachi, is a fun night out for the entire family, as your chef flips your food while it cooks in front of your eyes on the grill.
Reservations are highly recommended for this restaurant on Deck 8, where your choice of salmon, filet mignon, and even lobster tail or black cod, sizzle their way to your dinner plate.
BONSAI SUSHI (A la Carte Pricing)
We love Bonsai's sushi option, on Deck 8, for its conveniently located bites in between mealtimes. Sure, you can spend an entire lunch or dinner here, but you can also pop in for $5 to $7 rolls, $1.50 pieces of sashimi, or a $2 green tea cupcake.
Japanese beer, sake, and other spirits are served here, as well. It's one of our favorite Mardi Gras restaurants.
SEAFOOD SHACK (A la Carte Pricing)
Seafood actually abounds on Mardi Gras, but on Deck 16 there is entire shack dedicated to the crustaceans, served in a casual atmosphere with views of the ocean.
Grab a bucket of clam strips ($5), the fish and chips ($6), or a lobster roll — or lobster BLT option (both $12). Depending on availability, raw oysters, snow crab, and steamed lobster or peel-and-eat shrimp are available by the pound and at market price.
CARNIVAL KITCHEN (Prices Vary)
Would-be chefs 12 and older can head to Deck 6 for a range of classes, from pizza-making to the secret behind the sacred Carnival chocolate melting cake (prices depend on which class is selected).
On a weeklong sailing, about 16 classes might be on offer for groups of 18 or less. Each evening a special two-hour class is held, and participants can then sit down to enjoy the dinner that they prepared, like an authentic Indian spread.
We strongly recommend signing up early — and online. Despite the number of classes offered, they book faster than you can say "Bon appetit!"
JAVABLUE CAFE (A la Carte Pricing)
If caffeine is fueling your cruise vacation, you will likely find yourself at this café on Deck 6. To complement your coffees and shakes, there are treats galore, from cookies and ice cream to its notorious blue velvet cake.
CHEF'S TABLE ($95 per person)
If you are considered a foodie, do yourself a favor and invest in this multi-course sensory experience that takes dining options onboard to another echelon.
Held on Deck 5 aft, in a dedicated space on Mardi Gras, the Chef's Table invites just 14 guests aged 12 and up for a VIP experience with onboard chefs creating and explaining a unique menu just for your group.
GREEN EGGS AND HAM BREAKFAST ($6 Per Person)
Typically offered just once per sailing, Carnival's Dr. Seuss partnership is at its yummiest with this special themed character breakfast.
Adults are outnumbered by kids, but everyone is welcome to enjoy this sugar-soaked brunch with Cat in the Hat live. Other guest appearances pepper this experience that's as memorable as the Truffala Tree pancakes and of course, Kelly green eggs.
PIZZA DELIVERY ($5 Per Pie)
Why bother climbing to Deck 16 when you can just get your pizza delivered to you anywhere on the ship? Using your Carnival Hub app, snap a shot of where you are onboard. For a small delivery fee, you could be chowing down on a pepperoni slice in the arcade.
Conclusion: Carnival Mardi Gras Dining
As your cruise draws to a close, you'll probably realize that there wasn't enough time to try even half of the Mardi Gras restaurants. The good news is that at least you've knocked a few of the free and specialty dining options off your list.
Next time you sail onboard Mardi Gras, the remaining amount of your unvisited restaurants or eateries will have narrowed and within reach. Just as long as you don't stop for any repeats!
RELATED ARTICLE: Where to Dine and Drink Aboard Carnival Vista
Brittany Chrusciel has covered the cruise industry for many years, formerly as Cruise Critic's Destinations Editor, and has been quoted in publications such as Skift, USA Today, and the LA Times. She is a proud alumnus of Semester at Sea, where she circumnavigated the globe while studying writing, Spanish, and political science. Her favorite river cruise experiences so far have been visiting the Christmas markets with her German grandmother, and Portugal's Douro River.