This was something new for me. I've stayed in Holland America standard balcony staterooms (called "verandahs" on Holland America) several times. But this extended balcony stateroom aboard the new Nieuw Statendam would be something different and interesting for me.
I was curious about how much extra room the extended balcony actually provided and would it be worth the extra cost. Here's what I learned.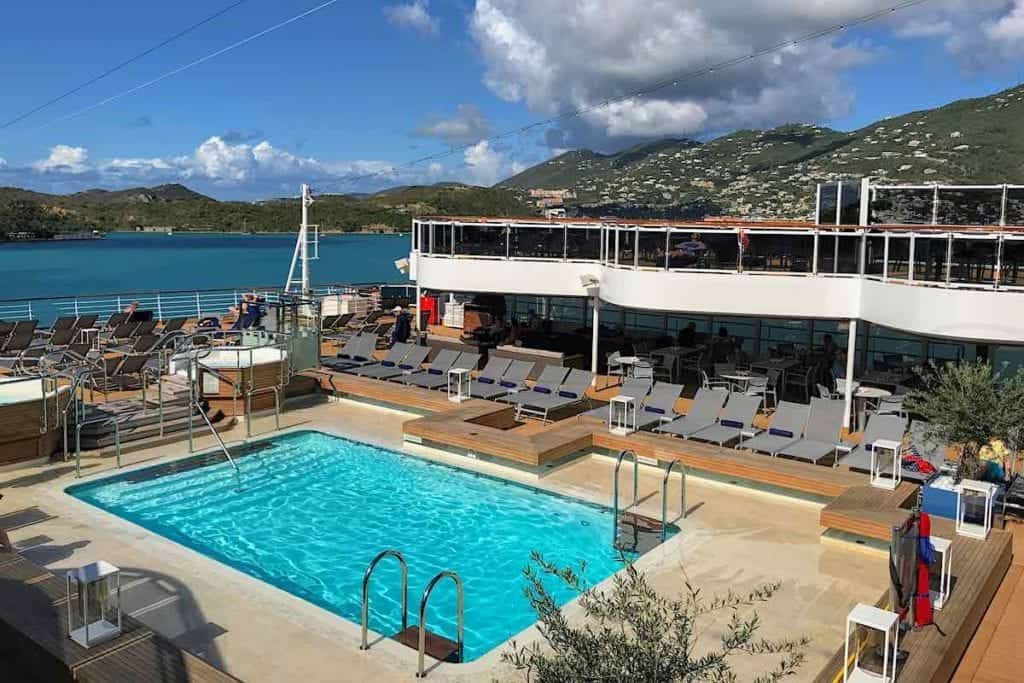 Nieuw Statendam Extended Verandah Stateroom Review
In case you missed it, in a recent article I wrote about my first impression of Nieuw Statendam, sister ship to Koningsdam. It's a quick walk-through of my discoveries on embarkation day. Take a peek at the beautiful main dining room and find out about the new Holland America Club Orange add-on amenity.
My stateroom was #4199, category VB on deck 4. At first glance, the stateroom itself is really a typical Nieuw Statendam standard verandah balcony stateroom. There are two lower beds that convert to a queen-size bed.
I really like the small sitting area, especially for room service breakfast. The bathroom has a shower and no tub. I love that there's a minibar/refrigerator. If you include the extended verandah, the entire stateroom is about 405 sq. ft.
Stateroom Conveniences
A really great feature that's making the rounds on new ships is to have a USB port and electric plug next to your bed. Plenty of plug-ins for all your and your roommate's electronics. No more having to charge your phone across the room at the desk.
The mattress of course was brand new and a little on the firm side. The blanket was not overly heavy or weighty. I appreciated the fact that I didn't have to chill the room like a meat locker in order to not roast all night.
For pillows, two were soft like a down-type pillow. The other two were more firm, good for side sleepers. I ended up with the down pillow underneath the foam one and it was a good height.
It took me a couple of minutes to track down the hair dryer. It's a "real" one – you don't have to keep your finger pressed on "On" to make it work. Also, instead of Holland America's older wall-mounted magnifying mirror in the bathroom, now there's a portable one in the drawer.
This is a real pet-peeve of mine. You book a really nice cruise (on another cruise line!) only to open the closet and find that the hangers don't fully leave the closet rod. Drives me nuts. Holland America has the real deal. Thank you.
One of the nicest touches on many newer Holland America ships is this entertainment center of sorts. There's the minibar and safe, plus in the cabinet to the left are two wine and two champagne flutes. Handy if you bring your own bottle of wine.
Unlike many other cruise lines, Holland America refills the ice bucket twice a day. The fruit basket below has an order form so you can request your favorite fruit to be delivered.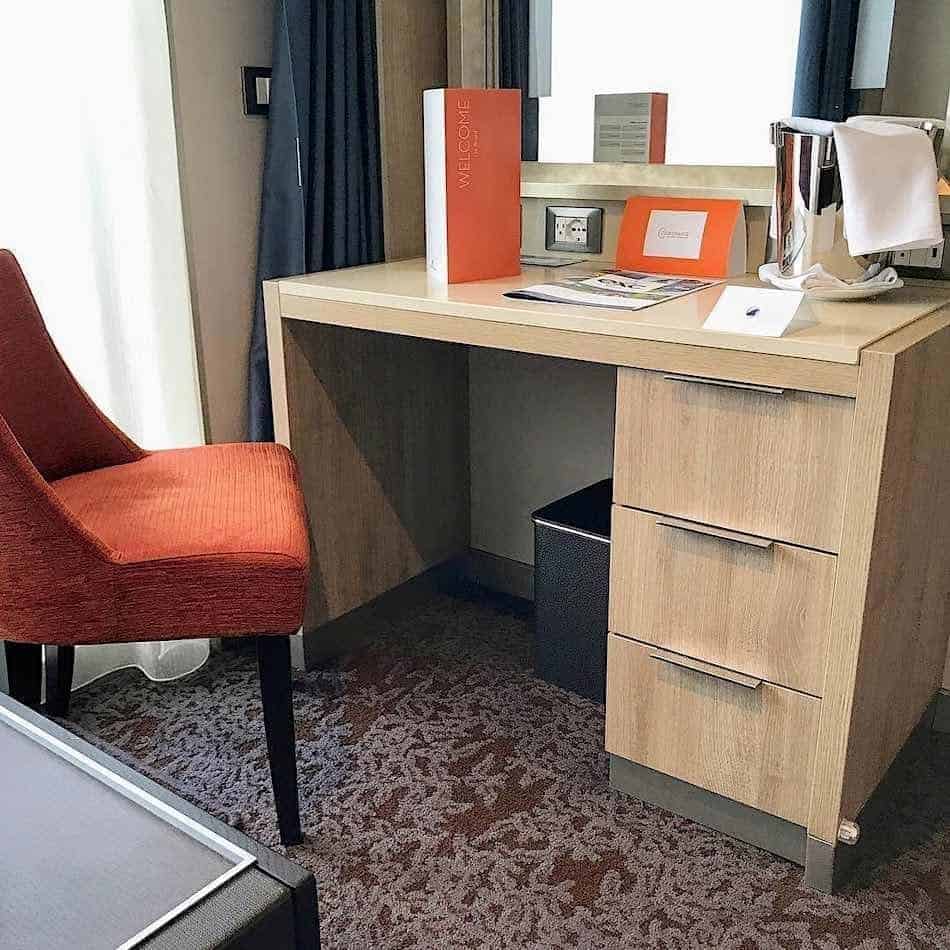 My office away from home in my stateroom. Comfortable chair and writing area. I can keep my laptop plugged in and charging while I work.
Bathroom Review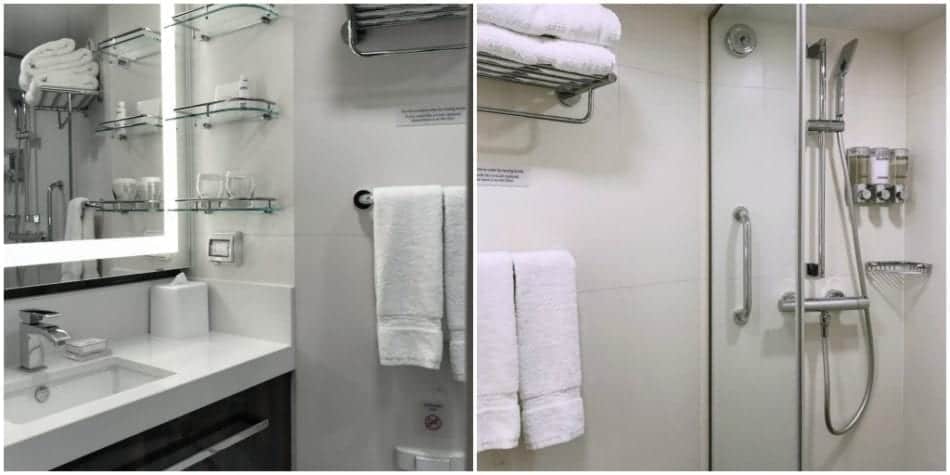 No complaints about the bathroom. A little more storage space under the sink would have been nice if I had to share the bathroom with a roommate. My new hanging toiletry bag on a door hook, held everything it was fine.
The hand-held shower head and height adjustment are so convenient and plenty of water pressure to rinse out conditioner in a minute or two. The hair and bath products are Elemis. While they're good products, they're just not my favorite for my hair.
I liked the real bars of soap for the sink and shower plus you don't have to ask your room attendant for them.
Extended Balcony, aka "Extended Veranda"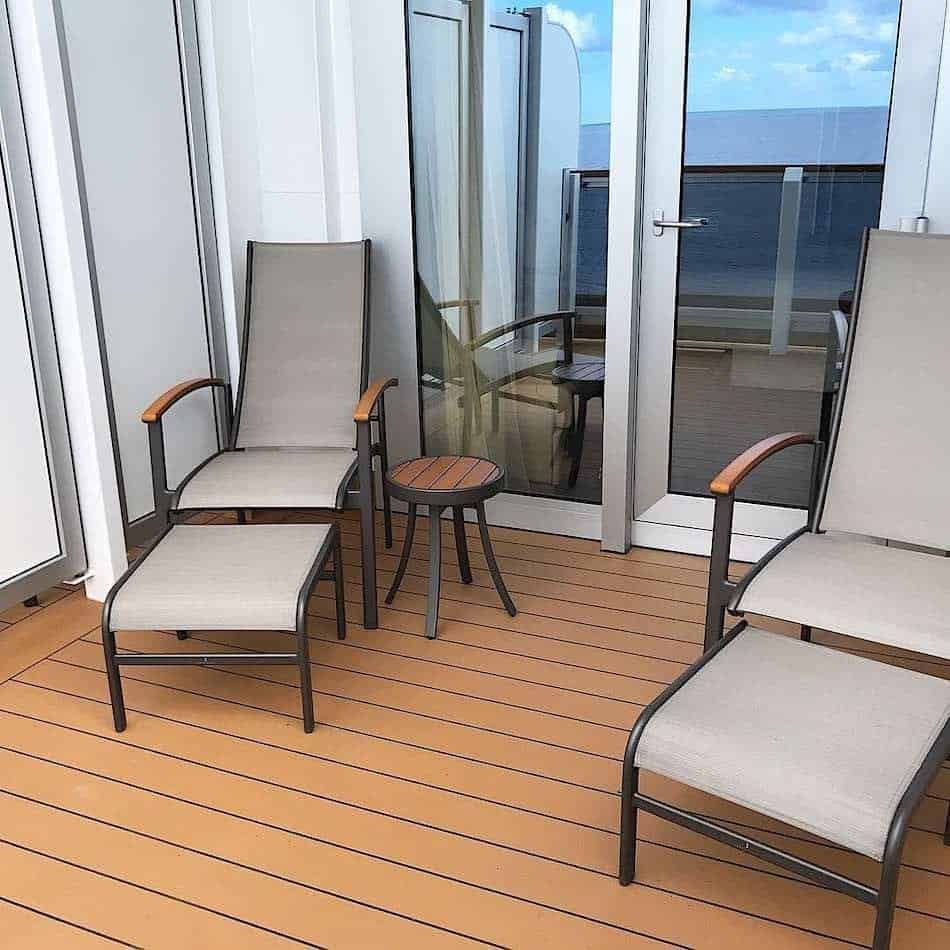 I'm standing with my back at the railing, looking in towards my stateroom. You can get an idea about the extra space.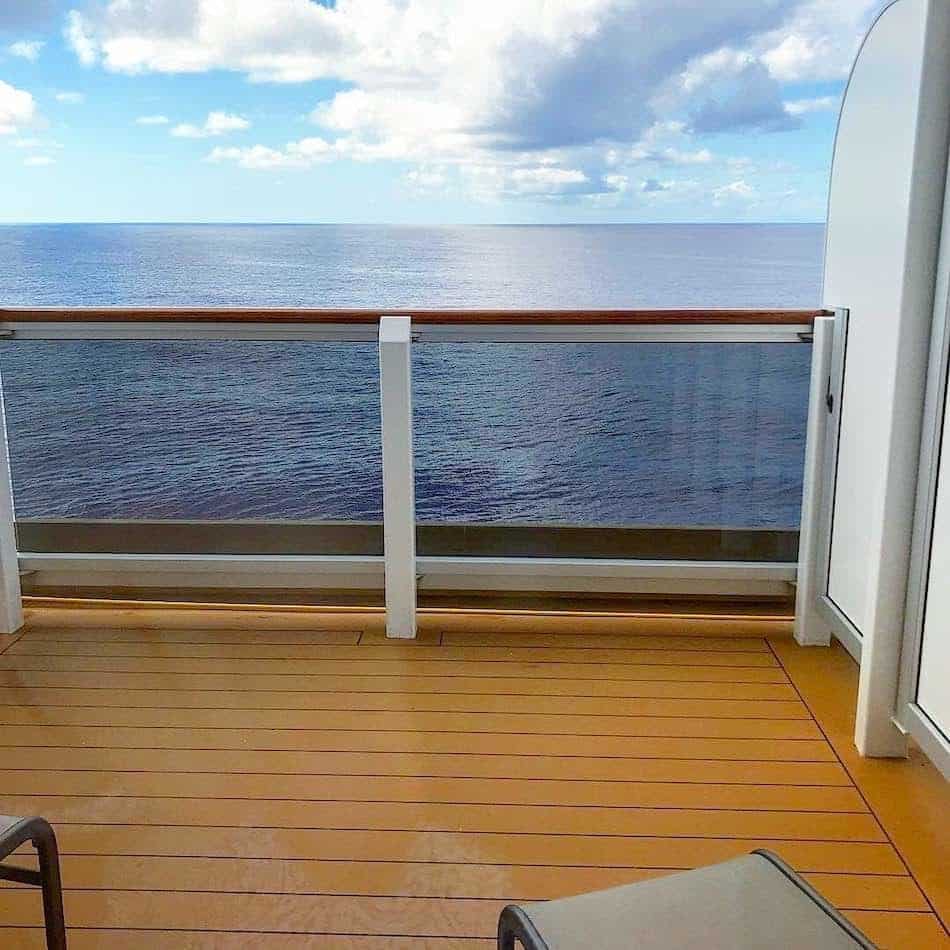 The other angle. Gives a little more perspective. Will you really use the extra balcony space? If you are traveling with others, then it's a great place to gather for cocktails or a sail-away party.
FINALLY, here's how the extended balcony stateroom looks from outside the ship. As you can see, the extended verandah sticks out from under all the above-decks verandahs. In other words, be sure to have clothes on when you go outside. It's easy to forget you're in plain sight of everyone else on their balcony.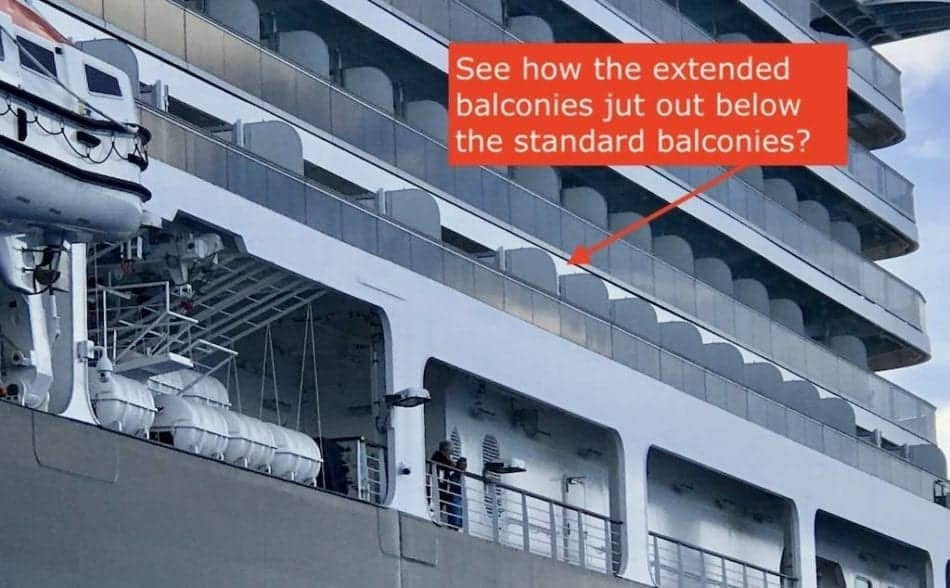 Bottom Line
If you'd like more space on your Nieuw Statendam verandah without buying a suite, an extended verandah balcony stateroom is for you. In all honesty, it took me a couple of days to get used to standing at the rail. I didn't like the idea that people on the decks above could see me.
By the third day, I began to enjoy the spaciousness. Stretched out on the deck chair under the overhang, no one could see me lounging about. I felt as though I was in a suite.
Even at the rail at sail-away, I became more comfortable as the cruise continued. If rates were close to that of the standard verandah stateroom or if it's in your price range, I'd suggest the extended verandah instead of the standard balcony. It did make a difference and it was really nice to have that extra room after all.
I'm the editor and creator of CruiseMaven.com, a solo traveler cruising the world on waves and wheels, collecting recipes along the way.  I hope my articles and photos entertain, advise and inspire you to travel the world without flying.  Take a breath…stop for a local meal and a glass of wine along the way.