More Scarlet Lady Updates
For those of us excited about the debut of adults-only Virgin Voyages' Scarlet Lady next year, there's more great news. The new cruise line announced yesterday that all of their cruise ships will be gratuity-free. No automatic service fee (i.e. tips) will be added to your onboard account. Gratuities will be rolled into the voyage fare.
Also covered in the cruise fare are all eateries, group fitness classes and basic beverages. Of course if someone delivers outstanding service, you can tip at your discretion.
Scarlet Lady cabins
Today's huge announcement is a reveal of the non-suite staterooms. Last week we saw the renderings of eclectic and innovative Scarlet Lady RockStar suites. Today's glimpse is of the Scarlet Lady Sailor (passenger) cabin, called "Sea Cabins."
Another industry first, these slightly angular-shaped cabins will feature what Virgin calls "flexible furnishings", conducive for socializing and relaxing, not just for sleeping. Sea cabins will have minimalist-designed bathrooms for a more spacious feel. Eco-modes will control air conditioning, lighting and even  the curtains will close to adjust to an eco-saving mode when a Sailor steps out of the cabin.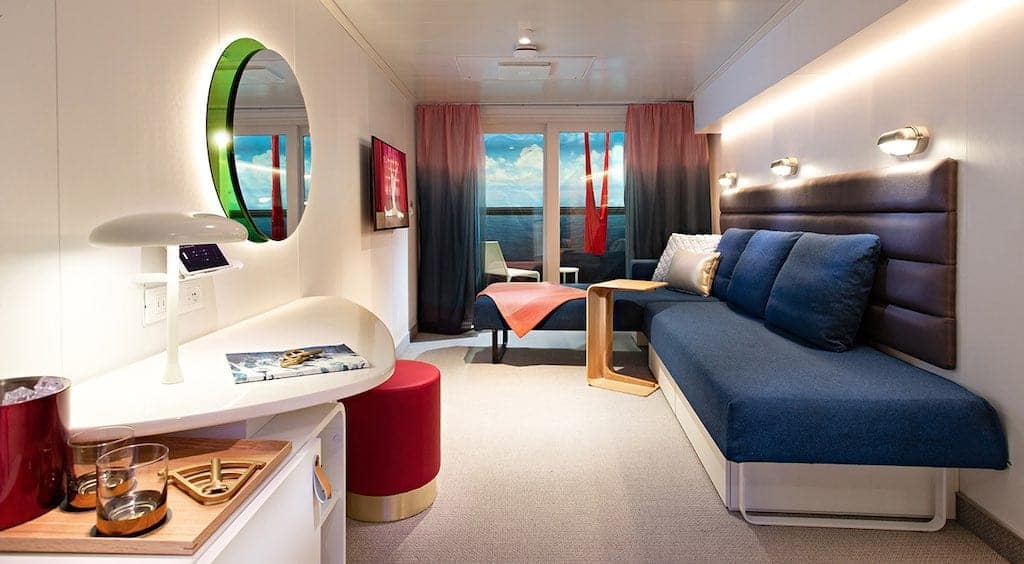 Scarlet Lady will have several cabin categories – 93 percent of the 1,330 cabins have an ocean view and 86 percent with a Sea Terrace.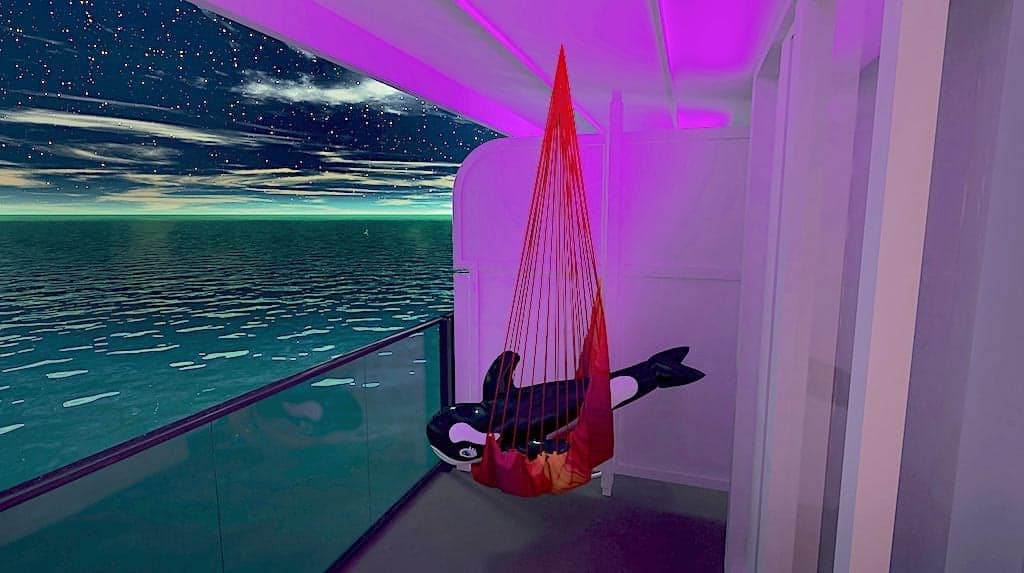 "We didn't want to create the same old box of a bedroom that our Sailors would only use to lay their head down at night, we wanted to reshape the entire cabin experience," said Dee Cooper, senior vice president of design for Virgin Voyages. "Whether it's sleeping, socializing or stargazing they desire, our cabins will transform to match our Sailors' whims. Stylish yet somehow still informal, these cabins change the face of modern sea travel."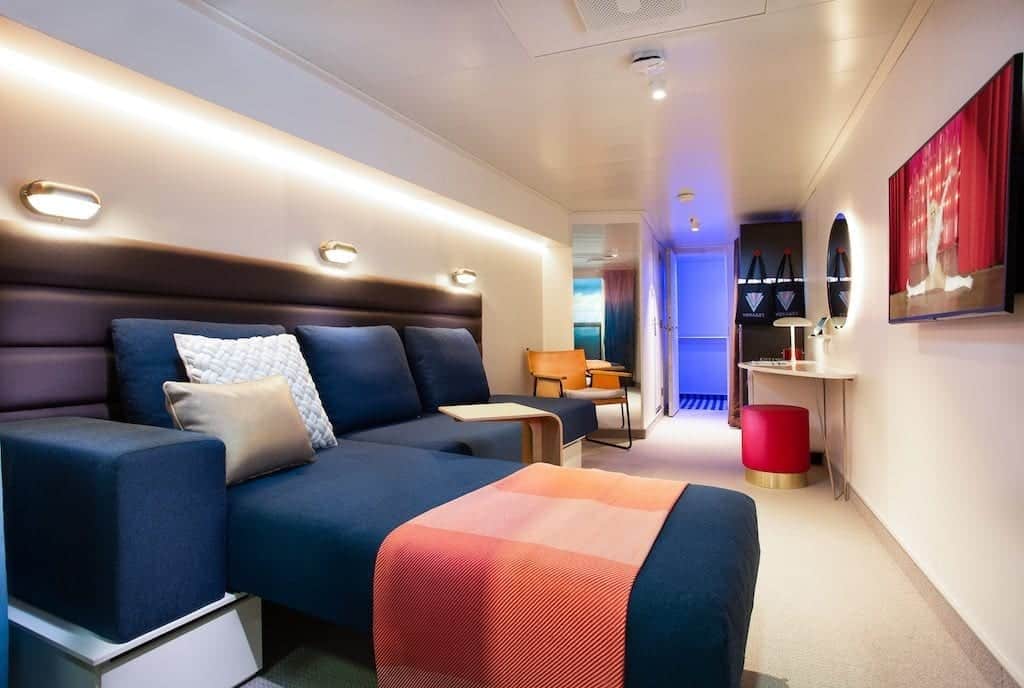 An element found in other Virgin ventures, Scarlet Lady will have mood lighting in each cabin. For example, the colored lighting will automatically adjust to the time of day, based on where the ship is in the world. Caribbean cruises will feature lighting in shades of the blue seas during the day and morph into the gold to purple sunset colors as the day ends.
Almost all cabins feature modular SeaBeds which transition from two twins during the day to a queen-size bed at night. In-room entertainment includes a 43″ 4K flat-screen HDTV, mini bar, a glam/desk area plus flexible closet and storage spaces.
All terraces aboard Scarlet Lady will have custom-designed hammocks, handwoven by artisans from Yellow Leaf, a social organization in Thailand that encourages women's empowerment and community transformation.
Cabin Categories
Scarlet Lady cabins will come in all shapes and sizes. Among the cabin designs with either a terrace or ocean view are the XL Sea Terrace cabins, Sea Terrace cabins and Sea View cabins. The interior cabins are called Insider cabins, Social Insider cabins and Solo Insider cabins. The Social Insider cabins can sleep up to four in a chalet-style bunk. Solo Insider cabins are specially priced for the solo traveler.
What do you think…will Virgin Voyages be a game-changer for the cruise industry? Time will tell.
I'm the editor and creator of CruiseMaven.com, a solo traveler cruising the world on waves and wheels, collecting recipes along the way.  I hope my articles and photos entertain, advise and inspire you to travel the world without flying.  Take a breath…stop for a local meal and a glass of wine along the way.