If you're thinking about a little longer cruise from Galveston, this 8-day Carnival Dream cruise to the Bahamas might be perfect for you.
With my husband's 40th birthday around the corner and the pandemic cruise in the rear view mirror, an October birthday cruise seemed like the best way to celebrate.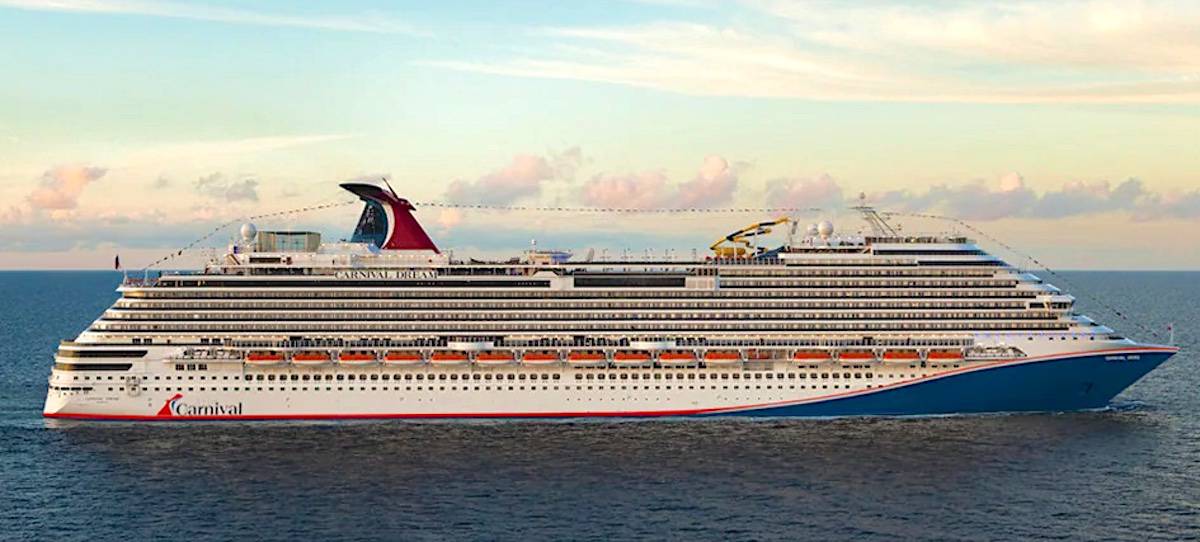 Carnival Dream Cruise from Galveston Review
Carnival is my husband's favorite cruise line and he regularly gets casino offers for free inside cabins. After browsing through the various offers, we identified a Carnival Dream cruise from Galveston as the perfect sailing.
Even after paying to upgrade to a balcony, the price was still low, as was the price of our flights to Houston.
I was also intrigued by the itinerary. Not many cruises from Texas go to the Bahamas and this itinerary included two ports we'd never been to: Freeport and Half Moon Cay. Plus, it was an eight-day itinerary, instead of a one-week cruise. It might not seem like a lot, but I'll always take an extra day of vacation!
Port Visits Included:
Freeport (Port Lucaya)
Half Moon Cay (Holland America's private island)
Nassau (Capital city of the Bahamas)
Fast Facts About Carnival Dream
Year built: 2009
Year refurbished: 2020
Tonnage: 130,000
Decks: 14
Passengers at double occupancy: 3,646
Crew: 1,367
Total staterooms: 1,823 staterooms
READ NEXT: Do I need a passport for a cruise to the Bahamas?
Welcome Aboard Carnival Cruise Line's Carnival Dream
Embarkation at the port of Galveston is slow. There are no separate lines here for different loyalty levels, or even for those staying in suites.
From there, it was about 10 to 15 minutes to go through security, check-in at the desk and get on the ship. In this piece of the check-in process, there is a separate line for those in suites, but not for different loyalty levels.
The silver lining to the long wait is that by the time you get through it all, the ship is open for boarding.
Carnival Dream First Impressions
Carnival isn't kidding when it calls its ships the "fun ships." Despite only being early October, Carnival Dream was decked out for Halloween, complete with a giant statue of a pumpkin-headed pirate captain (eye patch and all) at his wheel in the atrium.
Throughout the sailing, Carnival embraced the Halloween spirit with a pumpkin scavenger hunt and costume party. And guests were just as enthusiastic, with plenty of Halloween-themed door decorations. It made walking up and down the halls much less boring than usual!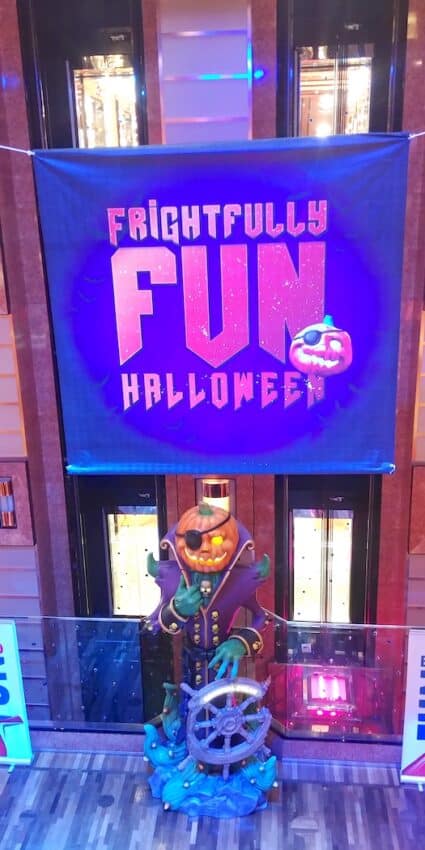 If cruise lines have personalities, Carnival is a high extrovert. Crew are friendly and ready to chat. Passengers want to get to know each other. And everyone is on board to have fun. It's one of the things I love the most about cruising on Carnival. And Dream didn't disappoint.
Crew quickly knew my name and always asked about my day. Chatting with strangers was a daily occurrence.
Deck parties are something else on a Carnival cruise ship and our cruise directory Deon had parties planned for every night of the cruise.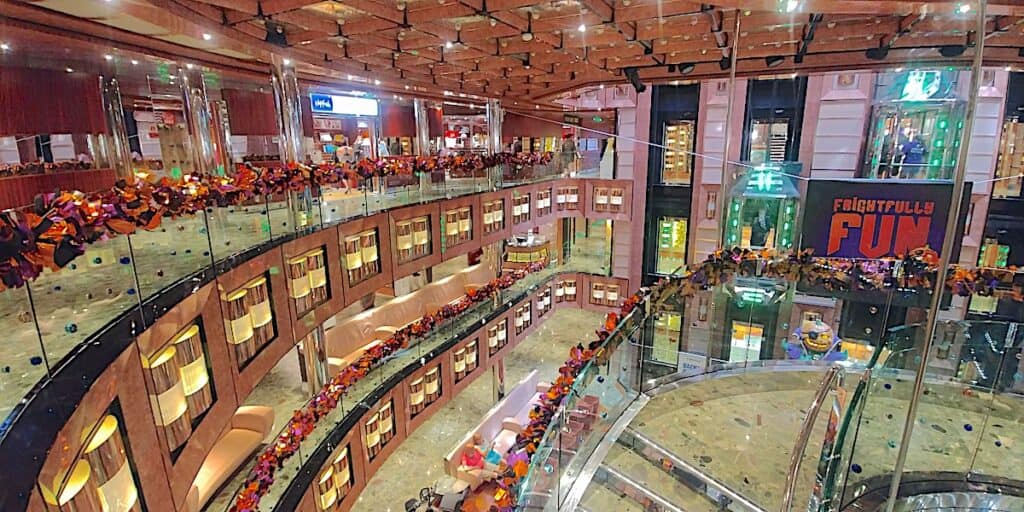 But it wasn't all the same Carnival I knew before the pandemic. On this Carnival Dream cruise from Galveston, it didn't take long before I noticed cost cutting measures. There was a level of mediocrity I've never experienced before, particularly in the dining room. Menus were small. Food was bland. Entertainment was just okay.
While I ended up having a great time – it was a cruise, after all! – I walked away from Carnival Dream thinking, "Wow, that was meh."
Carnival Dream Standard Balcony Stateroom
My standard balcony cabin on Carnival Dream was comfortable. Though as someone who always has a computer with her, I would have liked just a bit more desk space. But it had a couch, which is something I always appreciate having in a cruise cabin.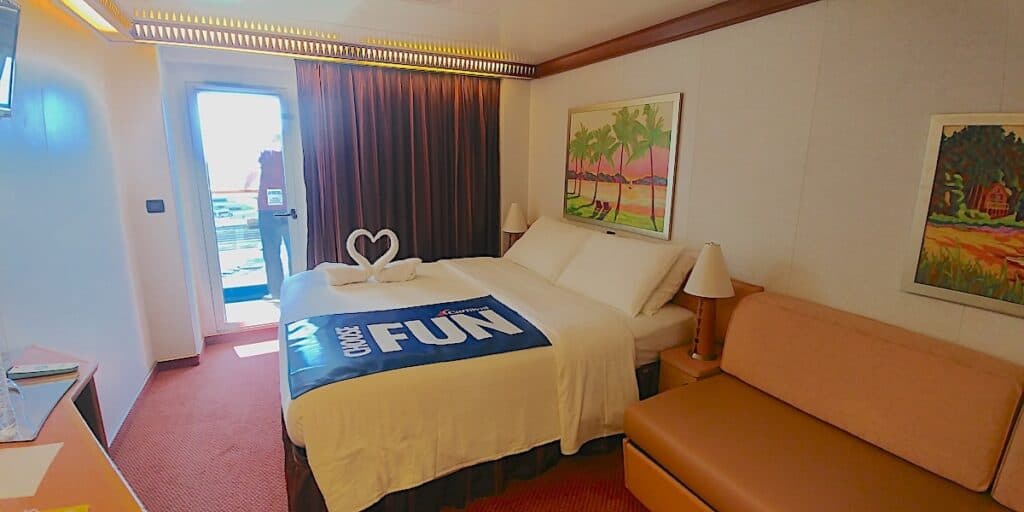 Located on Deck 8, our room (8379) had a queen-sized bed with a nightstand (with lamp) on either side, the aforementioned couch and a small oval table.
Underneath the desk area is a cabinet with a couple of shelves, the mini-fridge, and another cabinet with a few narrow shelves.
As with all Carnival ships, the closet is divided into three sections, two with space for hanging clothes and the third with shelves. I love that Carnival didn't waste a shelf here by placing the safe there.
On Carnival Dream, the safe is on a shelf near the mini-fridge. There are lots of hangers, but because we always pack too much clothing we had to ask for extras.
The balcony felt small, but we hardly used it except to step out onto for sailaways and to dry our wet bathing suits.
Generally speaking, I like Carnival bathrooms, other than the clingy plastic shower curtains (though this one didn't cling!).
There's always plenty of glass shelf space for all of our various bathroom amenities. While there's not really enough room for two people to be in there at the same time, it doesn't feel too terribly cramped.
Inside the shower stall you'll find a dispenser with shampoo and shower gel. If you're at all picky about the products you use, bring your own.
Changes with Stateroom Attendant Service
One of the many cost-cutting changes I discovered onboard Dream was a change in how often the room stewards will service your cabin. Prior to the pandemic, the line gave people a choice of either morning, night or both. On Carnival Dream, we could only choose morning or night.
We chose morning, which meant no turn down and an ice bucket that was mostly water by the time I needed it in the evening.
One signature of Carnival stateroom service that hasn't changed are the fun towel animals your room steward leaves on the bed each day. We always carefully place our towel animals along the edge of our couch and thankfully our room steward left them there.
By the end of the cruise, we had a menagerie that including an elephant, dinosaur, rhinoceros, bunny rabbit, swans, and more.
My biggest complaint about our room was the lack of outlets. I know it's an older ship, but seriously, one U.S.-style outlet? And no USB plugins? That's not nearly enough for the modern cruiser, and certainly not for this digital nomad!
And it's not like Carnival Dream hasn't been refurbished. The most recent was in 2020. That should have been one of the changes made.
To be fair, there was a European-style outlet as well, but it's been so long since I've had to rely on a converter that I hadn't brought one.
Dining on Carnival Dream
The dining room is where Carnival's cost-cutting changes are most evident. Fewer items on the menu. No side dishes (the line used to have three to four rotating side dishes every night). No "Port of Call" options to represent the destinations on the itinerary.
And, to be blunt, what options there were, weren't great. They weren't bad per se, but they just weren't great. They were average. A solid 3 out of 5.
With that said, my husband loved every one of the Rare Finds appetizers he ordered that included braised rabbit, frog legs and alligator beignets.
I quickly discovered, however, that I could have any of the salads turned into an entrée-sized portion and that quickly became my go-to for the cruise.
And if there wasn't a salad I liked, they were more than happy to make a large house salad with my choice of protein. After that, I loved every meal I had in the main dining room.
Insider Tip: Vegetarians I know who cruise Carnival rave about the Indian entrees in the main dining rooms. I'm not a fan of Indian cuisine, but if that's your thing, you most likely won't be disappointed.
You know what else won't disappoint? Carnival's famous chocolate melting cake. If you've never had one (and you like chocolate) you must order it at least once! Warm, rich and gooey, and topped off with vanilla ice cream. It's to die for!
Insider Tip: Not into what's on the dessert menu? Carnival has a secret banana split dessert for people in the know. You just have to ask for it.
Our sailing had four seadays, so for lunch we usually had the Seaday Brunch, a Carnival signature. The menu has both breakfast and lunch options.
The first day, I ordered the Signature Tower, which comes with bagels and two choices of ahi tuna, egg or shrimp salad, plus smoked salmon and gravlax. I chose the smoked salmon and ahi tuna salad.
Apparently, the word "salad" doesn't mean what you think it does when preceded by "ahi tuna" as I got tuna tartare. My favorite Seaday brunch came straight from the kid's menu: mozzarella sticks and chicken nuggets!
Carnival Dream Dining Room Service
If the food in the main dining rooms isn't anything to write home about, the service was excellent. Our main dining room waiter Bojan (we sat in the same section of Crimson every night) was one of the best I've ever had.
Within two days, he always had a Coke Zero waiting for me, knew I don't like pepper with my food, and made sure I got two pats of butter instead of one.
Insider Tip: Even though Carnival Cruise Line carries Pepsi products onboard, they do have Coke Zero. You just have to ask for it by name.
Main dining on Carnival Dream is divided between two restaurants (Crimson and Scarlet). One is for those with set seating. The other is for those who do Your Time Dining.
If you show up early enough, you can walk up and get seated. Otherwise, you'll need to use your app to check in and you'll be alerted when your table is ready. We tend to eat early but did use the app. Our wait was never longer than five minutes.
By far my best meal onboard Carnival Dream was in the steakhouse, something I don't say too often since I don't eat red meat.
I started with a young lettuce salad that came with a yogurt dressing. Delish! For my main course, I had a Dover Sole that was excellent, then upped the indulgence level with a side of yummy mac n' cheese.
My husband had the grilled lamb chops, that came with three pieces of lamb that he said were perfectly cooked.
If you're doing to eat at the steakhouse, which costs $38 per person, be sure to have a small lunch. You will leave stuffed!
More Dining Options on Carnival Dream
There are a handful of other restaurants onboard Carnival Dream including BlueIguana Cantina, Guy's Burger Joint, Bonsai Sushi (extra cost), Pizzeria del Capitano and Guy's Pig & Anchor Smokehouse.
Of these, I only tried out Guy's Pig & Anchor Smokehouse, and then only to taste the collard greens with turkey. But judging from the piled high plates of savory smoked meats, people were loving the BBQ here. It was a cruise from Galveston, after all.
Insider Tip: If you prefer bottled water to tap water, pre-order it! It's much less expensive than buying it onboard and all Carnival Dream cabins have a mini-fridge.
One quick note. On this Carnival Dream cruise from Galveston, as on many cruise lines today, menus are mostly digital in all venues. You access the menu (whether in a restaurant or at a bar) by scanning a QR code with your phone. For those who don't have their phones with them or prefer a paper menu, you can ask for one.
Entertainment and Onboard Activities on Carnival Dream
With the exception of the comedy club, entertainment on Carnival Dream was another disappointment for me.
Carnival is lagging behind other cruise lines when it comes to entertainment. The line is sticking with the traditional song-and-dance revues. As with the food onboard, they're not bad. They're just not great.
For someone who's cruised a lot, they're not interesting. (Out of the three revue shows, I'd already seen two of them.)
And on Carnival Dream, for some reason, all three of the revue shows were stacked up in the first few days, leaving only guest entertainers and onboard games shows in the main theater for the rest of the cruise.
Best and Worst Entertainment, in My Opinion
I needed to remind myself that this Carnival Dream cruise was from Galveston, Texas. Thus leading to what I felt was the worst performance for me was a Guinness record holding rope trick cowboy who was several years past his prime. He readily admitted he was out of practice and often needed a second or third attempt to get a trick right.
To be fair, the mostly Texas-based crowd seemed to be loving it. But this Jersey girl couldn't get out of the theater fast enough.
My favorite entertainment was the comedy club that we went to any night there was standup scheduled. The comics didn't disappoint, though one of the acts wasn't a great fit for the Texas, Alabama, and Oklahoma crowd who often didn't get his jokes.
Insider Tip: Deck 5 is your friend. It's the only deck, other than cabin decks and top outdoor decks that you can walk all the way forward or all the way back.
There's lots to do during the day. My husband and I are trivia hounds so we hit every session except some of the themed ones we knew nothing about (like a "The Office" themed session).
Our favorites were the music trivias led by a young Mexican guy from the entertainment team whose antics eclipsed the actual trivia and were a total hoot.
One of the more popular activities was the morning arts and crafts. Every table in Ocean Plaza was taken during these morning sessions.
More Daily Games
Flash forward most of the day and the deck parties on Carnival Dream, usually around 10 p.m. were always enthusiastically attended. Most nights there was a different theme (80s, white party, Halloween, etc.) and people were super into it.
Other very popular activities on Dream included Bingo, Deal or No Deal, pool games and competitions, and gaming in the casino. And, of course, you'll find the usual art seminars and auctions, wellness "seminars" (really, barely concealed sales pitches).
Who's Onboard Departing from Galveston
The vast majority of people sailing on Carnival Dream from Galveston are from Texas. Another large percentage were from states like Oklahoma and Arkansas.
I'd venture a guess that 90% of the people onboard drove to the port, even if the drive took them seven to eight hours!
Our sailing happened to coincide with a school holiday so there were some families onboard. But there were so few children, the children's program didn't operate.
Passengers on Carnival Dream are all ages, from young newlyweds to couples celebrating their 50th anniversary. As mentioned above, Carnival attracts an extroverted crowd and everyone is friendly and up for a chat whether you're in the buffet, elevator or sharing a table in the casino.
Final Thoughts on my Carnival Dream Cruise from Galveston
A cruise is what you make of it and overall, I had a great time on my Carnival Dream cruise. It was a perfect mix of fun, relaxation, and work. And, even though I wasn't thrilled with the food, once I started having salads every night, I was more than happy with my meals.
The service on a Carnival ship is always some of the friendliest at sea, and I loved getting to know our waiter and other crew members. Comedy was always fun and when I wasn't playing trivia, I was working, at the spa or taking a nap! What's to complain about?!
Insider Tip: If you pre-purchase any spa services, the amount you paid will show up as a credit on your account and you'll be charged the full amount at the time of service.
A note for others, like me, who need strong Internet when traveling. For some reason, the signal on Carnival Dream was never strong enough for Wi-Fi calling but I was able to stream Netflix at the gym.
Disclosure: I paid a casino fare for my Carnival Dream cruise, but was provided one free unlimited Wi-Fi package. All opinions are my own and reflect my cruise experience and observations.
Dori Saltzman is a content and copy writer who previously spent 15 years covering the travel and cruise industries at several travel trade publications and at CruiseCritic.com. You can find out more about her at dorisaltzman.com