For many cruisers, a stop at this beautiful private island means a day to kick-back at the beach.  For me, Half Moon Cay means a cruise excursion to go horseback riding in the ocean.
Half Moon Cay is Holland America's private island in the Bahamas.  It's located halfway between Cat Island and Eleuthra, about 100 miles southeast of Nassau.  While Holland America "owns" Half Moon Cay, occasionally other Carnival Corporation ships stop there, too.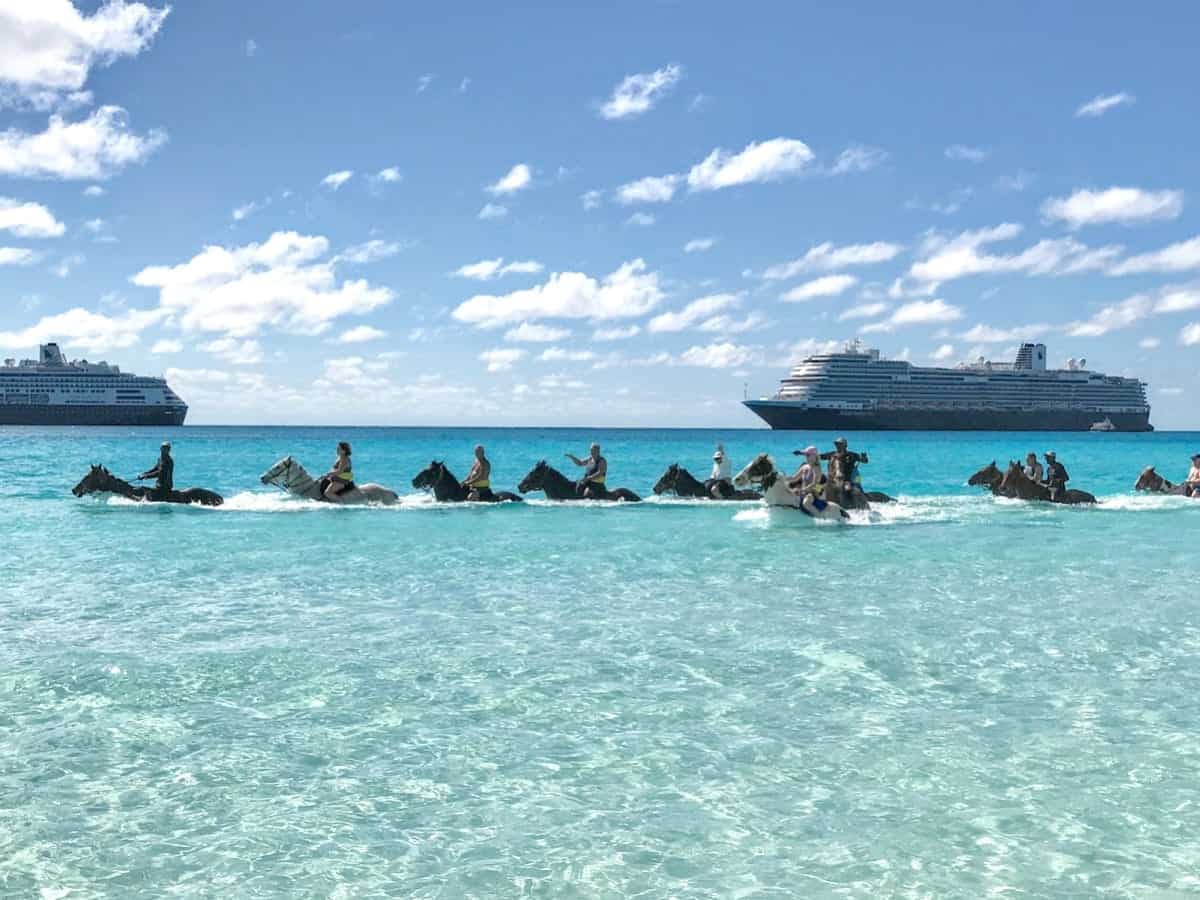 My recent cruise aboard Holland America's Nieuw Statendam gave me the chance to do it all over again.  It had been a few years since I was last at Half Moon Cay and I wondered if the island had changed.
Despite hurricanes and storms, nothing much had changed.  It looked the same.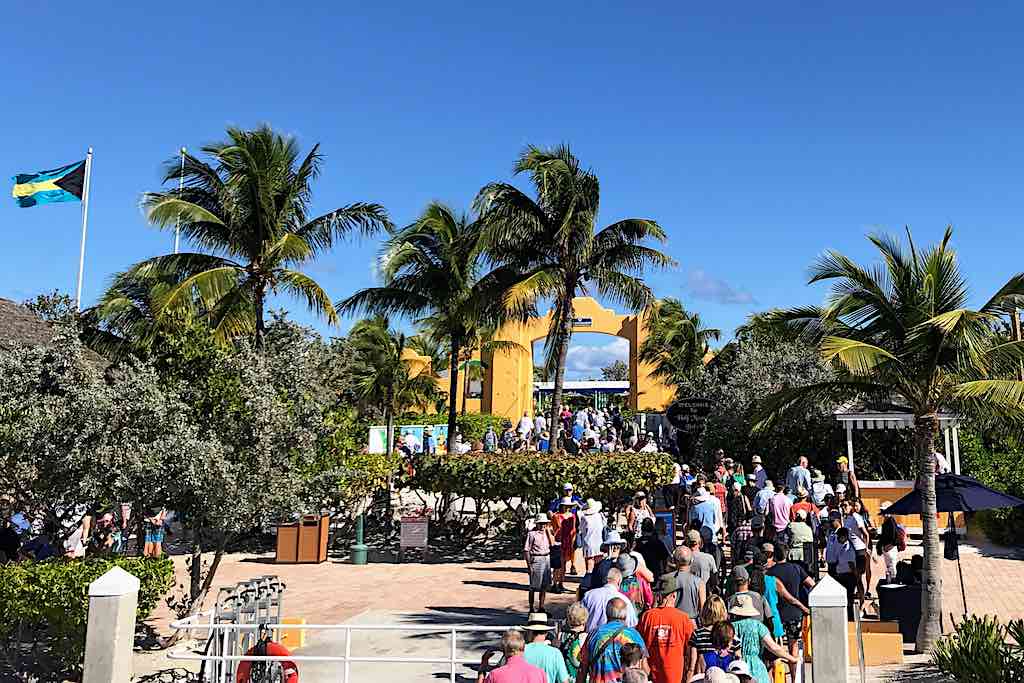 How to get to Half Moon Cay
It's a 10-minute ferry boat ride from your ship to the island dock.  After you exit the ferry, walk ahead to the island entrance.  Once you're through the archway, on your left you'll see a yellow building marked, "Information".  Go there to check in for your shore excursion.  You'll also have to sign a waiver.
I left the ship at 10:45 AM for my 11:30am tour.  Sometimes you have to wait a bit for the tender to fill up, though once you're underway, it's quick. I didn't want to take a chance on being late.
What to expect during your horseback riding tour
Everyone gathers nearby to wait for the tram to get to the stable.  It's a fun 5-minute tram ride and you'll get to see a little of the island, too.  I didn't know it but it's a very popular place for bird-watching.
At Pegasus Ranch, the "wranglers" greet and escort everyone to a shaded area.  Once everyone is seated, the ranch manager Richie will come over, tell a few jokes, talk about what you'll do and begin the safety briefing.
After that, Richie points out the lockers and how they work.  There were plenty of available lockers.  The locker key is on a curly-cord bracelet so it stays on you even in the water.  Next, he fits you for your helmet.  The first one I chose was way too big.  When Richie came over and saw it didn't fit, he found a smaller one and did all the adjustments for me.
Next, we all lined up under the shade.  As the stable hands led out the horses, Richie decided who would ride a particular horse.  Then one by one, we walked over and mounted our steed.  Then we're off and…walking.  No running, cantering or galloping allowed.
As we walk our horses, the dirt path rises about 60-feet above sea level.  Just before the descent, the ocean comes into view.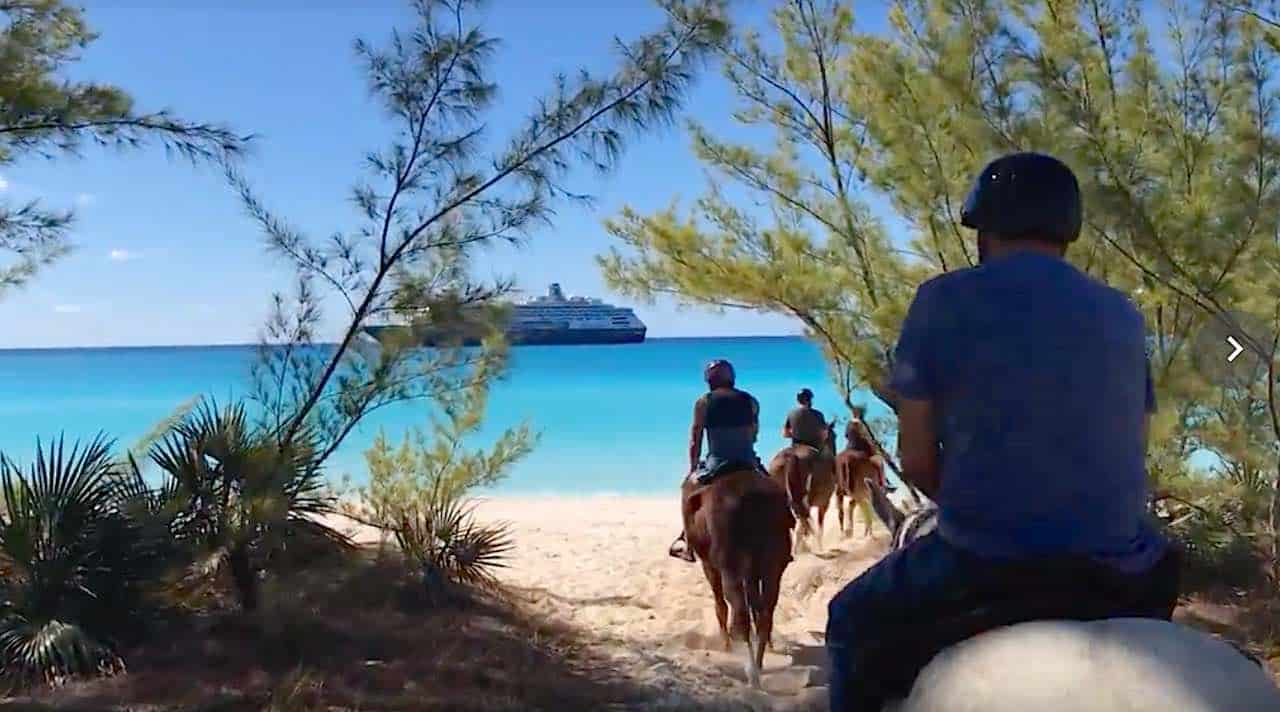 After a five minute walk along the beach, our trail ride comes to an end.  We dismount and are instructed to change into our bathing suits if we wanted to and to meet out front when every is locked up, including our shoes.  No shoes, not even water shoes, are allowed.
Taking the horses for a swim
While we waited for our horses to be prepared for our "swim", Richie offered us ice-cold sodas or bottled water.   A special pad and halter designed for use in the ocean replaced the leather saddle.  No pommel to grab!  I was fine but there were a couple of first-timers that had never been on a horse.  The guy in front of me was one of them.
As soon as we were all ready to head to the ocean, we were off.  The running came later!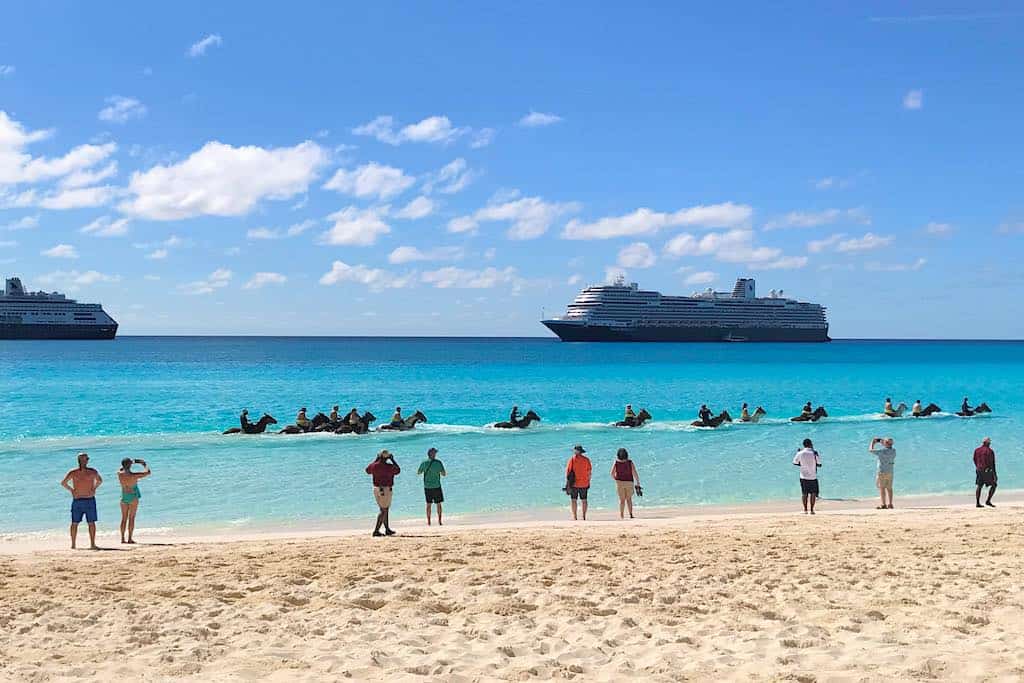 Slowly we entered the water.  NOTE:  For some reason, the horses tend to poop when they get in the water.  Just a suggestion…look out for floaters.
This part of the horseback riding experience goes way too fast.  Within maybe five minutes of our going one direction, the wranglers tell us to turn around and head back.  The horses know they're heading back and want to get to the stable asap.  Not that they can gallop, but it's definitely a faster pace.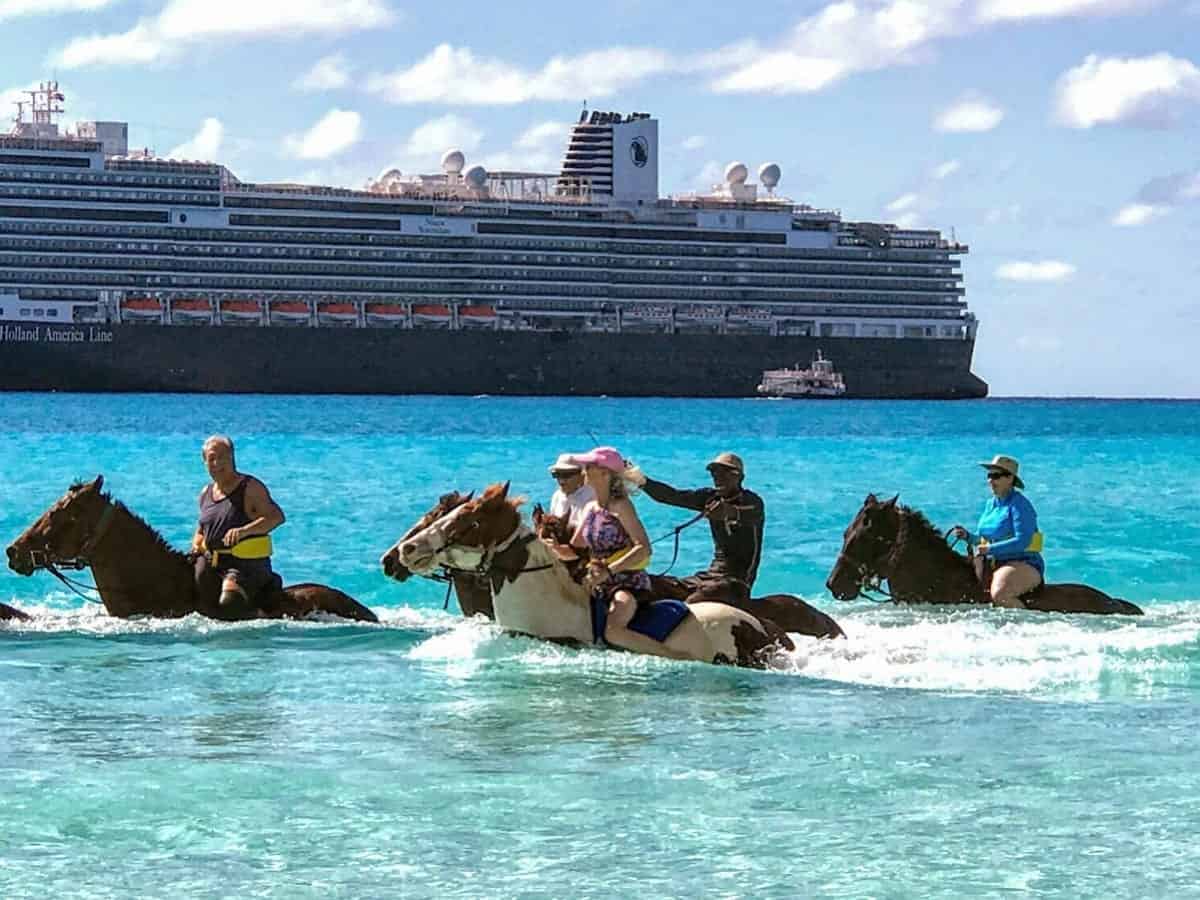 It's an exhilarating and exciting experience, for sure.  I love the freedom of just being on a horse and letting him "go".  I've overheard newbies say that it was a highlight of their cruise.
As you and your horse slowly transition from sea to sand, wait until someone comes by to help you to dismount.  Then it's back to retrieve your belongings from the locker and head to the tram.
Quick interview with Richie
Take a listen to Richie as he briefly talks about the behind the scenes events for the horses and life at the ranch.
In a nutshell: Half Moon Cay horseback riding cruise excursion details
Here's what you need to know…plus some insider advice.  Keep in mind this entire shore excursion will take just under two hours.
If you take the late morning tour, you won't have much time for the beach barbecue.
Wear jeans or long pants for the trail ride.  I suggest dark pants.  The dye from the leather rubbed off on my khakis.
You must wear closed-toe shoes.  Despite knowing better, a guy in my group wore sandals.  He wasn't allowed to ride.
Bring sunscreen.
Put your swimsuit on underneath your riding clothes.
If you plan to go to the beach afterwards, bring a towel.
If you have a waterproof fanny pack, you can keep it on in the water.  No handbags, backpacks etc.
You can give your iPhone to one of the shoreside wranglers or an observer to take your photo.  Be polite when asking.
You don't need to bring water.  Everyone gets a bottle or a soda.
Tips are welcome.  Simply hand it to Richie after your ride.
If you've never ridden a horse, tell Richie.  He'll make sure you get the best horse for a beginner.
That's it!  Get ready for one of the best shore excursions ever.  If you've already tried this tour, please share your experience in comments!

Disclosure:  There's an affiliate link in this post.  If you click on it and purchase the item, I'll receive a few cents.  I actually own the waterproof fanny pack and it works!

I'm the editor and creator of CruiseMaven.com, a solo traveler cruising the world on waves and wheels, collecting recipes along the way.  I hope my articles and photos entertain, advise and inspire you to travel the world without flying.  Take a breath…stop for a local meal and a glass of wine along the way.