With winter's ebb and spring's impending warmth, stately old maple trees begin their annual ritual. All across eastern Canada, when the clear-colored sap of the maple tree begins to run, it signals the start of the anxiously awaited "maple sugaring" season.
It's the beginning of the season to cruise to Canada.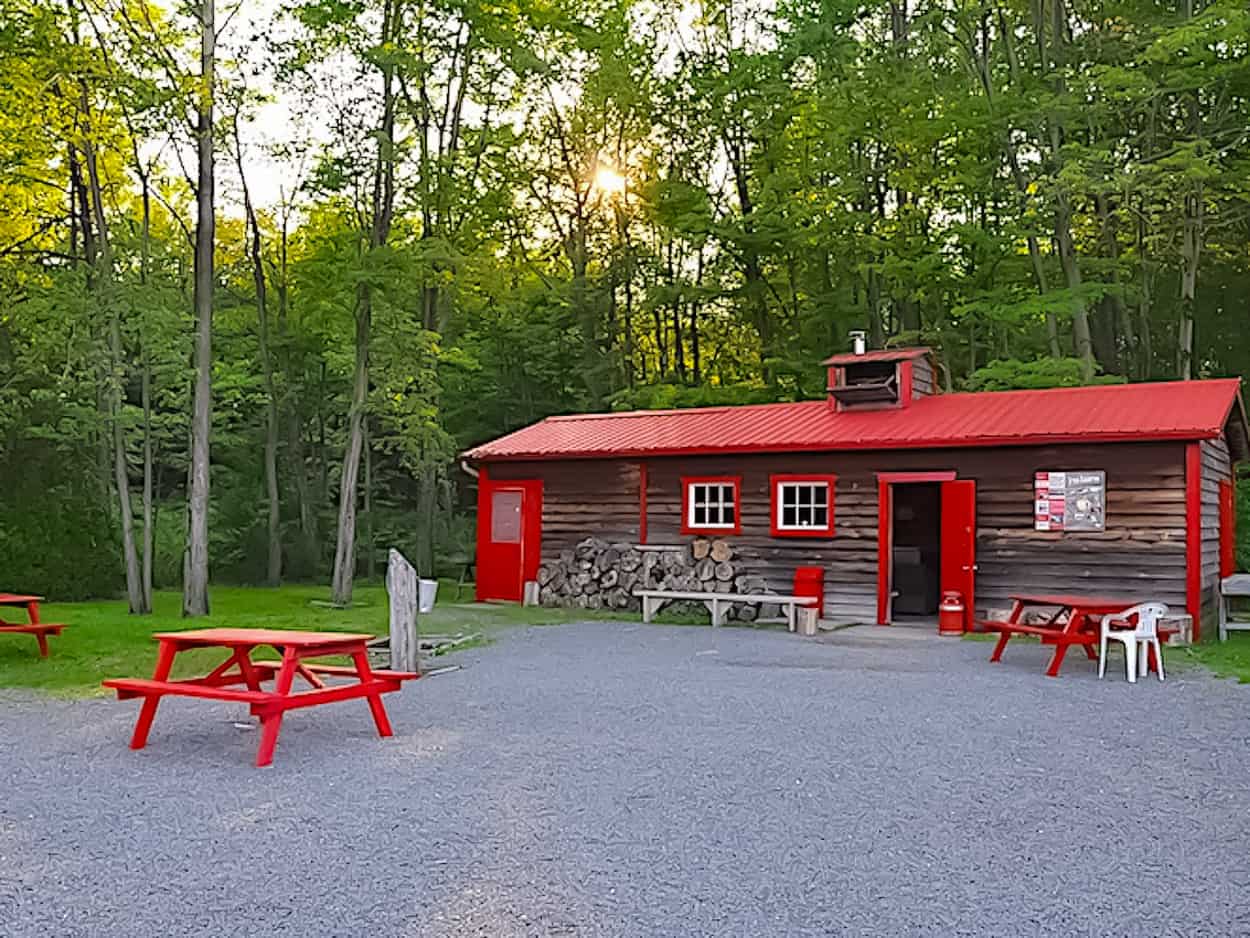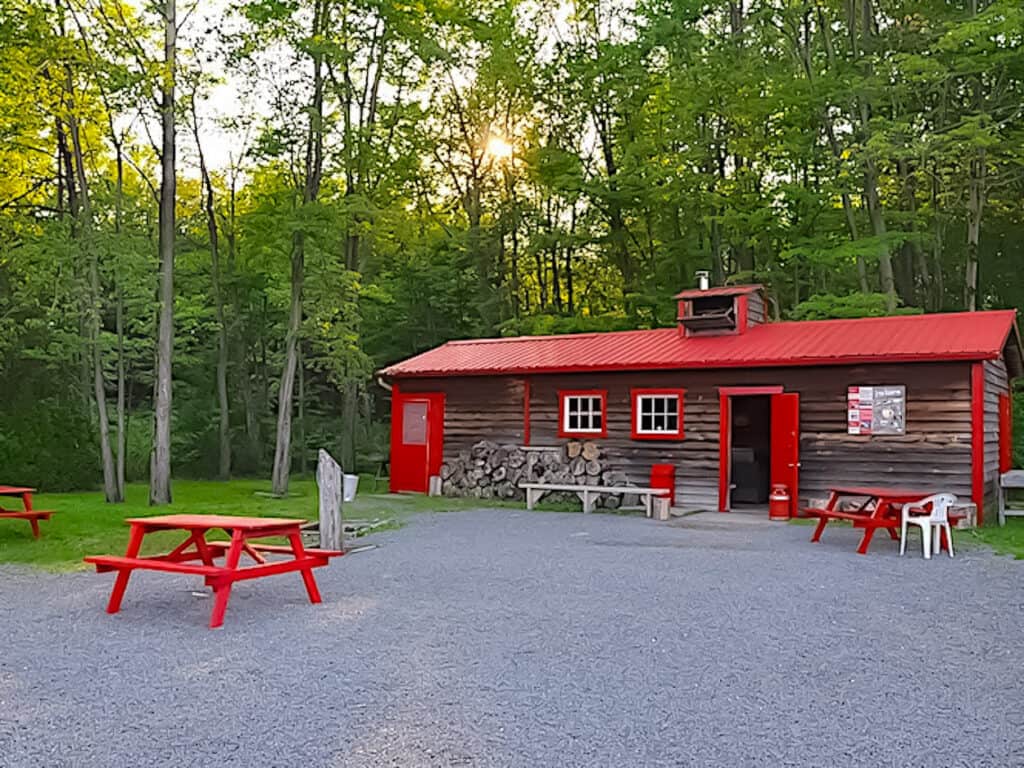 Visit Eastern Canada in Maple Syrup Season
Amber Ambrosia
It's the perfect combination of warm spring days and chilly nights that enable millions of acres of red, silver, black, boxelder and sugar maples to work their magic.
Maple tree farms, from small family-owned operations to huge corporate facilities, are the reason that Canada produces over eighty-five percent of the world's maple syrup.
As the snow melts, the water is absorbed by the roots and circulated throughout the tree. The starch already in the tree is converted into sugar and mixes with the water that enters through the root system.
Slowly, the tree expands from the water, pressure builds in the trunk and sap starts to rise. Even a small nick in the bark of the tree will result in a run of sap.
The Origin of Maple Syrup
No one really knows for sure exactly when or how someone first boiled the sap from the sugar maple and turned it into maple syrup. Legends abound, but the most widely-told story involves Nokomis, known among the Aboriginal tribes as the Grandmother to their revered hero, Manabush.
The legend begins one early spring day, when Nokomis discovered that if she carved a hole in the maple tree, a thick, sweet sap would run out of it, already sweet enough to eat, right from the tree.
Manabush was concerned that others would see this as a quick way to get sugar with little or no effort and lead to laziness. Late one night, Manabush poured buckets of water into every tree trunk to dilute the sap and make it necessary for people to undertake the tedious job to boil the sap until it becomes syrup.
The legend concludes that is why today the sap runs clear, isn't sweet or syrupy and needs to boil for many hours until the water evaporates.
It was in 1534 when French explorer Jacques Cartier set anchor in what is now Quebec that the secret of the sugar maple tree was revealed to Europeans.
Maple Syrup Madness
Word quickly spread about this easily obtainable source of energy and nutrition. By 1680, European settlers were skilled in the production of maple syrup products. Though for hundreds of years, the Aboriginal tribes used their tomahawks to cut a V-shape in the bark of the tree, Europeans used augurs to drill small holes into the trunks, a much less destructive method. Reeds were inserted into the holes and wooden buckets were used to catch the runoff.
Maple syrup production expanded throughout Quebec, into many of the other eastern provinces and even in parts of western Canada. Until 1875, maple sugar was the only type of sugar produced in eastern North America.
Today, the art and science of making maple syrup has taken a quantum leap forward in production method and equipment. But from January until April, as it has been for decades, maple sugaring parties help to make the tedious task of tapping the trees and long hours spent boiling the sap, more enjoyable.
Getting There
Cruises to Canada are a very popular way to experience the sights, sounds and tastes from the heart of the maple syrup producing provinces; Quebec, Ontario, New Brunswick and Nova Scotia.
With a short cruise season of April through October, guests are offered an opportunity to sign up for shore excursions to visit one of the area's most entertaining and down-home culinary experiences; the Sugar Shack.
Cruise lines that visit the port of Trois Rivière, in the heart of maple syrup country are Oceania, Silversea and Seabourn.
A cruise or a visit to Canada's maple syrup country isn't complete without an experience at an authentic, off-the-beaten-path sugar shack.
Quebec boasts over 135 sugar shacks, Ontario claims 171, at least 50 are in Nova Scotia and dozens in New Brunswick. At least one if not all of these provinces are included on a typical Canada New England cruise.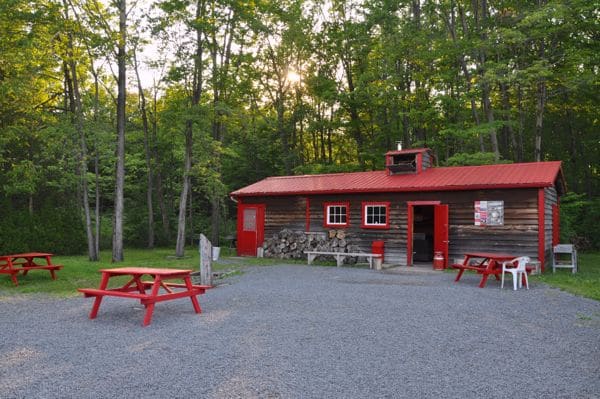 Once a respite and shelter for tired and hungry maple syrup production workers, sugar shacks are now gathering places for a good meal and a lot of fun. No matter which sugar shack you visit, guests are always welcomed in similar fashion with hearty fare, lively entertainment and a bit of maple syrup lore and history.
A typical traditional sugar shack meal includes a thick pea soup, baked beans, meat pie, pickled beets, maple-smoked ham, omelets, regional beer and wine and even homemade maple whisky. Save room for a maple-themed dessert which sometimes is a short stack of pancakes or crepes and maple syrup. The meal concludes with a chance to make maple "taffy."
Maple Syrup on a Stick

Probably the most memorable experience at a sugar shack is making snow-made taffy. Set up outside is a long, narrow trough-like table. Depending on the season, the trough is filled with either fresh snow, or most likely from April – October, fresh man-made snow. A very hot, extra-concentrated maple syrup is poured in a long strip onto the snow, extending the length of the table.
Everyone is handed a little wooden stick and educated in the art of rolling and twirling it into the maple syrup. Soon, each stick is sporting a "lollypop" of iced maple syrup, the consistency of taffy. Don't spend too much time admiring your creation, or you'll lose most of it as skinny drips and plump syrupy dollops land on your shoes!
Uses for Maple Syrup

Don't worry if you're not a pancake lover and wonder how else you can get your maple syrup fix. There are other ways to enjoy this liquid gold. Maple syrup can replace granulated sugar in recipes, goes great in tea and can even be used as a substitute for sugar when making lemonade.
Pour maple syrup over ice cream, Greek yogurt, onto oatmeal or cold cereal.
Other sweet delectables made from maple syrup are maple butter, maple cream, maple jelly and granulated or crystalized maple sugar. It's nearly impossible not to fall in love with the unique flavor of pure, natural maple syrup. Luckily, every sugar shack sells their maple products right there at the shack, perfect to take home to try in your own kitchen.
For a simple, easy to do recipe, try this twist on traditional baked apples:
Baked Apples with Maple Syrup

Peel and core the apples and set in a baking dish. Fill the centers of the apples with maple syrup. Dot with butter. Bake at 350 until tender, basting with syrup during the process.
Everyone's cruise to Canada should include a shore excursion to an old-fashioned sugar shack. Canada's naturally sweet treat is hard to resist, even more so when enjoyed on the very spot where it's transformed into the amber-colored, richly flavored syrup that's enjoyed around the world.

I'm the editor and creator of CruiseMaven.com, a solo traveler cruising the world on waves and wheels, collecting recipes along the way.  I hope my articles and photos entertain, advise and inspire you to travel the world without flying.  Take a breath…stop for a local meal and a glass of wine along the way.