In fact, selfies haven't been cool or cutting-edge since 2013. These days, anybody who's anybody is taking dronies.
A combination of the words "drone" and "selfies," dronies have risen in popularity as drone technology continues to improve. To capture a dronie, you'll need a drone (obviously) as well as an action camera.
The typical dronie lasts between 10 seconds and one minute, and starts with the drone hovering near the person or group of people who are taking the dronie. The drone then takes flight and gradually moves away from the subjects in an upward trajectory. By zooming out, the dronie gives viewers a panoramic view of the subjects' surroundings.
Unlike selfies, which largely focus on the subject and ooze blatant narcissism, dronies allow individuals not only to capture themselves but also to show others how they relate to their surroundings. It's not narcissism anymore; it's about the place more than the self.
A New Kind of Shot
The word "dronie" was coined in 2014 when Alexandra Dao, a community development manager at Vimeo, saw a friend's comment on a Vimeo video that had been posted by the tech entrepreneur Amit Gupta. The video was shot on Bernal Hill in San Francisco and shows Amit, flanked by two of his friends, operating a drone. The drone takes off in an upward trajectory, revealing Bernal Hill and the surrounding San Francisco skyline.
Dao's friend called the video "a new kind of shot," and Dao chimed in and suggested that the word "dronie" be used to describe this new type of video. Dao then started collecting dronies on a new Vimeo channel. To date, there are 110 eye-popping dronies on the channel.
Slowly but surely, dronies have since gone mainstream and are transforming social media, popular culture, and the arts. Twitter got some much needed publicity when it captured dronies of Twitter employees and festival attendees at the Cannes Lions International Advertising Festival in southern France in June 2014. The first dronie featured actor Patrick Stewart waving to a flying drone at Le Croisette.
Other organizations are also harnessing the visual appeal and novelty factor of the dronie. In 2014, Tourism New Zealand deployed a pair of DJI Phantom 2 Vision + drones on the country's ski slopes to capture dronies of skiers and snowboarders. Vacationers not only enjoyed the country's excellent slopes but also had a unique memento to share on social media.
Drone technology is also transforming cinematography, as increasingly sophisticated drones allow filmmakers to capture more versatile aerial shots. The New York City Drone Film Festival was founded to celebrate drone cinematography. 2016's winner under the "Dronie" category was The Shark Drone by Behind the Mask.
The dronie begins with a close-up of a deep-sea diver lying on the ocean floor. The drone—which is being carefully controlled by the diver—rises at lightning speed to the surface of the ocean before plunging back in. The diver is revealed to be surrounded by sharks and other marine life. The dronie ends with the same close-up of the diver.
Watch the dronie for yourself. Take note that ascending and descending into watery depths at such fast speeds would kill a human being.
Dronies, unfortunately, aren't as widespread as selfies because high-end civilian drones are still beyond the budget of the average consumer. On Instagram as of June 2016, there are more than 256 million posts that contain the hashtag #selfie, while only about 19,000 posts contain the hashtag #dronie. Rather shockingly, slightly more than 1,000 posts contain the hashtag #dronies.
Clearly, if you want to be part of an extremely exclusive club, you'll need to start taking dronies.
Want to Join the Club? Check Out These Drones and Action Cameras
If you're interested in capturing your own dronies, you'll need to arm yourself with the right drone and action camera. Note that while some of these gadgets have a relatively steep learning curve, once you've mastered them, your vacation shots and self-portraits will never be the same again.
DJI Phantom 4
The Phantom 4 is the latest quadcopter from DJI's Phantom series. Aside from being the smartest flying camera in the Phantom series, this quad is packed with cool features like precision hovering, visual tracking, and extended flight time.
The Phantom 4's advanced stereo Vision Positioning System (VPS) gives it precise hovering even without satellite positioning support, making it easier and safer to pilot. The equally useful TapFly feature allows users to fly their quads with the tap of their finger. Simply tap on the live view mode on your smart device screen and send the quad flying in that direction.
While drones are notorious for their short flight times, the Phantom 4 can stay airborne for up to 28 minutes. As for shooting videos, the DJI Phantom 4 is armed with a camera that can shoot sharp, clean video up to 4K at 30fps, as well as Full HD 1080p at 120fps for slow motion capture.
Those worried about stability will be glad to know that the Phantom 4 has an advanced gimbal that keeps the camera flat no matter how steeply the quad tilts during flight. The gimbal also smoothens out vibrations and small movements to ensure smooth video capture.
GoPro Hero4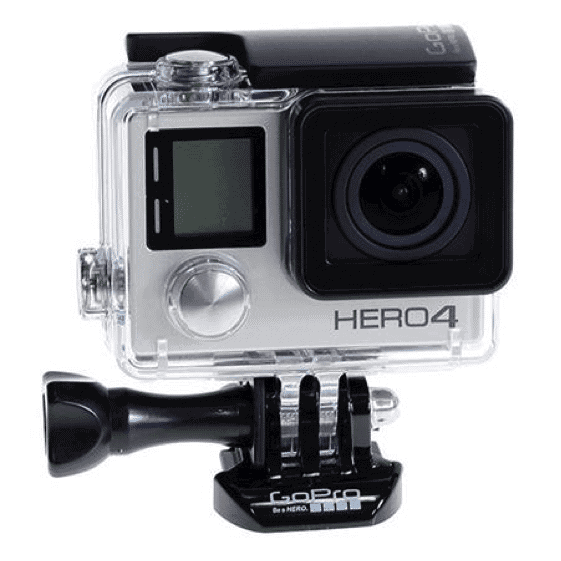 GoPro's action cameras are some of the best for drone photography and videography. They're equally adept at capturing extreme sports and underwater action.
The GoPro Hero4 (available in black or silver) offers sharp and clean video quality, has lots of accessories and mounts (making it easy to attach to your drone), and has a built-in touch LCD screen. You can capture vivid 1080p60 and 720p120 video and sharp photos with ease.
3DR Solo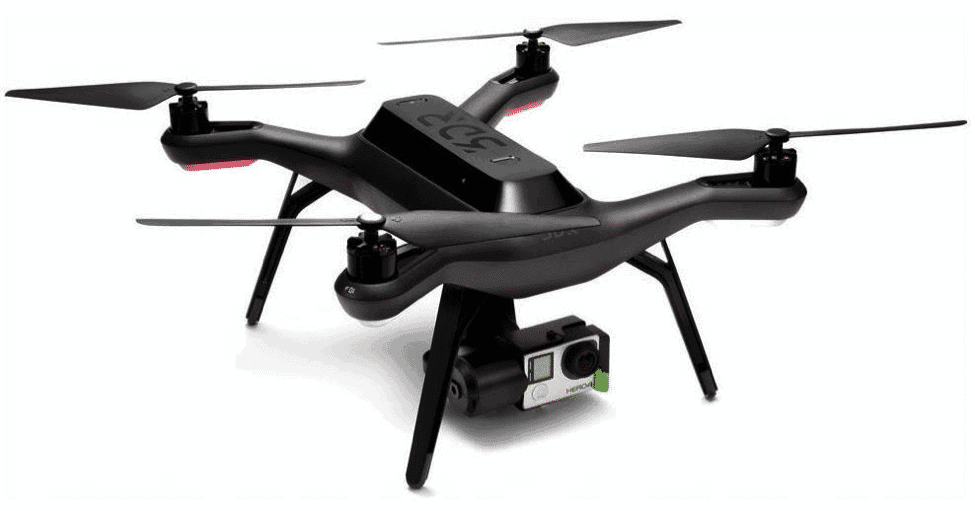 The 3DR Solo is equipped with features like push-button flight and computer-assisted Smart Shots, making it easier for users to get crisp and professional aerial photos and videos. Powered by two 1 GHz computers, Solo streams live HD video from the attached GoPro direct to your iOS or Android device.
The optional 3-axis Solo gimbal facilitates rock-steady GoPro performance, enabling you to capture smooth and fluid HD footage with every flight. This gimbal is designed to work intelligently with the GoPro camera and the controller, giving you fine-grain camera tilt-control and instant speed adjustments, among other benefits.
About the author
Liz Pekler is a travel photographer with more than 10 years of experience in the field. Being a freelance blogger enables her to help photography beginners and enthusiasts to tell wonderful stories of their travels as seen through their lenses. It also allows Liz to share her thoughts about another advocacy of mine: social equality and change.