Norwegian Cruise Line's Prima Class of cruise ships launched in 2022 with the debut of Norwegian Prima.
Distinguished by a more intimate size with all the signature dining, entertainment and top-deck attractions, Norwegian Viva joined its nearly identical sister in August 2023. Here's why Prima Class is one of our favorite classes of ships, across the board.
With four more Prima Class ships expected by 2027, cruise fans might be wondering what it is about this class of ships that set them apart from the rest of the Norwegian fleet. Here's what impressed me the most.
Norwegian Prima Class Favorites
Indulge Food Hall
Why pick one type of cuisine when you can sample a half-dozen in one sitting? And why shell out for all of these tasty plates when you can order them for free?
Cruisers who are indecisive or adventurous eaters will especially love the Indulge Food Hall, new to Norwegian's Prima Class. Indulge Food Hall offers the atmosphere of a food truck court with the convenience of indoor/outdoor seating and streamlined tablet ordering.
Though you can place your order from a table or booth, we highly recommend that you wander the entire food hall first to get a feel for the various offerings.
Take a look at the menus. You'll find dishes from venues including Nudls (various noodle dishes), Tamara (Indian cuisine), Seaside Rotisserie (grill), the Latin Quarter (Mexican), and The Garden (soups and salads) just to name a few.
Of course, we can't forget about the sweets, with Just Desserts, offering grab-and-go cakes, pies and more by the slice.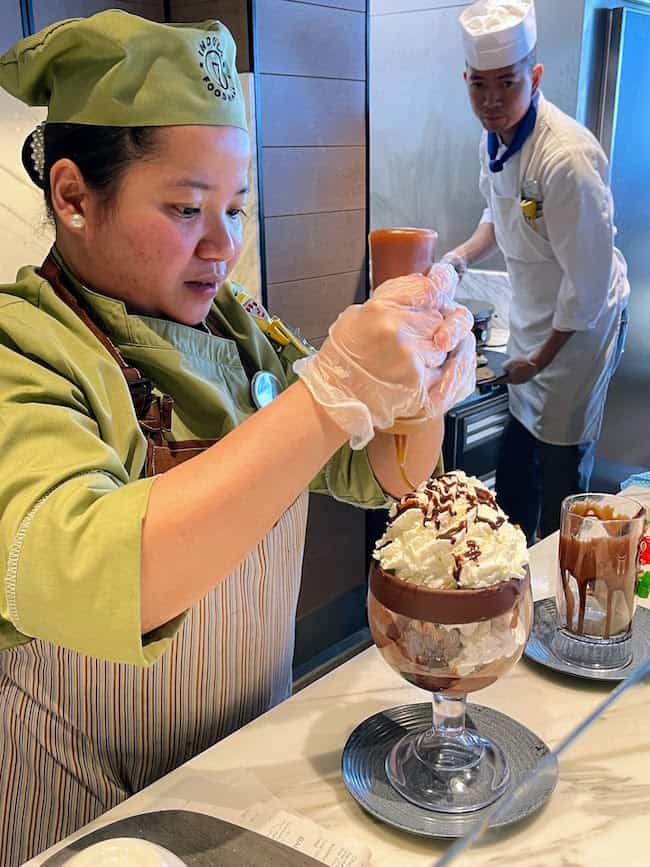 There is a Starbucks station inside Indulge on Norwegian Prima. Indulge on Viva removed Starbucks to add more seating. Indulge is an extremely popular and complimentary dining venue, especially at lunch. The extra capacity is a welcome addition and a sign that Indulge is a new passenger favorite.
The Stadium
Norwegian's Prima Class has taken the idea of a traditional sports court and modernized it for contemporary cruising kids and families. Up on Deck 18, many of the ships' thrills are concentrated, including the expanded, three-deck Norwegian Speedway racetrack.
But free to all are a number of games like pickleball and a kooky, ball-kicking competition called subsoccer. A shiny, chrome tabletop shuffleboard area is an upgrade to the sleepy idea of seniors pushing around pucks at sea.
While the buzzing racetrack and jangling mini golf court are located nearby, we appreciate that Norwegian has made an effort to upgrade this space. It is approachable for all ages and also free of any extra fees. Plus, there's an alcohol-free version of beer pong.
Unique Convertible Theater on Prima Class Ships
One of the biggest changes to roll out with the Prima Class is the concept of a convertible main theater. If you're attending the welcome show on the first night, this might not be immediately apparent to you.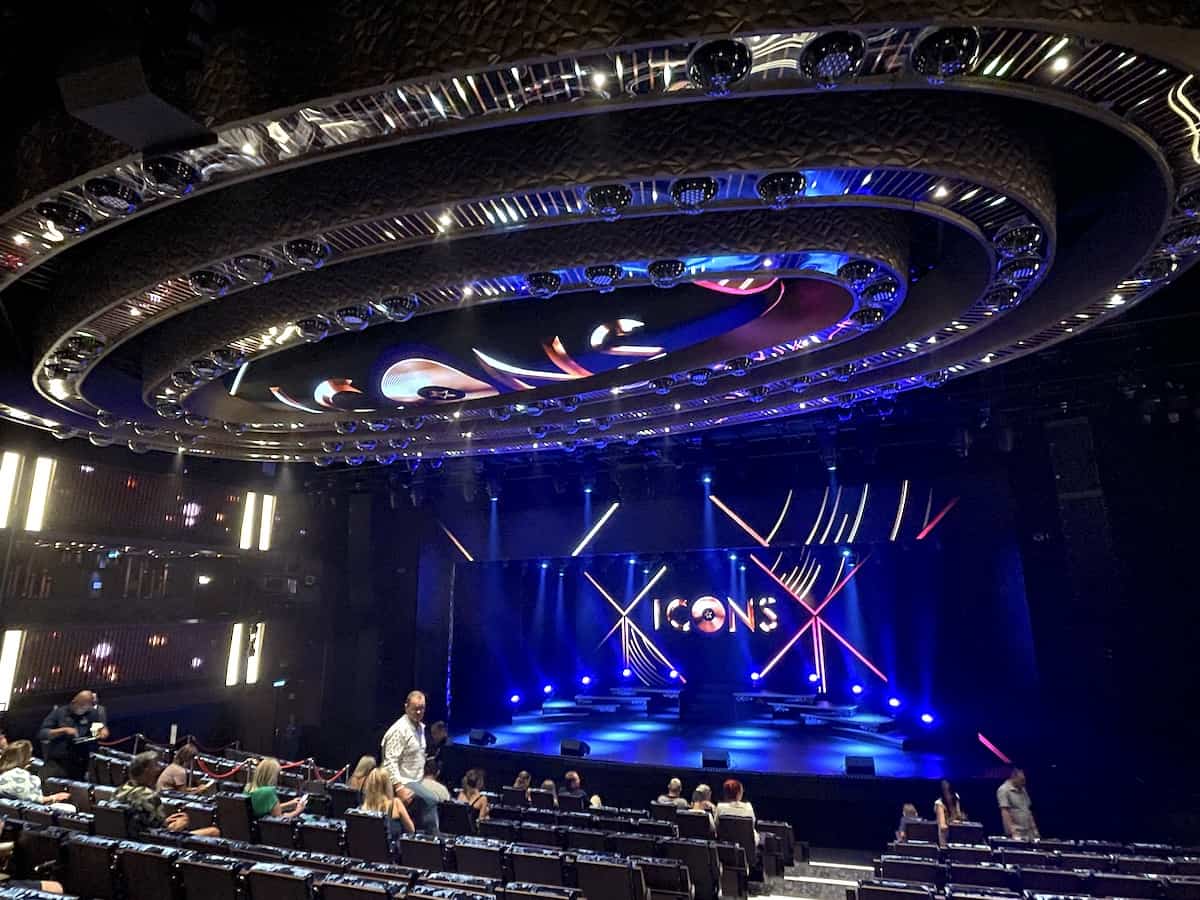 The Prima or Viva Theater seats a full crowd or partially fold down for additional floor space. The entire theater seats can "disappear" for standing room-only concerts.
This shift from a standard, proscenium theater is very intentional. It allows the entertainment staff greater flexibility to develop shows that might use part of the floor.
For example, Syd Norman's nightclub is a popular place for late-night entertainment from the in-house cover band. Occasionally this show can be expanded to a wider audience inside of the main theater.
Currently, the headlining show onboard Norwegian Prima is "The Donna Summer Musical," while on Norwegian Viva it's "Beetlejuice."
However, while a closing date hasn't been announced for either Broadway production, Norwegian Cruise Line has admitted it is moving in the direction of in-house and original productions going forward.
We were also told that the physical abilities of the theater to transform, along with its impressive lighting and projection effects, will play a major role in future entertainment offerings across the Prima Class ships and beyond.
Ocean Boulevard
The idea of outdoor dining and a continuous promenade connecting these bars and restaurants isn't new for Norwegian. The Waterfront debuted with the Breakaway Class in 2013 and quickly became a well-liked — and fitting— concept for the cruise line.
Who wouldn't want to drink or dine on a cruise ship with alfresco views of the sunset? The concept continued throughout the Breakaway and Breakaway Plus Class.
Beginning with the Prima Class, this idea of an outdoor promenade has expanded even further.
There's more space in general (44,000 square feet of it to be exact) with more seating and even an outdoor art and sculpture garden called The Concourse.
A stroll along Ocean Boulevard, located on Deck 8 onboard Prima and Viva, has surprises in store. These include a glass-bottomed walkway called Oceanwalk or the elegant La Terrazza open-air lounge overlooking the ocean.
Expanded Mandara Spa
If you're a spa lover, you'll be impressed by Norwegian's stylish expansion of its Mandara Spa, now two stories on Prima Class ships.
Even for those who are just a bit curious about a relaxing day at sea will likely be impressed by the sexy design of the thermal suite. Enter the suite by a grand spiral staircase with two pools beneath a multilevel waterfall.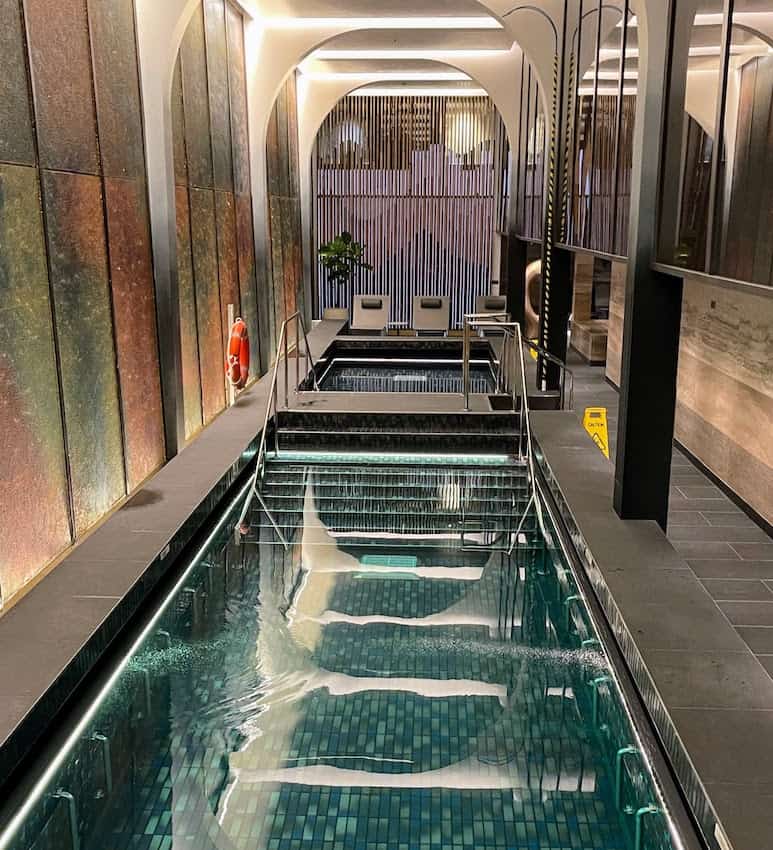 Surrounding the space are a variety of saunas and steam rooms, from a salt room and ice room to a charcoal sauna.
There was no jetted therapy pool and both pools were lukewarm.
Norwegian has moved its relaxation room and fitness center to the bow of the ship for the first time. This affords gorgeous views over the bow while using the exercise equipment or resting before or after a treatment.
Tee Time
Mini golf is a cruise ship staple. While it's also known for being a free pastime accessible to all passengers, we can forgive a slight upcharge for Norwegian's new, interactive take on traditional top-deck mini golf.
Located near The Stadium and across from the new Bull's Eye private dart suites, Tee Time is available by reservation or with a walk-in group for about $15 per person.
The nine holes dazzle with individual themes, lighted signs and interactive screens posing trivia questions at each hole. An automated scoring system keeps track of your group's par. A digital roulette wheel can add points at random.
Between wacky obstacles and a hole with a photo booth, the course is worth playing at least once as a family or group. Packages are available to bundle top-deck attractions if you suspect you'll be getting a request for "again!"
Palomar
A swanky addition to the Norwegian Cruise Line dining scene is Mediterranean seafood restaurant Palomar. Along a full wall of windows, this specialty restaurant presents sophisticated Greek and Italian flavors in an understated atmosphere lit by natural light or candlelight.
Dishes worth noting include a fresh seafood salad, Dover sole, grilled lobster. There is also a variety of simply prepared but elegant sides. These include grilled asparagus, baked bean stew in tomatoes or honey-roasted carrots with cumin and ricotta.
Do not miss the incredible galaktoboureko, a Greek dessert incorporating an orange custard and Greek yogurt sorbet on the side.
Guests can pay for Palomar either à la carte or with a specialty dining package credit. You may also request an outdoor table. Unfortunately, the al fresco dining is located at a noisy area by the pool.
Drop and Rush Dry Slides
Spiraling from the sides of each Norwegian Prima and Norwegian Viva are The Drop and The Rush, each a different take on a 10-story dry slide.
The Drop is a free-fall slide with a removable platform that, when moved, you drop! The Rush is actually a set of dueling slides, so you can see who makes it to the other end faster.
The free-to-use dry slides speed you from Deck 18 to Deck 8. No water means you won't freeze if the weather is iffy.
You are likely to be regaled with the screams of children — and adults — making their way down the slide if you are camped out near the sun loungers or at the outdoor seating of The Local Grill on Deck 8,
Prima Class Has Expanded the Haven Complex
Norwegian's ship-within-a-ship suite complex made waves when it launched in 2013. The cruise line has been innovating on the Haven ever since.
On Norwegian Prima Class ships, the keycard-accessible Haven is now larger than ever. Located at the aft of the ship, the views from the wake are superb.
All Haven suites come with butler and concierge service, complimentary room service and priority reservations. There is also access to the Haven's exclusive bar, restaurant and lounge.
Perhaps the most stunning component of the Haven is the Haven Courtyard, a two-level sun deck with cabanas, padded loungers, hot tubs and infinity pool over the back of the ship. What's more, guests can enjoy a Finnish-style sauna and cold room right from the sun deck without leaving (or paying) to go to the spa.
Prima Class is designed for guests seeking Norwegian's signature attractions with a slightly more intimate and upscale feel.
Brittany Chrusciel has covered the cruise industry for many years, formerly as Cruise Critic's Destinations Editor, and has been quoted in publications such as Skift, USA Today, and the LA Times. She is a proud alumnus of Semester at Sea, where she circumnavigated the globe while studying writing, Spanish, and political science. Her favorite river cruise experiences so far have been visiting the Christmas markets with her German grandmother, and Portugal's Douro River.