Cruising the New England coast on Victory II
On a sunny September Sunday we felt privileged to gaze at beautiful Portland Head Lighthouse on the rugged Maine Coast. A New England vacation had been on my bucket list for years, so when I learned Victory Cruise Lines offered a New England Coastal cruise on their newest ship, Victory II, I was hooked.
Originally launched in 2004, Victory II formerly sailed as the Cape Cod Light and Sea Discoverer. The 202-passenger vessel was renovated and relaunched as Victory II in July 2018. It is nearly identical to its sister ship, Victory I, launched in 2016.
Destination focused and included in prices, Victory II shore excursion tours are conducted by knowledgeable local guides.
Ports on this itinerary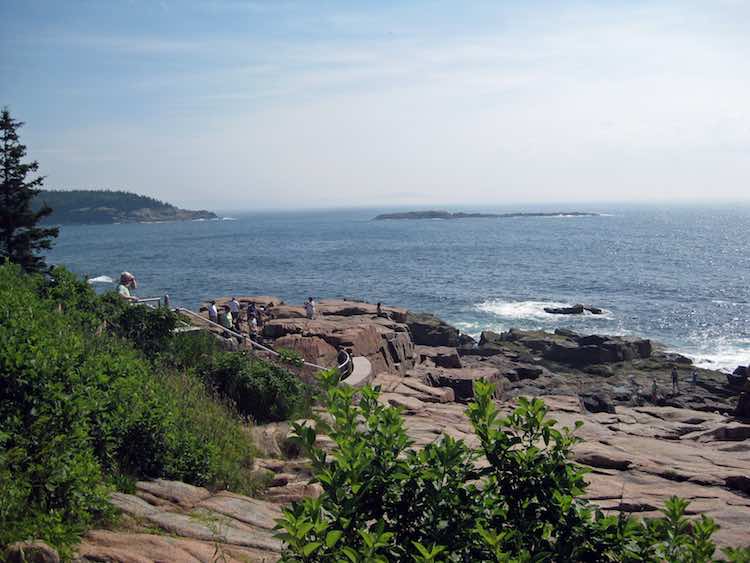 Portland, Maine
Tree-lined streets in Portland, Maine showcased lovely Victorian mansions with Atlantic Ocean vistas. Richard, our guide, pointed out stately homes built for ship captains who would look down to see their ships in the harbor. Today those homes are condos.
The Old Port waterfront is home to active fishing wharfs as well as warehouses converted to eateries, shops and museums. Locally-owned eateries along the waterfront offer an array of mouth-watering seafood. Tourism, lobster and seafood fishing sustain the local economy for this city of 70,000.
Maine's jagged rocky coast boasts eight operating lighthouses along its 3,500 miles. Boston is an hour away by Amtrak. During a tour of nearby scenic Kennebunkport we saw the Bush family compound.
Bar Harbor, Maine
At the elegant Bar Harbor Inn, we enjoyed a tasty lunch of clam chowder, lobster rolls and potato salad plus homemade blueberry pie for dessert. The views from the dining room were especially stunning. Shoppers enjoyed browsing in dozens of shops. The motor coach tour of Acadia National Park brought us to a scenic overlook high atop Cadillac Mountain.
Provincetown, Massachusetts
On the tip of the Cape Cod peninsula, we hopped onto a trolley tour that brought us to the 1,200-foot McMillan Pier and business district. Provincetown Museum's fascinating exhibits depict challenges Mayflower pilgrims experienced during the five weeks they stayed in Provincetown before sailing on to Plymouth, Mass. Completed in 1910, the 252-foot granite Pilgrim Monument commemorates the first pilgrim landing in 1620.
Newport, Rhode Island
Of course, when in Newport, it's all about the mansion. The Preservation Society tour guides showed us mansions once owned by the rich and famous who gathered there during the 1880 to 1930 Gilded Age. Newport has been called "America's Versailles" because of its elaborate architecture. We toured The Elms, summer home of coal magnate Edward Berwind and his family.
Read next: How to avoid those first cruise jitters
The Breakers, grandest of Newport's summer residences, is symbolic of the Vanderbilt family wealth. It was the summer estate of railroad magnet Cornelius Vanderbilt and his family. Visitors learn how the new domestic technology transformed daily life with electricity, elevators, modern plumbing and laundry facilities. The Vanderbilt family enjoyed lovely Atlantic views from an open-air living room.

Martha's Vineyard, Massachusetts
As we navigated through the six tiny towns that compose Martha's Vineyard, we passed hundreds of tiny colorful gingerbread cottages, contrasting stately Victorian mansions and black-and-white saltbox homes in other island communities.
Along the way are a profusion of fishing villages, lighthouses and fabulous beaches. Roadside stands purvey locally grown produce on the honor system. Our guide pointed out 300-year-old stone fences, the oldest general store in the U.S. and where the movie Jaws was filmed using local residents as extras. A highlight was a photo op of the 1799 Gay Head lighthouse, one of five lighthouses on Martha's Vineyard.
Fast food eateries are prohibited on the island with a year-round population of 27,000. Whaling was big from the 1700s to 1860, and a few sheep farms remain. Today's economy is driven by tourism.
We heard fascinating stories about the rich and famous including the Kennedys, Obamas and movie stars as we caught views of their homes. Those who can afford to live anywhere seem to prefer the slower pace and seclusion of Martha's Vineyard.
READ MORE: Victory Cruise Lines Profile and Photos
Onboard Victory II
A complimentary cocktail hour was held every night in the Great Lakes Lounge. Talented musicians from Florida provided daily cocktail hour and after-dinner music.
When not in port, Victory II guests could attend onboard lectures on photography with smart phones, ship navigation, New England lobsters, whales and other wildlife. A wine tasting/food pairing class, trivia and galley tours were popular group activities. A cruise photo contest encouraged guests to show off their cruise pics. Most guests were well traveled retirees who enjoy learning.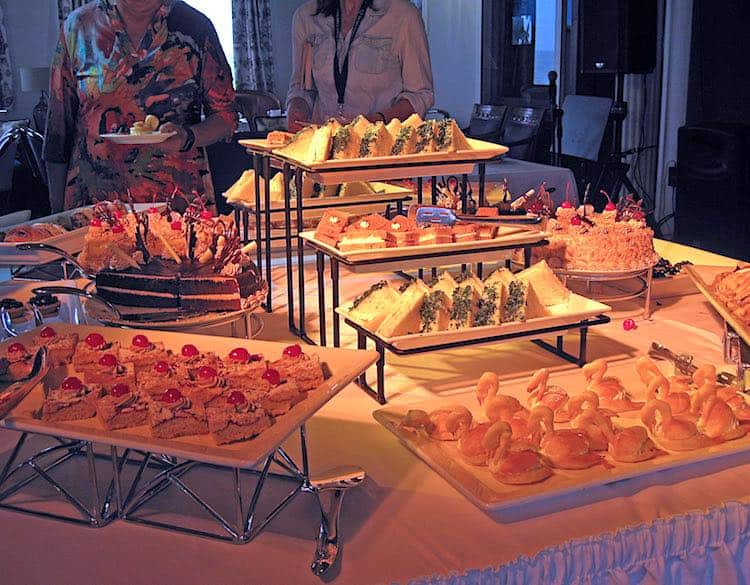 All three themed afternoon teas included freshly baked goodies created by the pastry chef. Music by Mozart enhanced the Viennese tea where guests chose from a table of sweet treats.
Insider Tip: If you go, bring sturdy walking shoes to navigate stairs and uneven pavement in some ports.
Cruises are known for good food, and Victory II's dining crew delivered. Coffee and pastries were out at 6 am for early risers. Tasty, perfectly-seasoned and nicely presented meals were well received. Guests could eat in the Victory dining room on deck 1 or the Lighthouse Bar & Grille on deck 4 where they could cook their entrées on tabletop hot rock lava grills. This scenic deck was popular for lunch buffets.
Victory Cruise Lines includes shore excursions, internet, meals and free-flowing alcohol on every cruise. Our voyage began with a well-orchestrated embarkation at the Gloucester cruise port, 48 miles north of Boston. We took a commuter train from North Station in Boston to Gloucester for $5.25 per person. Friendly train crew members and other passengers cheerfully helped offload our luggage.
Too soon it was time to bid farewell to the ship's congenial officers, international crew and our new friends.
Disclosure: I was a guest aboard Victory Cruise Lines Victory II. This in no way impacts my ability to be objective and all opinions are my own.