Sometimes it's simpler to take a train from Amsterdam to Luxembourg to board your river ship for a Mosel river cruise. That's what I decided to do when my transatlantic cruise ended in Amsterdam.
It was a rare chance to board Norwegian Sun in Port Canaveral, Florida to get to Europe. In two weeks, we were scheduled to dock in Amsterdam. I had plenty of time to debark the ship (10AM), hop into a taxi to Centraal Station (10:10AM) and board a train from Amsterdam to Luxembourg.
I would have to change trains in Brussels, but the trains are all under one roof so it is easy to do. From Brussels, it was an unreserved train to Luxembourg (open ticket).
Then a short taxi ride (15 minutes I thought!) to Remich. Once in Remich, I would board AmaWaterways AmaLegro on the Mosel River.
AmaLegro would be my home for the next 21 days. Three weeks on the Mosel and Rhine and back again.
Amsterdam Train to Luxembourg via Brussels
Hugs and goodbyes were said, and with the help of Karin, Norwegian Sun's concierge, we breezed through the crowded shore excursion lines and I was in a taxi within minutes.
This was probably my fifth visit to Amsterdam's train station so I quickly found the first class lounge. It's located on the second level of the station. The Thalys First Class lounge is upstairs at Platform 1. Elevators are available.
With a comfortable thirty minutes until departure at 10:30am, I tried to log on to the wifi, but alas, it wasn't free but very inexpensive at 9.95 Euro for sixty minutes.
I only had at most fifteen minutes before it was time to grab my thousand-pound suitcase and two small but well-packed carry-ons. I'd take a pass on their wifi an people-watch instead.
Boarding the Train in Amsterdam
At Amsterdam's Centraal Station, the actual platform to board the trains is upstairs from the main passenger area. Luckily, the elevator was working so I didn't have to haul my baggage up a long flight of cement stairs to the platform.
Coach 11, Seat 41. I stood on the mark as the train slid to a stop and the doors to Coach 11 opened right in front of me. Actually, coach numbers are marked on the platform floor so you know where to stand.
The coach configuration was two/one and I booked the single seat. No need to climb over anyone if stuck in the window seat.
Halfway to Brussels, the train stopped. The conductor announced we'd be twenty-five minutes late. Not worried, I re-checked my ticket for Luxembourg.
No departure time was indicated. This meant I would simply check the departure sign in the Brussels station and find the next train to Luxembourg. It was about a two and one-half hour trip.
Boarding the Train from Brussels to Luxembourg
Brussels train station is fairly small, compared to Amsterdam. I found the departure sign and in ten minutes there was a train to Luxembourg.
I quickly wheeled my two-ton suitcase down the corridor and onto the (also working) elevator up to the platform. Within a few minutes I was on the train to Luxembourg.
I confirmed this by asking a young woman passenger (who reminded me of my daughter), "Does this train go to Luxembourg?" "Yes," she replied, "I certainly hope so because that is where I am also going."
Needless to say, we talked non-stop for the entire almost three hour ride to Luxembourg.
Taxi from Luxembourg to the Mosel River
Luxembourg's train station is very small, as is Luxembourg, of course. Remich, however, was not as close to the train station as I anticipated.
The distance was more like twenty miles. Not the convenient four miles that I read somewhere.
An unexpected one hour taxi ride brought me to the banks of the Mosel River at 6:20PM and AmaWaterway's AmaLegro. My elderly taxi driver who spoke no English, gladly wheeled my suitcase along the pier, up the steep gangway and into the lobby of the river boat. He wanted to peek inside the ship.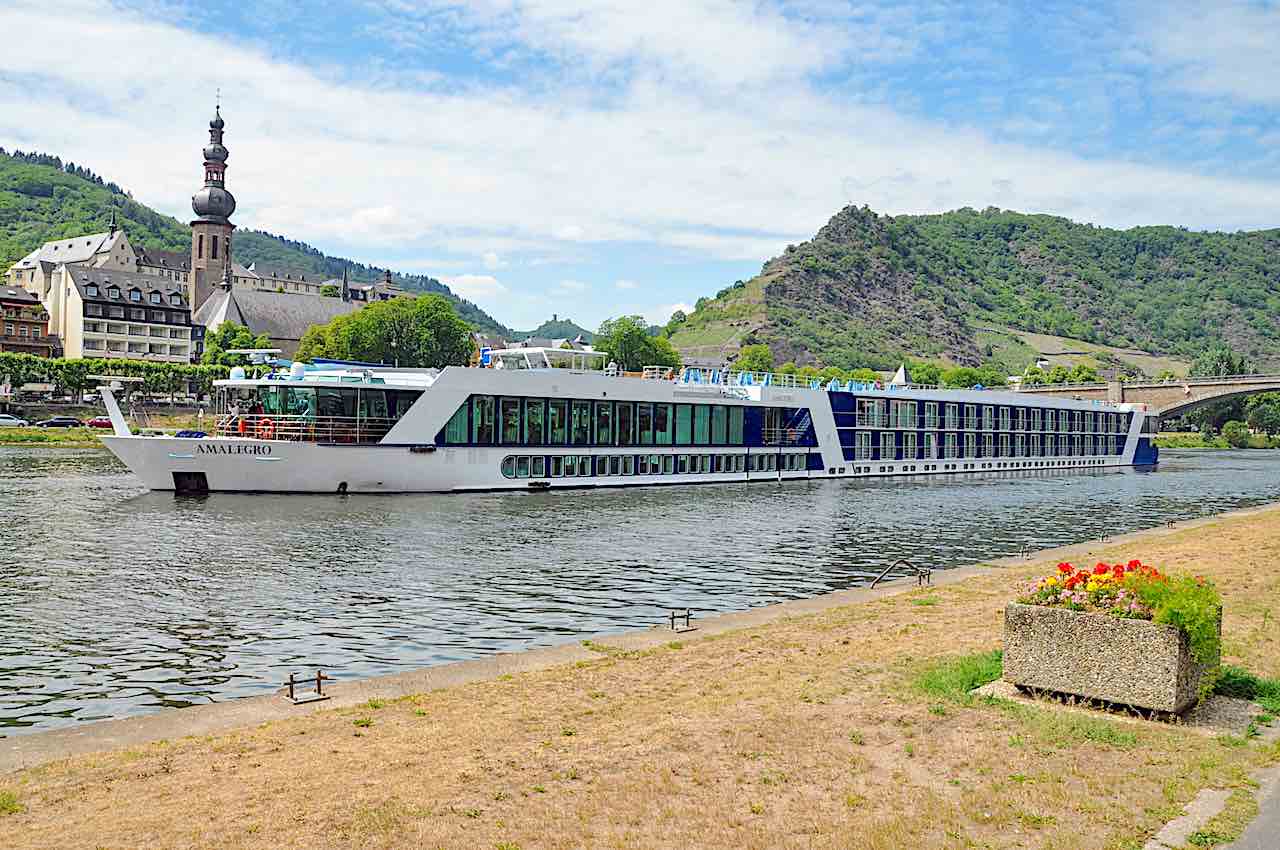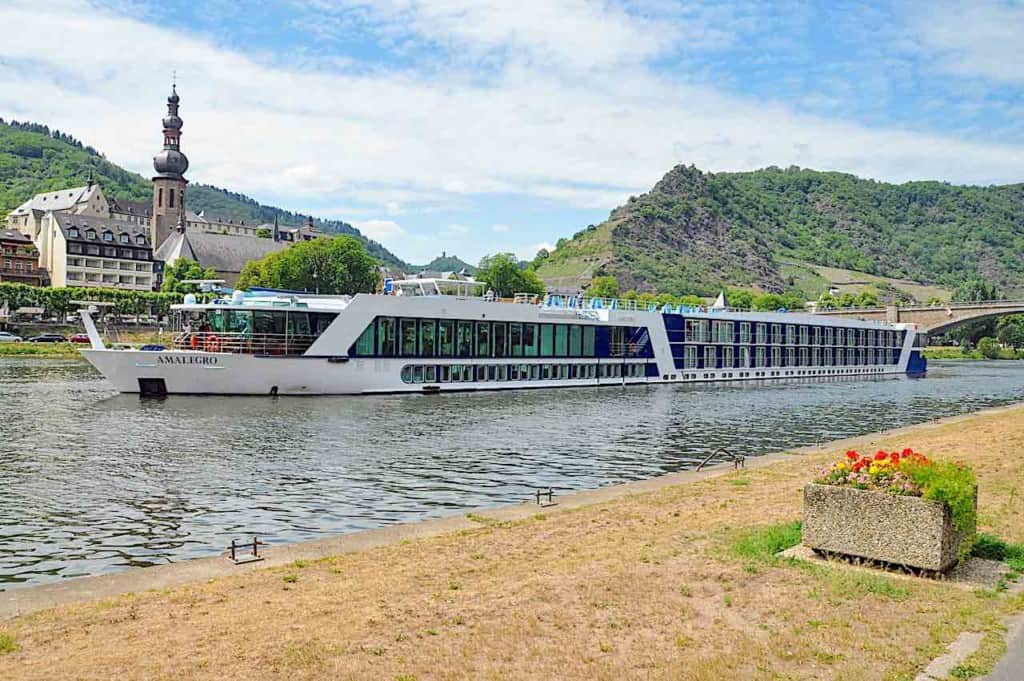 His heavy-set eyes opened wide as he slowly looked around and absorbed the ambiance of the elegant foyer and lobby. We shook hands and exchanged "thank you" several times in various versions of French, Flemish, Luxembourgish and English.
Hardly a short travel day aboard two trains from Amsterdam to Luxembourg, but one well worth the effort. I missed a day tour of Remich because the train from Amsterdam to Luxembourg was late. However, I arrived just in time for the welcome aboard dinner.
A quick freshen-up in my new room (with a French balcony!) and I made my way to the dining room.
The next three weeks we'd slowly meander along the Mosel, Rhine, Main and Danube rivers. Twenty-one days, nearly three dozen cities and towns and only one boat. A river cruise is the best way to visit the interior of Europe and…you don't have to pack and unpack to do it!
Disclaimer: I was a guest aboard AmaWaterways. All opinions are my own and in no way affected this article.
RELATED ARTICLES:
I'm the editor and creator of CruiseMaven.com, a solo traveler cruising the world on waves and wheels, collecting recipes along the way.  I hope my articles and photos entertain, advise and inspire you to travel the world without flying.  Take a breath…stop for a local meal and a glass of wine along the way.