Located between elegant Budapest in Hungary and Imperial Vienna in Austria, tiiny Bratislava (in Slovakia) beckons the curious traveler.
If you're wondering what to do in Bratislava on your own or before or after your shore excursion, read on.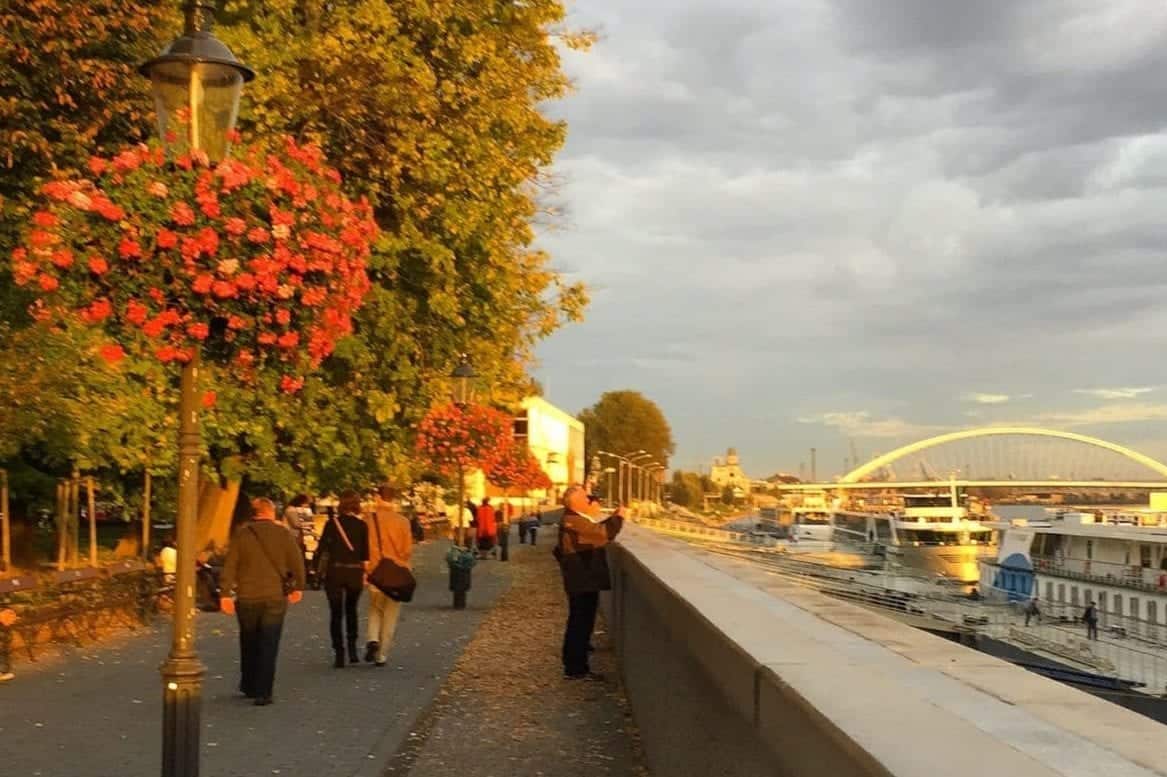 It seems this city on the Danube is included on just about every Danube River cruise. And it's quickly becoming one of my favorite small cities on the river.
The austere architecture of eastern Europe resonates in cities all along the Lower Danube, from Bucharest, Romania to Budapest, Hungary. In these two important cities, Communist bloc cement grey buildings are juxtaposed with the grand designs of rococo, French Baroque and neoclassical architecture. But it's tiny Bratislava, flanked by the opulence of Budapest and Vienna, that is quietly becoming its own major tourist destination.
What to Do in Bratislava
Close to Vienna, Bratislava lies near the border of Austria, where the Danube runs almost straight east and west between Budapest and Vienna. After several visits, I finally feel as though I'm beginning to understand this vibrant city that dates back to the Stone Age.
Almost every river cruise company includes Bratislava on their Danube itinerary. The Viking Lif docked here for nearly 12 hours. Plenty of time to explore the city, enjoy a café lunch and never feel rushed.
What to do in Bratislava usually begins with a morning motor coach tour of the city and a visit to the hilltop Bratislava Castle. It's a good way to get acclimated to a new city. Then you could strike out on your own.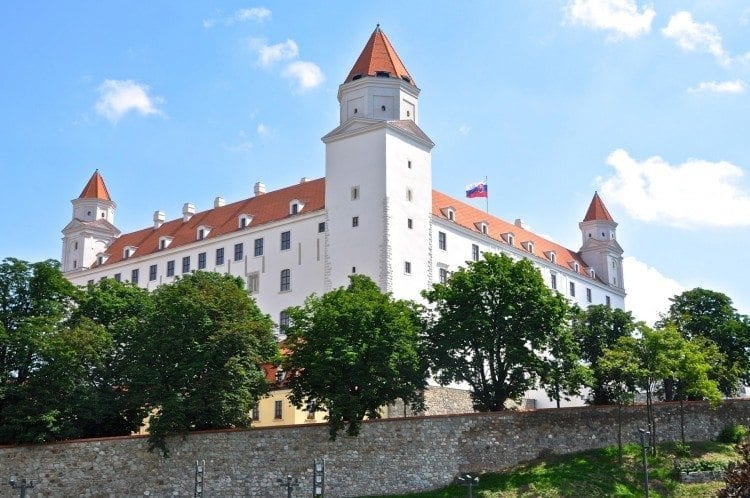 Originally built in the ninth century, the castle was destroyed by fire in 1811. With the original building plans in hand, reconstruction began in 1953 and was completed in 1963. It now houses part of the National Museum and is home to the National Council of Slovakia.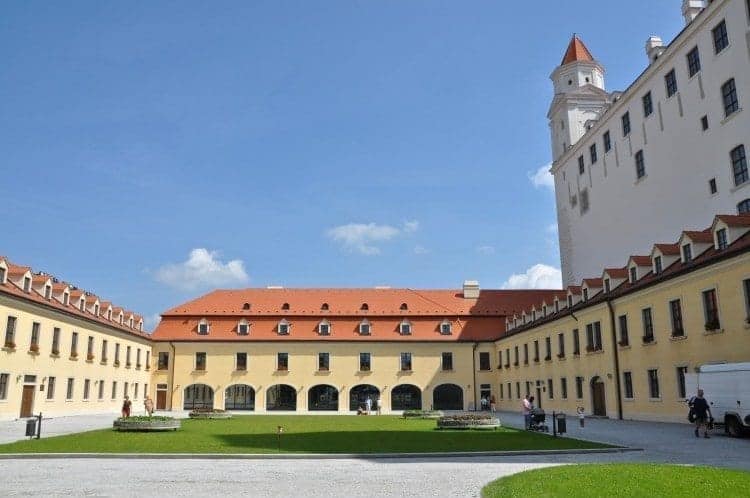 The Courtyard at Bratislava Castle gets busy at noon when office workers come outside to enjoy their lunch.
View of the Danube, the asymmetrical New Bridge and the kooky UFO restaurant at the top. The bridge opened in 1972.
After the city tour and a visit to hilltop Bratislava Castle, your bus will return to the ship for those who want lunch aboard or let others off near the city center at the Danube.
If you choose to spend a day in Bratislava to visit the heart of the city, it's just a short walk from where the many river boats are docked. Join me on my walking tour.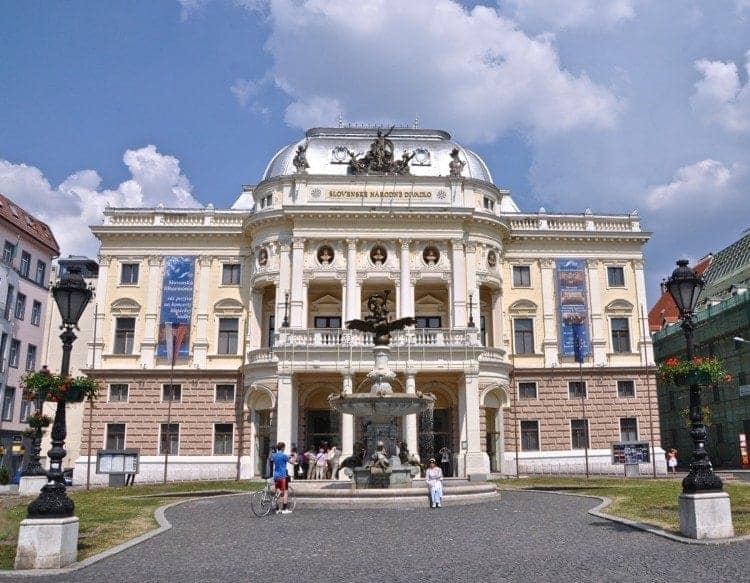 Be careful as you cross the diagonal streets opposite the river to head into town. Dominating an expanse of open space at the edge of the city center is the French Baroque Bratislava National Theatre.
One of many quiet electric trolleys that run throughout downtown Bratislava.
Look up! Bratislava is filled with whimsical and interesting sculptures, as is this scary gargoyle to keep evil spirits away.
A walk through Old Town yields a treasure trove of medieval buildings still in use. Artwork adorns the exteriors, too.
One of many cafés that fill downtown Bratislava's many side streets and town square.
From almost anywhere in the city center, you can look up to see St. Michael's Gate tower. Head over and walk through St. Michael's Gate, the only remnant of one of four gates used to enter the city circa 1300.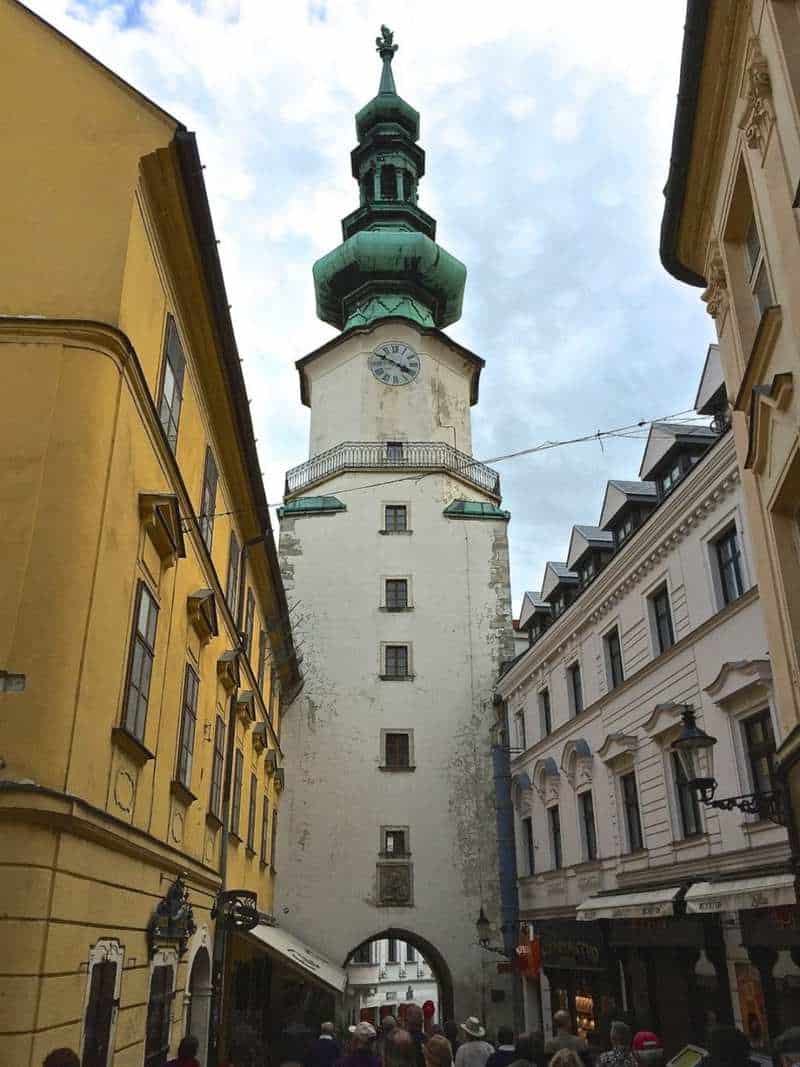 St. Michael's Gate, built in the early 14th century and torn down between 1529-1534. It was rebuilt during the late Baroque period in 1753-1758 when the statue of St. Michael and the Dragon were added at the top.
Walking through the archway, look down to see Point Zero, a brass marker that shows visitors the distance from that point to cities around the world.
Tourists congregate and try to find their hometowns on the brass circle. Inside St. Michael's tower is the museum of medieval fortification and an assortment of period weapons to view.

Next, walk to the town square. You'll find Napoleon's Army Soldier, one of many funny brass sculptures in and around the town square. Napoleon's soldier is "stationed" in front of the French Embassy.
One "famous" resident is Cumil another whimsical brass sculpture, also known as Rubberneck. He's a sewer worker, peeking out from underneath a manhole cover. It's supposed to be good luck to rub his cap, thus golden brass color of it.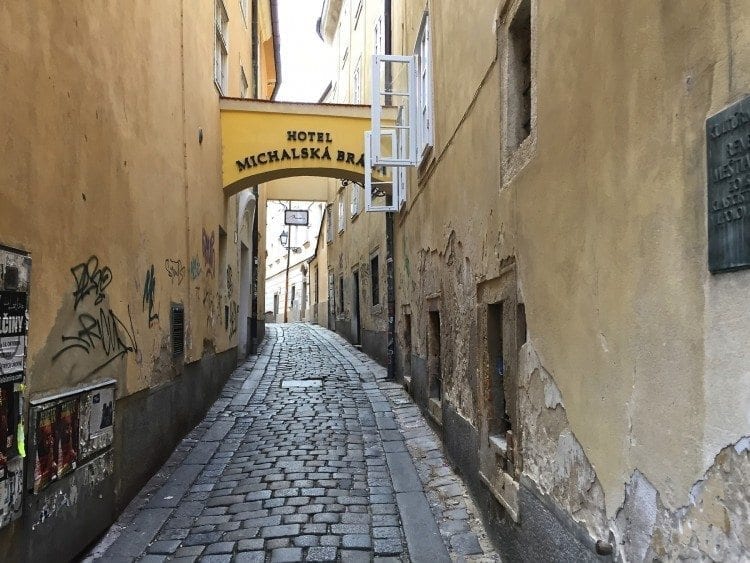 Located a few steps from St Michael's Gate, Hotel Michalska Brana is a modern boutique hotel in an centuries' old building. Maybe on a return visit.
Another brass statue, the Schöner Naci is supposed to be Ignác Lamár, an eccentric elderly man who wandered the streets of Bratislava in the early 1900's. Legend says that he supposedly tipped his hat and wished, "Good Day" as he passed by the women of the city.
Once you begin your walking tour, you can cover the main part of downtown in two-three hours but you should really leave enough time to stop at a café for a hearty Slovak lunch.
Bratislava is one of those truly underestimated cities in Europe. A mecca for culture, Bratislava has so much to offer that one day is barely enough time to appreciate it. With a river cruise that begins or ends in Vienna or Budapest, a few nights spent pre- or post-cruise in Bratislava is well worth it. And besides, it's only a short train or tourist boat ride between the three cities.
Read about my recent Viking Grand European 15-Day River cruise that began in Budapest.
I'm the editor and creator of CruiseMaven.com, a solo traveler cruising the world on waves and wheels, collecting recipes along the way.  I hope my articles and photos entertain, advise and inspire you to travel the world without flying.  Take a breath…stop for a local meal and a glass of wine along the way.