Viking River Cruises is a dominant player throughout Europe, so finding a Viking river cruise to fit my schedule was easy. It was aboard Viking Lif on a Grand European Tour River Cruise. To help you decide what Viking Longship to take, here is my Viking Lif review and photo tour.
European river cruises are, in my opinion, the best way to experience the heart of Europe. If you want to explore Europe's small towns and bustling cities and not pack and unpack, you need a river cruise.
Viking Lif Review and Photos – Grand European Tour River Cruise.
My 15-day Viking Lif Grand European river cruise in October meandered on three rivers from Budapest to Amsterdam. The itinerary began with an overnight and a full day of touring in Budapest.
Along the way, we'd visit and tour the major European capital cities of Bratislava, Vienna, Cologne and Amsterdam. In addition to the main cities, we'd stop at several smaller towns, cruise past medieval castles, rampart ruins and sample local food, wine and beer.
Inaugurated in 2014, Viking Lif is currently one of 40 "Viking Longships" in Viking's fleet of 60 river ships around the world. These ships (and they really are like ships) carry up to 190 passengers on three decks.
There's an elevator that goes between the Middle and Upper decks where you'll find most of the action and staterooms.
Viking Lif Photos – Interior Spaces
From the moment I stepped onboard the Viking Lif, it was obvious that this was indeed Viking's traditional minimalist Scan-design. River ships are inherently small so Viking's Longships are designed with light colors, simple but elegant furniture and abundant floor-to-ceiling glass panel windows.
Nothing dark, heavy or overly plush. Sort of a mélange of Scandinavia meets Italian modern design. It works.
Surrounded by walls of glass windows, it was easy to take these Viking Lif photos!
Veranda Stateroom
Roomier than I expected, my veranda stateroom with a full walk-out balcony continued the uncluttered and minimalist approach. The linens were soft and plush, and the comforter wasn't so heavy that your feet would roast. Plenty of drawer and countertop space.
Not that I was in my room very much, but when I wanted to watch TV, the 40″ wall-mounted flat panel screen was wonderful.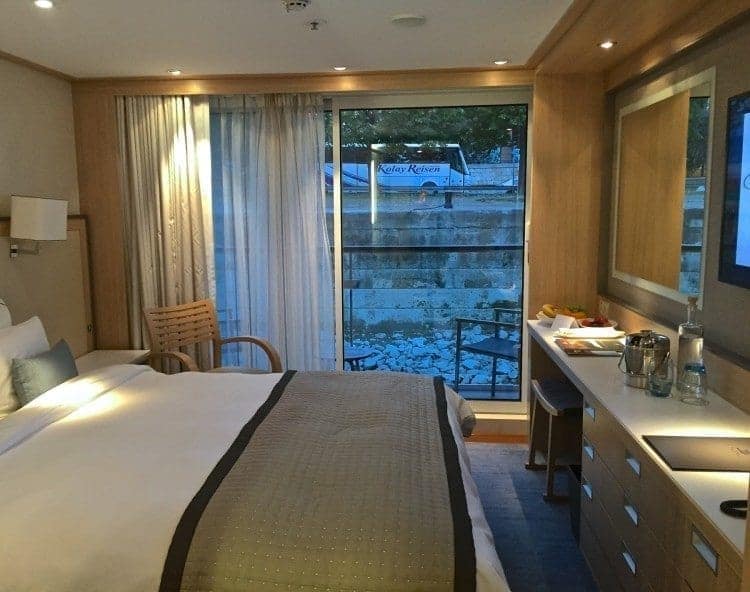 Unique to me, the television's Bose speakers were built into the ceiling. In fact, there were two speakers that created a sort of stereo effect. Very clever planning. You don't hear your neighbor's TV or worry that yours was too loud.
I wasn't sure if I'd use a balcony in late October (I was used to the sliding French doors on river ships). But I used this balcony rain or sun. I'd step outside and with elbows on the railing, hum the Blue Danube waltz and watch the river flow. There's just something about a river cruise.
READ MORE: 10 Best Things to do in Budapest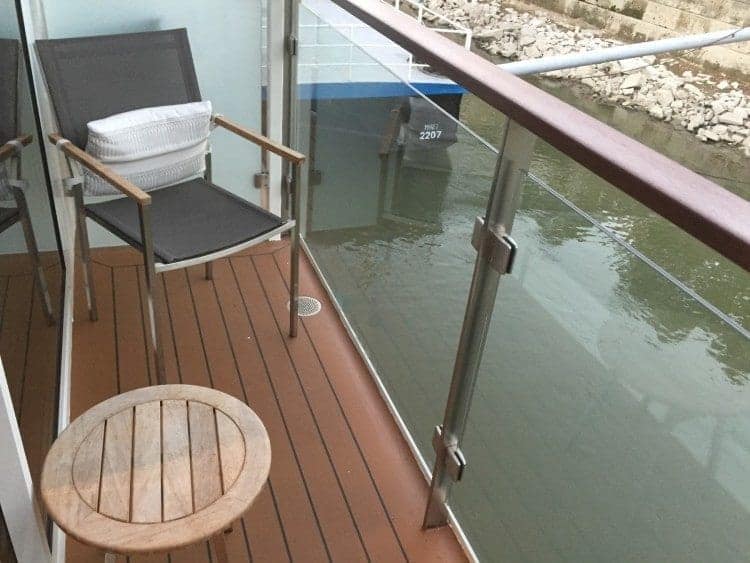 And the bathroom. Plenty of storage space for toiletries, oversized shower with hand-held nozzle. L'Occitane bath products are featured.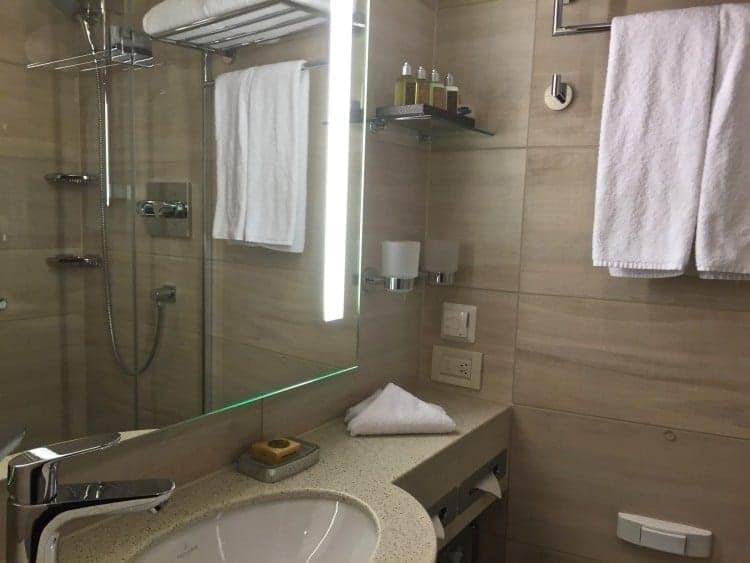 If a Suite or Veranda Stateroom aren't in your budget, there's the French balcony stateroom category and the 150 sq. ft. Standard stateroom, at the water level.
Dining On Board Viking Lif
Viking Lif features a main dining room, aptly named The Restaurant. It's located toward the front of the ship on the Middle Deck. Furnished in all neutral tones like the rest of the ship, with floor-to-ceiling glass windows on both sides, the room never felt crowded.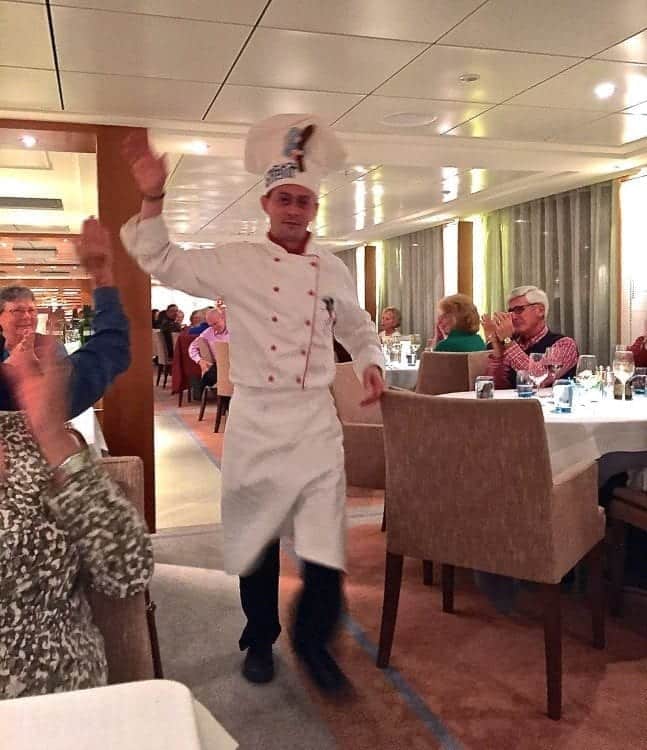 It's open seating in the main dining room for all three meals. Beginning at 6am, early risers can get coffee, juice and a pastry in the Lounge. By the rousing hour of 6:30am, Continental breakfast begins in the Aquavit Terrace on the Upper Deck.
Full sit-down breakfast service plus a huge buffet is served in the Restaurant from 7:00 – 9:30am. Sometimes only until 9:00am if there's an early tour departure.
Lunch is served at 12:30pm almost every day and ends about 2:00pm. Afternoon tours generally depart at 2:00pm. A very nice lighter lunch is offered every day in the Aquavit Terrace. This was my favorite place, even for dinner.
On warm days and nights, the retractable ceiling gives way to sunshine and stars.
In good weather, or even if you bundle up, take your meal outdoors onto the Terrace.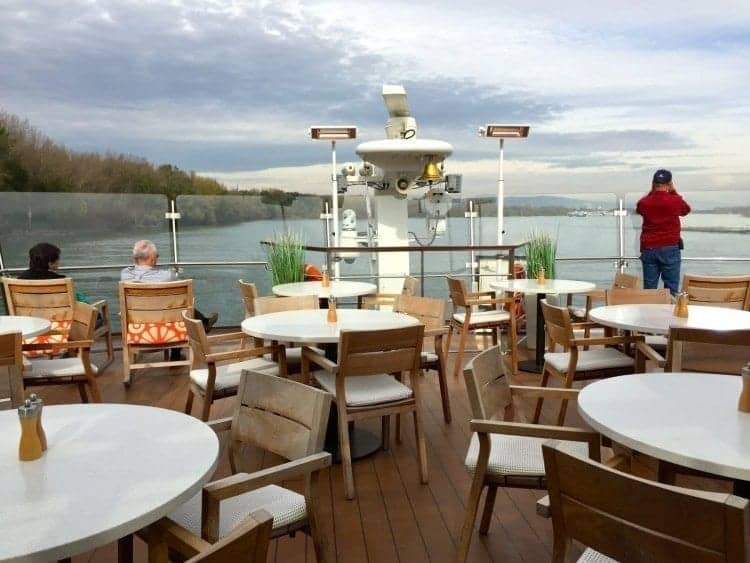 Entertainment
The Observation Lounge on the Upper Deck is where you'll find the action. During the day while cruising the river, it's where you can plop into a cushy sofa or chair and watch towns and villages appear out of almost nowhere. Meet up with new friends or curl up with a book.
The Lounge is also where cooking, craft demonstrations and onboard entertainment take place. I really enjoyed the Apple Strudel cooking demonstration. Guests got into the act only too willing to participate!
The Observation Lounge shares the space with the full-service bar. No wonder that everyone gathers there for the before-dinner cocktail hour and to listen to the resident keyboard player. Lee, our Program Director, would recap the day's tours and explain the scheduled excursions for the next day.
After dinner, local entertainers board the ship and perform in the Lounge. Sometimes it's a classical trio, a skilled violinist or even a folkloric dance troupe. And of course, the bar is open until past midnight.
If weather permits, or if (as I recommend for early and late season travel) you've packed a hat, scarf and gloves, head up to the Sun Deck. Extending nearly the full length of the river ship, there's a walking track, deck chairs and canopy shade.
There's even an herb garden. Note: there will be stretches on the river when the Sun Deck is closed due to low clearance under the bridges. You can see in the photo above that the deck chairs were folded in anticipation of approaching the bridges.
What to wear on a Viking river cruise
The dress code on a Viking river cruise is casual. Not flip-flops and undershirt casual, but nicely dressed comfortable clothing. In the evenings, men can wear a sport coat or just a nice collared shirt or turtleneck.
Most women bring a couple of pair of black pants for the evenings, sometimes worn with a sparkly blouse or sweater on the Welcome Aboard or Captain's Gala night dinner. No ties, tuxedos or fancy dresses needed.
Don't forget to pack comfortable walking shoes, already broken-in! You can do a lot of walking on a river cruise tour.
Viking Lif Review Wrap-Up
Viking Lif met and exceeded my expectations. Viking Lif was almost full to capacity with 182 passengers, yet by the end of the cruise I had met almost everyone. The entire staff, from galley and food service to housekeeping and on up to the officers, were always friendly and knowledgeable and fluent in English.
That's a good thing since nearly all of the guests were Americans, Canadians and Australians.
Viking Lif Fast Facts
There are 95 outside staterooms including 2 Explorer Suites, 7 Veranda Suites, 39 Veranda Staterooms, 22 French Balcony Staterooms, 25 Standard Staterooms.
Full-length Sun deck also includes a putting green and walking track.
For souvenirs or forgotten toiletries, there's a small gift shop
Free ship-wide wireless Internet service
Laundry service is available for a fee.
All staterooms feature a 40″ flat-panel Sony TV, a safe, hair dryer, refrigerator and complimentary bottled water.
River Cruise Insider Tips
Be considerate of fellow passengers. If you must do a pre-dawn speed walk on the Sun Deck, please adjust your routine while onboard. Your pounding footsteps could easily awaken the passengers just below, on the Upper Deck. And it's a walking track…not a jogging track. If you simply must jog or run, stay onboard and pound feet when everyone else has left for a shore excursion.
Solo traveler questions about dinnertime dining? Here's my tip. Arrive when the doors first open and sit at the largest table possible. That way, you don't have to roam through the dining room after everyone else has been seated, in search of that one empty chair.
While it isn't free, the onboard laundry service can clean and press your clothes within 24-hours. All totaled, using the laundry service (and/or doing hand-washables in the sink) is less expensive than the extra weight or baggage fee that the airlines charge if you pack too much.
Mobility challenged guests should know that the elevator doesn't connect to the Sun Deck or the lowest (Main) deck where the water-level staterooms are located.
In full disclosure, I was an invited guest aboard Viking Lif. This has not influenced my review in any way. While I do not dwell on the negative, if something is not up my standards or what I think my readers would like to know, I will mention it.
Need More River Cruise Inspiration?
My Viking Lif Grand European Tour from Budapest to Amsterdam:
I'm the editor and creator of CruiseMaven.com, a solo traveler cruising the world on waves and wheels, collecting recipes along the way.  I hope my articles and photos entertain, advise and inspire you to travel the world without flying.  Take a breath…stop for a local meal and a glass of wine along the way.