One of my favorite river cruise itineraries is a Rhine River through Germany. There's a lot of reasons why I get excited when we dock in Cologne. Food, fun and seeing the off-beat museums in Cologne are a must-do.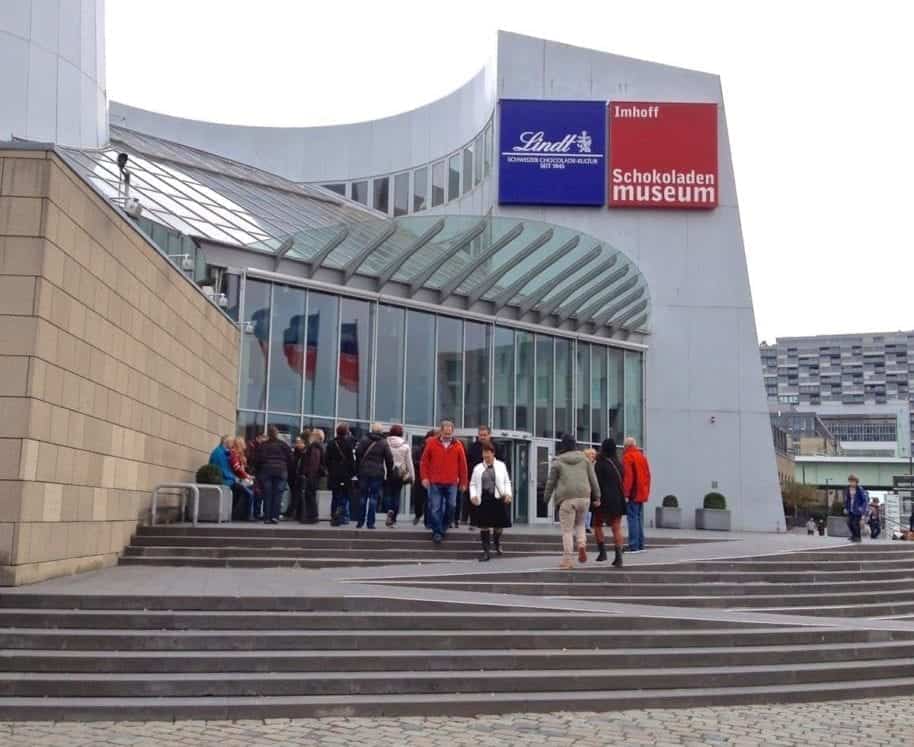 A Day in Cologne Should Include These Unique Museums
One of these bustling cosmopolitan centers is Cologne, Germany. And some museums in Cologne are, well, different. Cologne's city center, once an important Roman cultural center, (yes, the Romans were everywhere!) is within easy walking distance from your river cruise ship. Every time I'm on an Upper Rhine river cruise, I love to revisit these interesting, important and even delicious museums in Cologne.
The Chocolate Museum – My favorite museum in Cologne!
Just a short, 5 minute walk from the river boat dock is the Schokoladenmuseum. It's the oddly-shaped metal colored building that overlooks the harbor. There are three delightful components in the museum; the chocolate museum itself which features a history of chocolate and antique chocolate-making related equipment, a chocolate bakery and beverage restaurant and of course, a huge retail shop with chocolate for sale from all over the world.
The Fragrance Museum
Just across from where the river ships dock in the old town, is the Fragrance Museum. It's located in the building where in 1709, John Farina (actually an Italian-turned-German, named Giovanni Maria Farina) created Eau de Cologne, a fragrance he named for his beloved city. I can almost guarantee that you'll buy a bottle of the citrus-y and aromatic 1709 Original Eau de Cologne.
I'm editor and creator of CruiseMaven.com and a solo traveler who cruises the world on waves and wheels.   As an avid cook, I collect recipes along the way from ships and places.  I hope my articles, reviews, news and photos entertain, advise and inspire you to try solo travel and see the world without flying.  Take a breath… stop for a meal and a glass of wine along the way.