I really wasn't interested in a Christmas Markets river cruise in Europe. In my mind, every market in even town and city would be overrun with aggressive shoppers, cheapskate lookers, sloppy drunks and of course, tourists.
To be fair and dispel any preconceived notions, I had to go for the experience. Hopefully, I'd prove myself wrong. And I did.
How I ended up on a Christmas Markets Rhine river cruise
My original plan was for a seven-night river cruise from Amsterdam, Netherlands to Basel, Switzerland with AmaWaterways.
An unexpected change of plans and suddenly I found myself on back-to-back Christmas Markets river cruises. I was aboard AmaCerto for two weeks with a change of stateroom at the turnaround point in Basel.
This was probably the eighth time I'd cruise up and down the Rhine between Basel and Amsterdam. The more I traverse this historic stretch of river, the more I learn about each ancient and medieval city, town, castle and cathedral. I'm never bored and it gives me oodles of not-to-be-missed things to see and do to share with others.
When are Christmas Markets River Cruises?
Sounds like a simple question, right? But to be on the rivers at the right time for an optimal Christmas Markets experience takes a little knowledge and planning.
Christmas Markets in Europe, especially Germany, generally open the third weekend of November and run through mid-December. Not right up until Christmas. This European extravaganza reaches its seasonal crescendo by the second weekend of December.
Our itinerary, called the Enchanting Rhine, began in Amsterdam and ended 764-miles upriver in Basel, Switzerland. The headwaters of the Rhine is not far from Basel, in Lake Constance, sourced from the Alps. Here's our cruise itinerary:
• Amsterdam, Netherlands (overnight)
• Cologne, Germany
• Rüdesheim / Rhine Gorge Cruising
• Speyer / Heidelburg
• Kehl / Strasbourg, France
• Breisach, Germany
• Basel, Switzerland
Vendors from all around the continent flock to these extravagant events, whether in Germany, France or even England. Sellers haul their wares and set up elaborate little huts, many of which look like gingerbread cottages and mini log cabins.
You can find almost anything at the Christmas Markets. From hand-tooled leather wallets and fluffy alpaca socks to steaming mugs of gluhwein (mulled wine), crispy potato pancakes and plates swamped with gooey melted cheese and dill pickles. It's sensory overload in every direction. What you won't find are cheesy, plastic ornaments.
Day One: Embarkation Day in Amsterdam
It wasn't exactly a day for hoofing it around Amsterdam. Late November and inclement weather is the norm. Sunny days are a welcome surprise. We would have both over the next two weeks.
Sometime during the chilly night, the AmaCerto was quietly untied and began the slow cruise upstream. Yes, upstream. After a morning of sailing past farmland and industrial areas, we entered Germany.
Our first stop heading south on the Rhine was Cologne, in the late afternoon. Christmas markets here really kick into high gear after 5pm and last all day and night on weekends.
Day Two: First Christmas Market – Cologne, Germany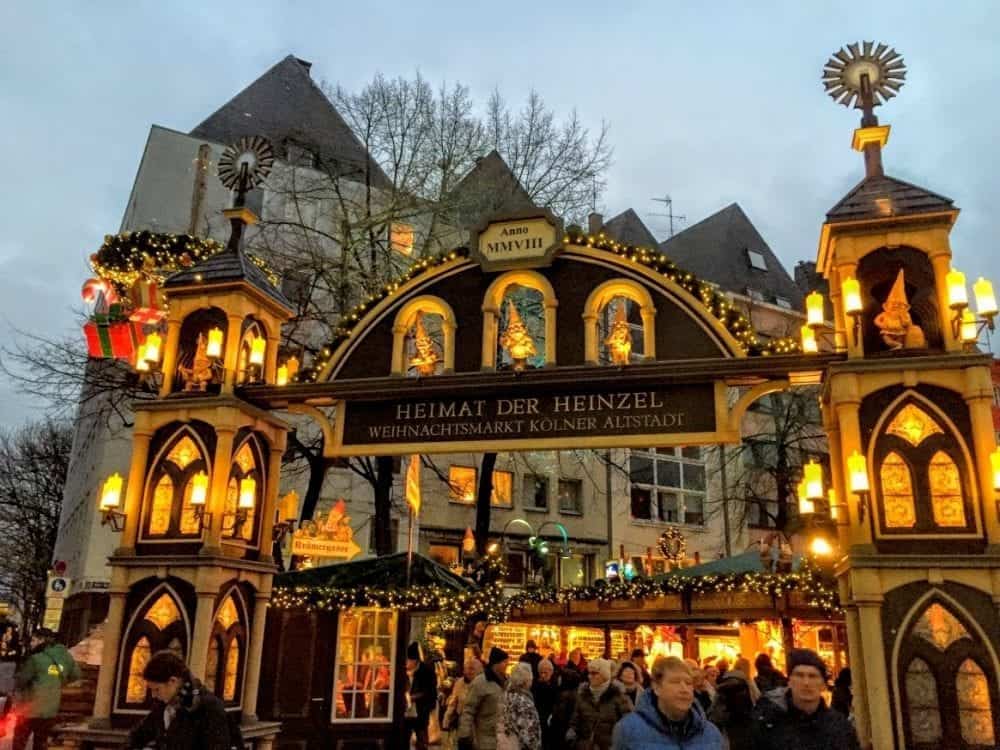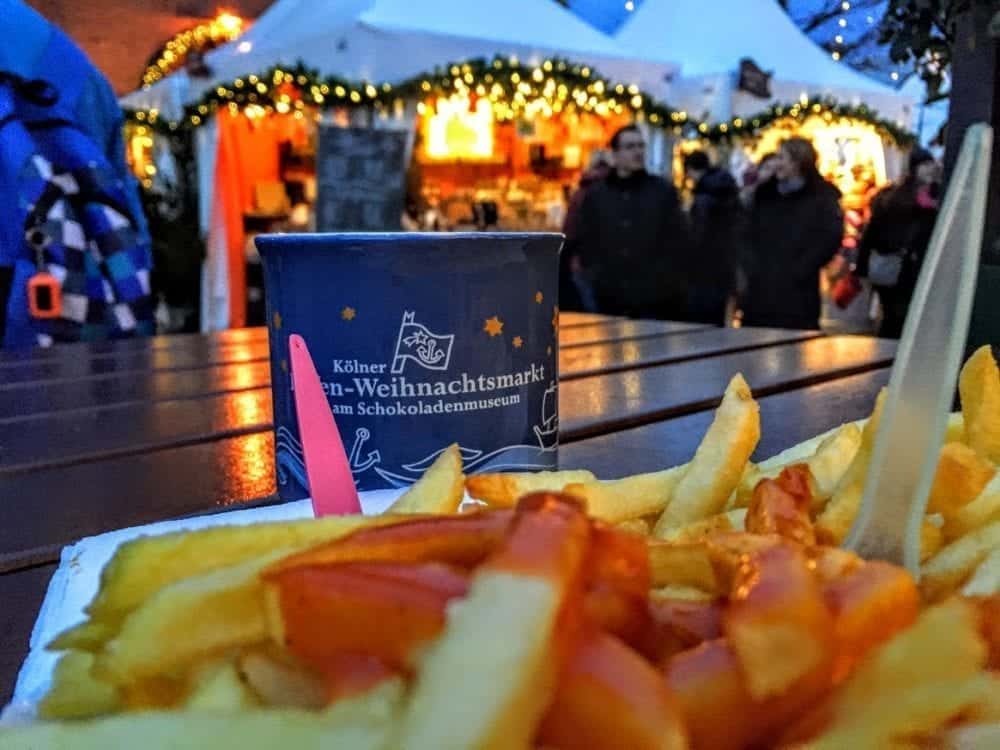 Cologne has six Christmas Markets and the largest four are located near the Cologne Cathedral. I managed to find all four major Christmas Markets with no more than 15 minutes walk between each one.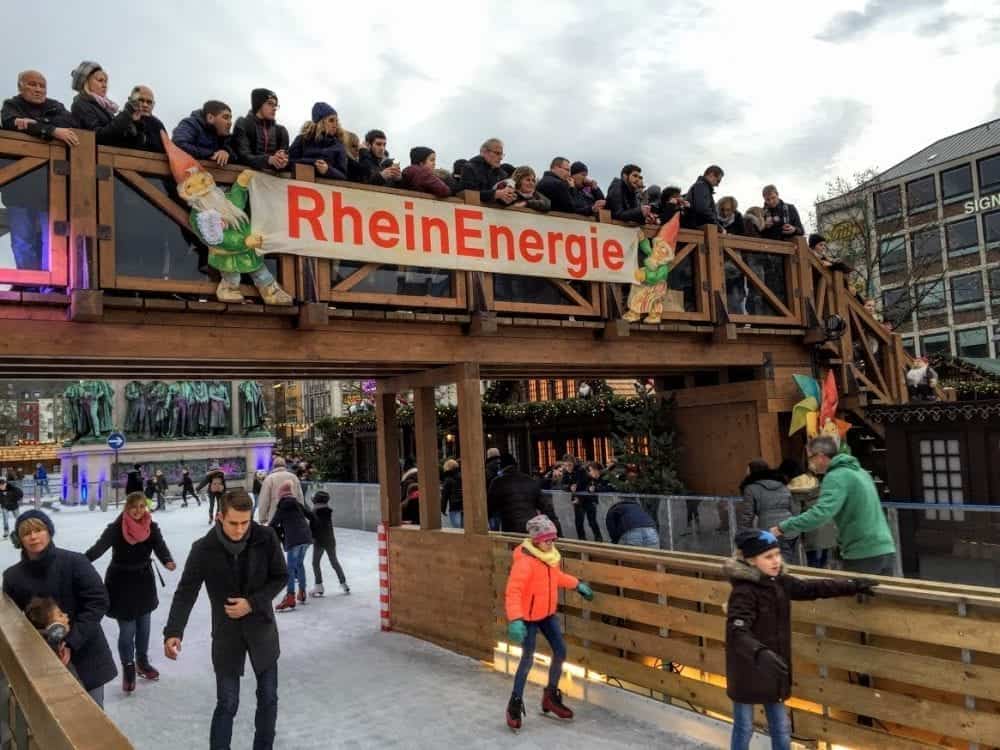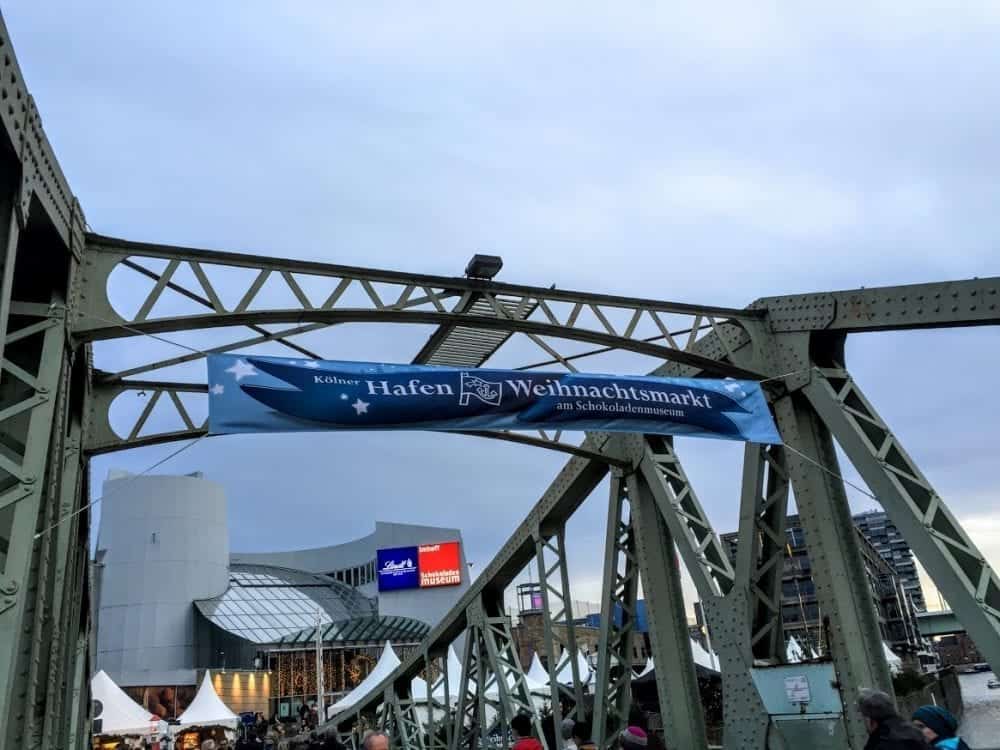 Day Three: En route to Rüdesheim, Germany
Our morning was spent cruising the most famous and photo-taking portion of the Rhine River, the Rhine River Gorge. In a span of less than three hours, the AmaCerto slowly cruised past no less than 30 castles and castle ruins.
Second Christmas Markets in Rüdesheim
AmaWaterways had a planned evening event in Rüdesheim, at Rüdesheimer Schloss restaurant for a private pouring of flaming Rüdesheimer coffee (coffee with liquor, set ablaze and then topped with whipped cream) and local oompah music sans tuba. Take a listen (above).
Day Four: Third Christmas Markets in Speyer, Germany
Speyer is one of my favorite medium-size port towns. Depending upon where your river ships docks, you might be just a short 15 minute walk into town. There's a huge pedestrian shopping zone and at Christmas Markets time, it's bustling with store shoppers plus those who come for the markets.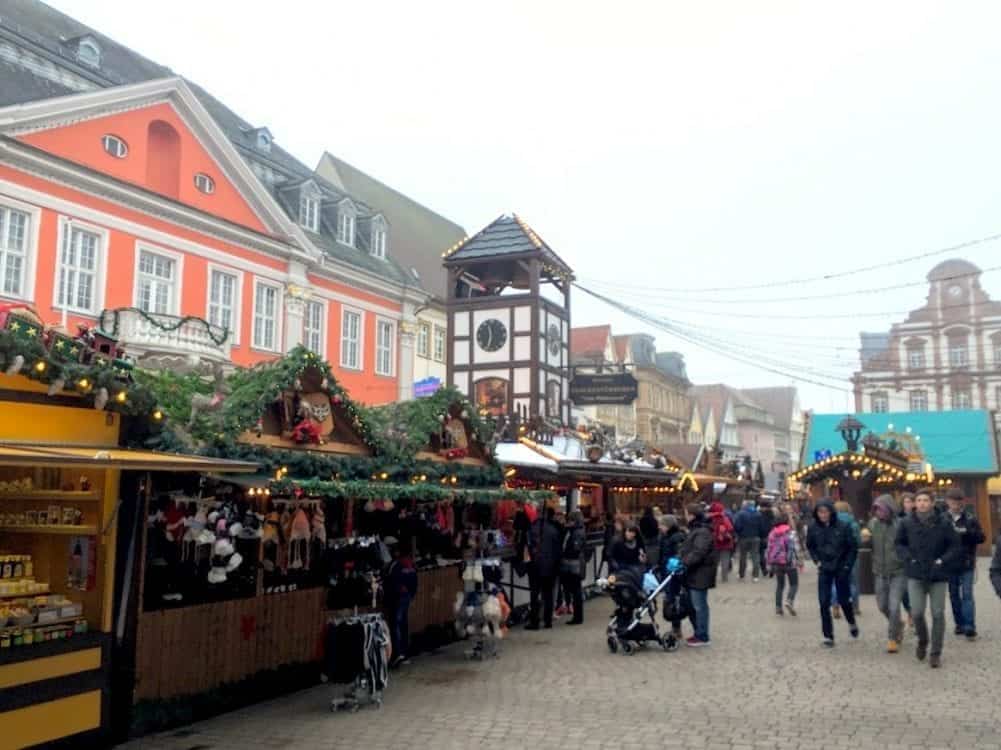 Day Five: Strasbourg, France
Finally, the day many of us were most excited to see; Strasbourg, France. River ships dock in Kehl, Germany, just across the river from Strasbourg. The two countries are connected by the Bridge of Europe/Pont de l'Europe. It's only a 15 minute bus ride depending upon traffic on the bridge and in Strasbourg.
Fourth Christmas Markets in Strasbourg
Almost all river cruises to Strasbourg plan an entire day there. Guests can join a morning walking tour of Strasbourg and then either take the motor coach back to the ship for lunch or have lunch in the quaint and oldest section of Strasbourg, Petite France.
For those returned to the AmaCerto for lunch, a shuttle bus ran back and forth into Strasbourg from 2:30pm until 5:30pm. Since departure isn't until 4:45am (that's right, a.m.!), many guests chose to have a truly French evening dining experience ashore and took a taxi back to the AmaCerto.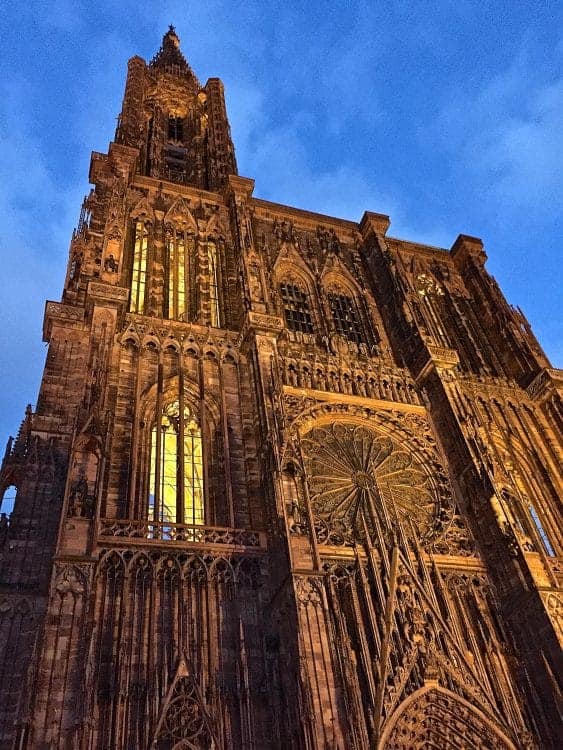 Strasbourg's Christmas Markets, "Christkindelmärik", is one of the oldest in France, began in 1570. There are several Christmas Markets within Strasbourg but the main one is Place de la Cathédrale.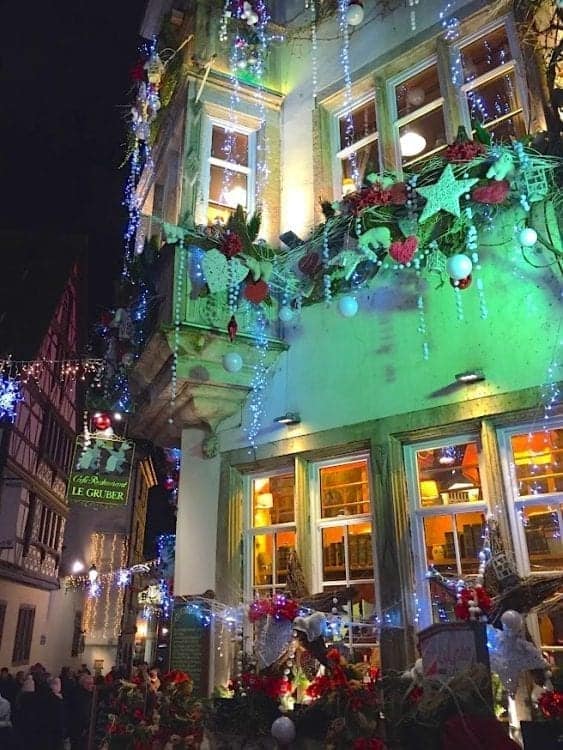 Day Six: Fifth Christmas Markets in Breisach and/or Riquewihr
Breisach, Germany was the fifth and final port on this seven-day Enchanting Rhine cruise. Guests could choose either an afternoon walking tour of Breisach and then to Freiburg by motor coach, a bicycle tour of Breisach or a 45-minute bus ride to Riquewihr, a small French town in the heart of Alsace. Sort of like the town in Disney's Beauty and the Beast.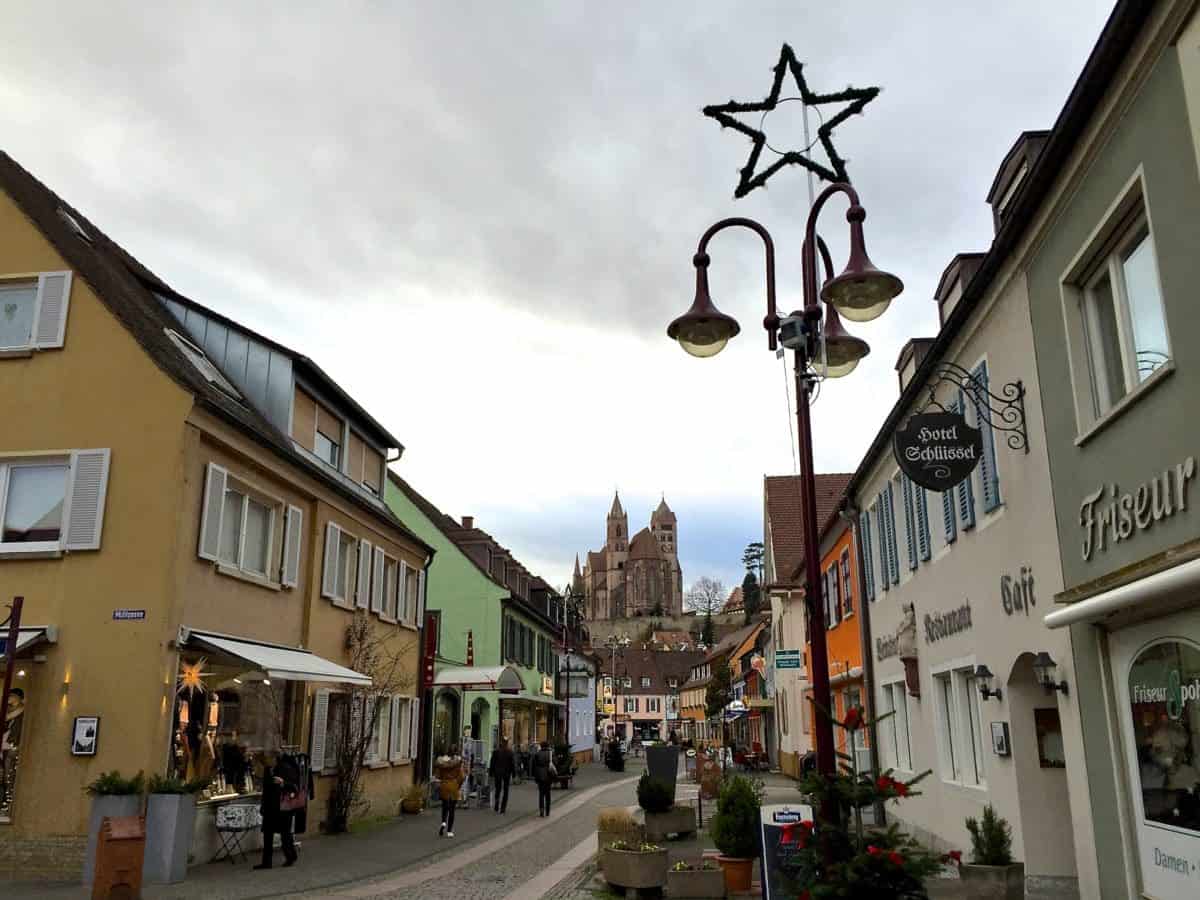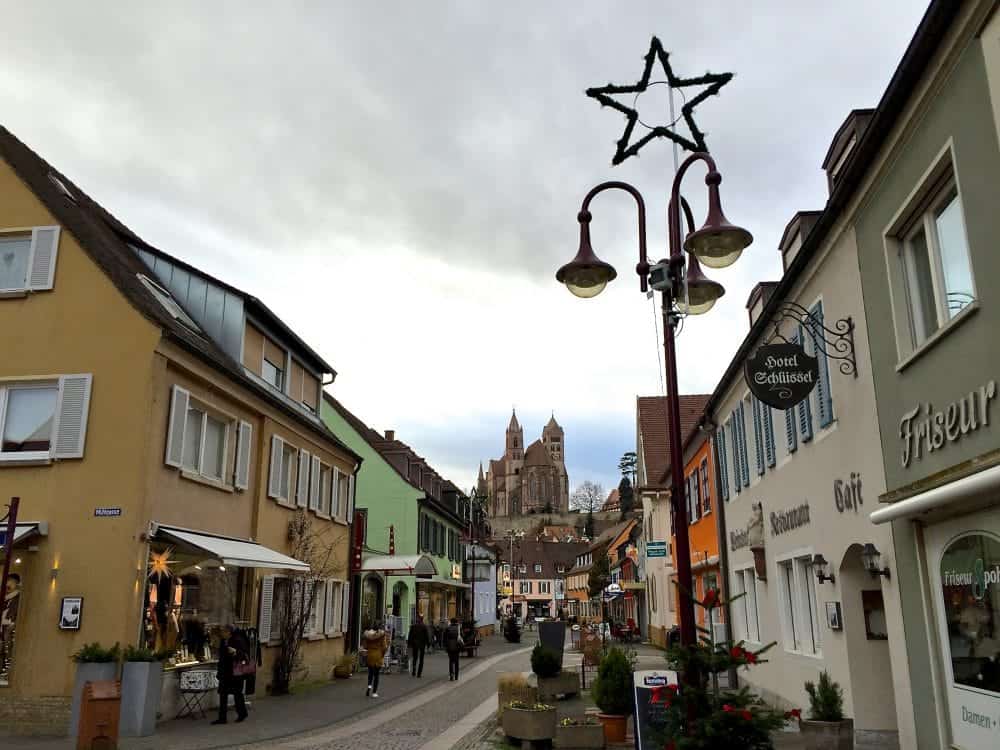 Since I knew I'd be back in Breisach in three days to do a walk-around, a re-visit to the charming Alsatian town of Riquewihr was my destination. I was curious how the town would be dressed up for Christmas.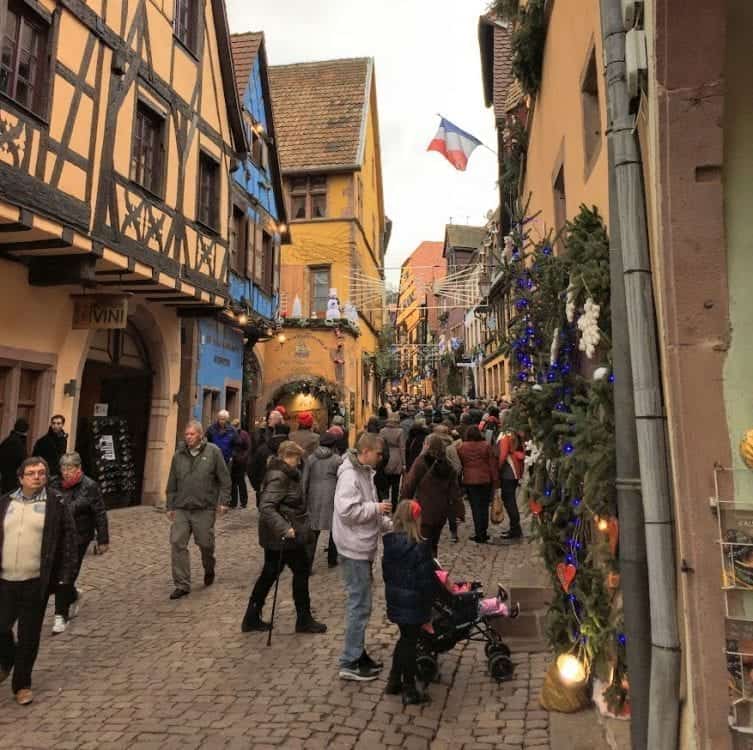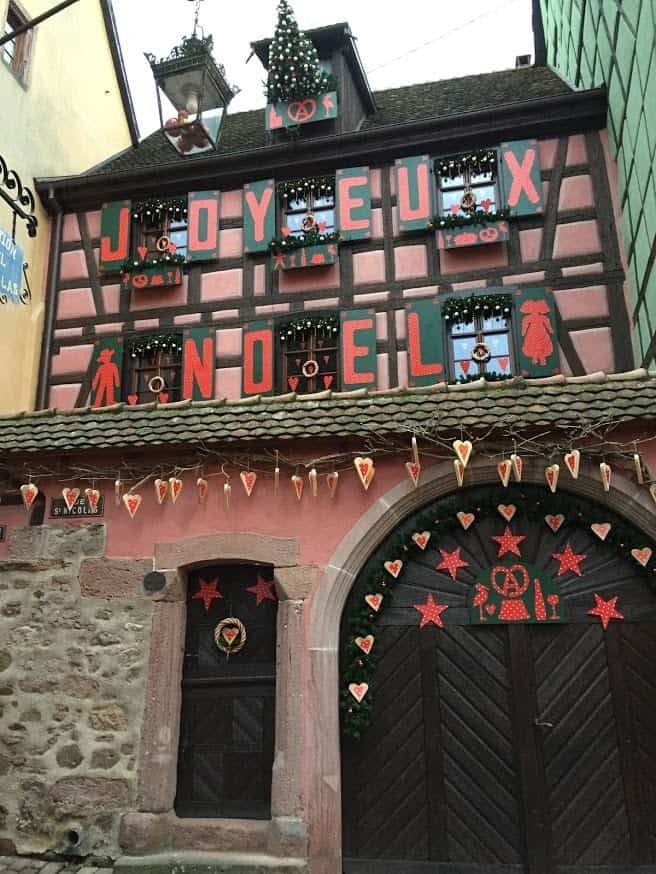 READ ABOUT: Five Unusual Museums to Visit in Cologne
It's always sad to say goodbye to new river cruise friends. On small river ships like these, it's easy to get to know almost everyone.
After the Captain's Farewell Dinner, it was time to head to my stateroom. With jacket on, I sat on the balcony and enjoyed the crisp breeze as the AmaCerto left Breisach for Basel, Switzerland.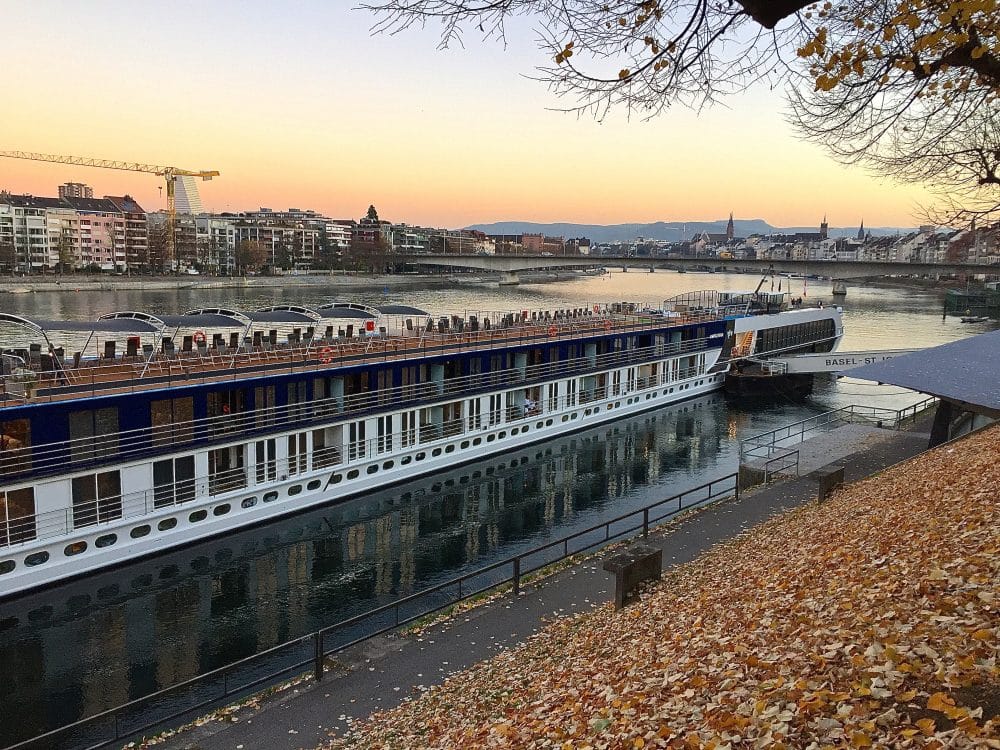 Day 7: Basel, Switzerland
When we woke up the next morning, we were in Basel. It was important for me to stay out of the way of the crew this morning. Tons of provisions were waiting to be loaded, rooms had to be cleaned as the ship prepared for its next guests. The perfect opportunity to check out, wait for it… the Christmas Market in Basel.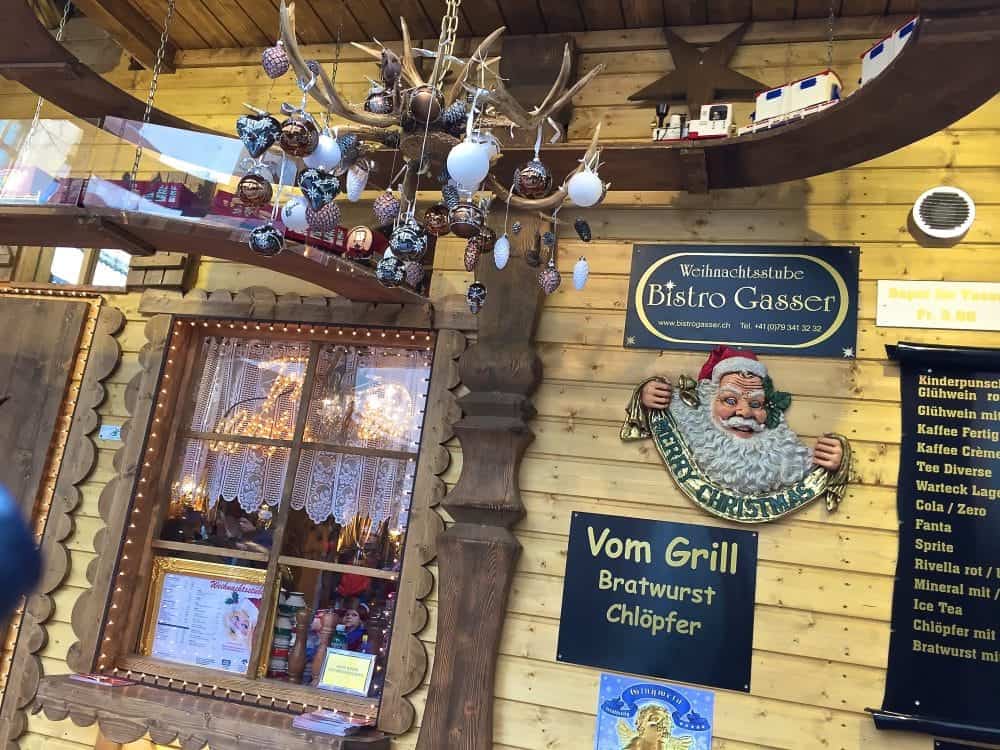 By tonight, I'd be settled into my new room, ready to re-explore the same Christmas Markets that we visited on our last cruise, except in reverse.
For more info on a Christmas Markets river cruise, head over to AmaWaterways.com.
Disclosure: I was a guest aboard AmaWaterways AmaCerto. As always, all opinions and photos are my own. How could I fake this stuff? It was a spectacular pair of cruises on an excellent, award-winning river cruise line. Seriously. You need to put this on your to-do list. And if you can budget the time and money, reserve a back-to-back river cruise.
PIN THIS AND SAVE!
I'm the editor and creator of CruiseMaven.com, a solo traveler cruising the world on waves and wheels.  I hope my articles and photos entertain, advise and inspire you to travel the world without flying.  Take a breath… stop for a meal and a glass of wine along the way.