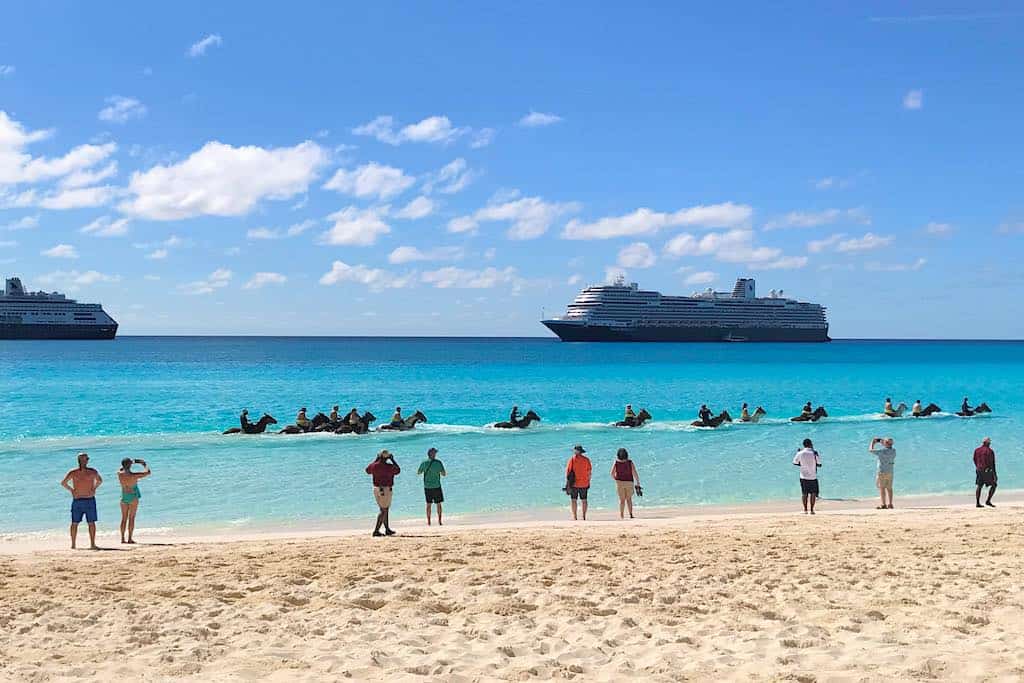 Carnival Has Two Big Projects in the Plans
Carnival and the Bahamian government have filed an agreement to permit Carnival to begin work on two new projects. 
Carnival plans to develop a new cruise port destination as well as dig in for some major improvements to Little San Salvador, home of Holland America's Half Moon Key.
The new cruise destination will be located on the south side of Grand Bahama Island and it will be as Carnival said, "a uniquely Bahamian destination with a spectacular beachfront and exciting features." What those features will be isn't yet known.
Over at Little San Salvador Island, Carnival plans to build an actual pier. Currently, ships must anchor offshore but it makes for really great photos of the ship across the water.
The project is expected to cost over $180 million dollars and will begin sometime in 2020 once all the environmental studies are completed. 
Read Next: Horseback Riding Shore at Half Moon Cay Review
Rescue at Sea as Their Yacht Starts to Sink
This scary incident happened last week across the globe off the coast of New Caledonia. Three men were out in the yacht when they ran over a rope and it was caught in the engine. The yacht's hull was damaged and the boat soon began taking on water. Though they tried manually and with bilge pumps, the water didn't stop.
They were forced to abandon ship and deploy the life raft. One of the men was able to contact his wife in New Caledonia and she relayed the SOS to marine authorities who then contacted P&O Australia. Pacific Dawn was alerted and altered course to find and rescue the stranded boaters. All ended well for the three men but the yacht of course soon sank. 
You'll Now Need a Passport for this Small Caribbean Island
If you're a US citizen, your cruise departs from the United States and the itinerary includes Martinique, you will now need a valid passport to go ashore. 
Located in the French West Indies, Martinique is quite French and you'll find that most stores only accept Euros. The good news is that as of today, the US dollar and the Euro are nearly at par. Also, Martinique has an unusual requirement. Your US passport only has to be valid for three (not the usual six months) from the day of your departure from Martinique. 
Some cruise lines with Martinique on their itineraries next year include Seabourn, Princess, Oceania and Holland America.
Norwegian Cruise Line Ends Use of All-Plastic Water Bottles
Norwegian Cruise Line will set a precedent and become the first cruise line to totally eliminate all-plastic water bottles. The date is set for January 1, 2020, just around the corner.
The project will begin aboard the Norwegian Encore when the ship is launched this month in Europe. Norwegian Cruise Line has partnered with a company called, JUST Goods, Inc. Their water product, called JUST Water is 100% spring water from the Glens Falls watershed at the base of the Adirondack Mountains in New York and meets the requirements of all 50 states for safe drinking water.
If you're wondering about the packaging, JUST water is packaged  in a paper-based bottle, made from renewable resources that can be naturally regrown. I looked into this and learned that the makeup is 54% Paper from Certified Forests, 28% Plant-based plastic, 15% Traditional plastic, 3% Aluminum.
Getting back to Norwegian, the cruise line will eventually eliminate all single-use plastics from their ships. Plastic straws were removed from all Norwegian ships last year. 
You'll still be able to purchase water before your cruise as well as when onboard. A half-liter will cost $4 while a full liter has a price tag of $5. Water packages will also be available.
Disney Cruise Line Announces Their Return to New Orleans
Disney Cruise Line just announced that it will homeport the Disney Wonder in New Orleans next year.
Disney Wonder will cruise from The Big Easy beginning in January 2021 through the end of February, a short stint but especially great for Disney lovers who live on the Gulf Coast.
From New Orleans, the ship will cruise several different itineraries of varying lengths. Most of the cruises will be either four- or five-nights and visit the nearby Western Caribbean. There will also be three seven-night cruises that visit the Bahamas including Disney's private destination at Castaway Key, plus Nassau and Key West. 
Finally, on February 26, 2021, Disney Wonder says bon voyage to New Orleans with a 14-night westbound Panama Canal cruise to San Diego. Reservations are open for all sailings.
I'm the editor and creator of CruiseMaven.com, a solo traveler cruising the world on waves and wheels, collecting recipes along the way.  I hope my articles and photos entertain, advise and inspire you to travel the world without flying.  Take a breath…stop for a local meal and a glass of wine along the way.