If you think it's too expensive to visit Paris, stay near the Eiffel Tower plus meals, wine and entertainment included, think again. A CroisiEurope Seine Princess river cruise is your floating hotel in Paris.
CroisiEurope River Cruises, a family-owned river cruise line, offers a unique experience, aptly named the "Paris Short Break." For three nights, you'll stay in the heart of Paris. More like a floating hotel than a cruise, the Seine Princess docks a short, scenic 10-minute walk to the Eiffel Tower.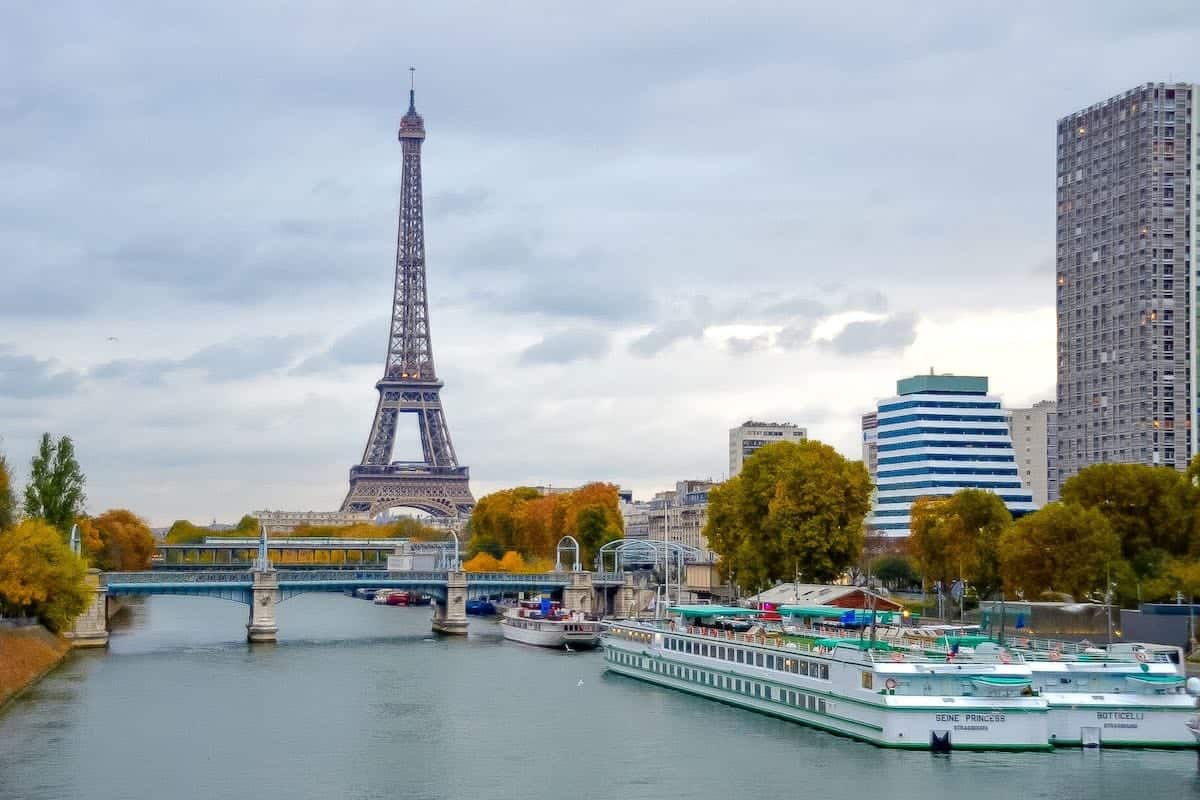 CroisiEurope Seine Princess in Paris!
During my three days and three nights aboard the Seine Princess, we were treated to two late evening cruises along the peaceful Seine river. Our excursions were perfectly timed to see the glittering gold lights of the Eiffel Tower and the illumination of dozens of Parisian landmark buildings.
Add a complimentary daytime guided motor coach and walking tour to Montmartre and Sacre Coeur and you have the best value in town.
Seine Princess First Impressions
Built in 2002 and refurbished in 2010, CroisiEurope Seine Princess is similar though on a smaller scale to most of Europe's river cruise ships. With only two decks, this ship holds a cozy maximum of 138 passengers in only 67 cabins.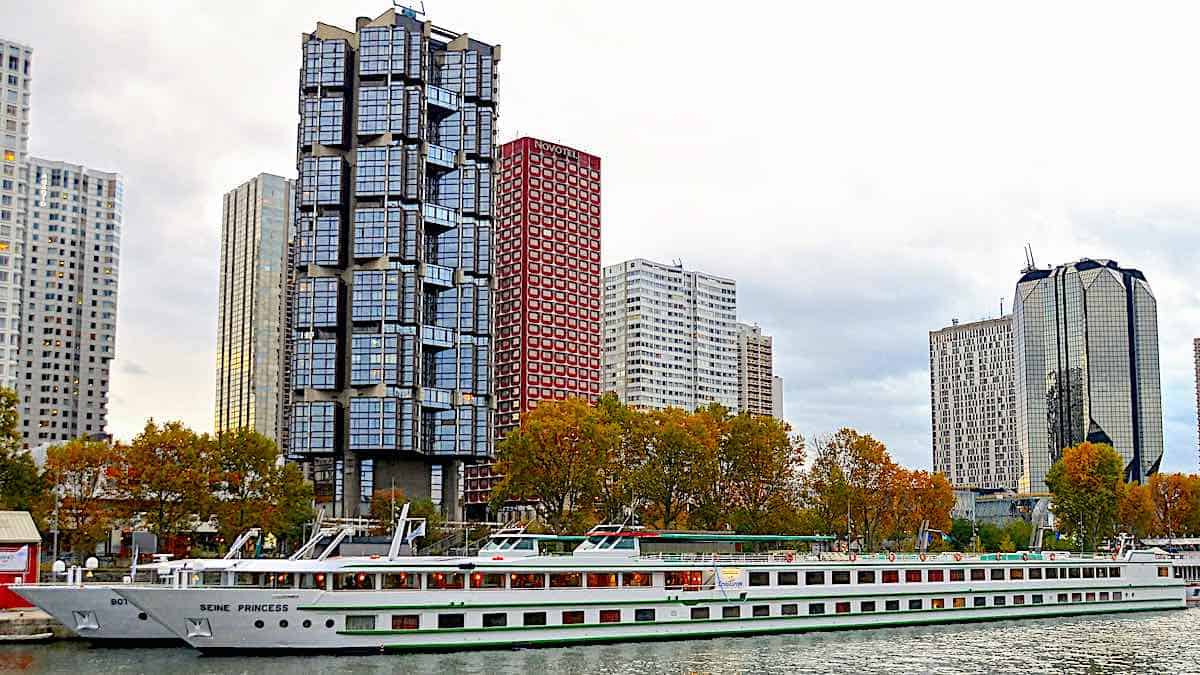 The lounge-bar is comfortably furnished with plush sofas and chairs and still has room for a good-sized dance floor. The dining room on the lower deck is flanked by large picture windows. There's a large sundeck that's nearly the length of the ship with deck chairs, loungers and a few tables.
Seine Princess Staterooms
Smaller than some ocean cruise staterooms at 140 sq. ft., the Seine Princess has large picture windows nearly as wide as the room. No balconies, but the large picture window offers panoramic views of the river. With the ship docked most of the time and everyone out and about seeing Paris, this is one of those rare cruises where a balcony isn't needed. I didn't miss it at all.
Storage space is limited but for three-night cruises it doesn't matter. The wide ledge underneath the window was perfect for setting and leaving my suitcase open for the duration.
A tiny corner desk is perfect for writing postcards or using a laptop . Wifi is free but as on several river ships from other cruise lines, too, it's not too good in the staterooms. I found the best wifi connectivity in the lounge.
The bathroom is sufficient with enough room for toiletries in the medicine cabinet and on a couple of hooks. In lieu of bar soap, there's a wall-mounted pump soap container, used also for shampoo.
RELATED: Insider's Guide to Aix-en-Provence
Dining Room
This was a totally different experience for me. I was the only American onboard but there were many English-speaking guests (including a bus tour group from England).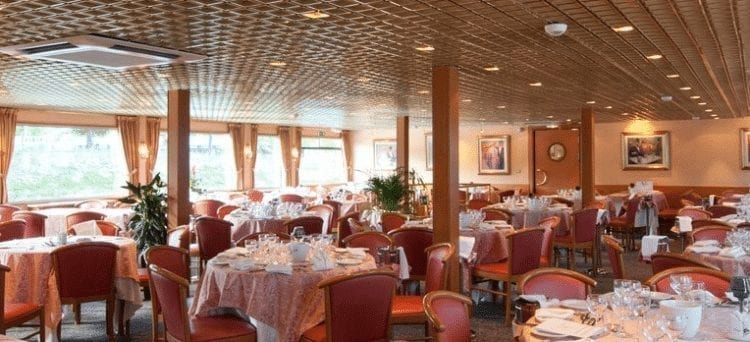 My table for 8 included two older couples from the UK, one retired couple from Canada, a young Japanese travel agent based in Germany and me.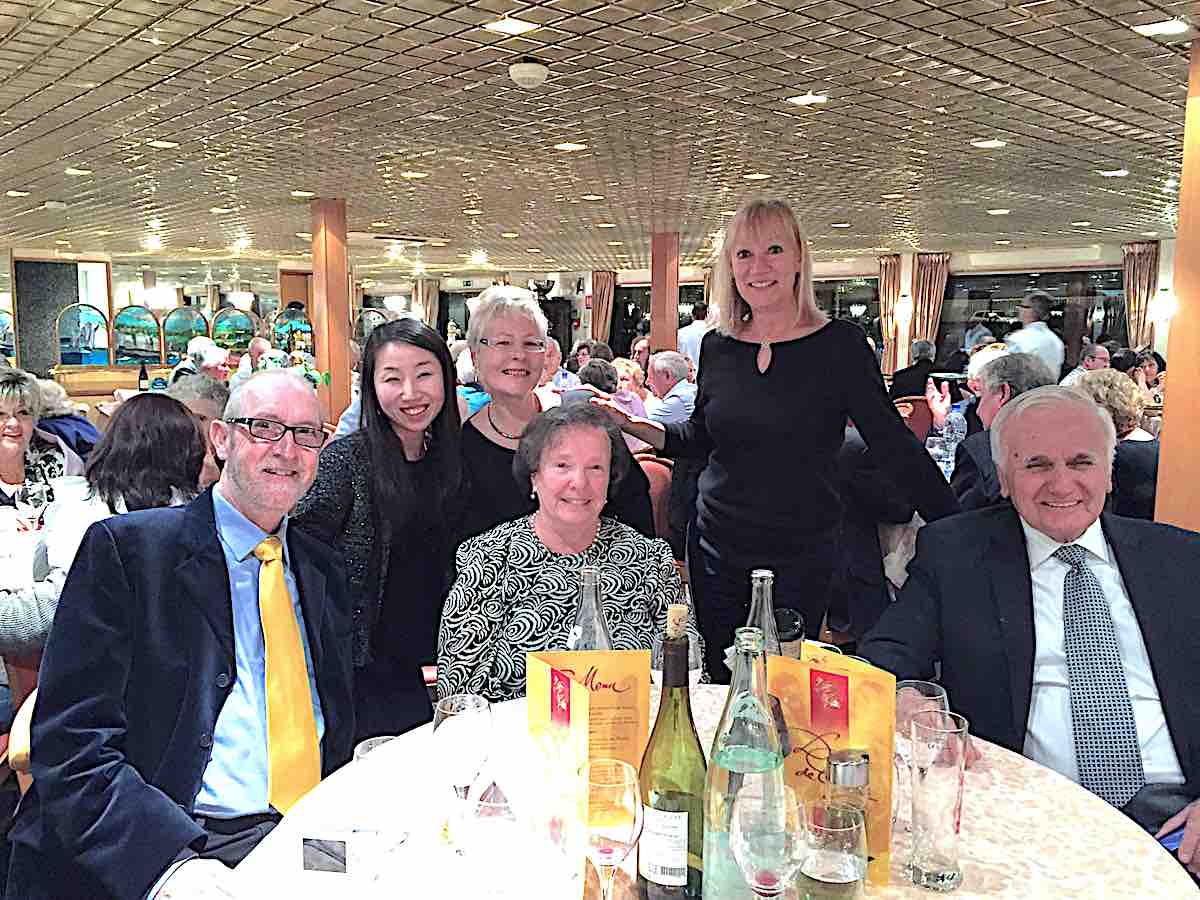 Dining, Parisian-Style
Everything was, of course, French! Breakfast was a typical, lighter European-style buffet. A diverse selection of cheeses, meats and even smoked fish were offered as well as cook-it-yourself boiled eggs.
Though lunch and dinner were multi-course meals, the portions weren't gargantuan. You were able to enjoy every bite and leave only minimal crumbs.
On my Paris Short Break, lunches and dinners were the same for everyone. No choice of appetizer, entrée or even dessert. I've been informed that CroisiEurope has now adapted their menus so that guests have a selection of entrées from which to choose. However…
With advance pre-cruise notice, guests can order vegetarian, gluten -free and low/no sodium meals. I give the Seine Princess two thumbs up for their cuisine. It was excellent.
Service with a Smile
I have to admit, to my surprise, the staff was friendly, helpful and well-informed. I was expecting the stereotypical nonchalant Parisian attitude, but it didn't happen. Even the Welcome Aboard cocktails and introductions were pretty funny and casual.
I didn't notice an attitude from anyone anywhere in Paris, for that matter. Considering I was the only American onboard, I never felt like the odd-person out or a nuisance, despite my zillions of questions.
Entertainment
After dinner, just like on all other longer river cruises, we headed to the lounge for the nightly entertainment. Our first night featured a "typical" cabaret-style singer who performed a selection of familiar Euro-French songs, from La Vie en Rose to La Bohème and a number from Cabaret.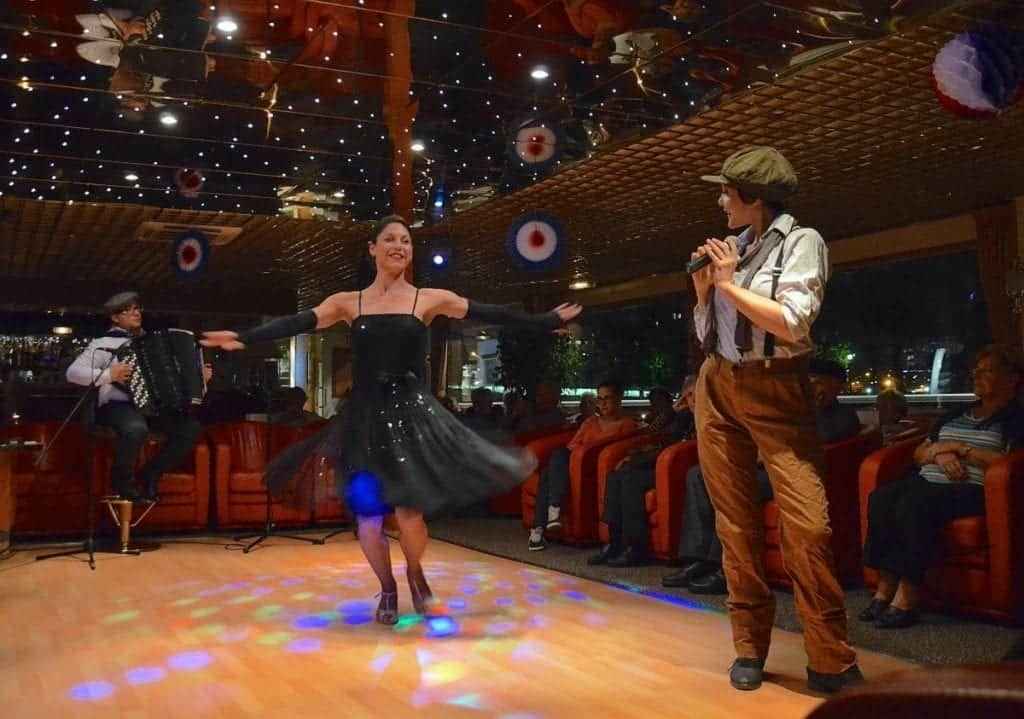 The second night was a totally hilarious interactive crew and "unwilling" passenger show. No language barrier issues and a great time was had by all. The Cruise Director quickly rattled off information in French, English and Dutch with brilliance.
Following both nights' shows, we were treated to late evening cruises on the Seine. Paris at night is a site to remember…especially from the water.
Take a walk into the heart of Paris
During the day, a stroll along the Seine towards the Eiffel Tower was just about as storybook-perfect as I imagined. If you are a walker, it's only a little further to shopping at St. Honoré and the Musée D'Orsay.
Conclusion
The CroisiEurope Seine Princess is for you if:
You want to stay in Paris without the pricy hotel rates
Walking is your favorite way to explore a city
Enjoy being among non-American passengers
A somewhat immersive visit to Paris is important
You've wanted to try a river cruise and 3- or 4-nights is just the right starter
This isn't for you if:
Physical mobility is a daily challenge (much of Europe can be daunting if you are wheel-chair bound). Note: The Seine Princess does not have an elevator.
You only stay in 5-star hotels by lofty American standards
A stateroom balcony is imperative
European dining at 8:30PM gives you indigestion
Based in Strasbourg, France, CroisiEurope River Cruises is new to many North Americans. With a fleet of 44 modern river ships, smaller river barges and more new ships on the horizon, CroisiEurope is extending their marketing reach across the pond.
If you're looking for a short break in the City of Light, I highly recommend this CroisiEurope Seine Princess Short Paris Break. The Seine Princess isn't the Ritz, but it's the most affordable, fun, unique and convenient was to spend a few days in Paris AND on the river. Great service, personable and helpful multilingual staff, basic yet comfortable accommodations and excellent cuisine.
Disclosure: I was a guest aboard CroisiEurope's Seine Princess for their Short Paris Break cruise but all opinions are my own.
Pin and Save for Later!
I'm the editor and creator of CruiseMaven.com, a solo traveler cruising the world on waves and wheels, collecting recipes along the way.  I hope my articles and photos entertain, advise and inspire you to travel the world without flying.  Take a breath…stop for a local meal and a glass of wine along the way.