Paris is a city that requires very little introduction or convincing when it comes to enticing travelers. Our "hotel" for this Paris experience was Viking Radgrid, one of Viking's purpose-built river ships for the Seine.
A river cruise on the Seine puts you right into the bustle of the City of Light. Plus, the convenience to retreat to your nearby floating hotel for slow-paced sightseeing.
Viking Radgrid Review and Photos
Itinerary: Paris & the Heart of Normandy
Viking Radgrid was built in 2020 specifically to cruise the Seine river. After a long stretch of suspended service due to the COVID-19 pandemic, Viking Radgrid was inaugurated into the company's river fleet as a 168-passenger Viking Longship in 2022.
On our three-night preview sailing, guests were treated to a taste of the ship's "Paris & the Heart of Normandy" itinerary, that cruised from Paris to the scenic ports of La Roche-Guyon, La Pecq, and Vernon.
RELATED: My Viking Seine River Cruise from Paris to the Beaches at Normandy
What was most remarkable about sailing from Paris with Viking is its coveted docking location at Port de Grenelle, just a short walk from the Eiffel Tower, that glistens ever-present in the background.
Viking Radgrid Public Areas
All Viking Longships looks virtually identical — and that is intentional. Viking founder and CEO Torstein Hagen explains that the brand wants guests to have the feeling of "coming home," when they board a Viking ship.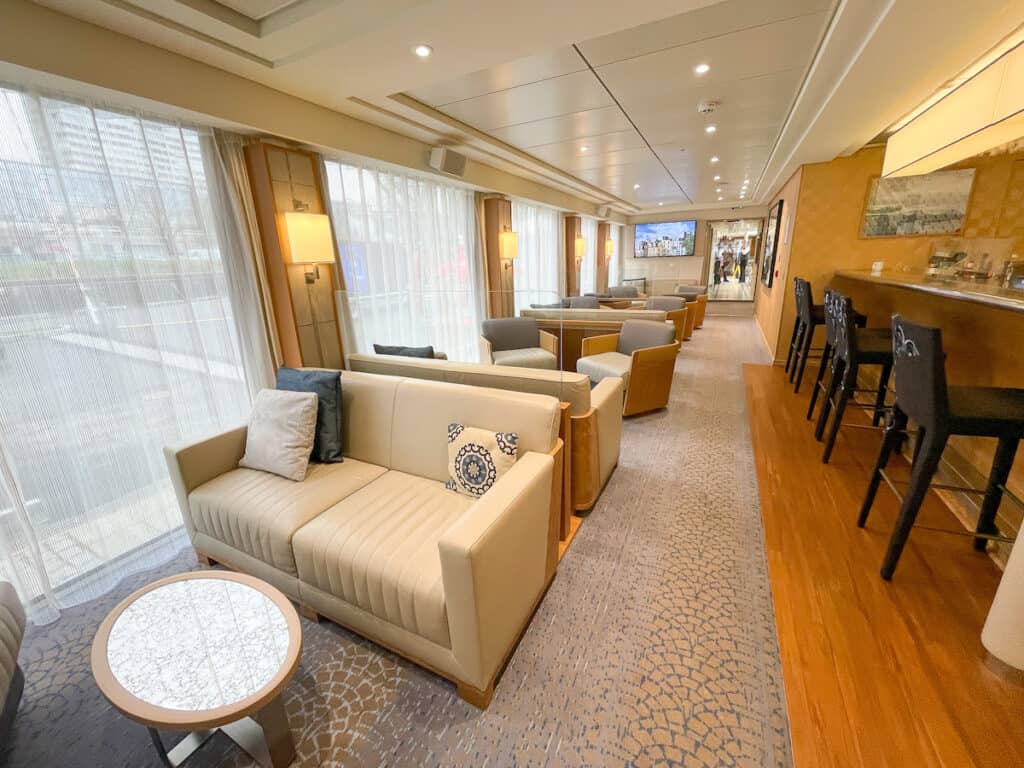 He emphasizes that the familiarity and comfort of their surroundings is a hallmark of the river cruise line's Scandinavian aesthetic, which he calls "understated elegance."
As such, passengers will notice very minor differences among ships. Notably the mural in the atrium paying homage to the ship's namesake. Radgrid, meaning "truce of counsel." She was one of Odin's legendary Valkyrie female warriors.
Glass and light-colored wood allow sunlight to move and bounce through the ship giving it a warm feeling.
RELATED: Viking Lif River Cruise Review and Photos
Public spaces consist of a small shop for souvenirs — branded clothing and a sweet children's book series from Hagen's daughter, Viking's executive vice president Karine Hagen.
There's a library and reading nook on Deck 3, the Upper Deck. Adjacent to a computer station is the lounge and bar. The indoor/outdoor Aquavit Terrace is at the front of the ship on the Upper Deck.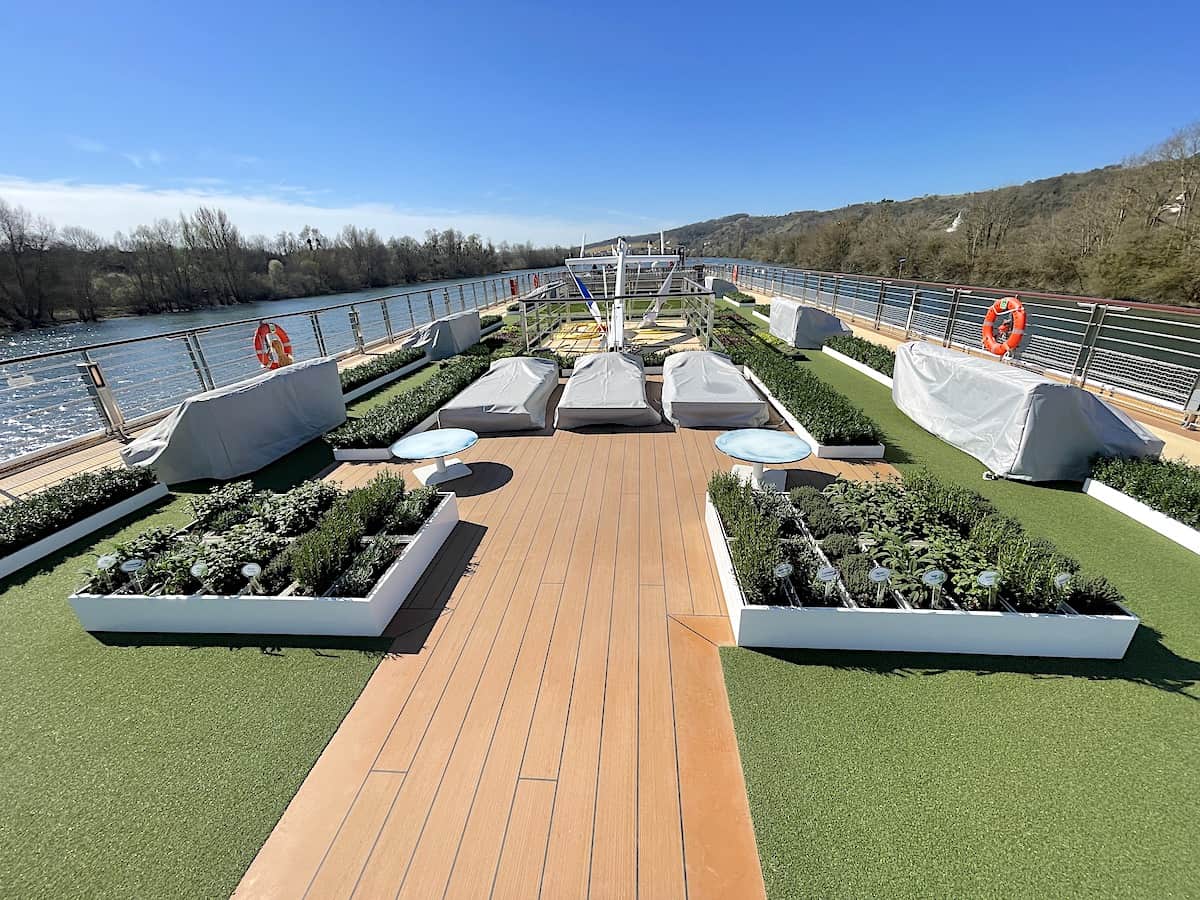 The Sun Deck is the final public space with a walking track, sun loungers, plenty of shade as well as the ship's herb gardens. The top deck is occasionally closed when the ship is traversing an area with low bridges.
Veranda Stateroom
With comfort top of mind across Viking's river ships, all stateroom categories come with luxurious features like dimming lights and heated bathroom floors.
There are 35 Veranda staterooms on Viking Radgrid, that feature a full walkout balcony and two deck chairs with a small table.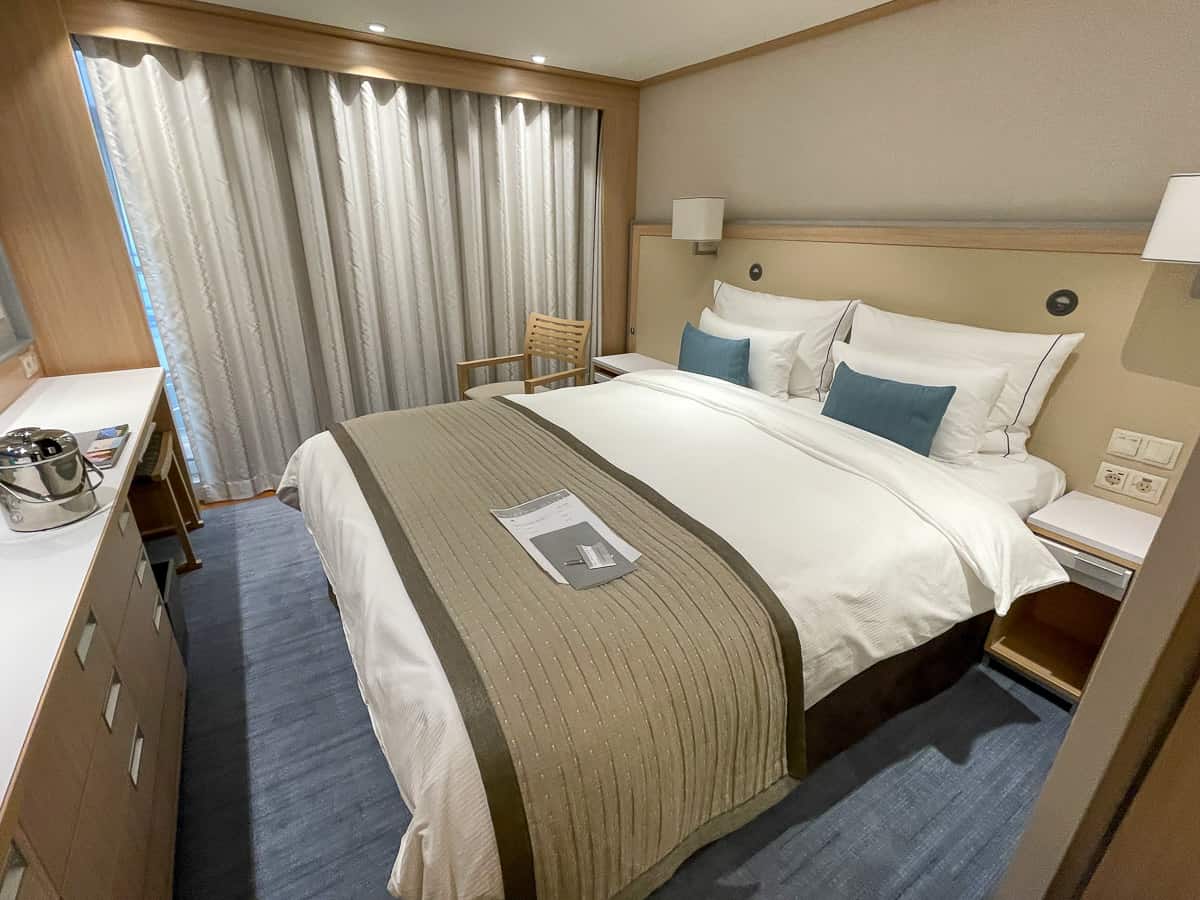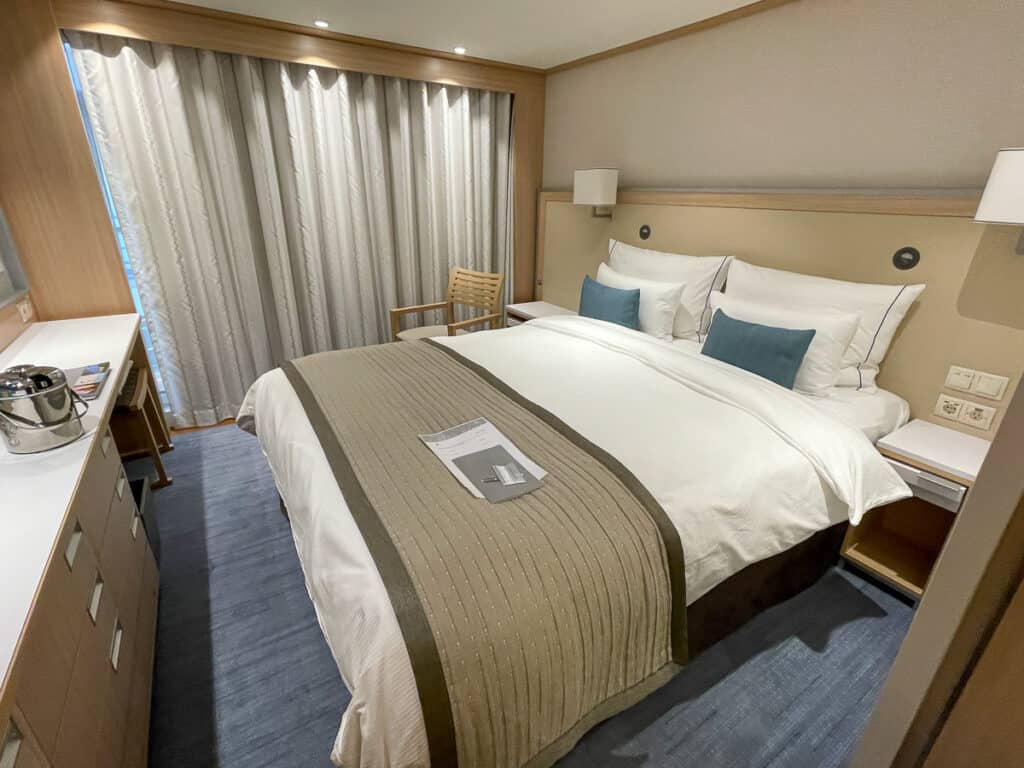 Inside, passengers will find 205 square feet of space with a desk that runs along one wall with U.S. outlets and USB ports, as well as Quietvox devices used for tours, a flatscreen TV, and a glass bottle of water that's refilled throughout the sailing.
Cabins also feature a queen-sized bed that can be separated into twins with comfortable bedding, and a closet with wooden hangers.
We were in cabin 301 — convenient as it's right off the atrium and very near the lounge. But being right at the gangway when docked, meant the curtains had to be drawn a fair amount of the time.
READ MORE: Viking Cruises' Grand European River Cruise Details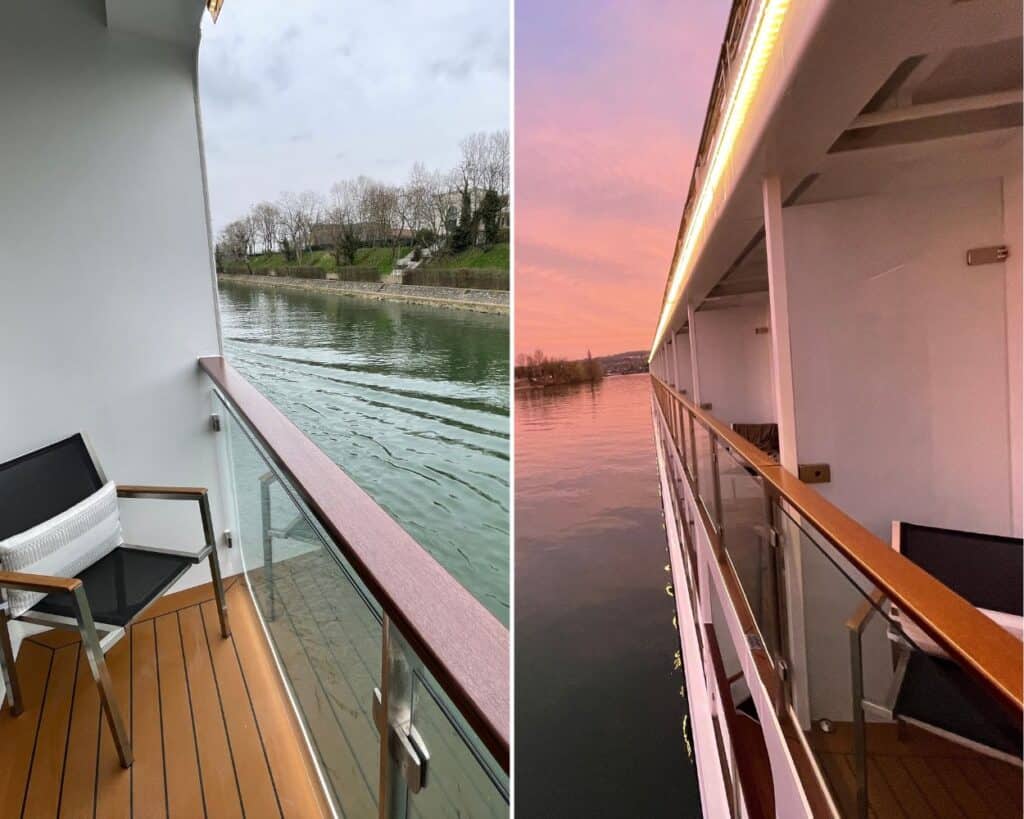 Viking Radgrid features 22 Standard Staterooms (150 square feet) with a small picture window and 18 French Balcony Staterooms (135 square feet) with a sliding glass door. All rooms also feature Freyja toiletries, hair dryers, safes, a mini-fridge, and climate control.
Viking Radgrid Suites
Radgrid has seven Veranda Suites and two grand Explorer Suites. Suites include two full rooms with a walkout balcony and a French balcony. Suites are all located on the Upper Deck (Deck 3).
The Veranda Suites are 275 square feet (including the balcony) and come with a stocked mini bar and binoculars, as well as a daily fruit plate. These are typically the ship's most popular cabins.
The Explorer Suites are 445 square feet (including the wraparound balcony) and come with additional perks for guests.
On top of the amenities included in Veranda Suites, Explorer guests are the only passengers with room service in the form of complimentary in-room breakfast.
Included in the cruise fare for these top suites is the Silver Spirits beverage package, shoeshines and laundry service, an in-room coffee and tea machine, airfare, and private transfers. On Viking Radgrid the Explorer Suites are cabins 336 and 337.
Dining On Board Viking Radgrid
Meals onboard the ship take place in the Restaurant, on the Middle Deck. Alternatively, guests can enjoy a bistro-style lunch or dinner service on the Aquavit Terrace, where a tea service is also held in the afternoon. Both are open seating.
The Aquavit Lounge and Terrace is a point of pride for Viking, which boasts that smart shipbuilding and design allowed them to have this convertible space at the very front of the ship.
It is an attractive place to be, with the lounge converting into a solarium and then open deck. In fair weather, windows can be opened from the solarium space onto the open deck.
Breakfast in the Restaurant consists of a European-style buffet (meats, cheeses, pastries) with plated options and daily specials. Lunch can be a multi-course event complete with wine, or a light soup and salad with an iced tea in the Aquavit Terrace.
Dinner is always where the culinary team shines, with nightly chef's recommendations that carry a French flair, like chateaubriand with a start of goat cheese souffle.
There are also always-available items, such as poached Norwegian salmon and Caesar salad. Of course don't forget about dessert, like an apple tarte Tatin — it's France, after all.
Onboard Entertainment
Demonstrations, tastings, and musical guests round out the entertainment onboard Viking Radgrid, and a resident pianist plays during the afternoon and evenings. Occasional lectures about the destination are held by the cruise director.
Each evening, a briefing about the following day's events is held in the lounge prior to dinner. It's a great time to grab a pre-dinner cocktail from your accommodating bartender. On the first and last nights of the cruise, a captain's Champagne toast is held.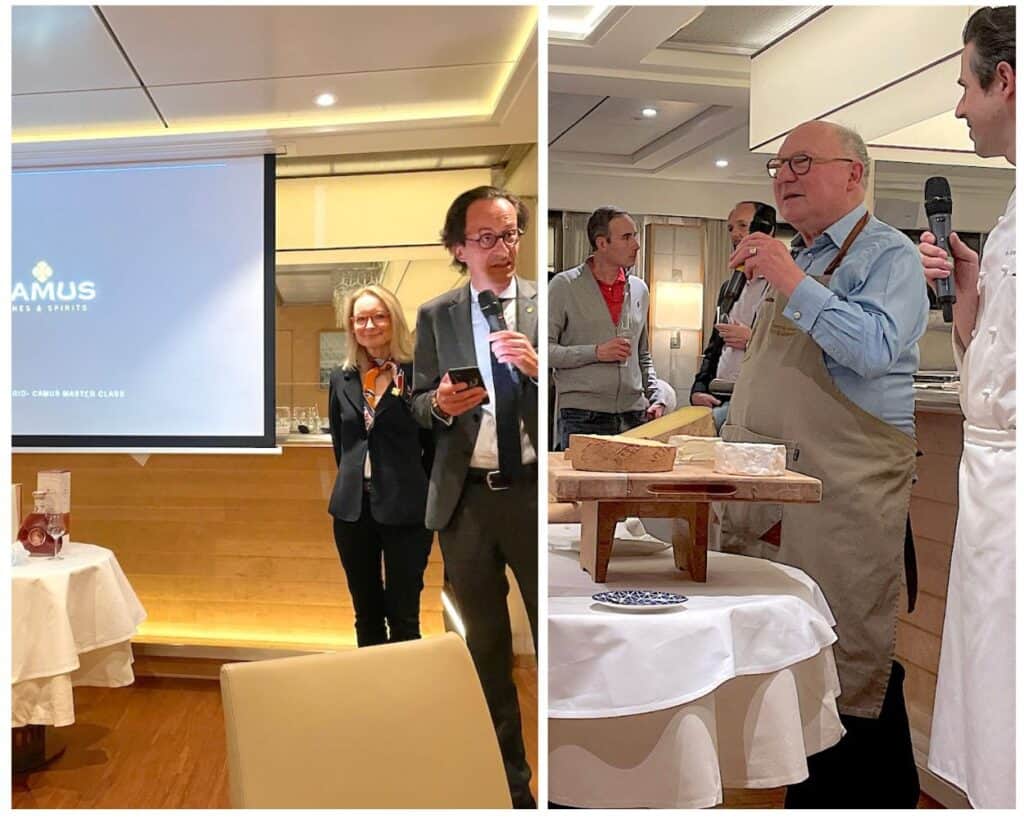 On our sailing we were treated to a cheese tasting from a master cheesemaker, a cognac tasting from renowned producer Camus, and a lovely chanteuse and guitarist duo who played traditional French melodies including none other than Edith Piaf.
These events were held in the lounge following dinner, at about 9 p.m.
Shore Excursions
Onboard experience aside, the shore excursions are what make up most of your day on a Viking river cruise, and ours were exceptional.
Viking attracts top tour guides due to the number of their ships, which bring steady business for local guides.
Despite an abbreviated sailing, we were still able to experience a healthy variety of excursions that included a guided tour of the La Roche-Guyon estate and orchards; a cycling tour of Vernon to Monet's neighborhood in Giverny.
We also visited a local Impressionist art museum, a guided tour of Versailles, and a culinary walking tour of the trendy St. Germaine neighborhood in Paris.
Overheard were conversations from fellow well-traveled guests who waxed ecstatic about our excellent our guides. One in particular named Sandrine was with us from the streets of Paris.
Her talks told us about the history croissants, the Palace of Versailles, where she could put her background in art history to tremendous use.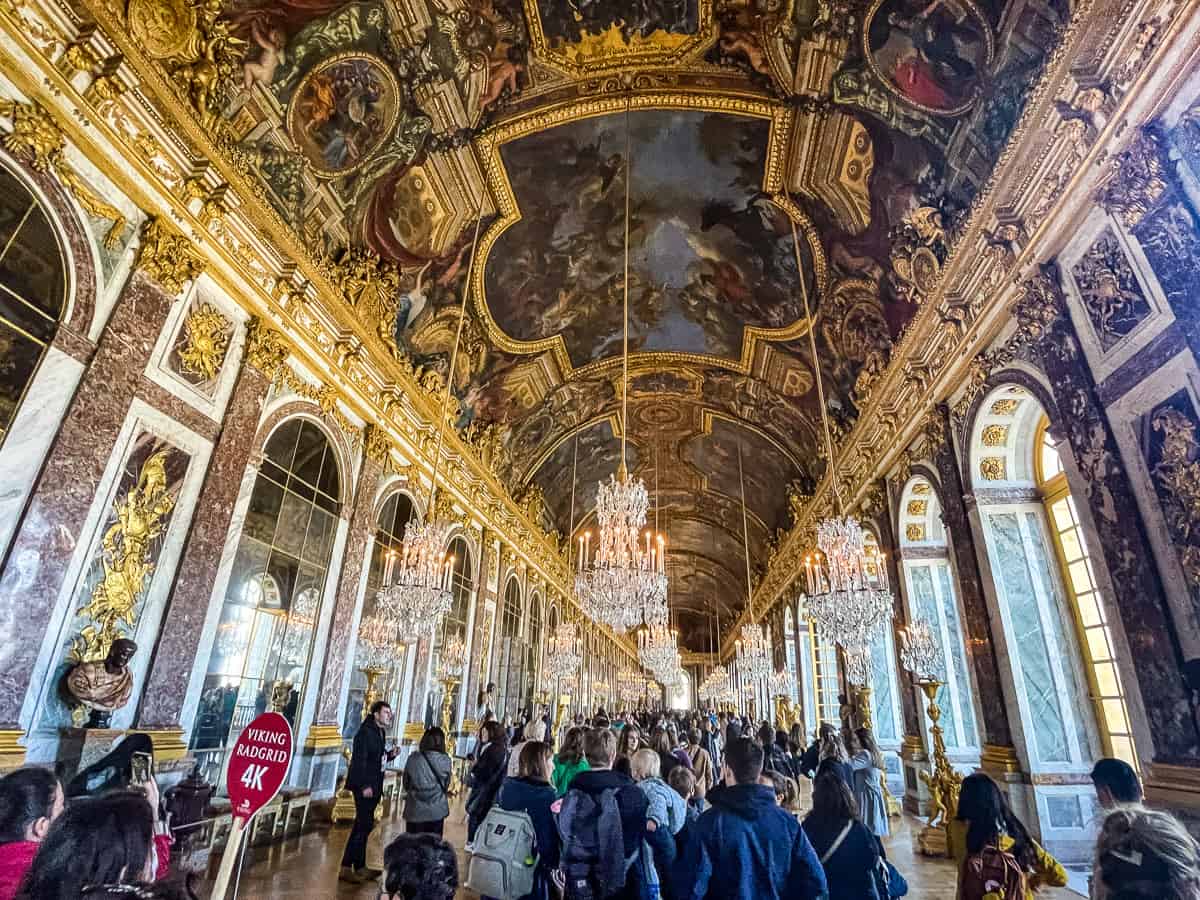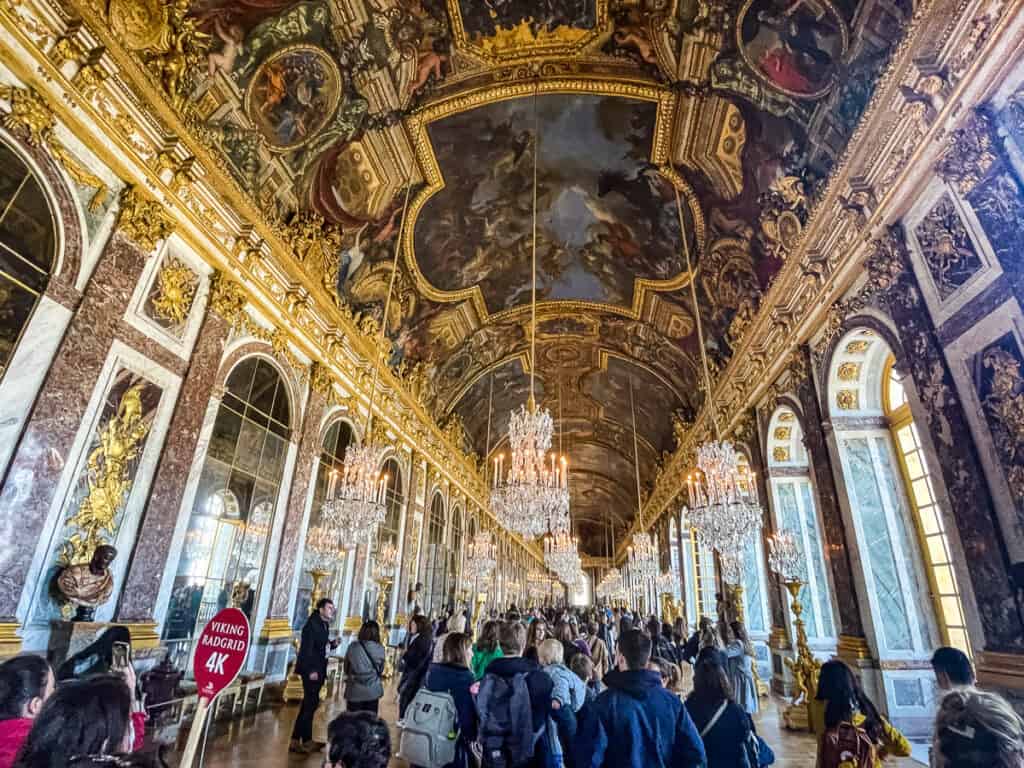 We found the cycling tour to be a favorite, easygoing and doable for not very active passengers. We had a gorgeous ride on a sunny spring day in March.
As an added surprise, a representative from the ship met us in a park toward the end of our tour. He brought us local cider and juice, as well as savory pastries and divine macarons from a patisserie in town.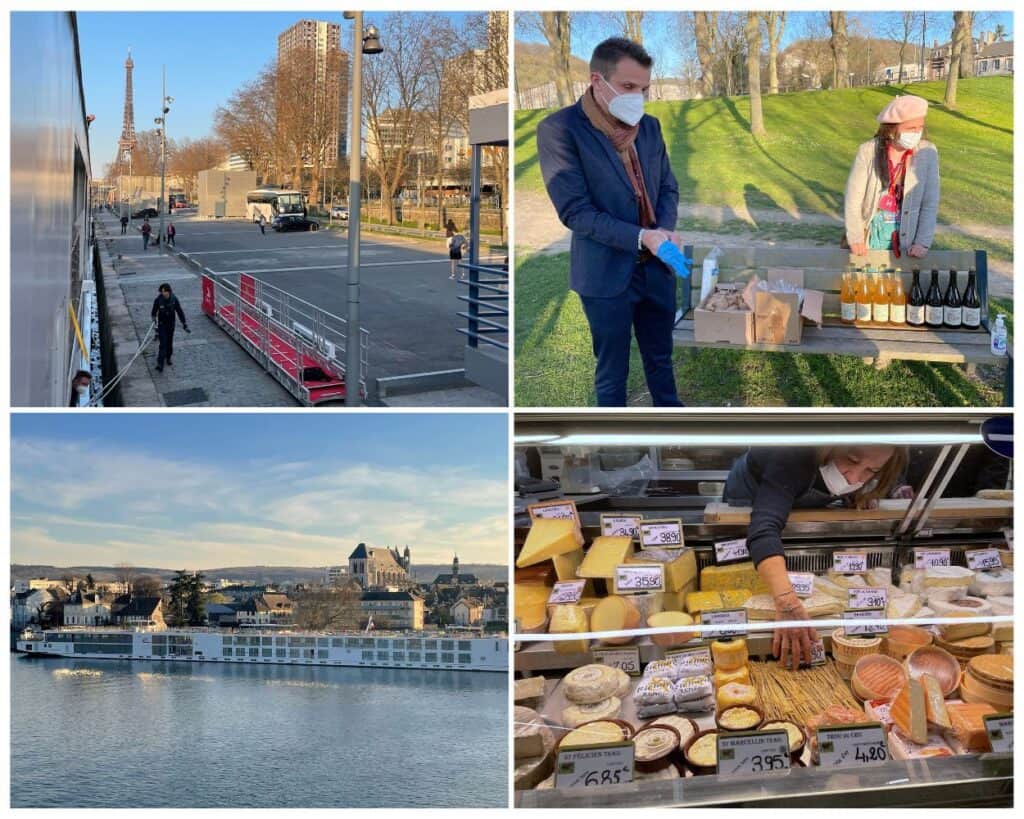 It was this special touch that made the day all the more memorable.
The tours we described (cycling, Versailles, Flavors of Paris) are considered more premium excursions, and carry an added fee.
However, at least one shore excursion in each port is included in the cruise fare. It typically is a walking tour or a city sights tour with a broad overview of each port, including Paris.
Final Thoughts: Viking Radgrid Review
Despite a prolonged industry shutdown, Viking has returned to the rivers and oceans safely and seamlessly. Even though Radgrid had a few new crew members who were still training, we found service to be friendly and above par.
In its 25th year, Viking has a large market share of the river cruise business. Many ships and pared-down offerings (tips and alcohol are additional) sometimes gain them the title of "mass market" or dubbed only for first-time cruisers.
But we would disagree, countering that Viking offers a reliable product at a competitive price that can still be considered the standard on most rivers.
Viking Radgrid is a comfortable way to sail the Seine with tasty cuisine, warm service, and informative tours in charming French ports.
Viking Radgrid Fast Facts
Viking Radgrid has a capacity of 168 guests and 46 crew.
The Longship is 410 feet in length.Wi-Fi is free and available shipwide.
There are no laundry rooms; laundry service is provided for a fee.
Self-service coffee and tea stations are available all day and feature cookies and snacks.
An elevator connects the Middle and Upper Decks (no access for E and F cabin categories).
Bottled water is provided for excursions, as are umbrellas if needed.
Wine and beer are complimentary at lunch and dinner and include nice, local varietals.
I was hosted onboard Viking Radgrid's mini-sailing following the ship's inauguration, but maintain that my views and opinions remain unbiased.
Brittany Chrusciel has covered the cruise industry for many years, formerly as Cruise Critic's Destinations Editor, and has been quoted in publications such as Skift, USA Today, and the LA Times. She is a proud alumnus of Semester at Sea, where she circumnavigated the globe while studying writing, Spanish, and political science. Her favorite river cruise experiences so far have been visiting the Christmas markets with her German grandmother, and Portugal's Douro River.