Viking River Cruises to the Normandy Beaches
My connection with this Viking River Seine river cruise itinerary, from Paris to Normandie Beaches, goes way back.  I grew up hearing my dad recall his World War II stories and his involvement with the D-Day landings at Omaha and particularly Utah beach.
He loved France, especially Paris and he taught me the words to La Marseillaise even before I started grammar school.  His days in France must have been special.  Stories he told me about rolling up famous paintings for safe keeping?  Turns out that he was one of the Monument Men.
I was only 20 yrs old when he passed away, leaving me with so many unanswered questions.  A visit to the beaches, Utah in particular, would be more meaningful than ever now that he was gone.
One treasured memento I hold dear is a seashell my dad brought home from Utah Beach. On the day he was there, in blue ink on the shell's smooth interior, my dad wrote the date, 6 Aug 1944.  For me to walk on Utah Beach, the same Normandy beach that he did nearly 75 years ago, would be a bittersweet and momentous event.  I very carefully carried the seashell with me.
Getting there
Program Director Lionel (pronounced LEE-oh-nel) lives in the north of France and he knew Normandie like the back of his hand.  We spoke on the first day about my need to somehow get to Utah Beach.  River cruise shore excursions to Normandie Beaches only go to Omaha Beach and the nearby Gold and Juno beaches.  But not Utah.
I'd rent a car if I had to do that but Lionel said that he'd find a way to make this work.  Somehow he called someone who arranged for a taxi to meet me when our bus parked at Omaha Beach Visitor's Center.  Lionel was going to be on the tour with us and would make sure this would work.
After our 2 1/2-hour drive to Omaha Beach, it would be another 45-minute drive from Omaha to Utah.  If everything went as planned, I'd still have an hour at Omaha Beach on the way back before we'd board the bus to the American Cemetary and the memorial ceremony.
Almost always, when a Seine river cruise includes a visit to the Normandie beaches, the ship docks only as far north as Rouen.  It's also fair to say that you can expect about a 10-hour day from the time you leave your river ship, until you return in time for dinner.
The road to Utah Beach is paved with memories
At 8:00 a.m. sharp, our motor coach quietly crossed the bridge and lumbered along the streets of Rouen until we joined the highway.  Like clockwork, as soon as we arrived at the Visitor's Center for Omaha Beach, Lionel spotted the car and driver waiting to take me to Utah Beach.  Colette stepped out of her small white car, shook my hand and given last minute instructions from Lionel.  We were on our way.
I remembered enough high school French and Colette spoke enough English that we were able to have a mishmash of a conversation on the drive.  It was hard for me to take my eyes off the road.  Road signs pointed the way while centuries-old stone masonry homes with colorful flower boxes appeared and disappeared in a blink, as we drove past tiny Norman villages.
Colette slowed her car as we neared the entrance to Utah Beach.  I didn't know if I should cry or embrace the moment for my dad.  I think I did both.
Here's my photo journey from Rouen to Omaha Beach and on to Utah Beach; a dream that became reality.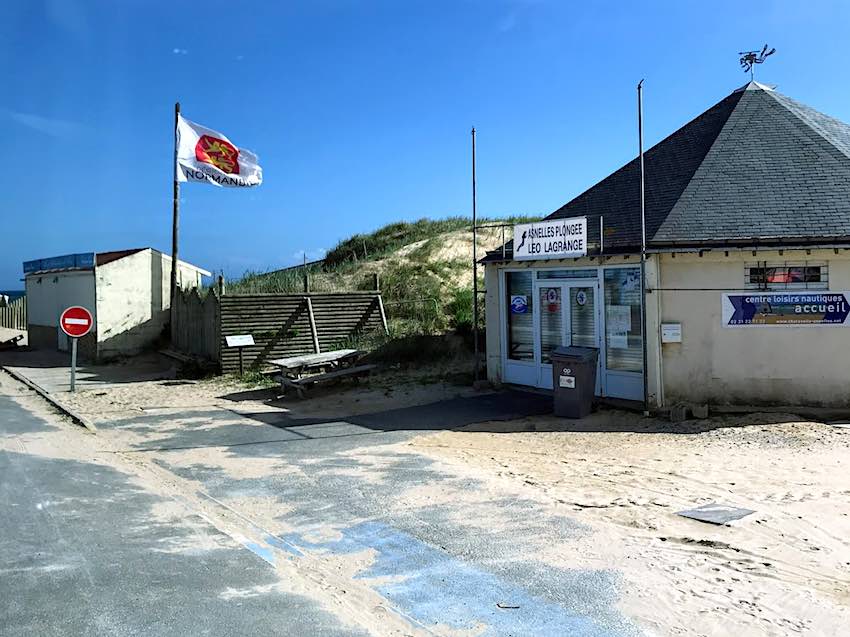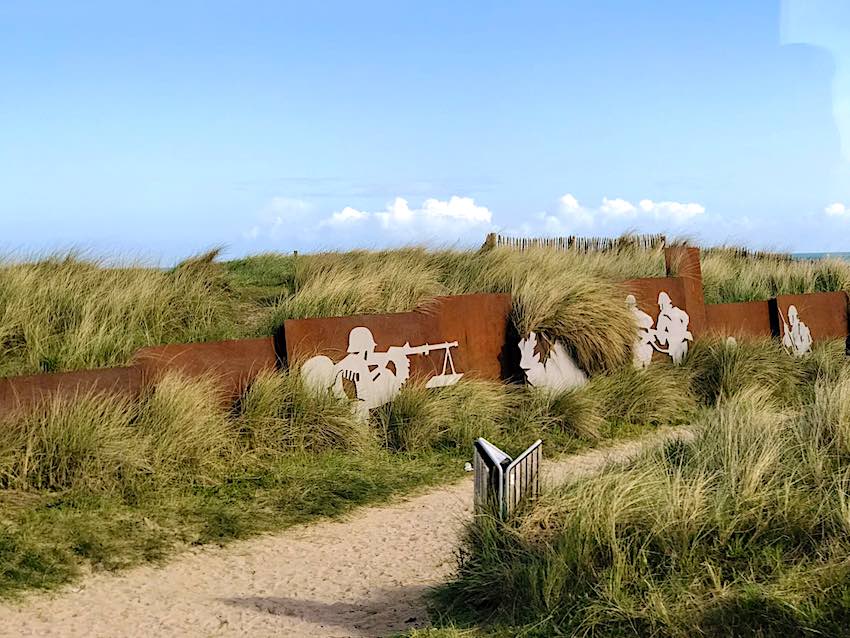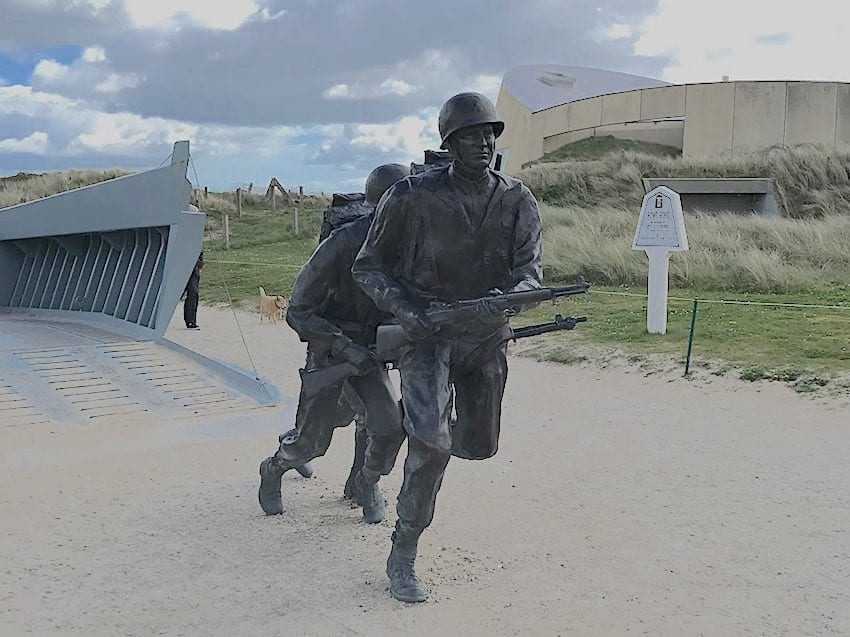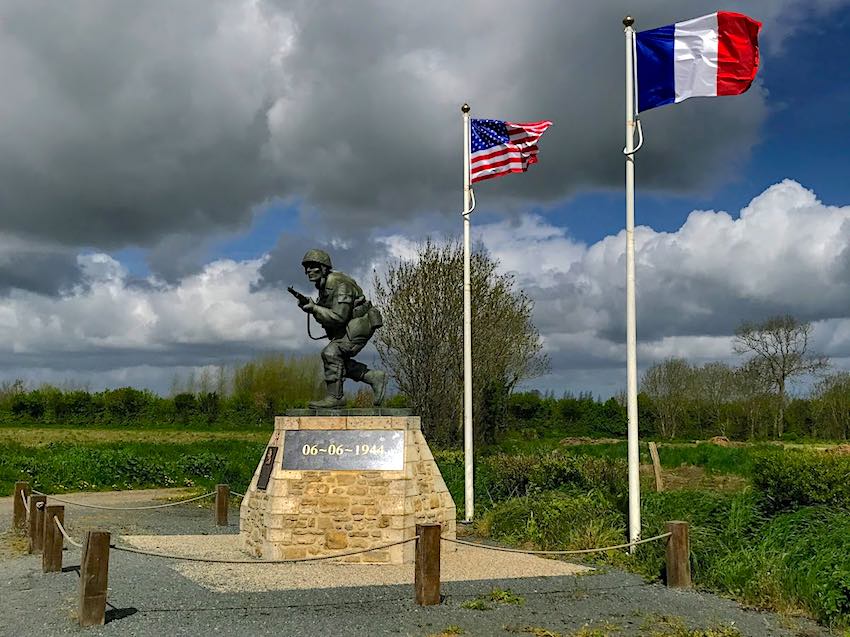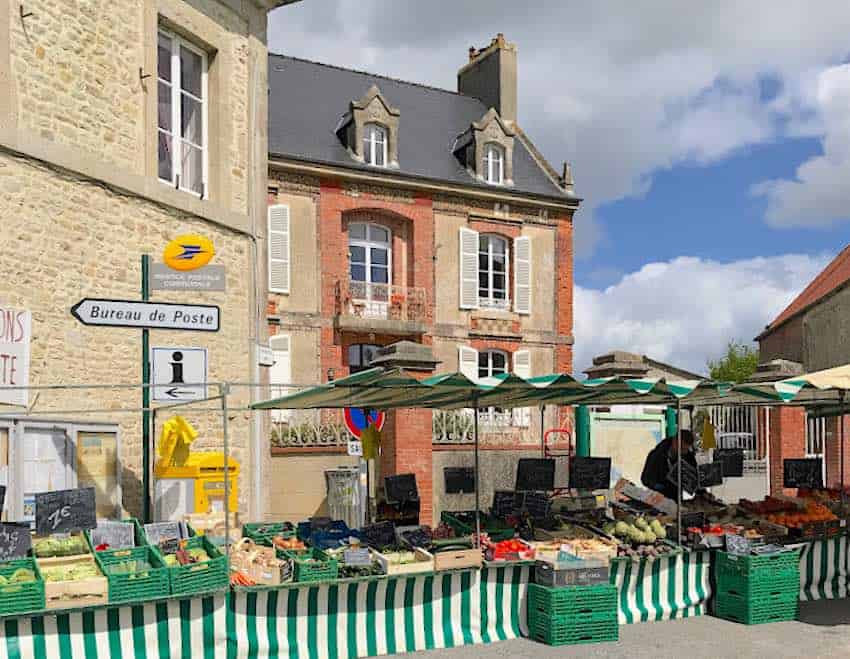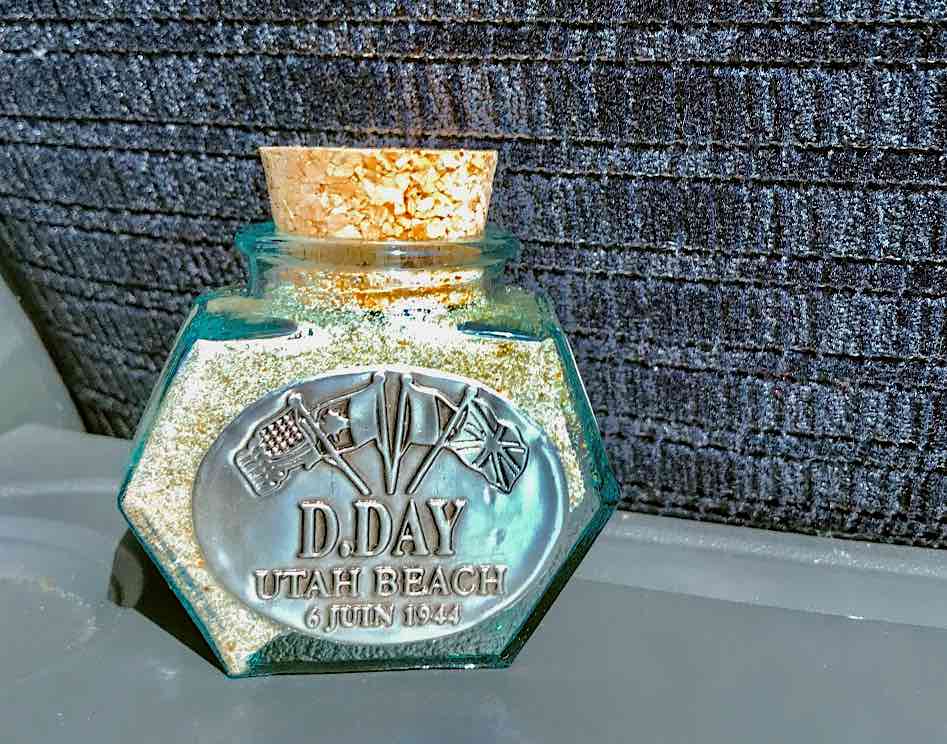 This year will mark the 75th commemorative anniversary of the D-Day invasion at the Normandie Beaches.  More than 4,000 Allied soldiers, from the U.S., Britain and Canada participated in Operation Overload, the code name for the invasion of Normandy Beaches.  Almost 20,000 French civilians were killed during the bombings.
The battles lasted nearly three months until the Allied troops reached and liberated Paris in August 1944.  On May 7, 1945, Germany surrendered and as of the following day, the war was officially over.
A visit to the beaches at Normandie is a significant place of remembrance.  Anyone who is fortunate enough to travel should visit Normandie and pay their respects.  All river cruises to Normandie beaches include the ceremony at the American Military Cemetary at Colleville, France.
Please PIN and save for later.
Disclosure:
I was a guest of Viking Cruises aboard Viking Rolf.  All opinions are my own.  Compensation was not offered nor was I under obligation to write this or other articles or reviews in conjunction with my Seine river cruise.  I will always be grateful for the chance to visit Utah Beach and to Lionel for arranging the extended tour, for which I paid my own way.
I'm the editor and creator of CruiseMaven.com and self-appointed "expert" on cruises, trains and solo travel.  By sharing news and reviews plus my cruise and travel experiences, I hope to entertain, inform and inspire you to travel the world without flying.  Be sure to enjoy a local meal and a glass of wine along the way.