Eighteen years had passed since my first and only visit to the original Arthur Bryant's BBQ restaurant, a Kansas City barbeque legend.
An early morning drive through Missouri meant Kansas City around lunchtime and a delicious detour along this cross-country road trip. Time for real Kansas City Barbeque.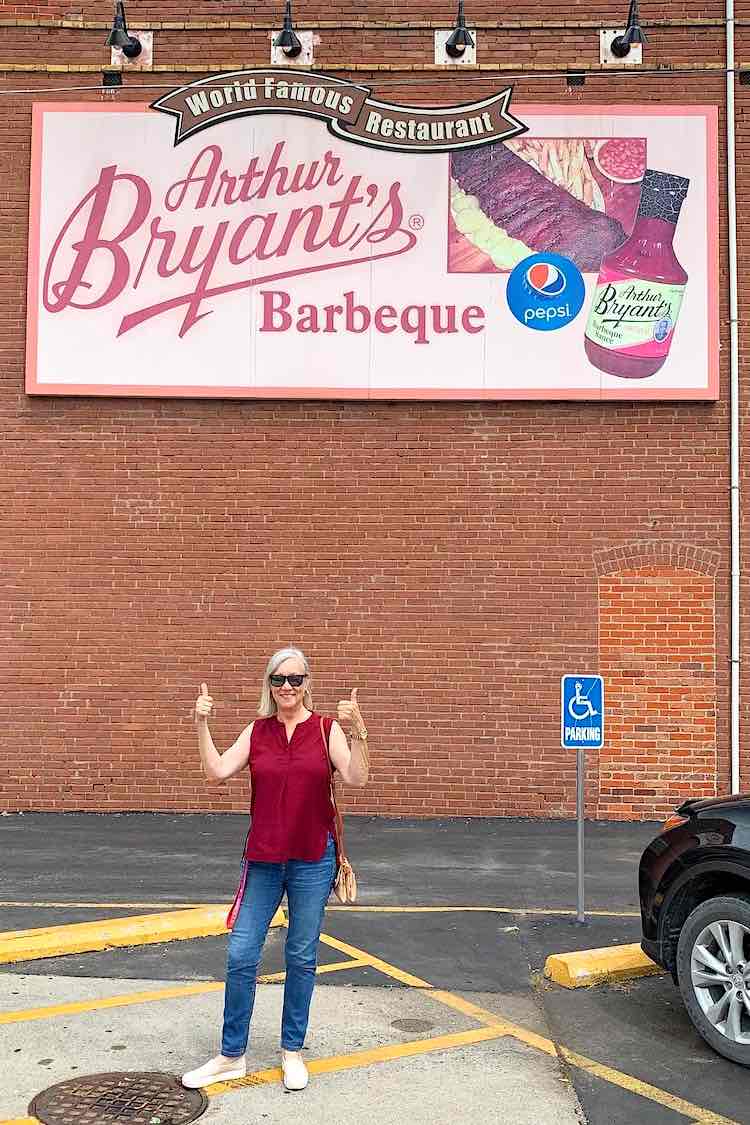 Where is Arthur Bryant's Barbeque Restaurant?
I sort of remembered the outside appearance of Arthur Bryant's restaurant but the barbecue menu and what I ordered were vague. For me, special meals leave a lasting memory. Whatever type of barbeque I ate nearly two decades ago, drew me back again.
It was barely 10:30 am when I asked Siri for directions to Arthur Bryant's restaurant location. A short reroute from I-70 and then it was simple to follow the announced maneuvers. A second go-round at this famous Kansas City BBQ restaurant was within reach.
Here's what popped up on my screen on approach to Kansas City, Missouri: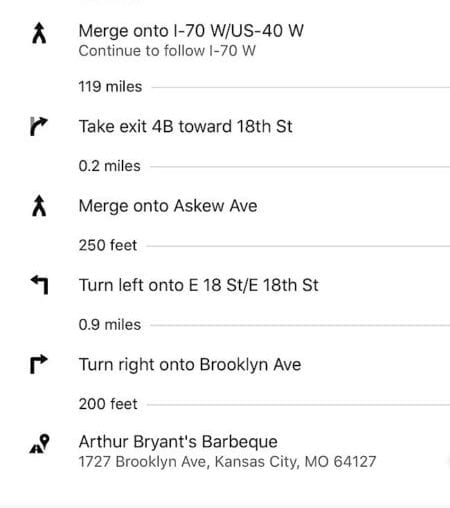 Timing was perfect. Westbound traffic on I-70 was light on this Friday morning. An arrival just before noon might mean getting there before the lunch rush crowd. If there was one.
Arthur Bryant's before the lunch rush
When we pulled into the parking lot just past 11:30 am, it was empty. I wasn't sure the restaurant was open. Even the nearby streets were deserted. It's a short drive alongside the highway once you exit from I-70 and a few turns in a quiet residential neighborhood.
Then suddenly you see the brick wall with the enormous Arthur Bryant's Barbeque Restaurant name under the lights.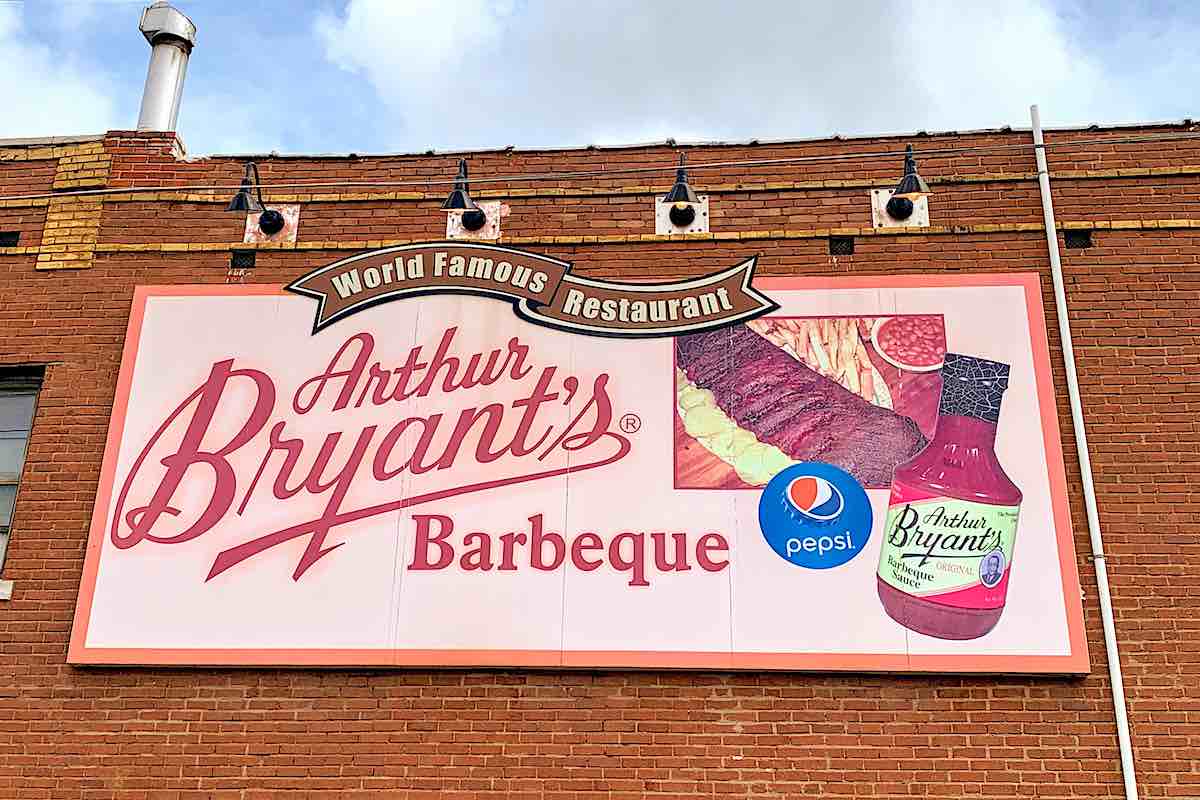 Siri said they were open. I took advantage of the nearly empty parking lot to get a few photos. Then around to the front and stand in the middle of the empty street for this one.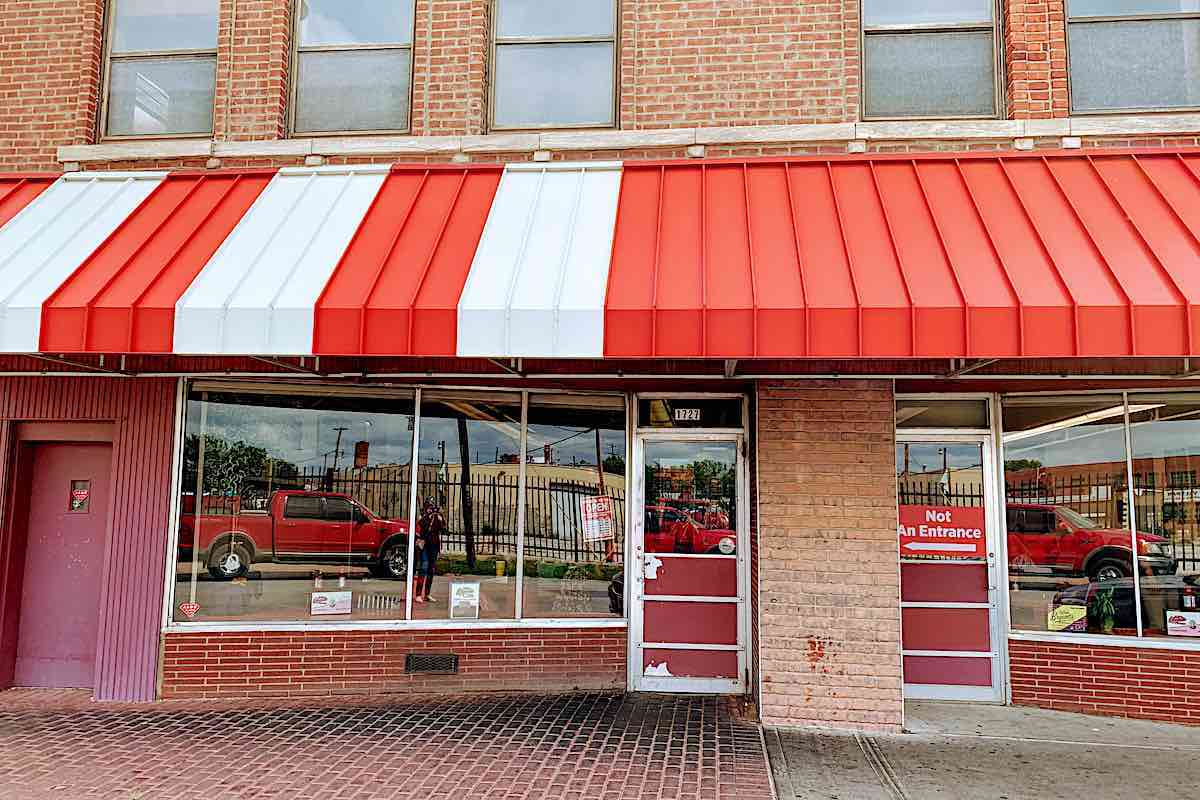 You could smell the delicious smokiness of the roasting meats get stronger as you approached the somewhat bedraggled front door. We were the only customers in the place. Did something happen that no one was there? Even the counter staff looked bored.
Little did I know what would happen by the time we finished our bbq lunch. The staff wasn't bored…they were conserving energy for the ensuing onslaught of anxious customers.
Arthur Bryant's Menu Board
Look straight ahead when you walk in the door, towards the back of the restaurant.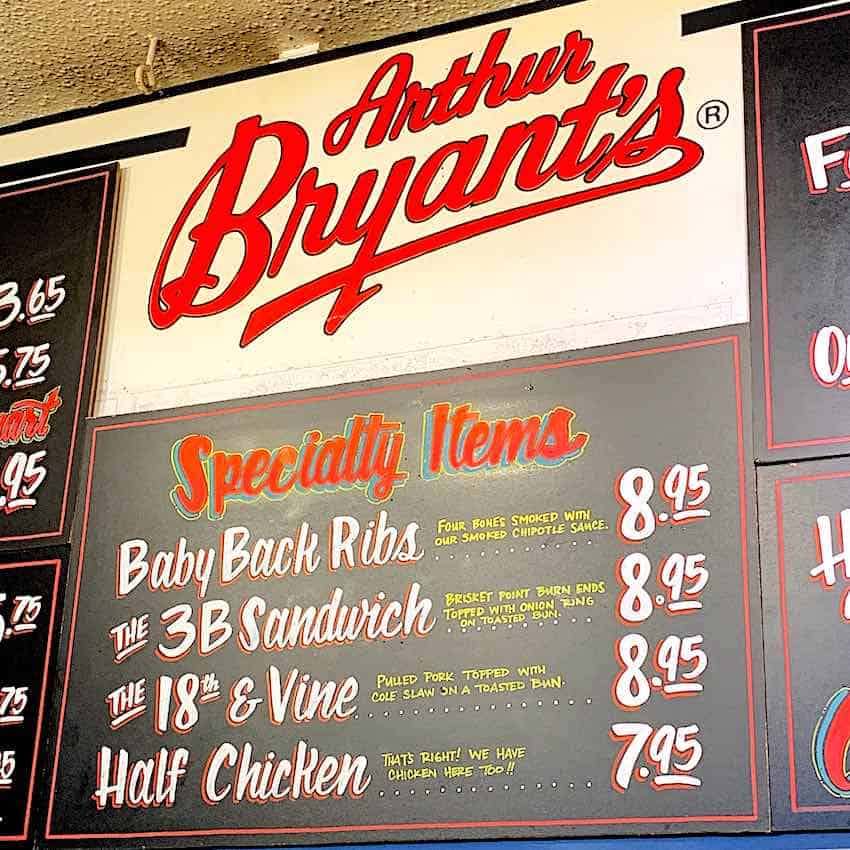 There was no line when we arrived so we slowly walked towards the menu board mounted above the ordering windows.
The walls are decorated with autographed photos of movie stars, athletes and even United States presidents who made their way to this hole in the wall barbeque restaurant.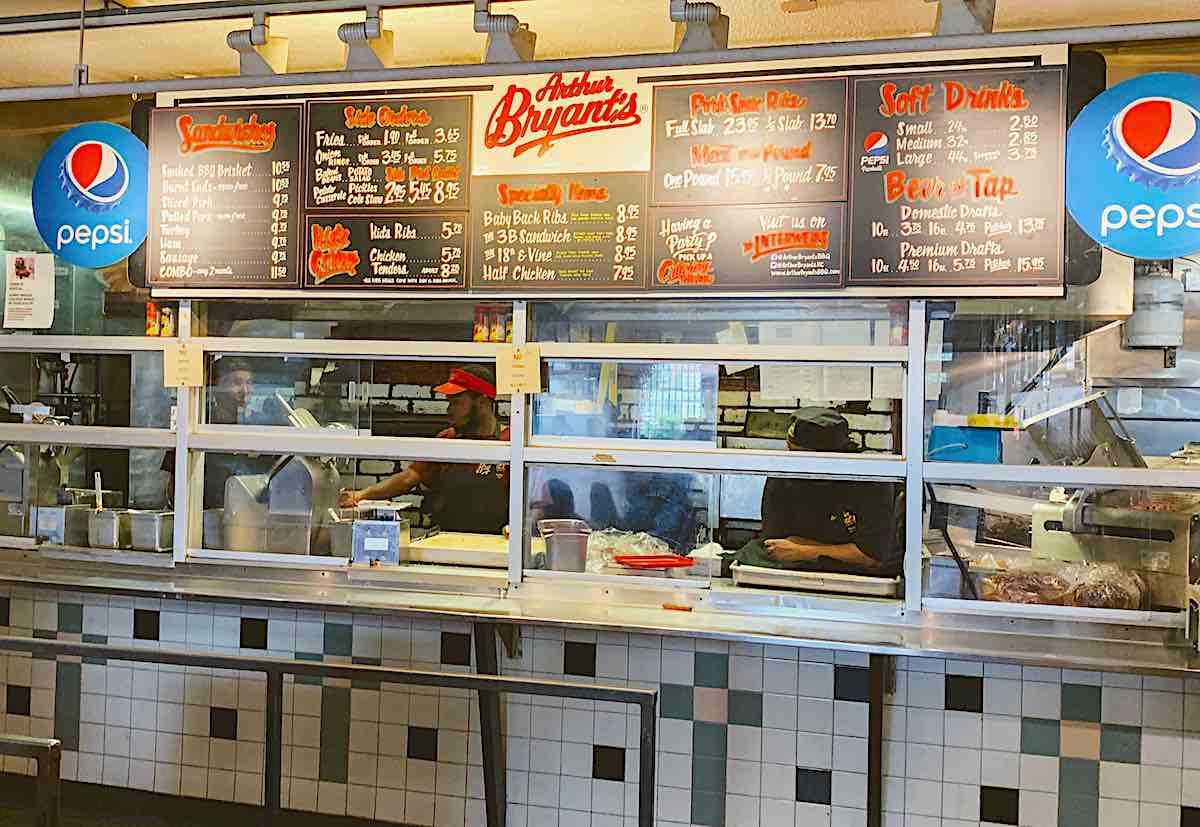 How to order from Arthur Bryant's menu
You place your order at the first window on the left. As you move to your right, your order will meet you at the last window with the cash register. You'll place your beverage order here and pay.
First, and under normal crowded circumstances, you'd have time to review the menu board while waiting in line. For me, it was straight in the door and think fast on my feet because there were no other customers.
Even though I had read somewhere about ordering Arthur Bryant's Burnt Ends, I was going for their smoked barbeque brisket sandwich. It was a bit confusing to understand how to order.
After you claim and pay for your food, you'll need to look for a table. It helps to arrive early or with someone who can stake out a place to sit.
Along with the smoked brisket sandwich, I ordered their potato casserole. In retrospect, I would have liked to try the baked beans and onion rings, too. But again, I had to think quick, even though there was no one in line behind me.
Arthur Bryant's World-Famous Barbeque Sauces
Unlike barbeque beef sandwiches soaked in sauce that I grew up with in Chicago, here in Kansas City, it's as much about the meat as it is the sauce. Your sandwich is served without BBQ sauce dripping down the sides. Instead, you choose the sauce (or sauces…I love to mix them) and do it yourself.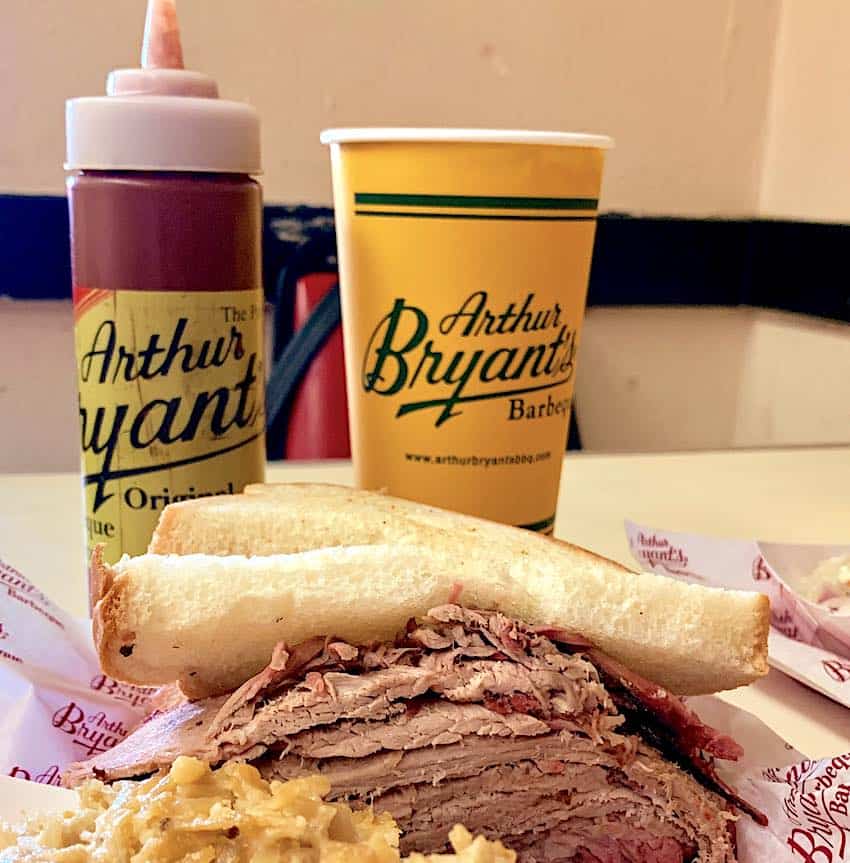 The brisket was incredibly tender and had so much flavor, you really don't need to overdo it on the BBQ sauce. The potato casserole wasn't as wonderful as I anticipated. Maybe the container it was served from hadn't reached maximum heat yet. I loved the bread – it was soft and squishy and held up even when the BBQ sauce seeped into it.
These are the three choices for barbeque sauce…all wonderful. I wish I had bought one of each but there wasn't an inch of free space in my overloaded Honda.
READ NEXT: My road trip up to Mount St. Helens
With an intense focus on my lunch, I hadn't really glanced around the restaurant since sitting down at the table. Suddenly, Arthur Bryant's was packed. Seriously crowded.
As we made our way to the door, I couldn't believe the line to order. It extended the length of the restaurant, out the door and down the sidewalk. Not only were there locals in line, but two full-length motor coaches were in the process of unloading buses full of hungry tourists.
Arthur Bryant's Barbecue on a cross-country road trip
If you ever find yourself driving across country and Kansas City is on your route, definitely think about having lunch here. But arrive before noon.
I'm the editor and creator of CruiseMaven.com, a solo traveler cruising the world on waves and wheels, collecting recipes along the way.  I hope my articles and photos entertain, advise and inspire you to travel the world without flying.  Take a breath…stop for a local meal and a glass of wine along the way.